Thank you to Airheads for sponsoring this post.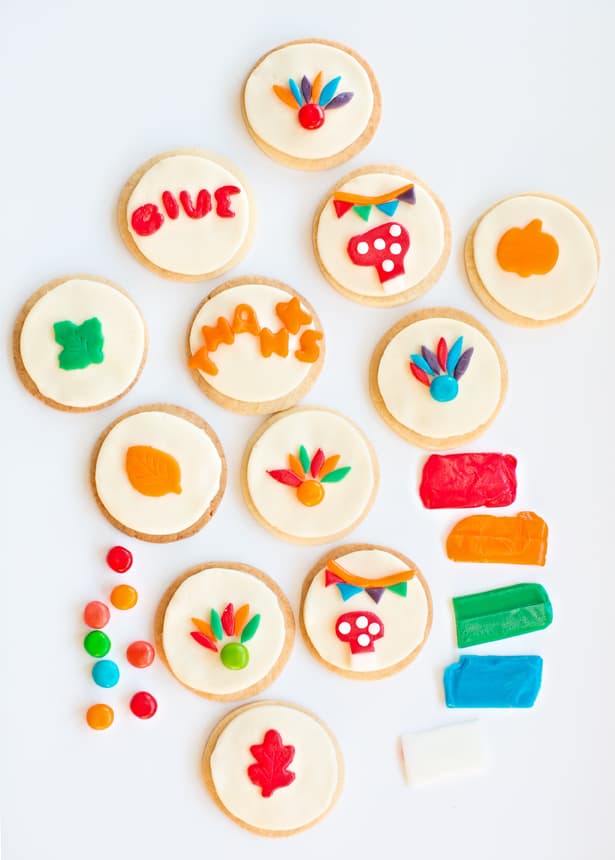 The holidays are my absolute favorite season to bake and a great excuse to break out your baking supplies and add some extra special touches to your everyday favorite recipes. Sugar cookies are always a big hit in our home and make wonderful gifts as well. These dressed up Thanksgiving cookies are sure to be a hit at your Thanksgiving dessert table or packaged up as a sweet hostess gift.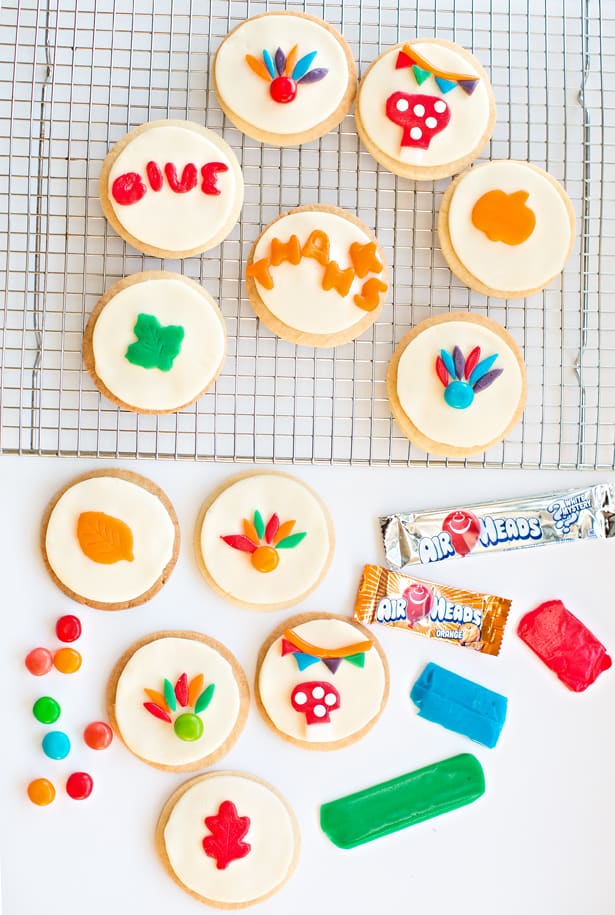 The best part? You won't spend hours in the kitchen or need special ingredients to make these adorable edible Thanksgiving decorations. We made all of these using Airheads candy. Easy moldable taffy-like candy that already comes in brilliant colors and tasty flavors that's easy to roll out. Find out how to make our favorite sugar cookies (just 3 ingredients) and how to spruce them up for Thanksgiving using Airheads.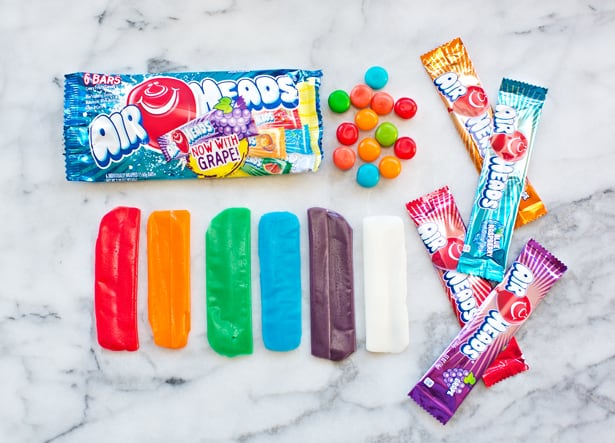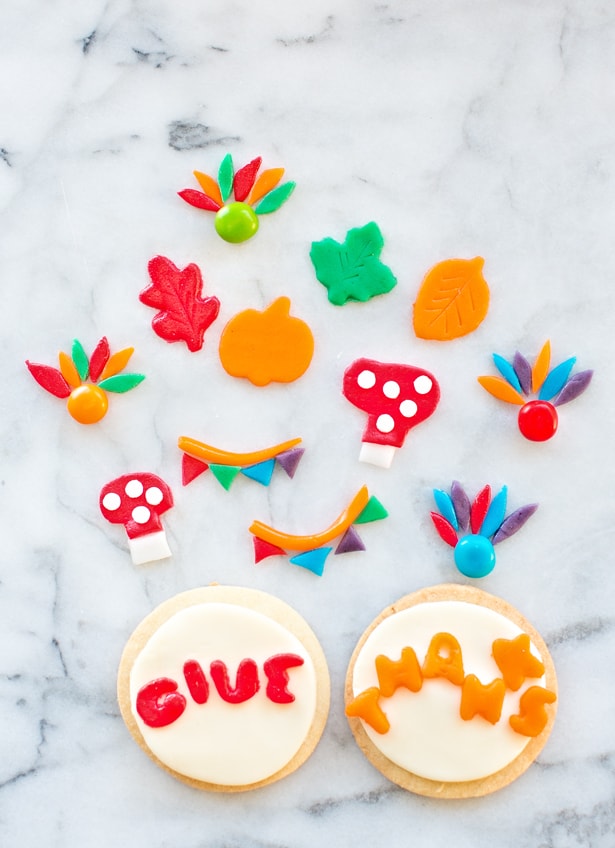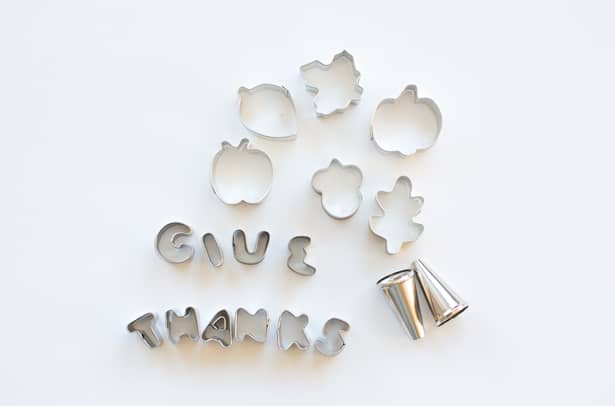 Easy Candy-Decorated Thanksgiving Cookies – Ingredients:
Sugar cookies (see below for recipe or you can use store-bought if that's easier)

White fondant

White frosting (store bought is fine)

Round circle cutter (3" round)

Cookie cutters (fall shapes and letter shapes)

Round pastry tips

Scissors

Rolling Pin

Airheads and Airheads Bites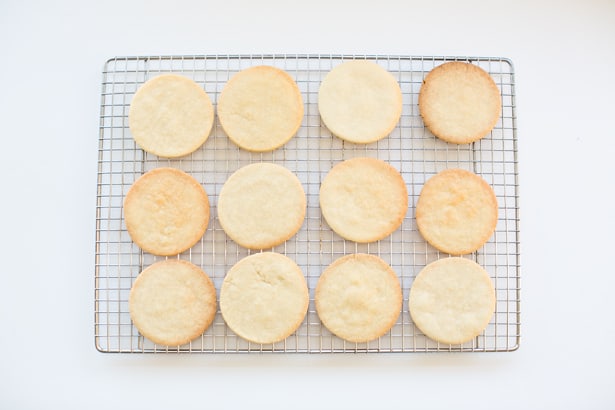 Sugar Cookie Recipe:
You'll need 2 ½ cups of flour, 1 cup of white sugar, 1 cup of unsalted butter and ½ tsp salt.
Using a stand or hand mixer, cream the butter and sugar until fluffy (about 8-10 minutes) on medium to high speed. In a separate bowl, whisk your flour and salt and then add to your butter/sugar mixture. Blend on low speed until the flour is incorporated with the butter/sugar mixture and a soft dough is formed. Separate your dough into flat discs and wrap in plastic wrap. Refrigerate until firm. Before baking, take out your chilled dough and let it soften a bit. Preheat oven to 375 degrees. Roll out your cookies about ⅜" in width and cut out using your 3" circle cutter. Place on a parchment lined baking sheet and in your preheated oven for about 13-15 minutes until the edges are slightly brown. Allow cookies to cool completely before decorating.
While the cookies are baking, roll out your white fondant about ¼" thick and cut out using your 3" circle cutter. Set aside.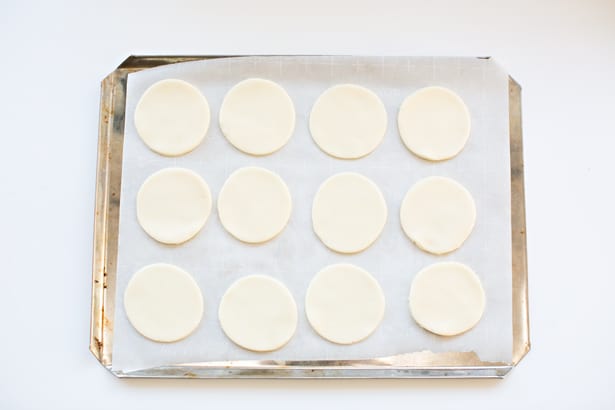 Assembling the cookies before decorating:
Once the cookies are cooled, you'll want to smear a bit of frosting on top of them and lay the fondant circles on top, pressing gently. You now have a blank canvas for adding your candy decorations on top.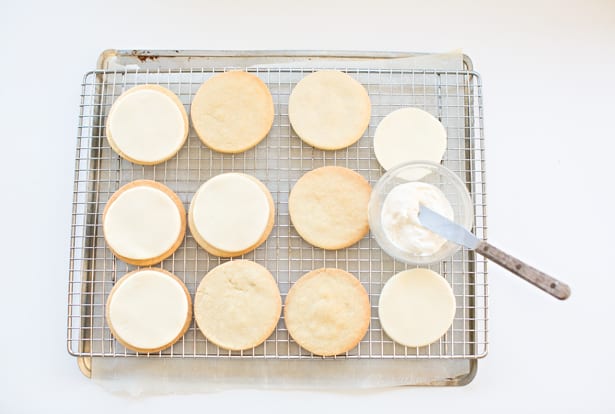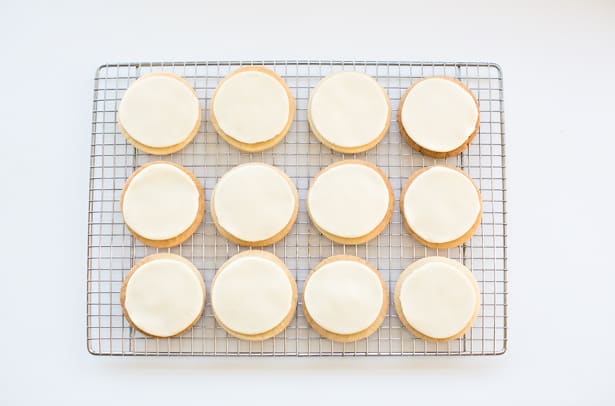 How to make Fall/Thanksgiving Candy Decorations:
For the leaves/pumpkins/acorns: simply use your rolling pin to flatten out your Airheads and cut out shapes using your fall cookie cutters.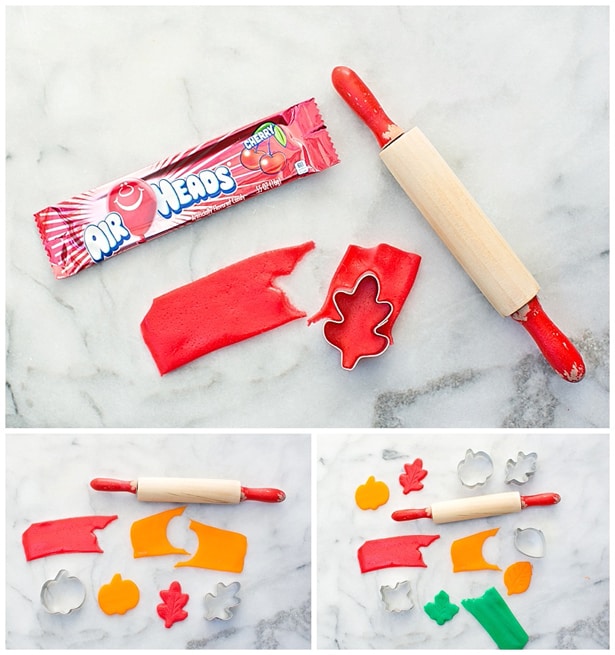 You'll want to do the same thing for the "Give" and "Thanks" letter cutouts. Use a toothpick or the ends of a sharp knife to help you pop out each letter.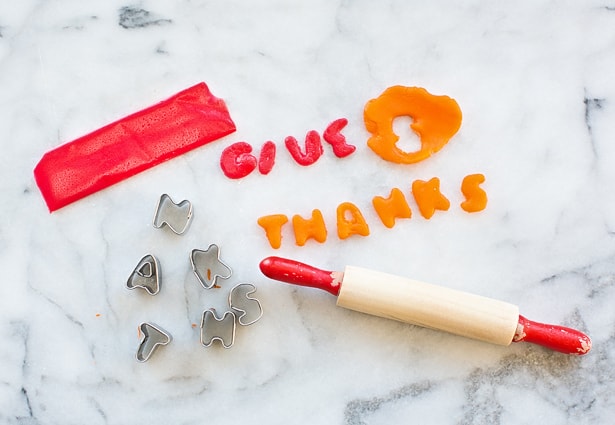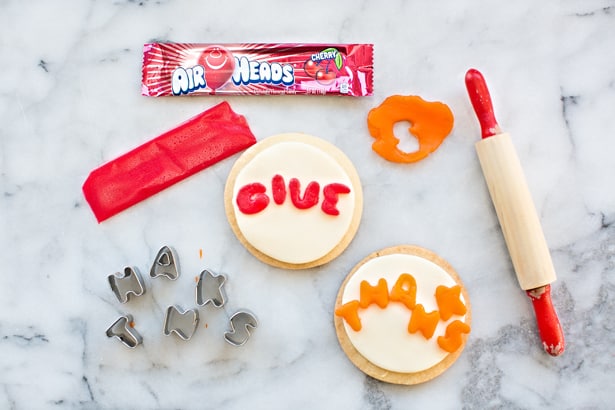 For the turkey decorations, use one Airheads Bites for the body and use scissors to cut out colorful feathers from the bar Airheads.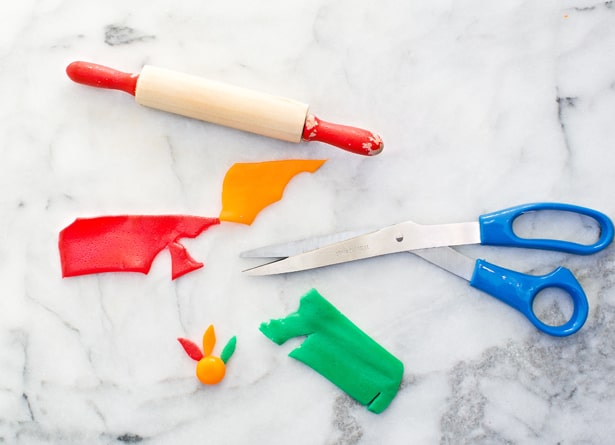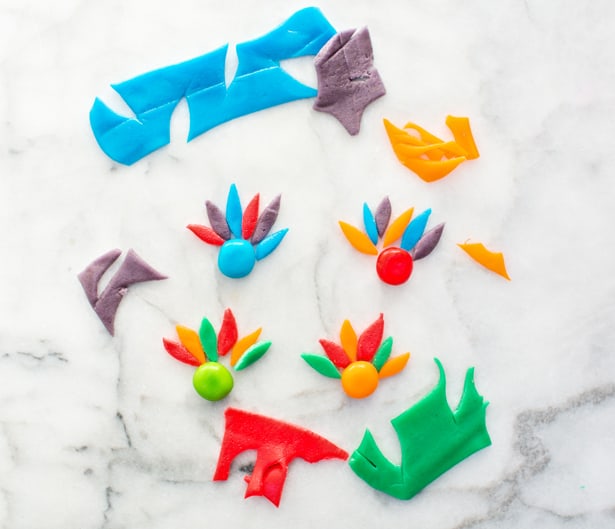 For the fall buntings, cut out triangles and cut out a thin strip of Airheads for the string. For the toadstools, free-hand cut a red mushroom shape and white bottom. Use the small circle end of your round pastry tip to cut out the small white dots.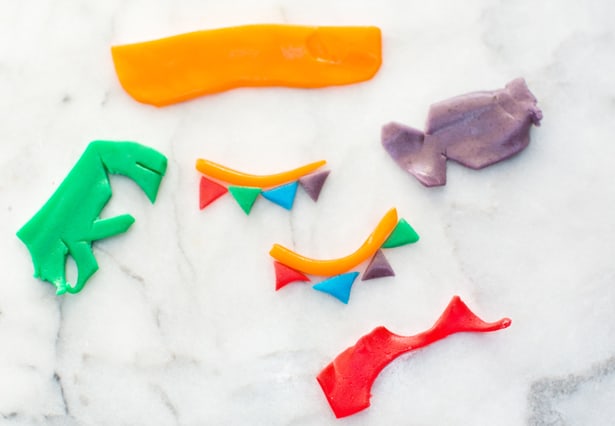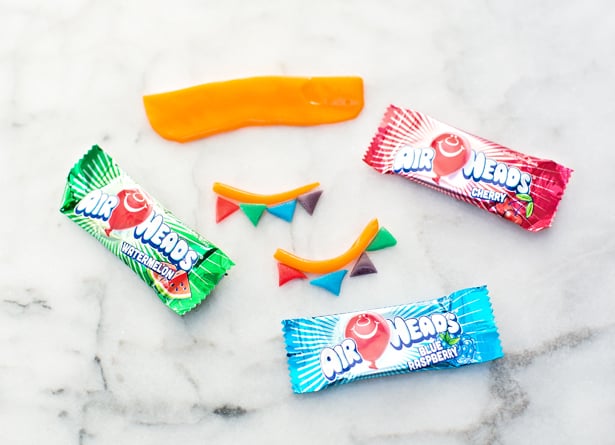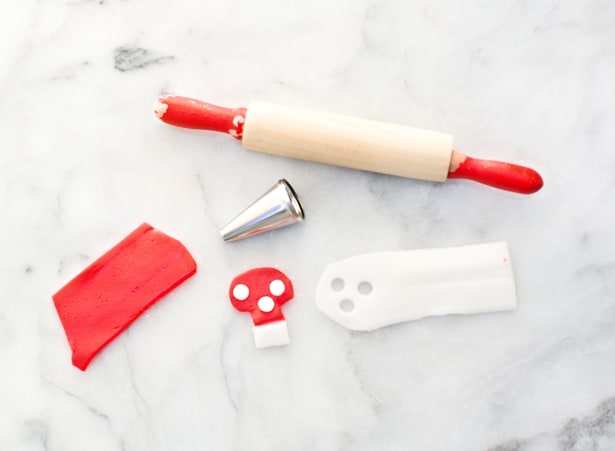 Once you're done you've got a colorful array of cute candy Thanksgiving themed decorations!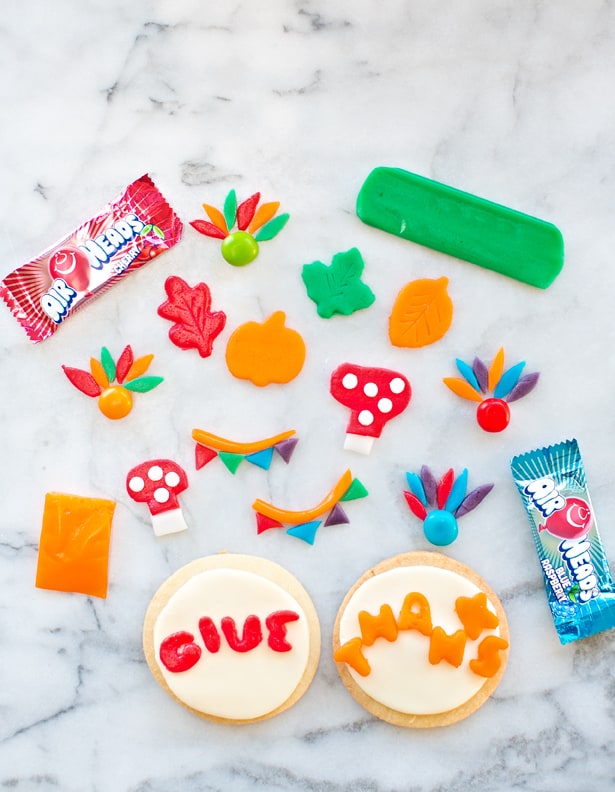 The last step is to just lightly press the candy decorations on top of the fondant and you're done. The candy will eventually stick onto the fondant after some time. If you want them to stick right away, use a small (clean) paintbrush and dab a bit of frosting underneath the candy decorations.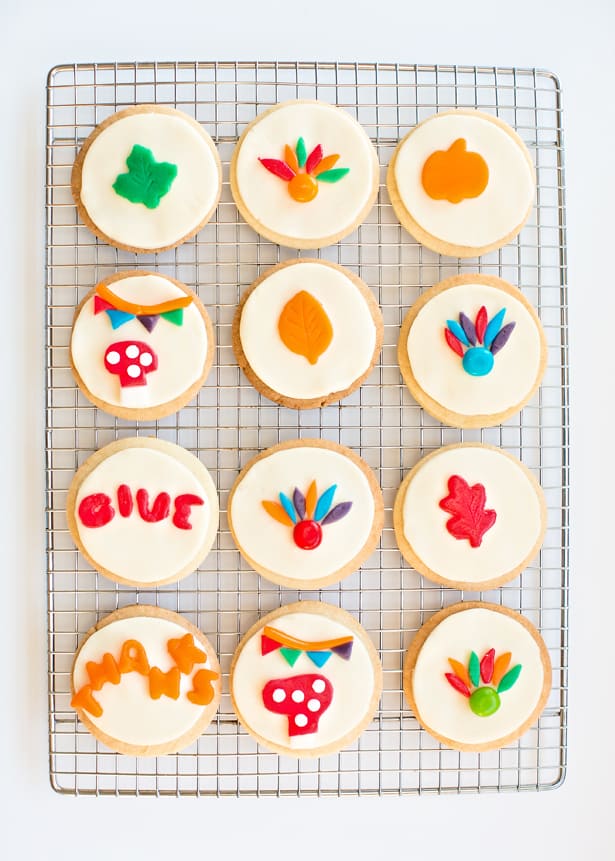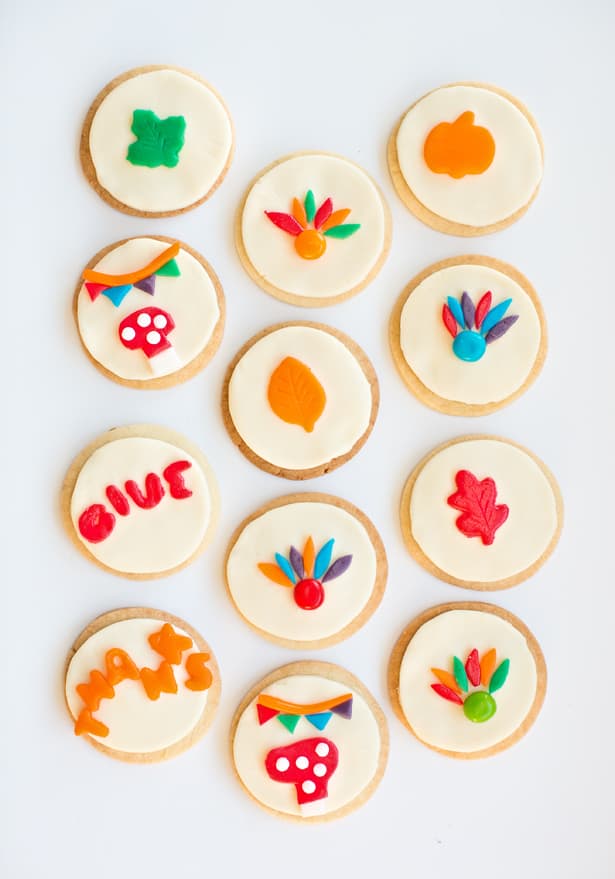 What are your favorite Thanksgiving treats to make?
Thank you to Airheads for sponsoring this post.
For more fun ideas on how to craft with Airheads visit and follow them on Pinterest. To learn more about Airheads candy visit their website and follow them on Facebook, Twitter, Instagram, and YouTube!