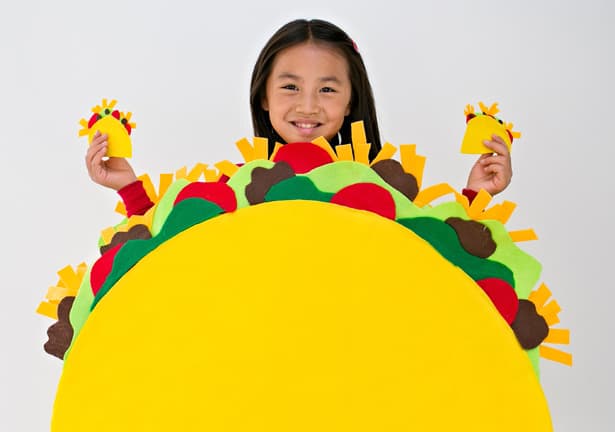 My kids are huge fans of the playful and hilarious picture book Dragons Love Tacos where dragons party in style eating their favorite food – all kinds of tacos. The fun starts when they come in contact with too much hot salsa!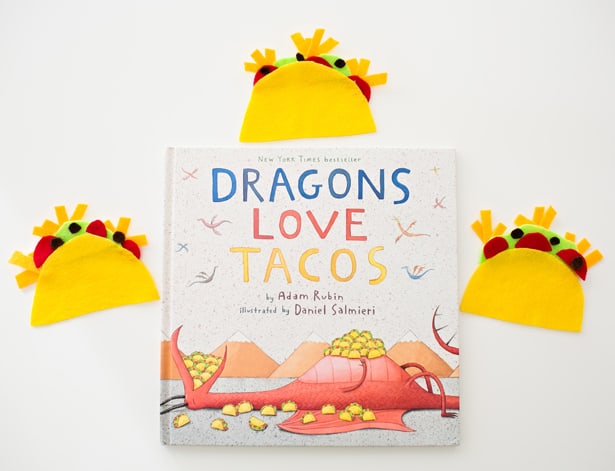 This year we decided to make a book-themed costume for Halloween based one of their favorite books. My daughter chose to be the taco and my son the dragon.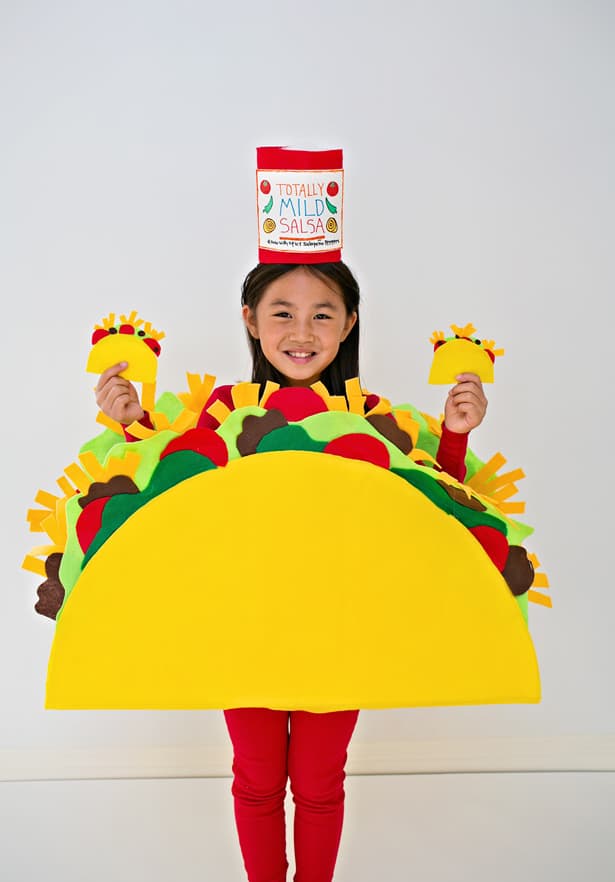 Excited to share Part I of our Dragons Love Tacos costume series – the taco! Check back next week for the easy Dragon DIY and photos of both the dragon and taco together!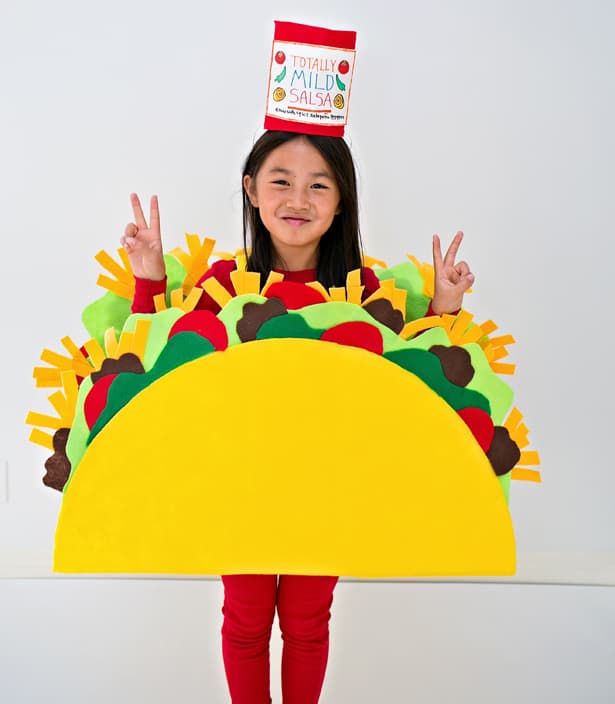 What's great about this costume is that it doesn't require any sewing skills. We wanted to create a simple taco costume using mainly felt and glue so many people could make their own without any advance costuming skills.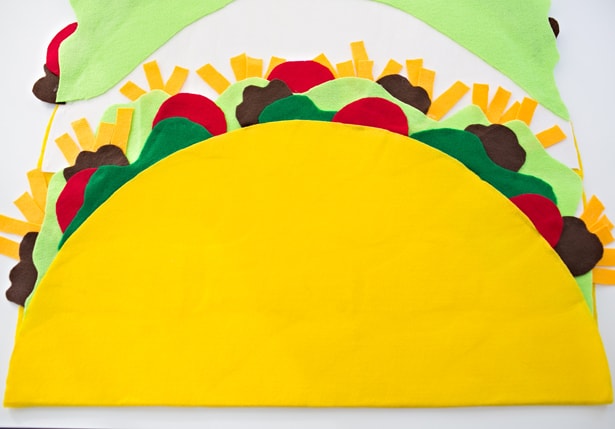 DIY Felt Taco Costume – Materials:
– A yard and a half x a yard of yellow felt for the taco shell and cheese strips*
– A yard and a half x a yard of single side fusible interfacing
– Red, brown and green felt (we used two types of green) for the tomatoes, meat and lettuce
– Hot glue gun
– Scissors
– One yard of velcro strips
– Iron
– Red pajama set (we love these Primary ones)
Hot Sauce Hat (optional)
– 16″ x 7″ red felt
– Cardstock for front and back of felt
– Markers
– Elastic
– Large needle to thread elastic through the felt
*This is enough felt to make a 30″ diameter semicircle taco. The "girth" is 12″ You will have to measure your child and see if you want to make it larger or smaller.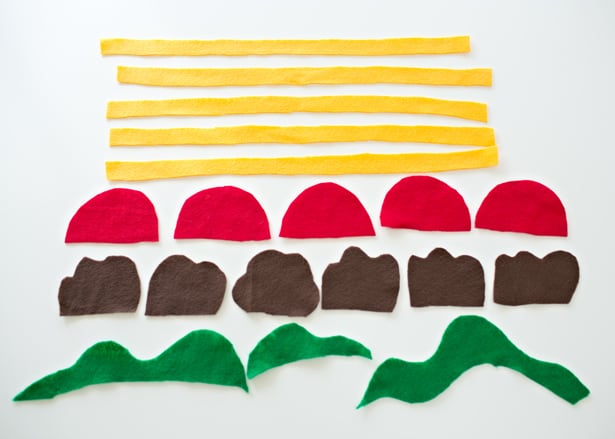 Instructions:
Step 1. Measure and cut out a semi-circle with depth for where your child will stand inside. Ours was a 30″ diameter semicircle with a 12″ wide girth. You can see this better in the second photo below.
Step 2. Cut and iron on your fusible lining to fit the taco shell to give it stiffness but leave the middle section without as you'll be cutting a hole there where your child will stand inside (see second photo below).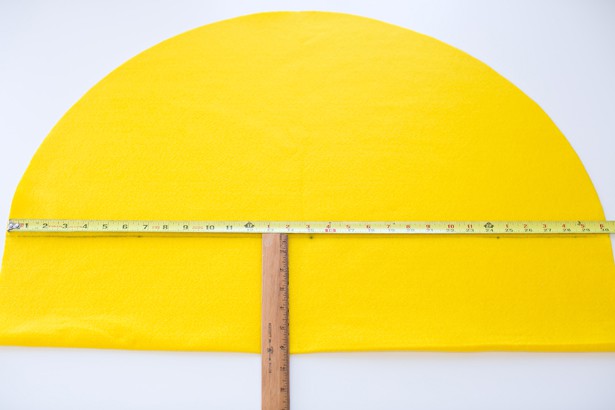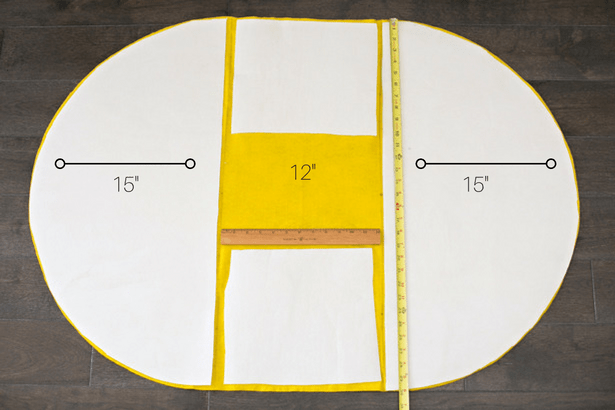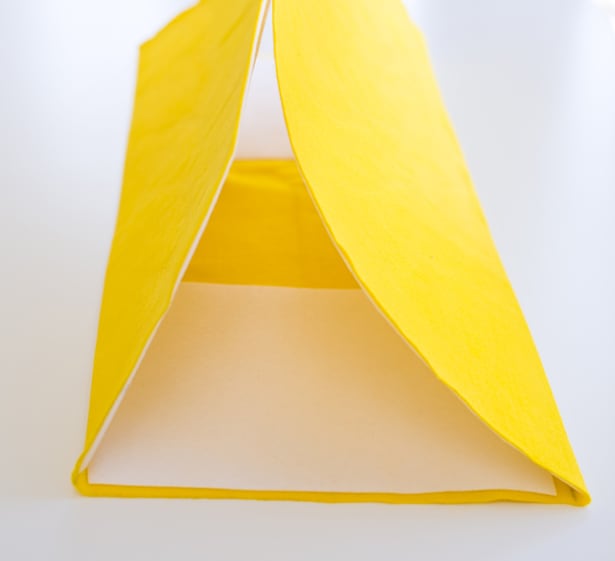 Step 3. Time to cut your taco toppings. You'll need equal parts for the front and back. We first cut a wavy line of light green to outline as lettuce. The tomatoes we cut as semicircles, meat as cupcake-like clouds, and cheese as strips. We also added some dark green wavy felt for additional color. We ended up with 5 tomatoes, 6 pieces of meat and 3 pieces of dark green lettuce per side. There isn't any right or wrong way to do this! We simply free-hand cut each piece and used one as a template to cut remaining pieces.
Step 4. once you have your felt toppings cut out. Lay them out minus the cheese strips. Start hot gluing to each other and to the taco shell. Hot glue the strips of cheese last.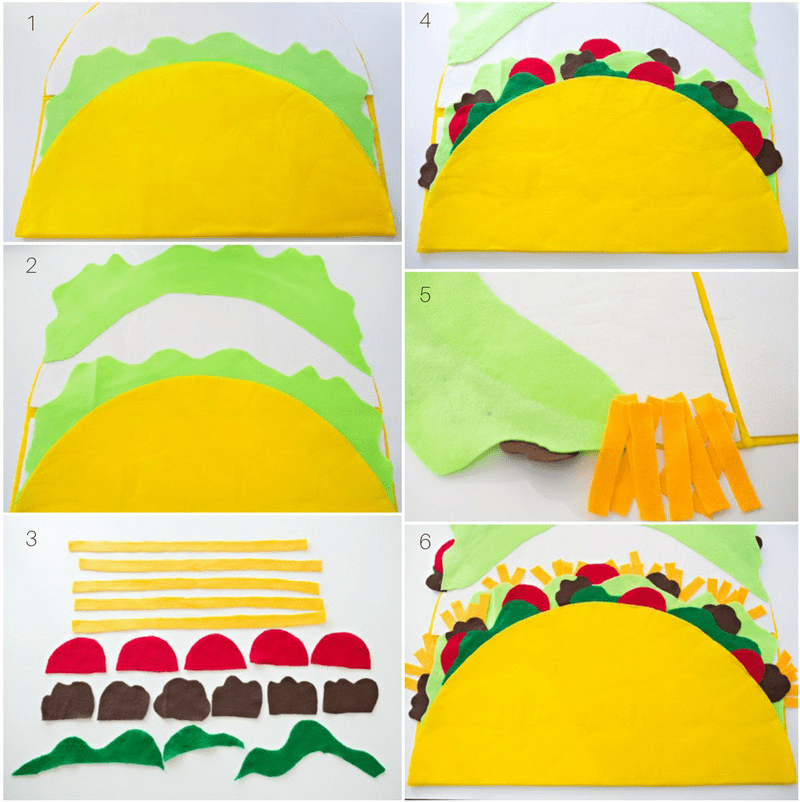 Step 5. Allow the hot glue to dry completely. To finish your costume, you'll need to cut a hole in the center (measure your child to make sure the hole isn't too small) and then add velcro straps. Add the straps to both ends and then cut out strips of yellow felt to hot glue on to make it look more polished.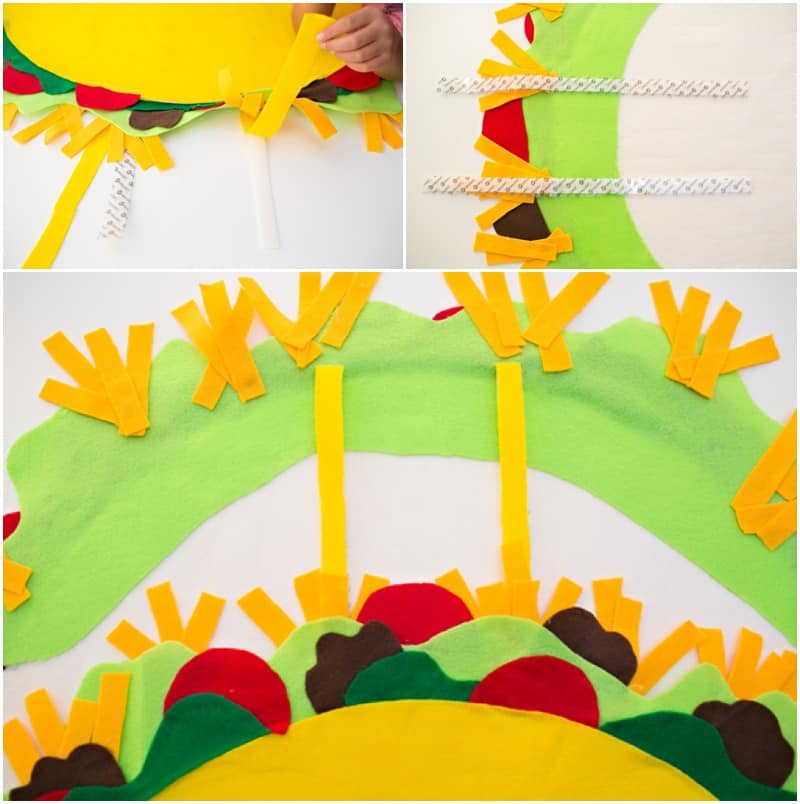 Below is a top view of the taco when the straps are attached.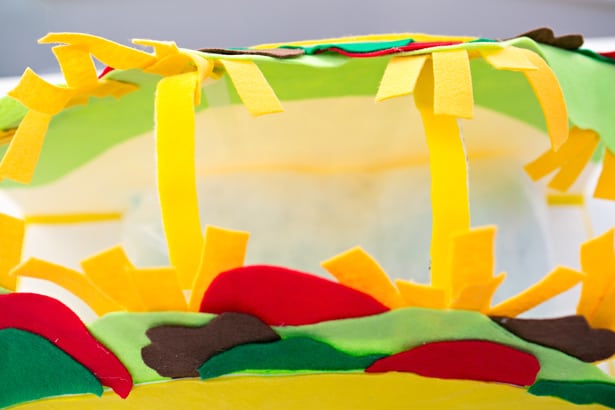 To make the hat (optional) glue cardstock on both sides of your red felt. You'll need it on both sides to give it stiffness when folded to make it look like a can. On one of the pieces of cardboard, draw a can of salsa – we used the one in the book for inspiration. Curve the red felt and hot glue the two sides together to form a can shape. Thread a large needled with elastic on both sides to make a hat, tie off.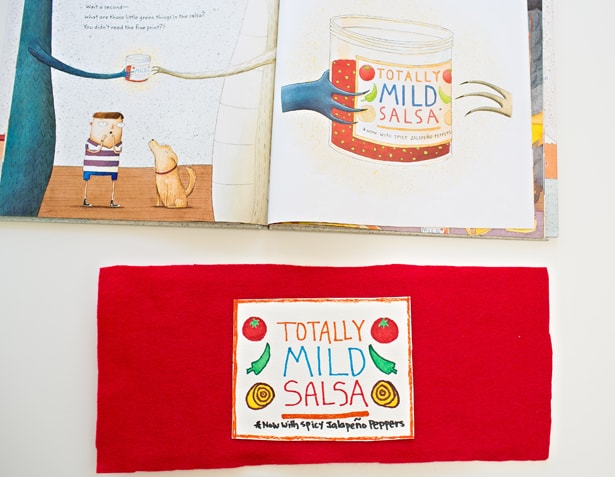 And here is our finished taco! Isn't she cute?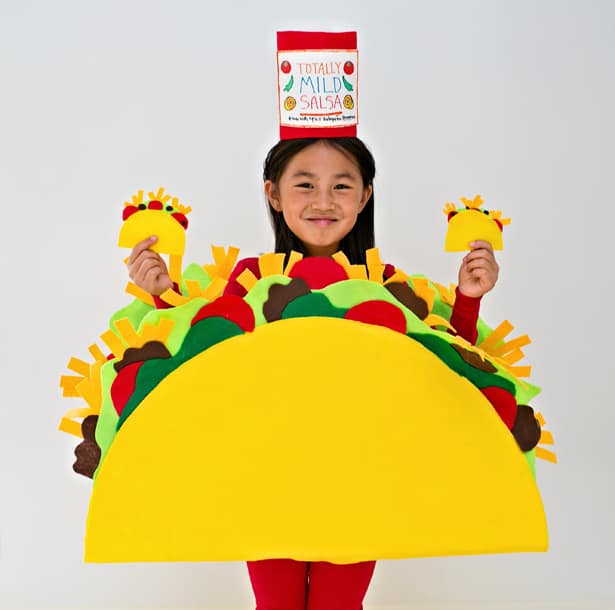 Stay tune for Part II of our Dragons Love Tacos book-theme costumes featuring the dragon next week!
Check out more fun Halloween ideas for kids!
P.S. Big thanks to Primary for sending us this cute set of red pajamas to round out our taco costume!
______________________________________________________________________________________________________

Disclosure: Some of the links in the post above are "affiliate links." This means if you click on the link and purchase the item, we will receive a small affiliate commission. Regardless, we give our promise that we only recommend products or services we would use personally and believe will add values to our readers.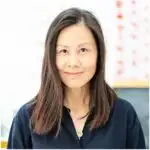 Agnes Hsu is a mom of three and has been inspiring parents and kids to get creative with easy activities and family friendly recipes for over 10 years. She shares her love for creative play and kids food to her 2MM+ followers online. Agnes' commitment to playful learning and kindness has not only raised funds for charity but also earned features in prestigious nationwide publications.