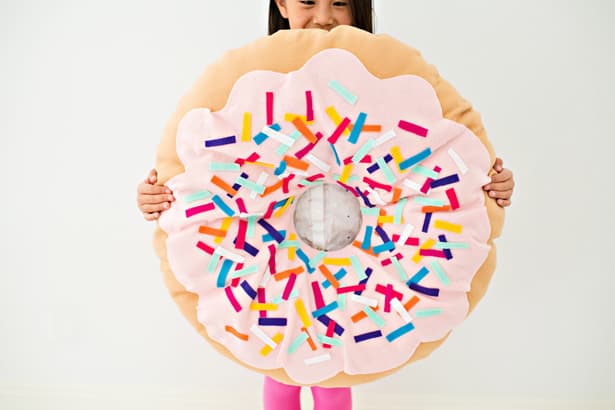 We're sharing another adorable no-sew felt Halloween costume for kids in collaboration with our contributor John Lavelle from The Art Dream. Check out our first in the series – a rainbow unicorn costume!
This sweet sprinkled donut is the second in the series. Like the unicorn, it's 100% no-sew so you can make it even if you have no sewing skills.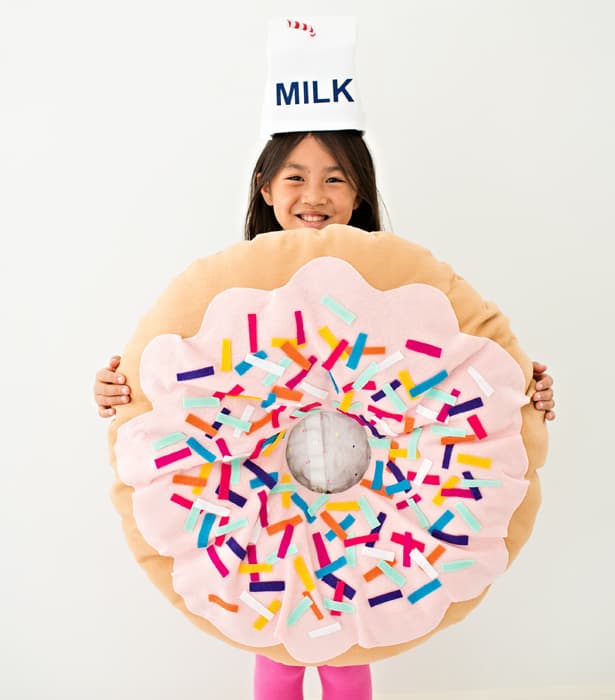 Read more below to get the step-by-step-tutorial and check back next week for one more sweet felt costume – a giant candy!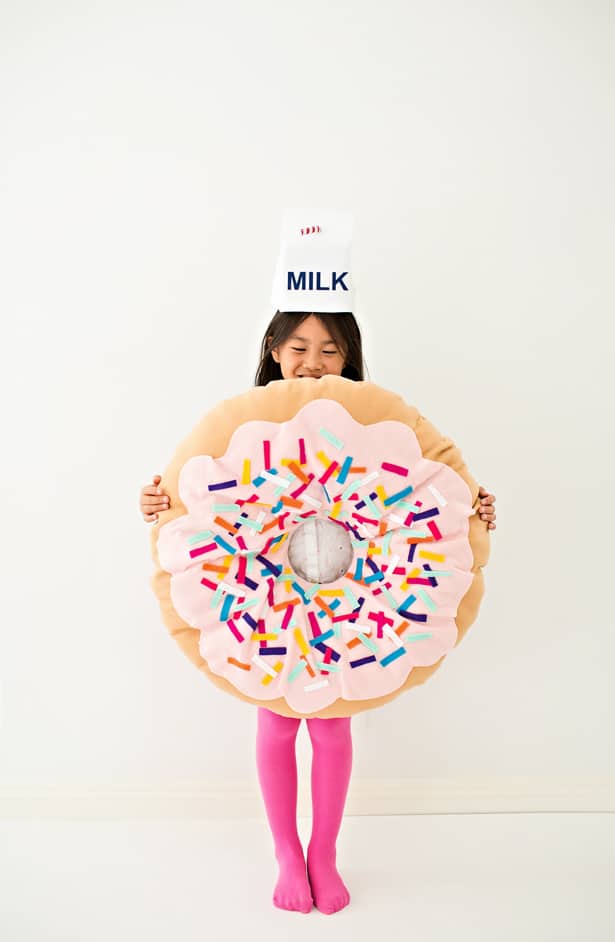 No-Sew Felt Donut Costume – Materials:
– 36″ felt, preferably from a fabric store, in various colors
– Fabric scissors
– 1-2 bags of fiber fill
– Elastic for straps
– Safety pins
Instructions:
Step 1. You'll want to determine how big you'd like your doughnut costume to be. You can either trace something like a large pail lid or a hula hoop for example. Double up your felt, I measured a 30″ in diameter circle on light brown felt, then cut two large circles simultaneously.
Step 2. Trace a small circle in the center of the large circle, then cut out the hole in the middle of both pieces of felt.
Step 3. Trace your large circle onto light pink felt, you'll only need one of these, this will be the frosting. Trim the edges in a scalloped design. Be sure to cut the hole in the center as well.
Step 4. For the sprinkles, cut strips of felt in various colors at about 1/2″ in diameter and about an inch in length. The sprinkles certainly don't have to be perfect.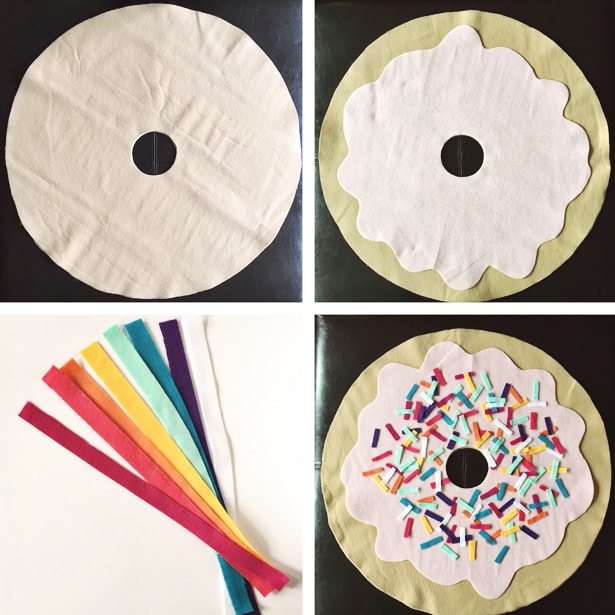 Step 5. Next you'll want to hot glue your two large doughnut circles together on the outer perimeter being sure to leave a hand's width space to stuff the doughnut with fiber fill. Do NOT hot glue the perimeter of the center circle yet!
Step 6. Once your edges are glued invert the doughnut through the space left unglued, then you can glue the center circle together around the edges. I pinned the edges before gluing to create the inverted edges look, but you certainly don't have to do this.
Step 7. Glue on the frosting at the center circle.
Step 8. Fill the doughnut with fiber fill, you'll probably need about a bag to fill it up. If your doughnut is large you'll need more fiber fill. Seal the opening when finished stuffing the doughnut.
Step 9. Glue the frosting onto the doughnut around the outer edges.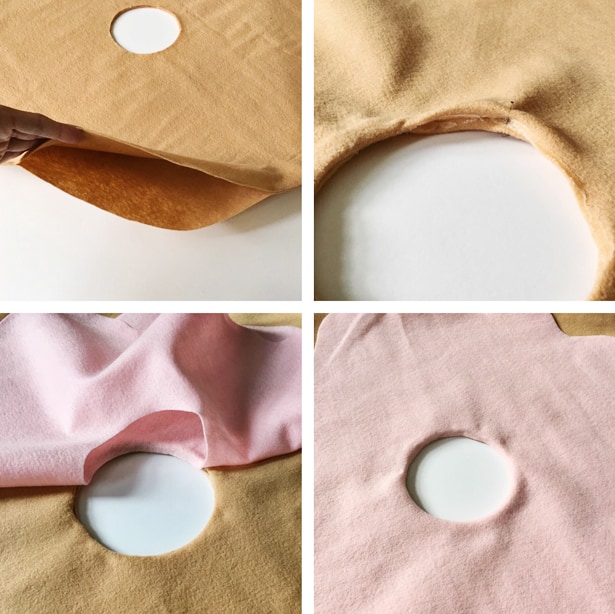 Step 10. Glue on your sprinkles.
Step 11. Attach straps on the back of your doughnut using safety pins this way you can remove the straps after using it as a costume. If you'd like, glue on the straps for extra support.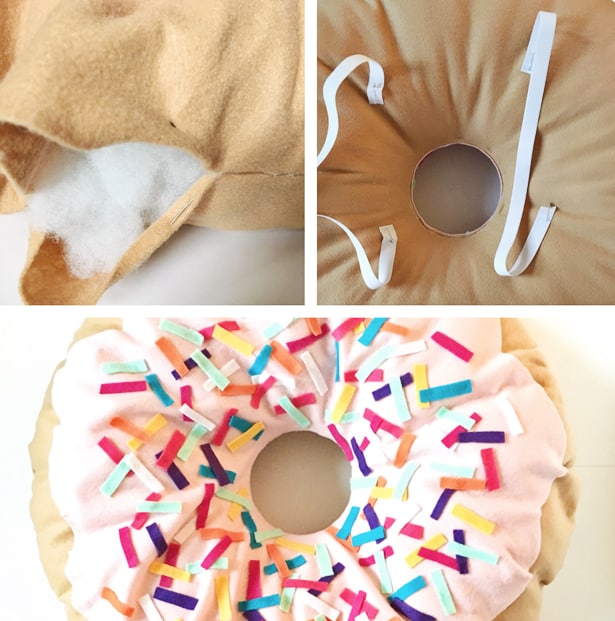 To wear the costume, all you need to do is insert your child's arms through the elastic straps!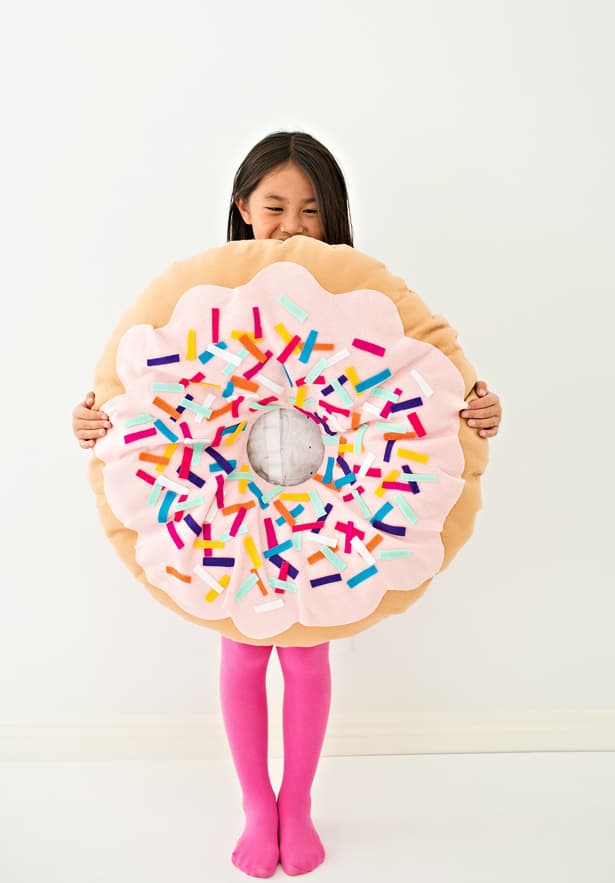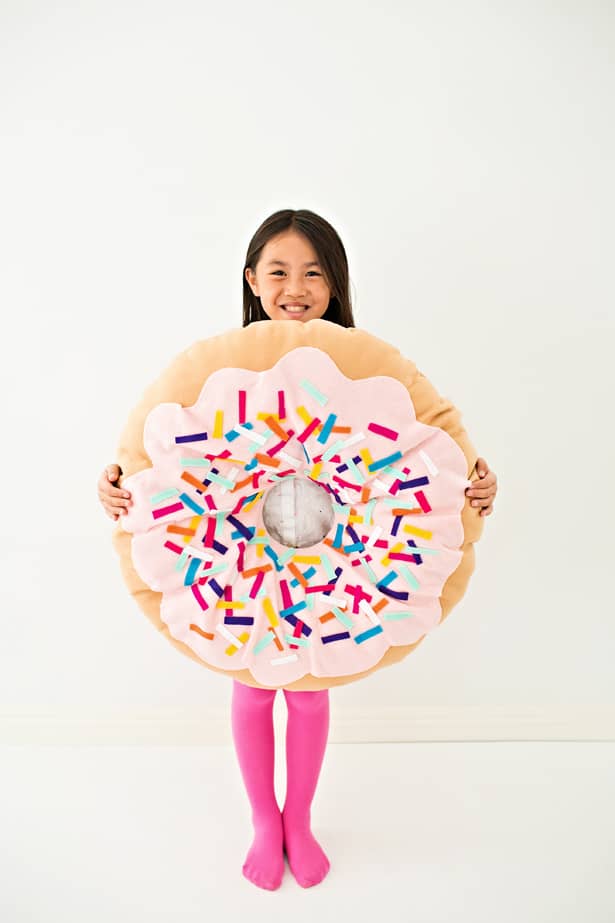 We thought it looked especially cute paired with this white felt milk carton hat.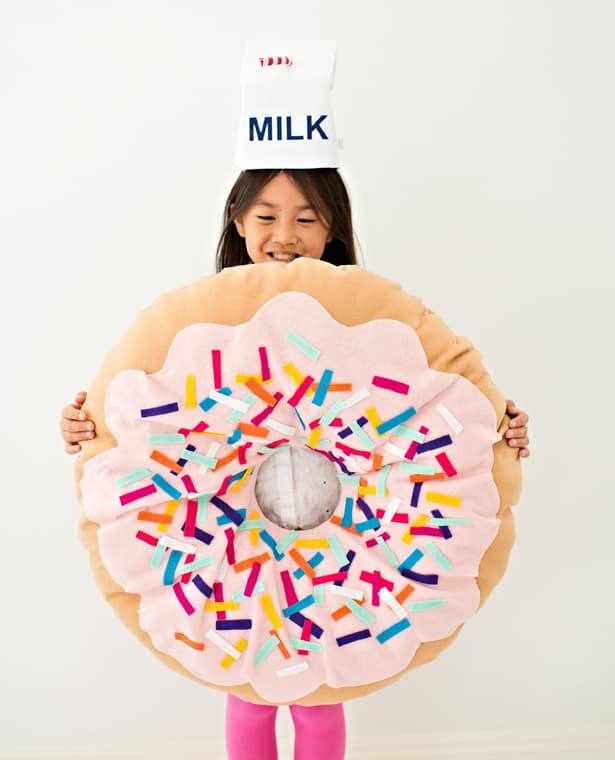 Do your kids know what they want to be for Halloween? Check out more creative Halloween projects for kids!
Tutorial by: John Lavelle
Costume Direction: John Lavelle/Agnes Hsu
Photography (process photos): John Lavelle
Final Photography/Styling: Agnes Hsu

______________________________________________________________________________________________________
Disclosure: Some of the links in the post above are "affiliate links." This means if you click on the link and purchase the item, we will receive a small affiliate commission. Regardless, we give our promise that we only recommend products or services we would use personally and believe will add values to our readers.