My kids are huge fans of Magna-Tiles which are cool magnetic square and triangle tiles that click together magnetically. These tiles have given them endless hours of creative play and it's one of the toys they play with consistently, building cool structures and characters with them.
I though it'd be fun to make a mini play version of Magna-Tiles, one they can also take on the go. They ended up loving this little maker version out of wooden tiles just as much! Read on to find out how to make your own mini set of magnetic tiles.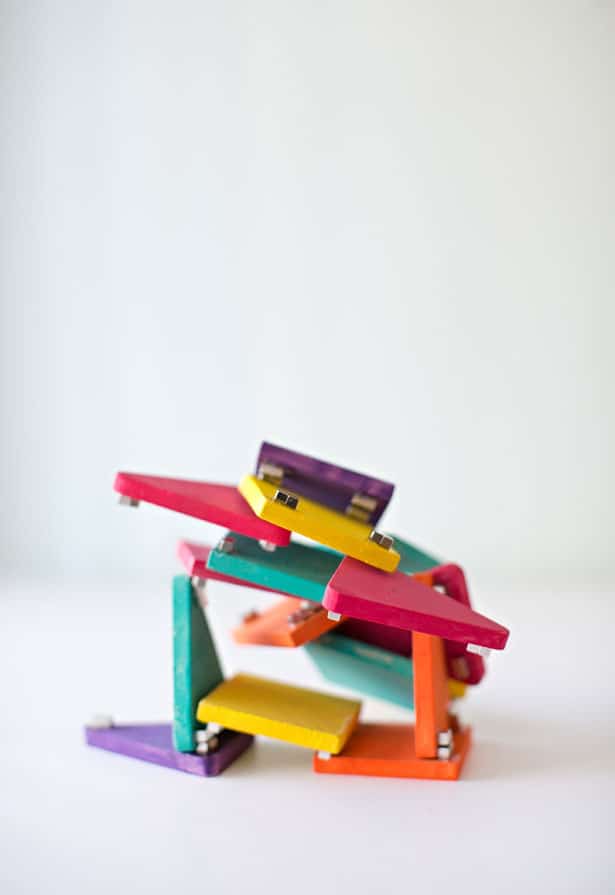 DIY Wooden Magnetic Tiles – Materials:
– 2 inch wooden squares and triangles
– Strong craft glue (I used E6000 Quick Hold)
– Foam paint brush
– Various colored paints
– Strong small magnets (I found these tiny cubes worked well)
– Toothpicks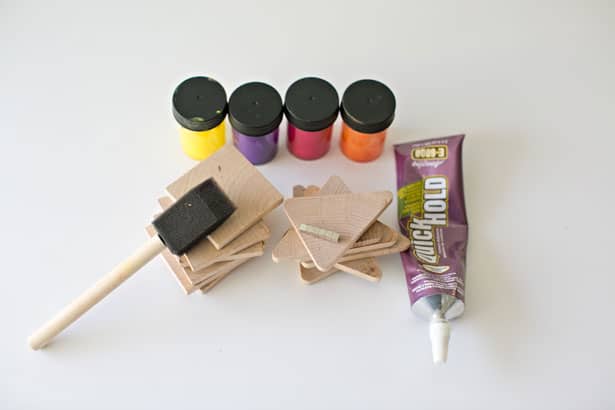 Steps:
1. Gather your materials. Paint the wooden squares and triangles in any colors of your choosing. Allow to dry completely.
2. I used two magnet cubes per side (see photos below). Since the magnets are so small, it helped to place a dab of glue on paper and then swipe a bit with a toothpick to place on each square or triangle side, then positioning the magnets on top.
3. Allow the magnets to dry completely once glued before playing with the tiles.
Note: Make sure that the magnetic side is pointing up before gluing down, although these magnets are so strong that if you don't get it right, the side of the magnets will still stick and attract the other magnets, regardless.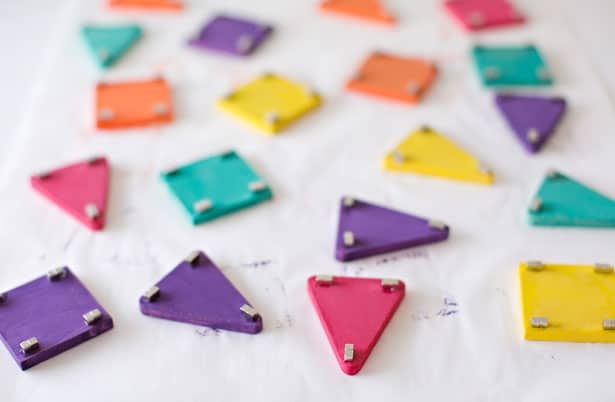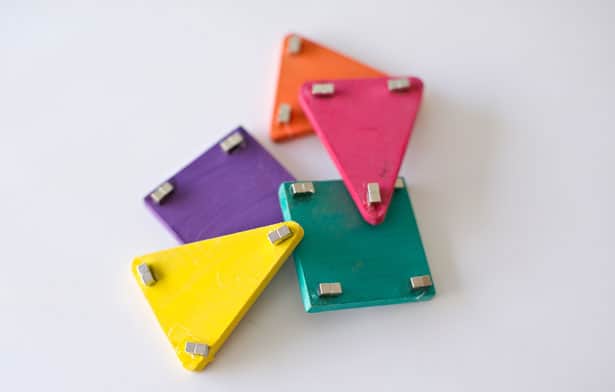 These tiny magnet cubes are discrete enough so that they don't take up a lot of space, but still offer up a powerful magnetic pull.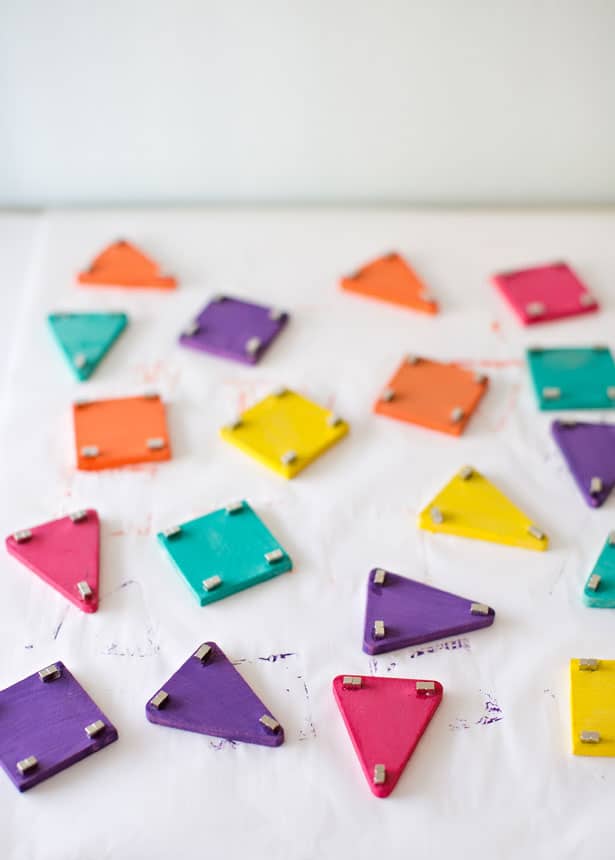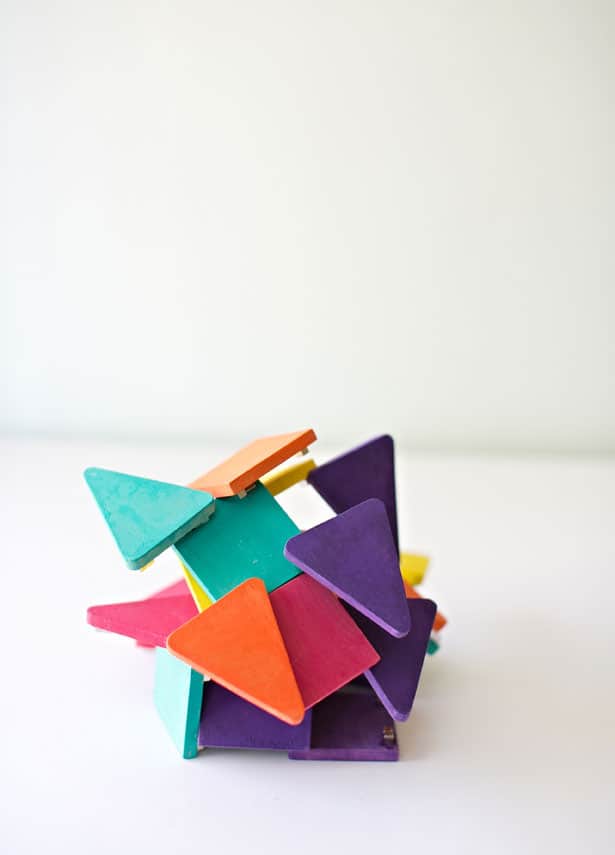 These are super strong magnets that make an audible "clicking" sound when you attach the tiles, similar to Magna-Tiles. It's very satisfying to hear as you play along with them.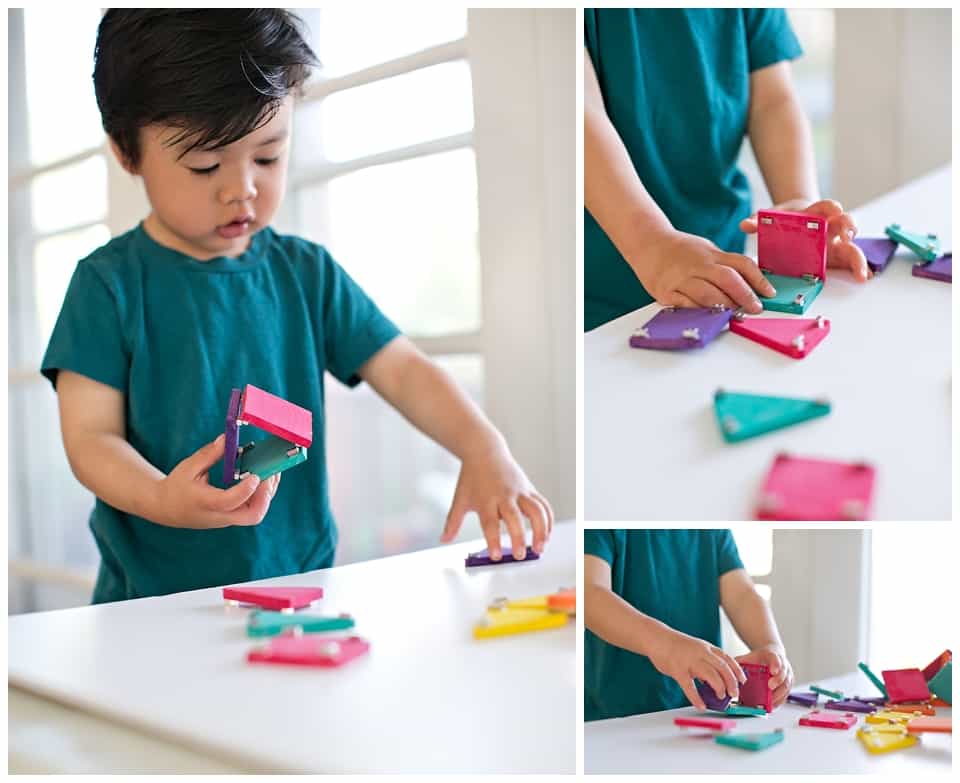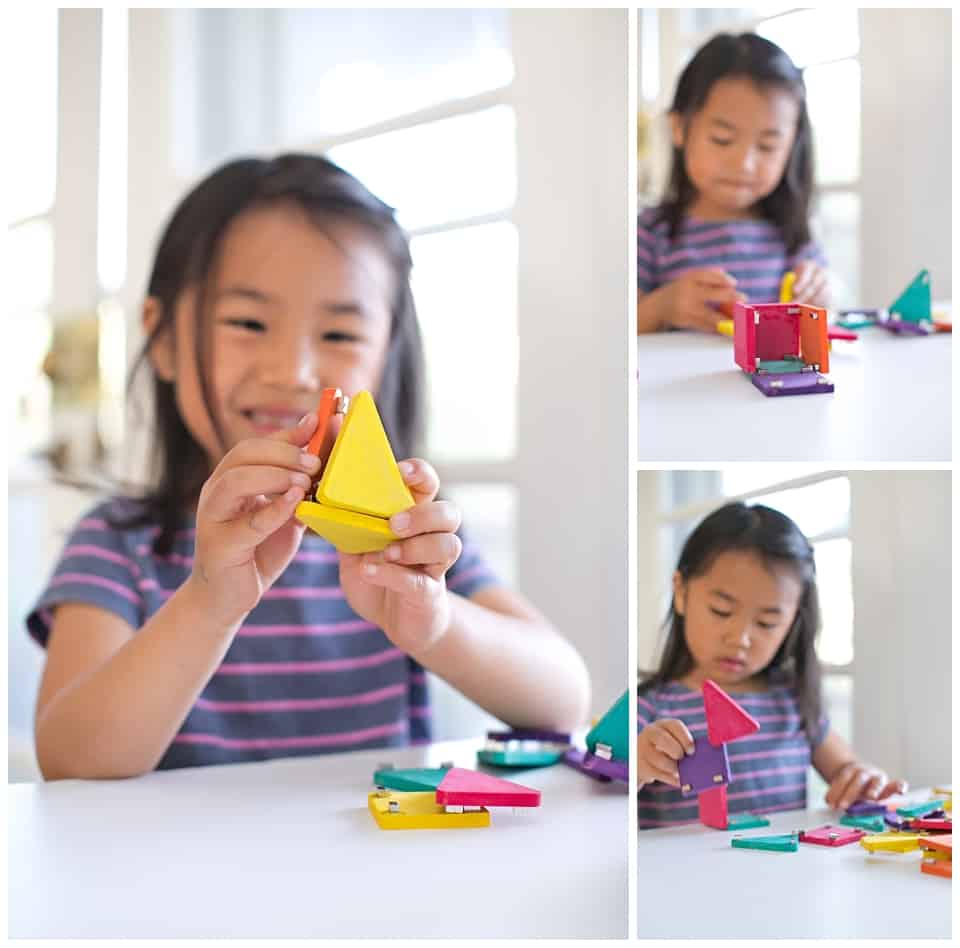 As you can tell, the kids immediately got into the tiles and started building cool things with them.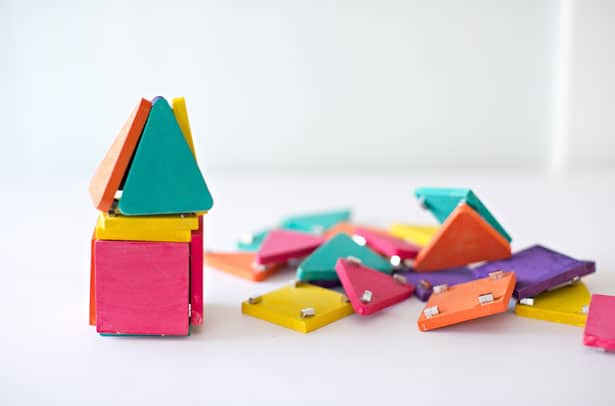 Here's a "rocket ship house."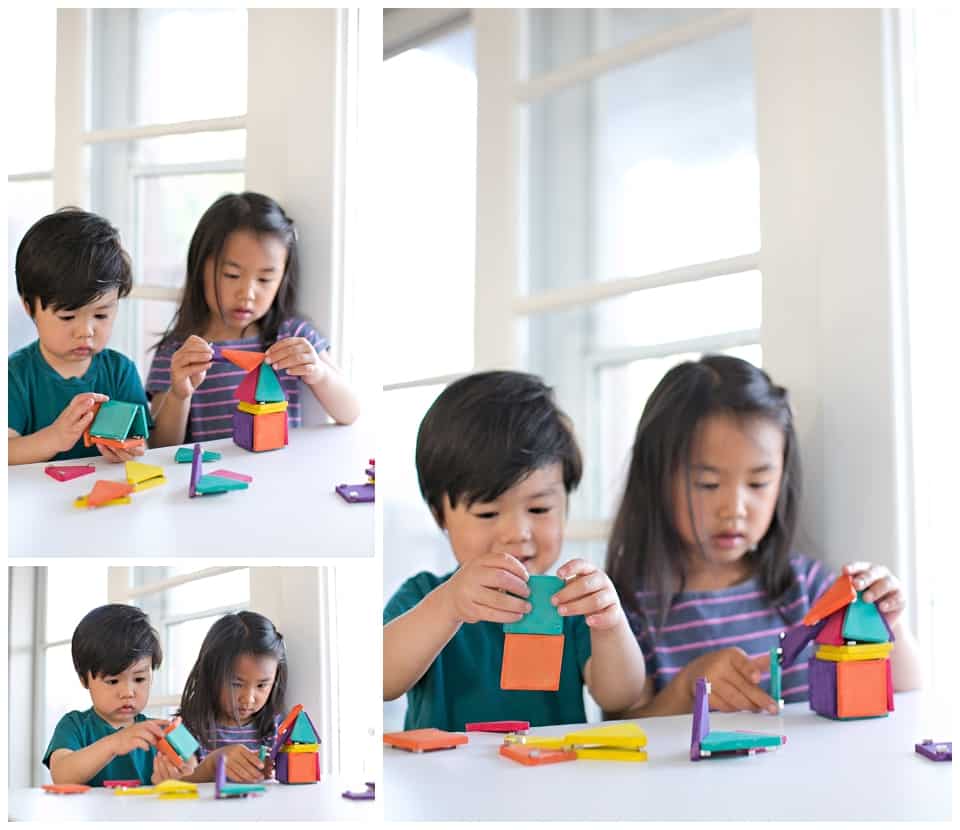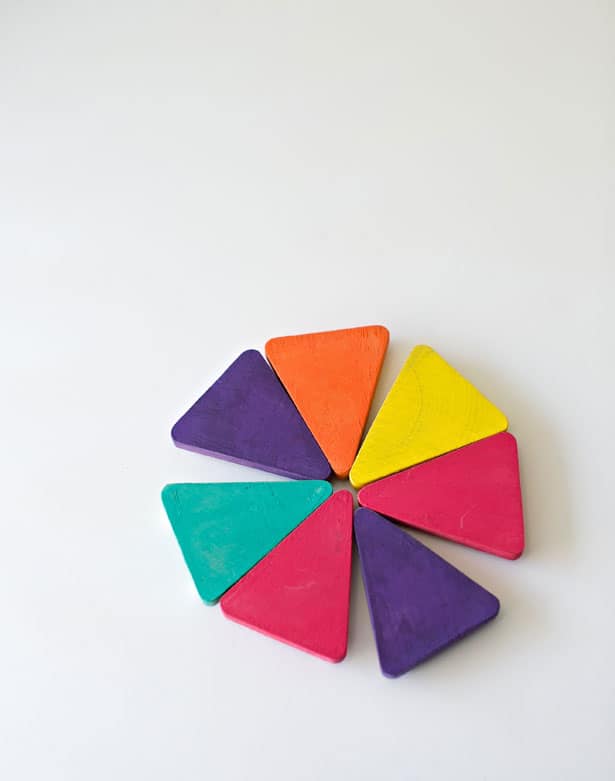 And here's a colorful "pizza."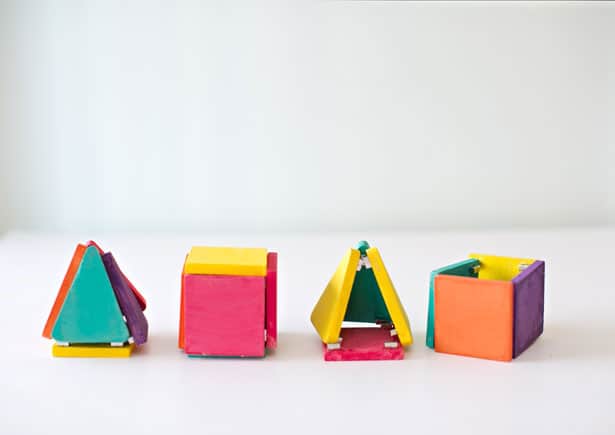 Cool geometric shapes.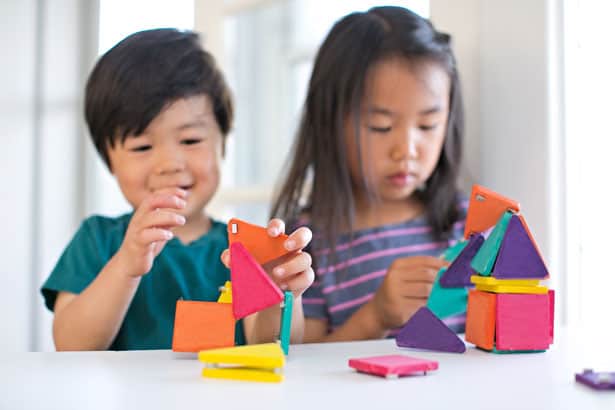 It was amazing to see how the kids went straight into playing with the tiles and how wild their imagination ran. In addition to the pizza, rocket house, and geometric shapes, they also built "trains" and "sandwiches."
Another cool thing they did is sort by colors and shapes, so this ended up being a pretty neat sorting exercise as well.
A couple of notes:
– Although we have found the magnets to stick well to the tiles, without falling off, magnets present a choking hazard if not attached. Always make sure to supervise play with younger children (under age 3, especially) when small magnets are involved.
– I realize the magnets are only on the inside of each tile and not on the sides (as with Magna Tiles where they are located on every side and corner). The magnets would repel each other if I also placed them on the sides. I was okay with this and as you can see, the kids still had lots of fun being able to build lots of cool structures with the magnets just on the inside of the tiles.
Do you enjoy playing with Magna-Tiles? These are definitely not a substitute for the real thing, but they are a fun toy you can easily take on the go (they'd look cute placed in a drawstring bag).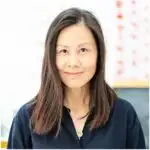 Agnes Hsu is a mom of three and has been inspiring parents and kids to get creative with easy activities and family friendly recipes for over 10 years. She shares her love for creative play and kids food to her 2MM+ followers online. Agnes' commitment to playful learning and kindness has not only raised funds for charity but also earned features in prestigious nationwide publications.