We have a lovely guest post today from the creative team behind Crafting Connections, Andrea Folsom and Danielle Reiner. Crafting Connections is a website and magazine filled with creative ideas to bring families together in raising curious and creative children. Today, Andrea and Danielle are sharing an easy kid's sewing treasure bag, excerpted from their Fall Nature Wall issue. Welcome and thank you for being here!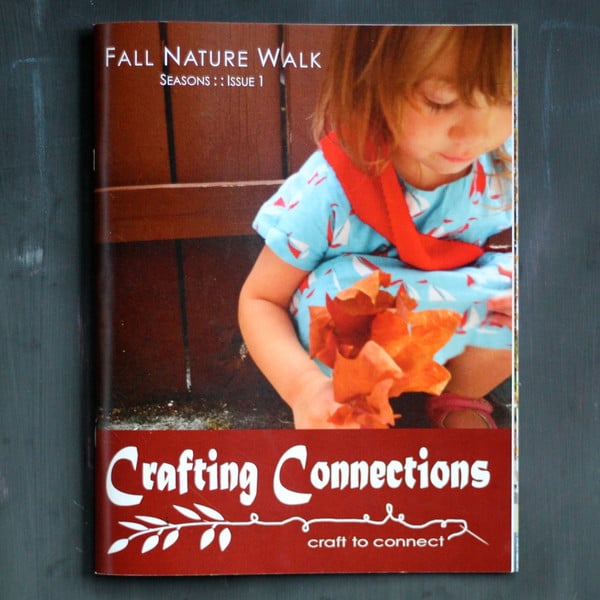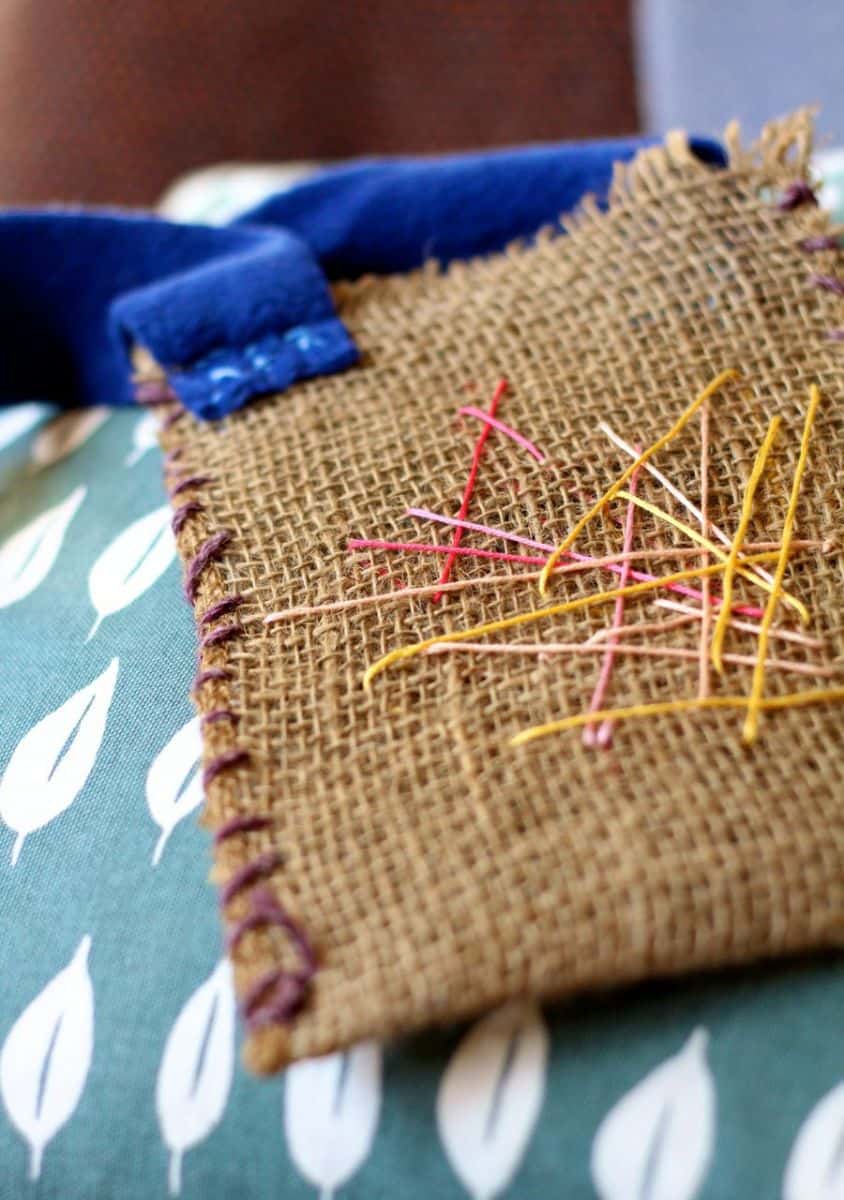 Autumn is officially in full swing with its bright blue days and clean, crisp air. These are the days of long walks enjoying our time outdoors before the snow comes and most importantly, running through fallen leaves. Oh the fallen leaves! It's nearly impossible to go out for a walk with little ones without them bending to explore the nature treasures they find along the way – a rainbow of leaves, plus sticks, stones, and more – it is all so new and fresh to them!
Let the exploration continue by creating a treasure bag to hold anything that catches their fancy. Made with an open-weave burlap fabric that is easier for little fingers to sew, the dirt and sand that might be stuck to the found items will fall right through as your little ones carry their treasures home.
You Will Need:
Burlap
(Approx. 16 inches x 10 inches)
Fleece or Felt
(Approx. 24 inches x 3 inches)
Blunt needle
Yarn
Embroidery Hoop (optional)
Embroidery Thread (optional)
Steps:
Prior to sewing, you will need to address the burlap's naturally frayed edges. This can be done in a couple of ways – a thin strip of hot glue or seam sealant, a machine zig-zag stitch around the perimeter, or embrace the fray and pull off threads until there is 1 inch of fray all the way around.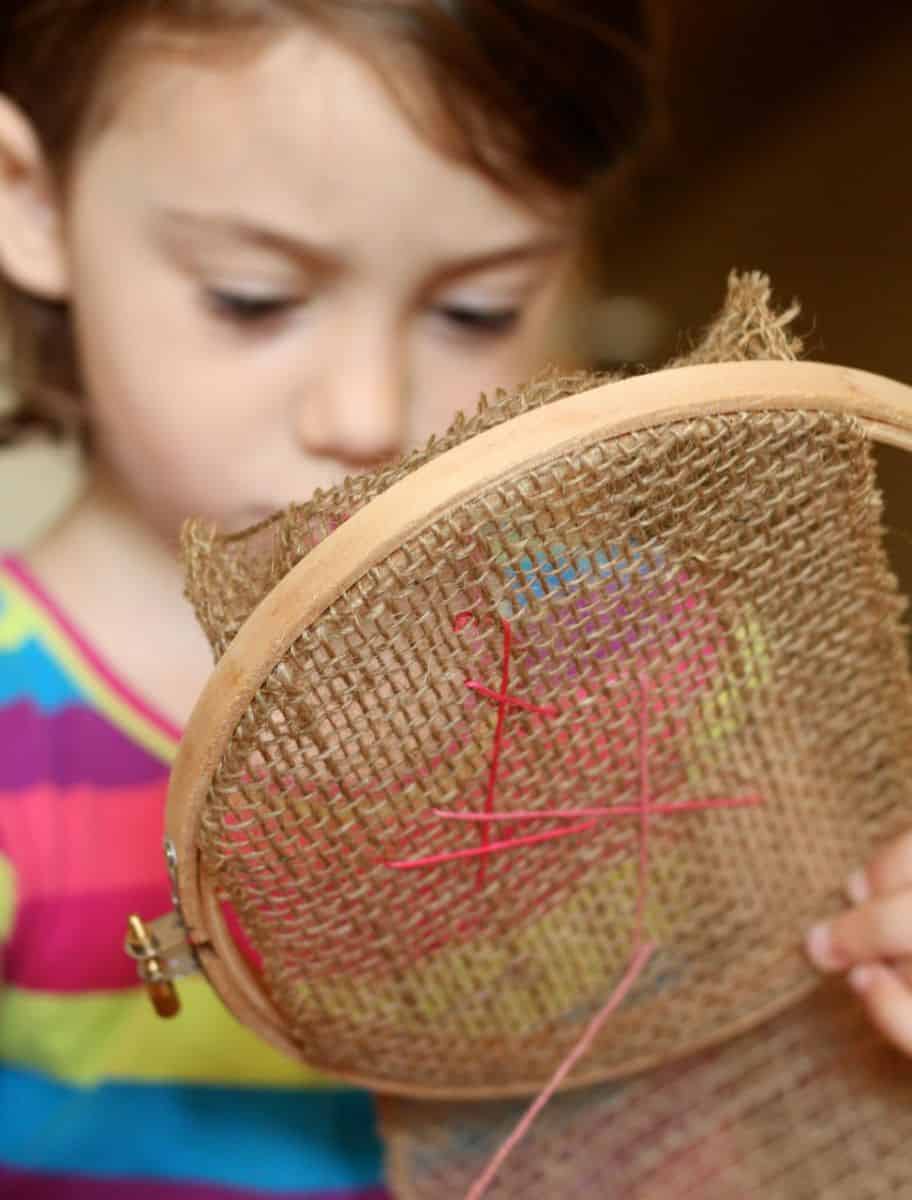 Before you stitch the treasure bag together, let's add some flair with a touch of embroidery. Position one half of the burlap in the embroidery hoop. Using 6 strands of embroidery thread, it may be helpful to tie a small knot at the eye of the needle so that the thread doesn't slip off, then let your little one stitch to their heart's content. Continue stitching and adding more colors until your little one is happy with the design.
Now it's time to stitch your bag! First, loop the yarn through the needle and tie a knot so that your child will be stitching with a double thread.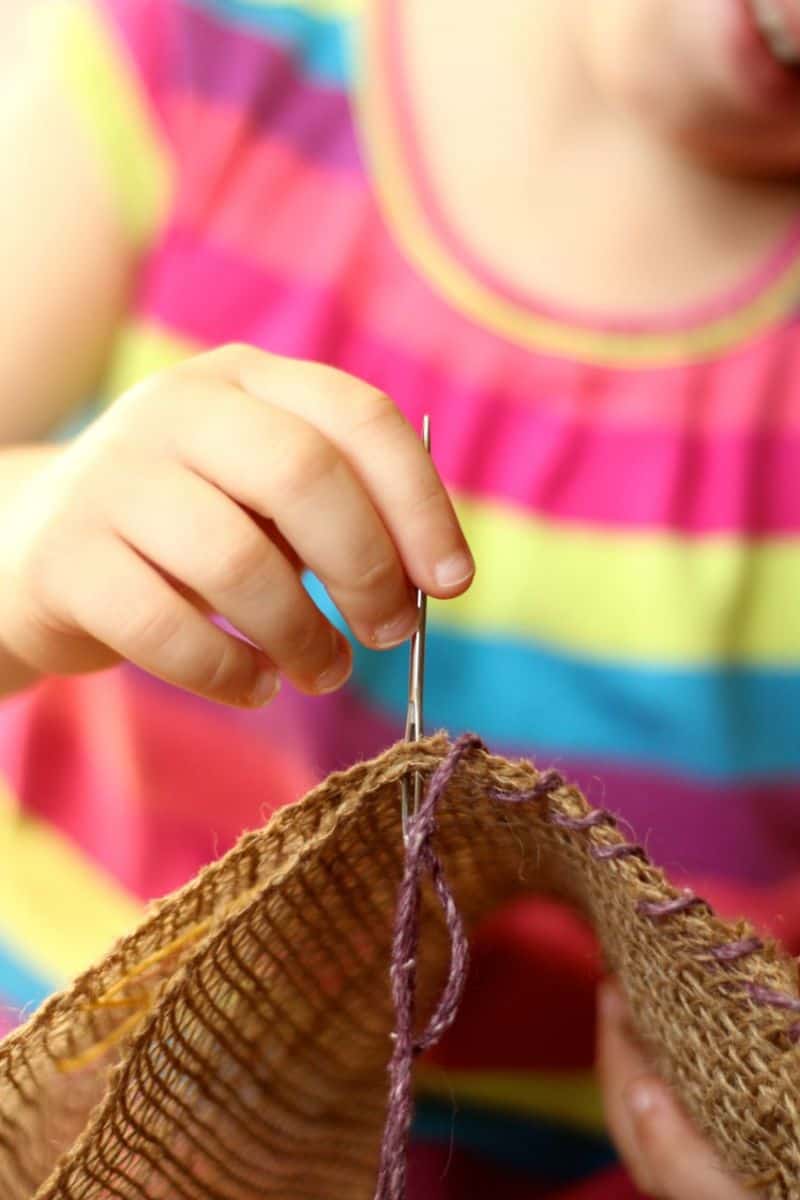 Fold the burlap rectangle in half, creating an 8 by 10 inch rectangle. Have your child stitch up the sides, leaving the top open for treasures.
Either a traditional running stitch or whipstitch (as pictured) can be used, though little ones may find it easier to master the whipstitch. The whipstitch will also help cut down fraying on the sides.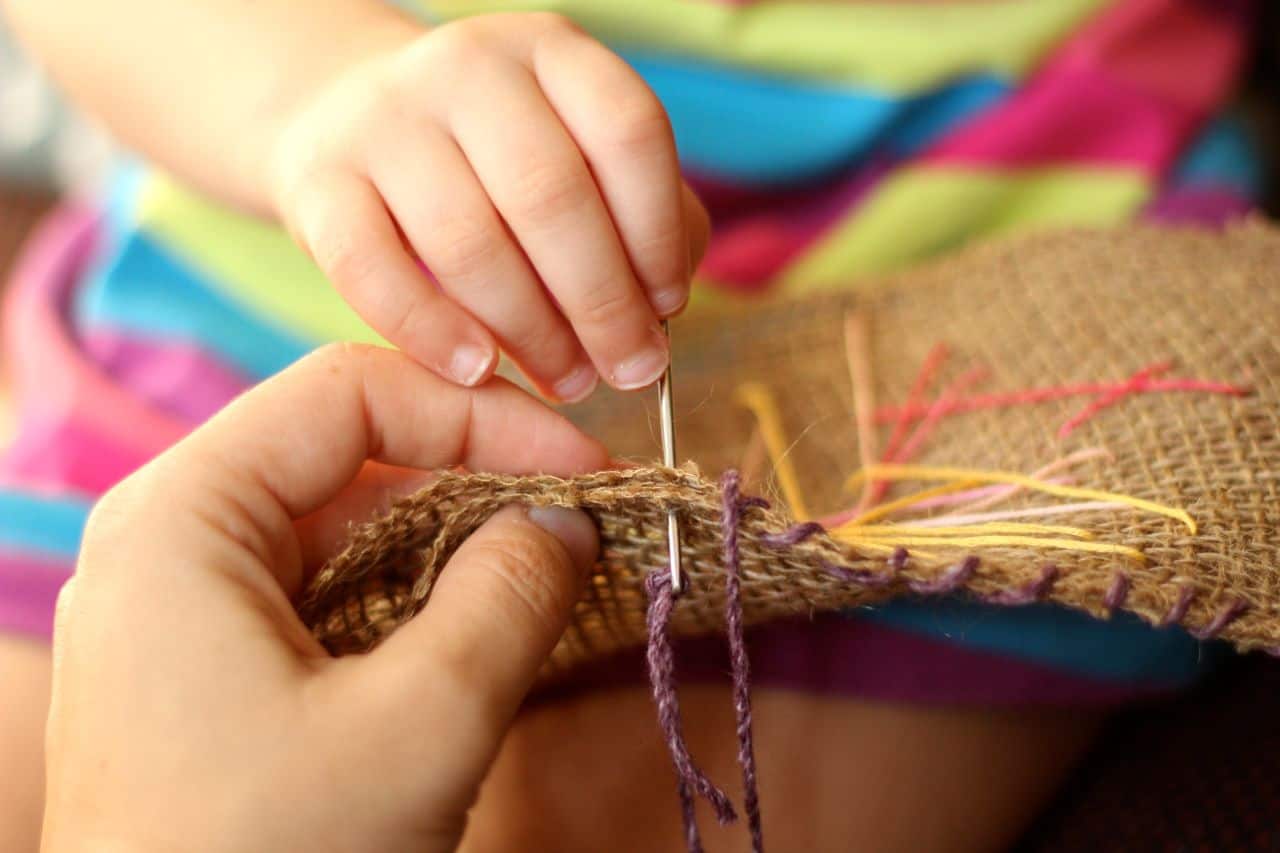 You may need to put in the first stitch, but then let your little one do the rest (with help if needed). Don't fret if the stitches are not perfect – they are perfect to your little one!
Once the sides have been stitched, you can attach the strap with one end placed diagonally on each side of the treasure bag's top opening.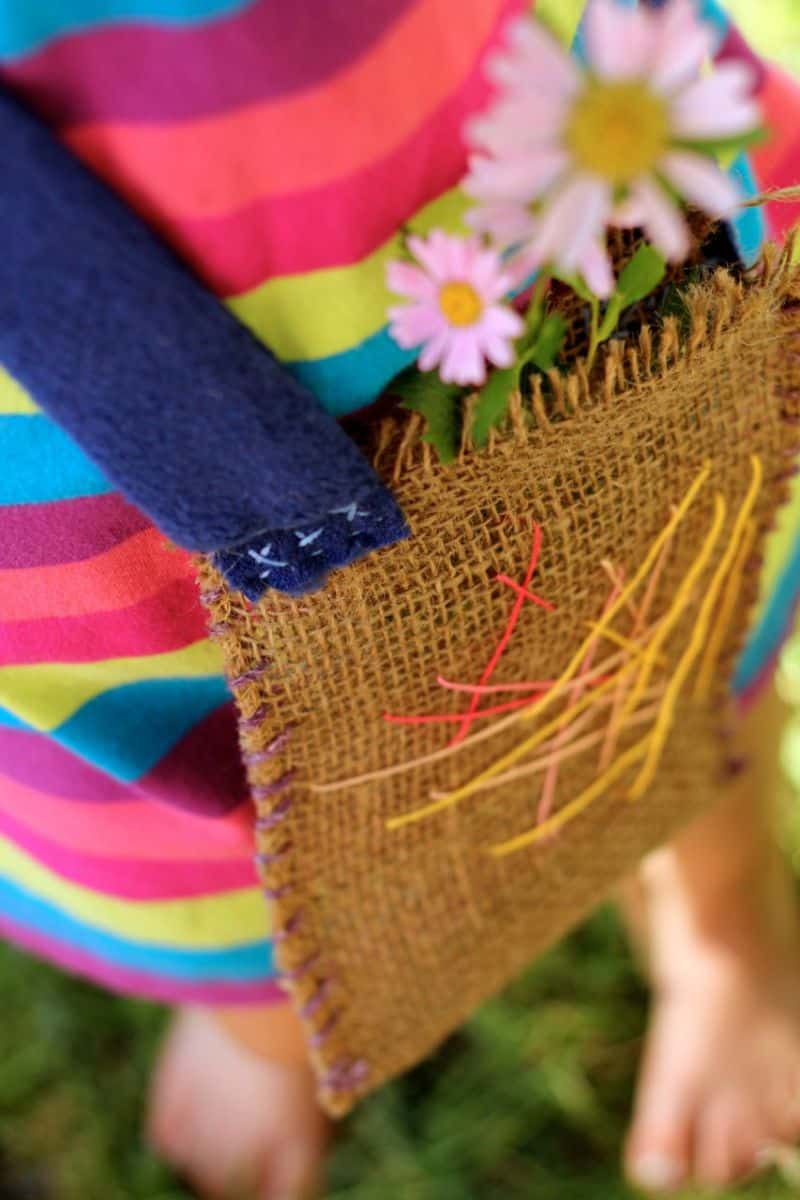 When you're done, go out and find some new treasures to carry in your very own handmade treasure bag – hooray!!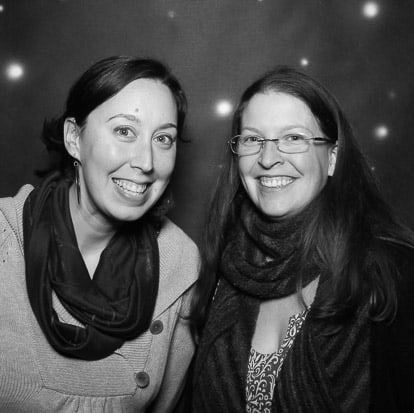 About the Authors: Andrea Folsom & Danielle Reiner are the artists, friends, and co-founders behind Crafting Connections, a magazine and website dedicated to bringing families the tools and inspiration for living creative lives, while raising curious and creative children. We believe that everyone can be creative, that crafting doesn't have to be hard to be meaningful, and that creativity is a necessary part of life. Crafting Connections offers practical inspiration (DIYs & tutorials), creative support for everyone from new parents and crafters to seasoned artists working to bring creativity to their little ones, and real glimpses into the lives of creative individuals and families.
Follow Crafting Connections on Facebook, Instagram, and Pinterest.
Fall Nature Walk – as well as other Crafting Connections Magazines – are available for purchase here.
Excerpted from Fall Nature Walk by Crafting Connections. Copyright © 2012. Photographs by Andrea Folsom.