Make an easy doll house out of a cardboard box and dress it up with some chic wallpaper and wheels. This is a fun handmade gift for kids they'll spend hours playing with that requires just a few items to make.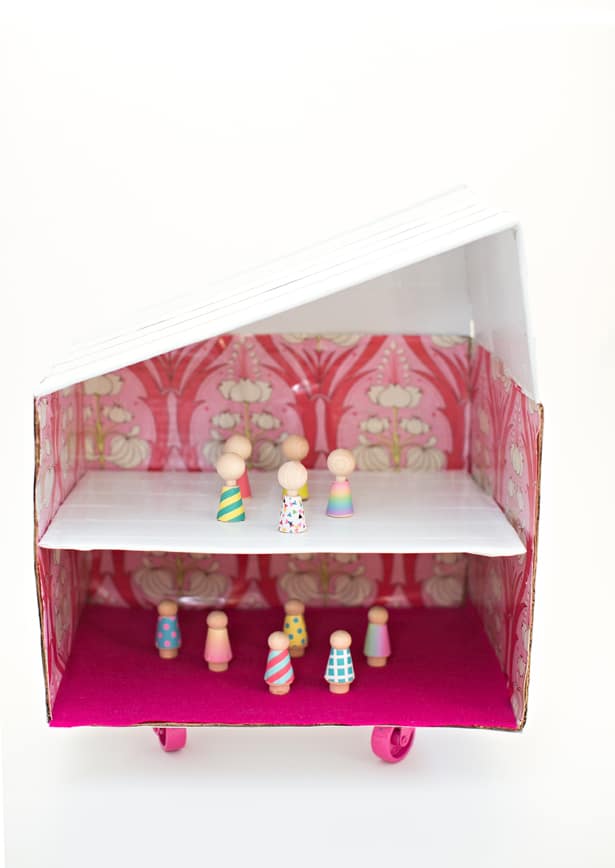 Cardboard Doll House On Wheels – Materials:
– one 14″ x 10″ x 10″ cardboard box, plus an extra 14″ x 10″ cardboard piece if you'd like to add the second floor
– fabric/felt for the wallpaper and floor
– craft glue or hot glue gun
– set of 4 small caster wheels (1 5/8″)
– pink spray paint (optional if you'd like to add the wheels, can be any color you'd like)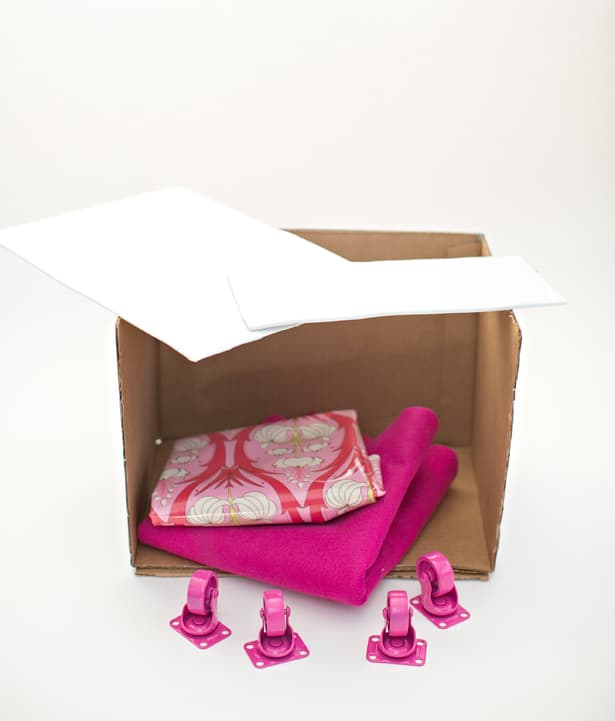 Instructions:
Step 1. Take your box and cut out one panel of it. The main panel will be your roof. Use it as a template to cut out the same shape which will be your second floor (you'll need additional cardboard for this part). Two of the flaps will be the other part of the roof and the backing to cover up the open area in the back when the roof is glued together.
Step 2. Duct tape the exterior of your box and all the panels.
Step 3. Spray paint your caster wheels, allow to dry.
Step 3. Glue felt on the floor and your fabric on the walls as wallpaper.
Step 4. Glue your caster wheels on the bottom.
Step 5. Glue your roof together (main panel you cut out and one of the flaps). Cut out the second flap into a triangle shape to cover the hole on the back of the house which you'll see when you put the roof together.
Step 6. Slide in your second floor panel in. You can glue the sides to keep it steady, but ours fit snuggly without once it was covered in duct tape.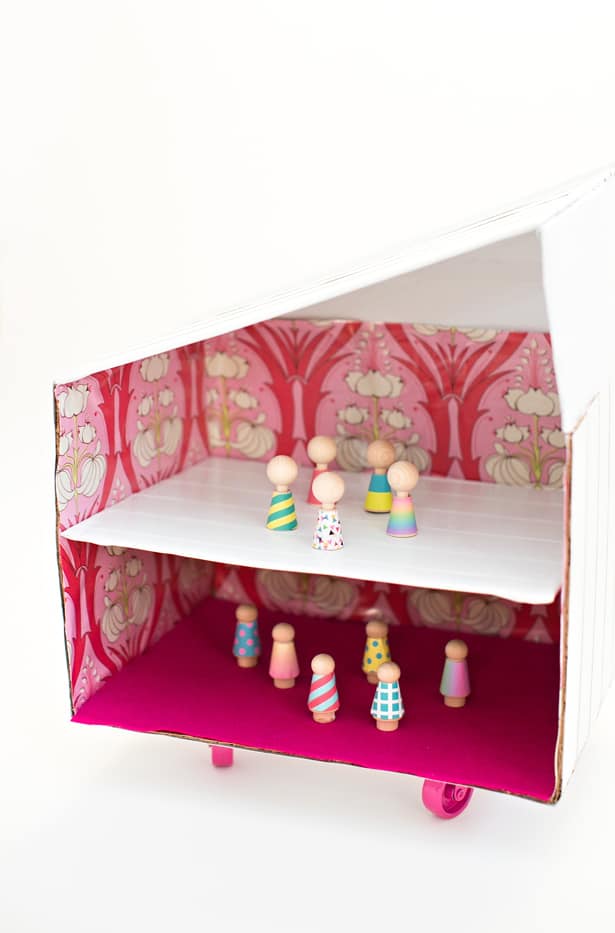 It's a bit hard to tell from the photos but the duct tape adds nice lines which look like wood paneling on the outside of a home. The wheels just give the dollhouse a fun touch. It's not a huge box so I thought it could double as a storage container when not played with, which was the inspiration for adding wheels.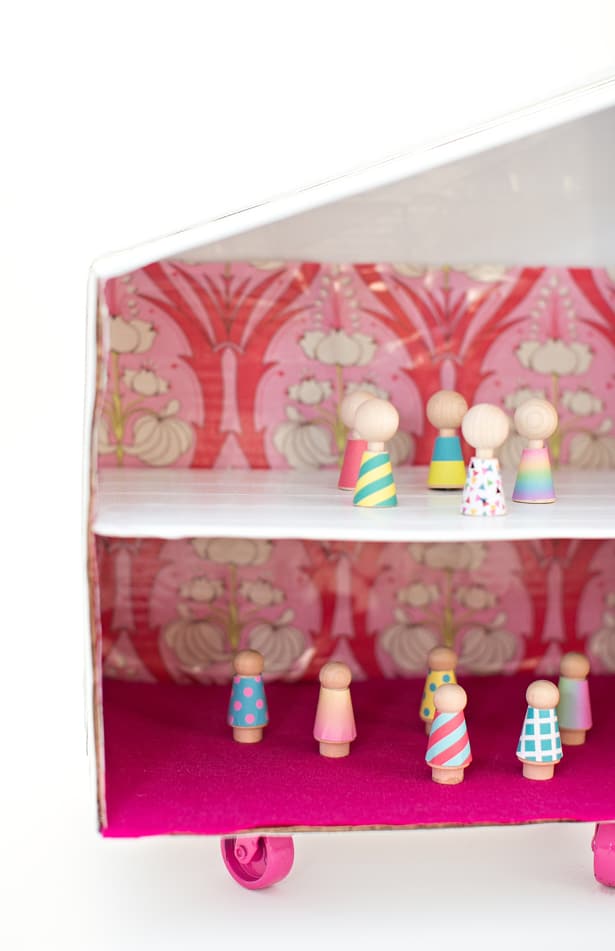 You can dress up your dollhouse by using different colored fabrics and felt. The wallpaper fabric used here was a shiny vinyl so it looks a bit reflective in the photos, but the pattern really makes it stand out.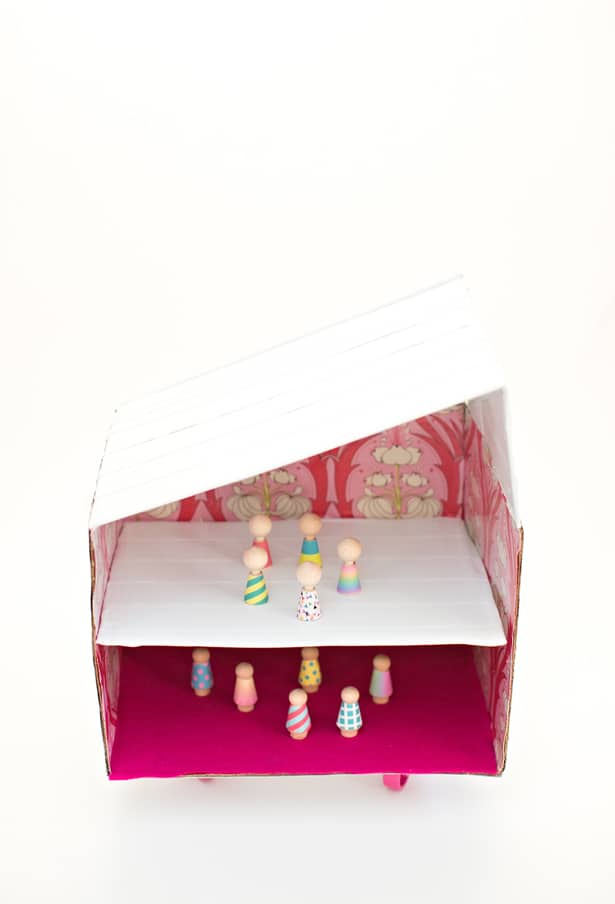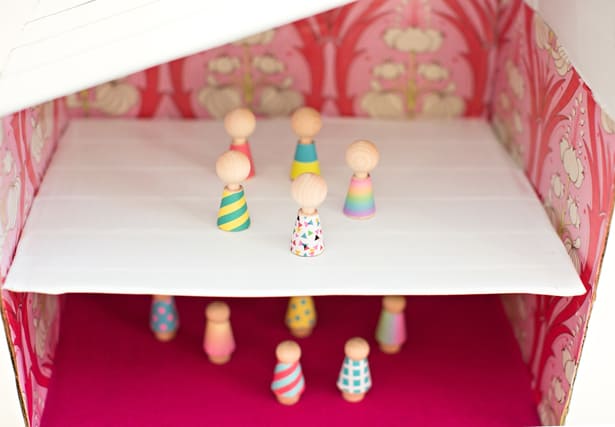 Peg dolls make the cutest companions to this small dollhouse. My daughter is playing with her adorable Rock and Pebble set here.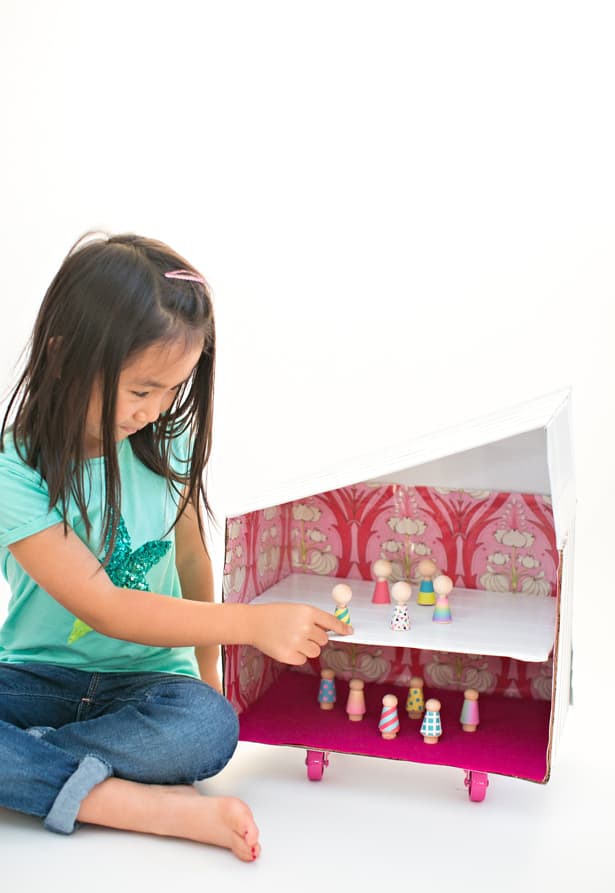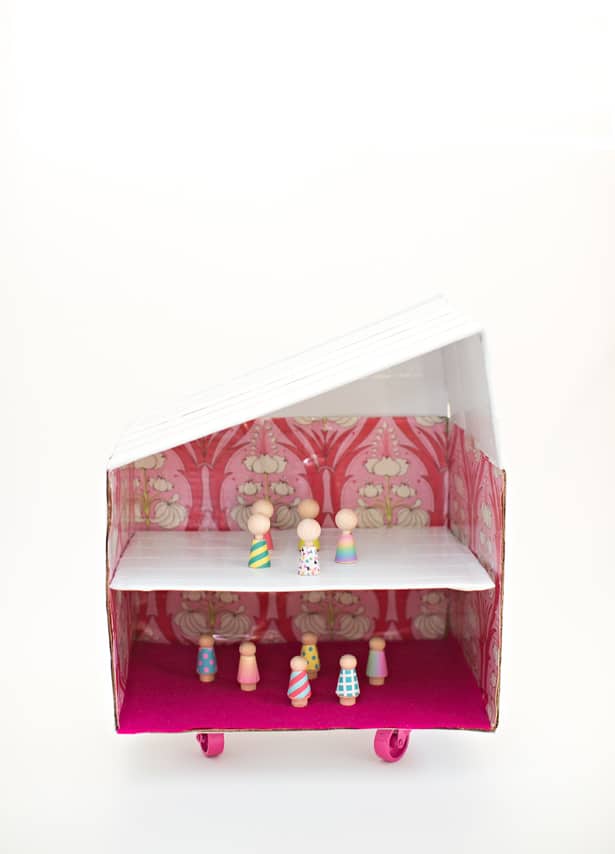 This is a fun little dollhouse that doesn't take up a lot of room (so it can sit on counters or tables easily). The wheels add a fun touch which also makes it a cute storage bin. You could even add a string to one side to pull it along.
Have you ever made a doll house before? Here's a fun round up of cardboard play houses to make or modern doll houses to buy.
______________________________________________________________________________________________________

Disclosure: Some of the links in the post above are "affiliate links." This means if you click on the link and purchase the item, we will receive a small affiliate commission. Regardless, we give our promise that we only recommend products or services we would use personally and believe will add values to our readers.