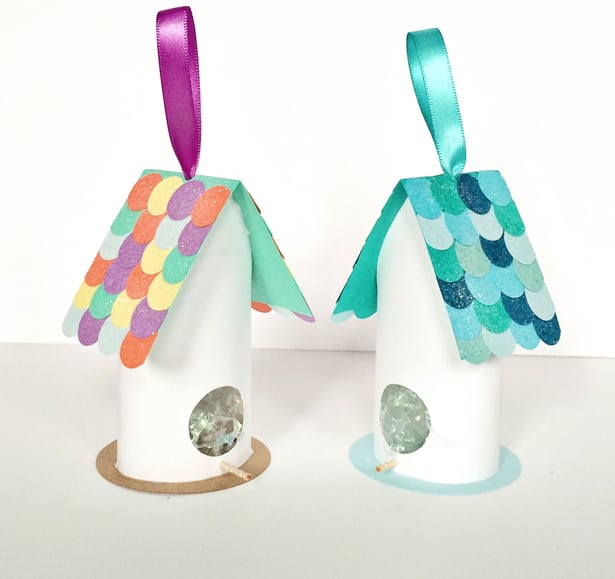 What says summer more than the chirping birds outside your window? Bring summer indoors with this cute birdhouse craft that kids can make, decorate and hang inside the house. Wouldn't you want to live in one?
Birdhouse Paper Tube Craft – Materials:
– Cardstock (various colors)
– Toilet paper tube
– 5/8″ circle punch
– 3/4″ circle punch
– 2 1/2″ circle punch
– Ribbon
– Scissors
– Tacky glue
– Spray glue
– Fine iridescent glitter
– Any additional embellishments
Step 1
. Cut a piece of white cardstock at about 4 1/4″ X 6″ to cover the toilet tube. Punch a circle with the 3/4″ punch in the center of your white cardstock. Cut a 4 3/4″ X 2″ rectangle from colored cardstock and fold it in half, this will be the roof.
Step 2. Next, using your 5/8″ punch, cut about 48 circles in various colors, these will be the shingles for the roof. Begin gluing on the circles to the roof starting at the bottom and working your way to the center fold, do this for both sides.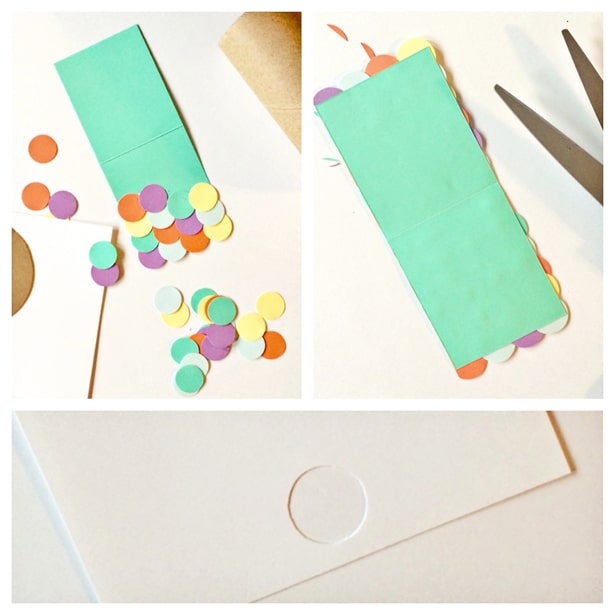 Step 3. Punch a small hole in the middle of the center fold of the roof for threading in a ribbon to hang your birdhouse. Flip your roof over and trim off the excess shingles. Use spray glue to lightly coat the side with the shingles and then sprinkle on a little bit of iridescent glitter. Tie on the ribbon for hanging.


Step 4. Wrap the white paper around the tube only halfway in order to staple the paper closed without stapling it to the tube. You may also leave the tube in for extra support but be sure to also punch the circle entrance. Next, cut a triangular shape at the top of your tube being sure to press lightly getting through to the back of the tube.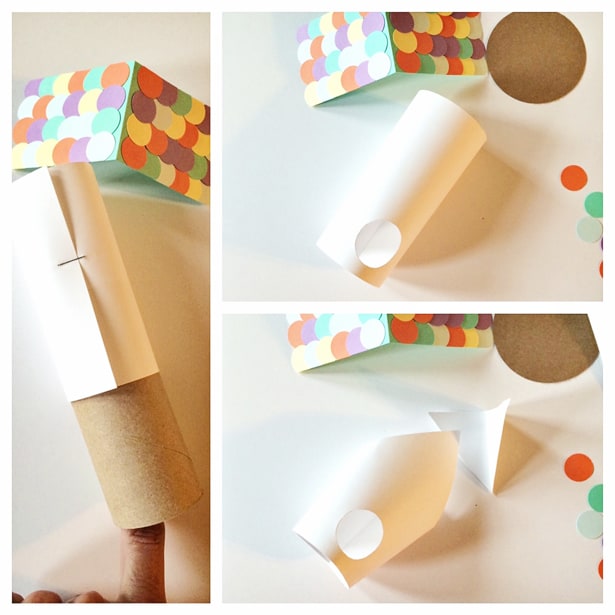 Step 5. If you'd like a perch, punch a small hole under the birdhouse entrance and one in the back directly behind it. Feed a toothpick through and add a little tacky glue to secure it.

Step 6. Punch a 2 1/2″ circle from colored cardstock, this will be the base of your birdhouse. Glue the tube to the base, then glue the roof to the tube.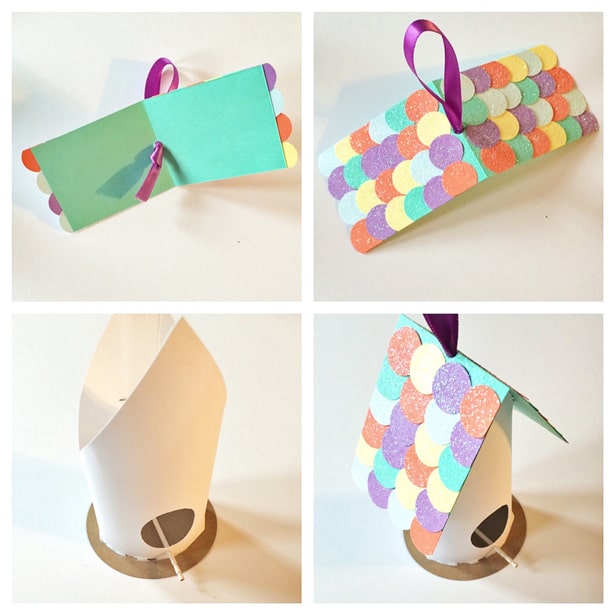 Try adding little bird friends and any other embellishments to make these extra special! I filled the inside of the birdhouse with iridescent shredded paper!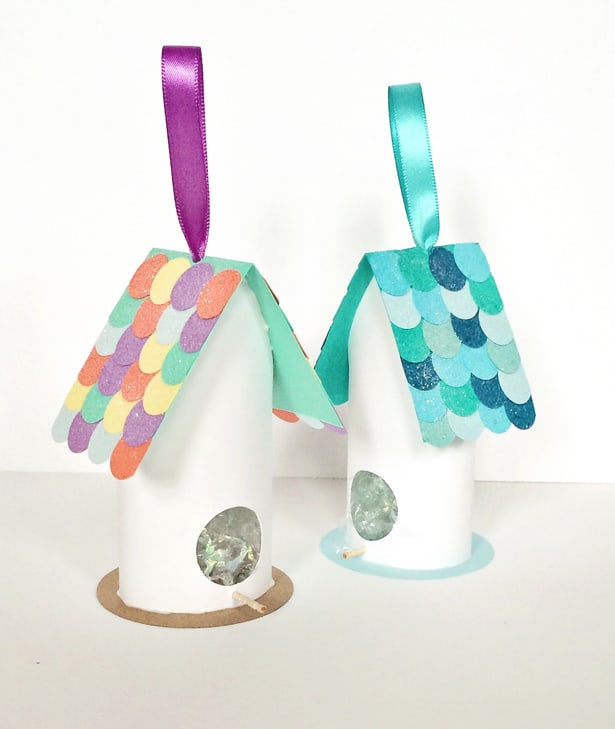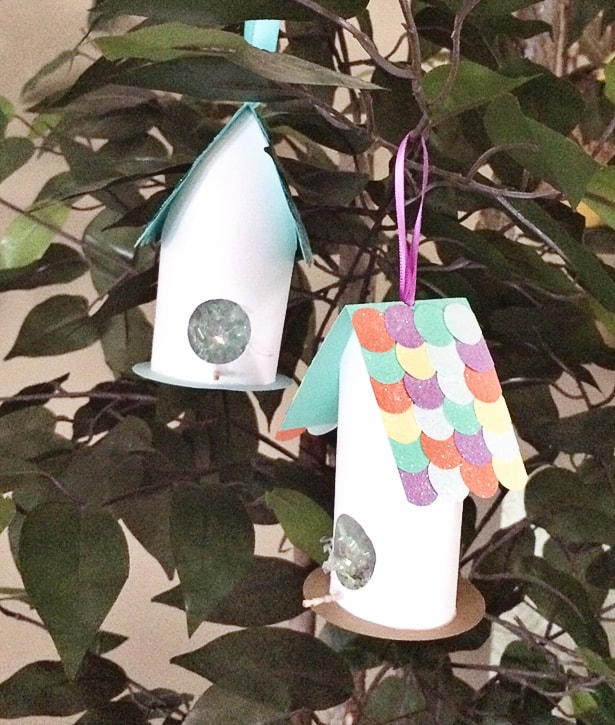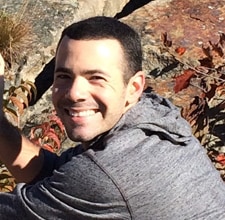 John Lavelle is an artist and art teacher who loves working with all things paper – cardstock, cardboard, foam board, tissue paper, and of course toilet paper tubes. John graduated from the School of Visual Arts with a Bachelors degree in cartooning and earned his Masters degree in Art Education.
Over the past few years, John has been working with young individuals who have ASD, which constantly keeps him on his toes and who are the inspiration behind the creative projects he prepares for their daily art classes. You can follow his latest projects on Instagram.