Welcome to our next Cooking With Kids post! Today we're exploring how kids – even at a young age – can become foodies. I don't mean "foodies" in the sense that they start dining at fine gourmet restaurants. As mentioned in the many ways you can deal with picky eating, giving your child a wide breadth of learning around food can help keep them engaged. This means not limiting them to only "kids foods" and showing them recipes from different cultures.
You could visit the farmer's market and explain how to use and cook with different produce. Or show kids your favorite cookbook collection and ask them what recipe they'd like to make. You could even take them to a cookbook signing so they could meet the chef and ask questions to get them excited about cooking. This is what we ended up doing and not only was it a memorable event, it ended up becoming a super fun cooking lesson!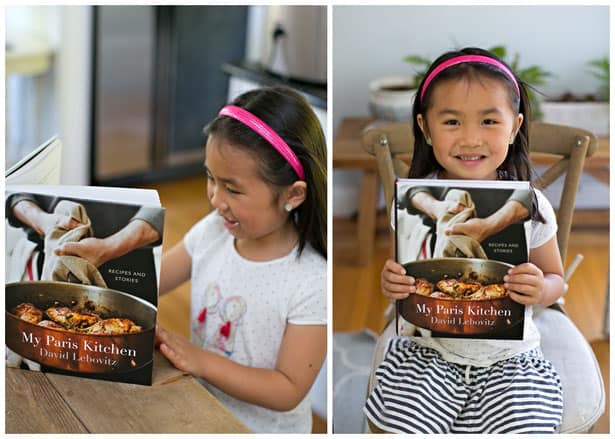 You probably have heard of David Lebovitz but in case you haven't, Lebovitz is a a popular chef, cookbook writer and blogger who now lives in Paris. David became one of my favorite chefs and writer to follow after I read his entertaining book The Sweet Life In Paris, describing his adventures as a new resident of the City of Lights. Sprinkled with humor and recipes along the way, it's part cookbook, part memoir.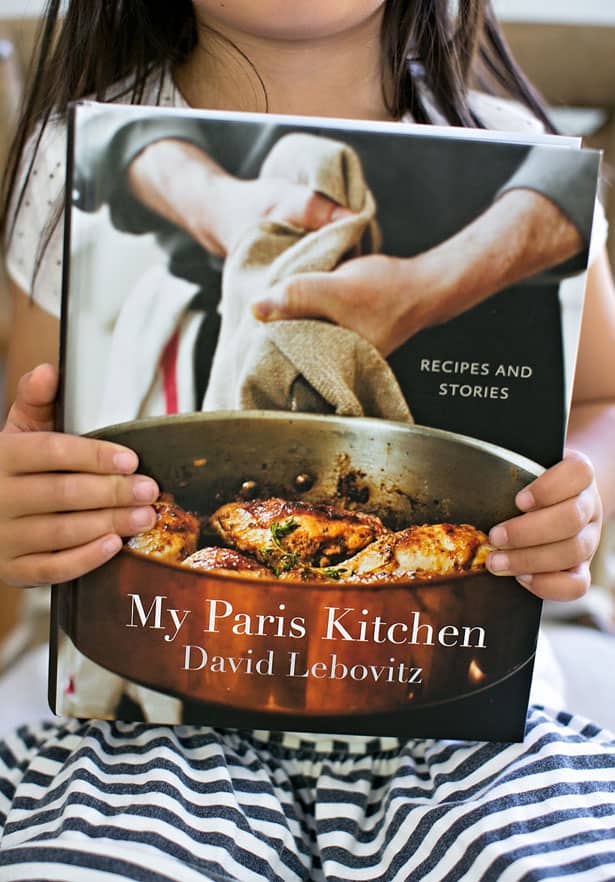 Lebovitz just came out with a new cookbook, My Paris Kitchen, filled with amazing French inspired recipes accompanied by his signature stories and witty anecdotes. When I saw he would be doing a book signing in San Francisco (where we're from) I knew I had to go.
We took the whole family and my five year old daughter was so excited to meet her first real "chef." She had a question for David all picked out which was "how do you make French cakes?" When we finally got our book signed, David answered good-humoredly "eggs, butter, and lots of good chocolate."
So that is exactly what we did. We made David Lebovitz' Chocolate Cakes and they were as amazing tasting as the pretty picture in the cookbook.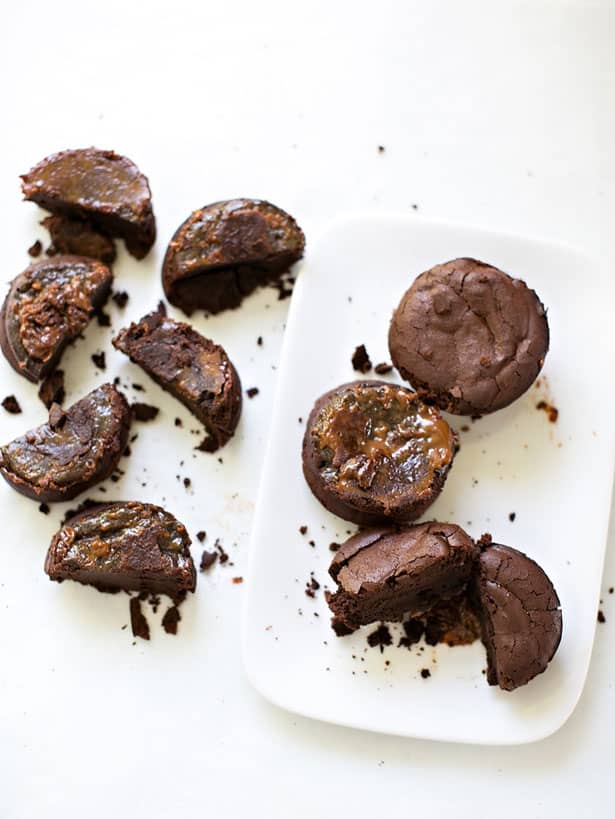 Chocolate Cakes With Dulce De Leche and Fleur de Sel – Ingredients:
(from David Lebovitz's My Paris Kitchen cookbook)
– 2 Tbsp unsweetened Dutch cocoa powder (plus more for dusting)
– 6 tbsps dulce de leche (this is a type of caramel you can find in in specialty stores or even Whole Foods)
– 1 tbsp flaky sea salt
– 8 oz bittersweet or semisweet chocolate (broken up)
– 8 tbsp unsalted butter (cubed) plus some for greasing
– 6 tbsp light brown sugar
– 4 large eggs
You'll need six (4 oz) ramekins or small baking containers around that size.
Note: Despite the fancy name, the list of ingredients is relatively short and simple. I'm sure you could substitute kosher salt and any caramel sauce for dulce de leche and be just fine. You'll see below that this was fun and easy for even a 5 year old to do all the major steps!
Steps:
(preheat oven to 400 degrees)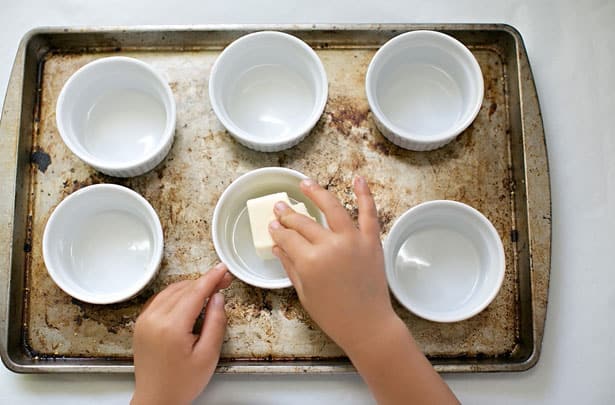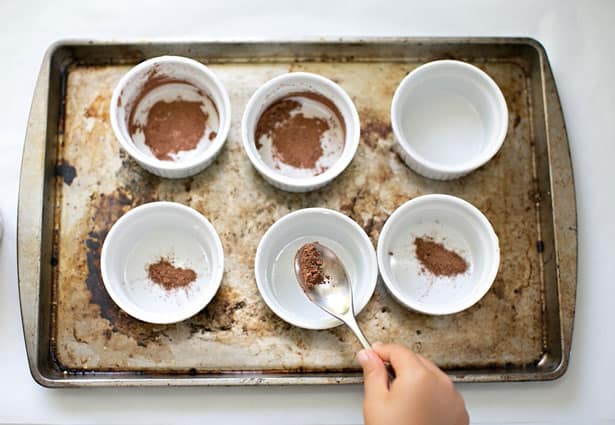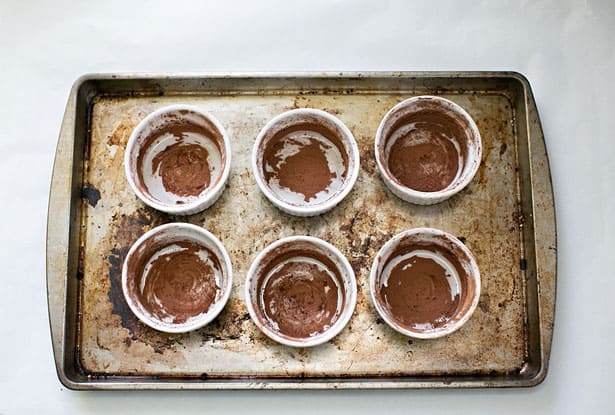 1. Lay out your ramekins on a baking pan. Butter the insides and dust with cocoa powder. It's easy for kids to do that by using a spoon, adding a small amount and "shaking" the ramekin from side to side.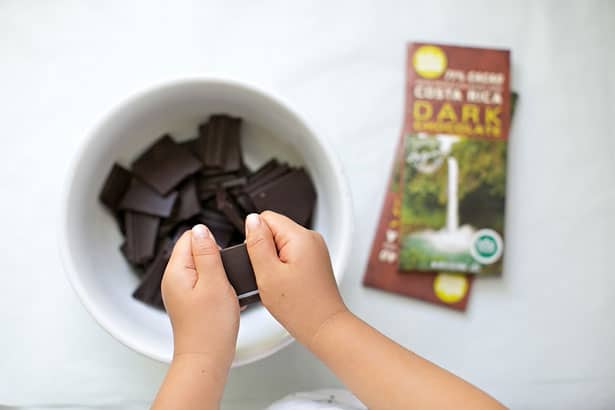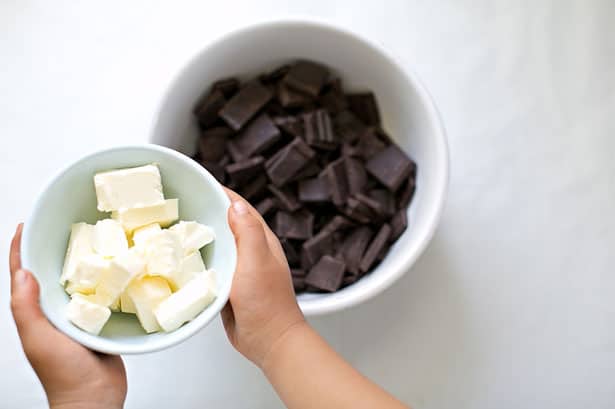 2. Break up your chocolate bars. Kids love breaking things apart and chocolate makes it even more fun. Mix your cubed butter with the chocolate and microwave at 30-40 second intervals until melted. Mix well in between so the butter and chocolate are well combined. (note: the recipe calls for melting in a pan over simmering water, but the microwave is just easier for kids).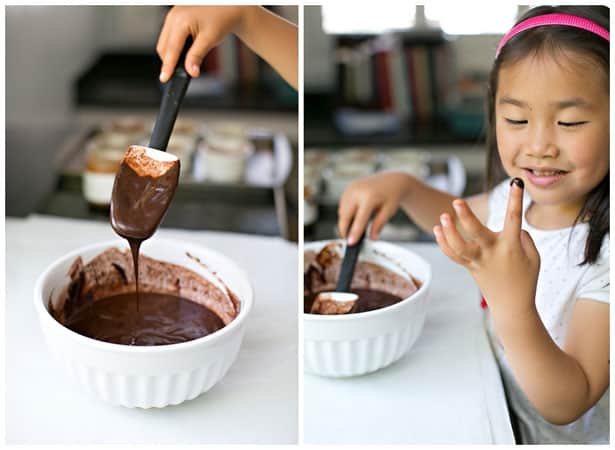 You'll get a nice, glossy sheet of chocolate and butter. Which of course my daughter couldn't resist tasting.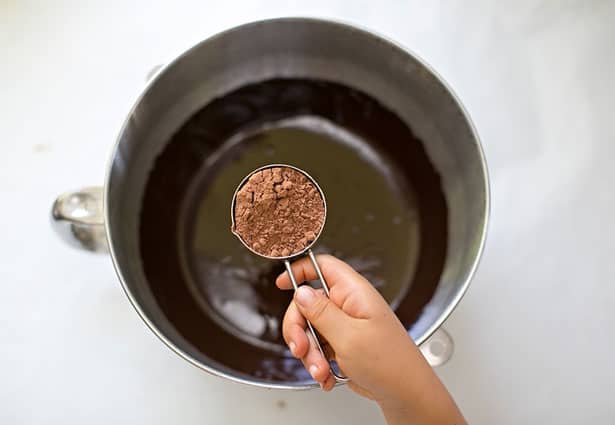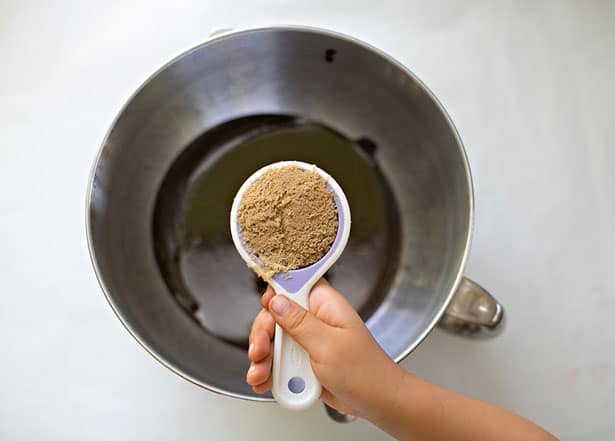 3. At this point, we transferred the chocolate to a stand mixer bowl, but you can mix by hand if you don't have one (the recipe doesn't call for a mixer, we just used what we had to make it easier). Add the cocoa powder and sugar in the chocolate mixture and stir well.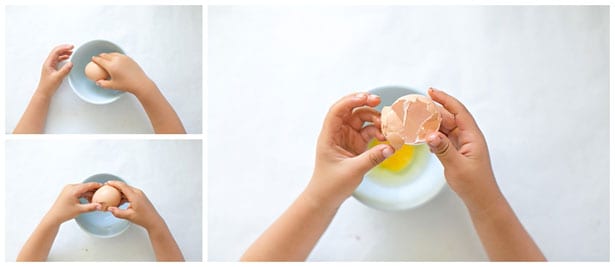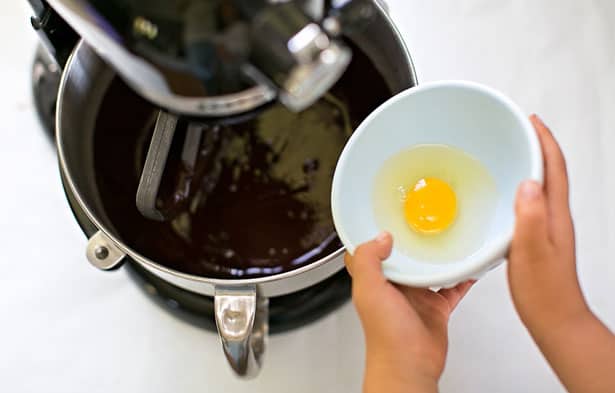 4. Add eggs to chocolate mixture one at a time and stir. This was my daughter's first time cracking eggs all by herself, and she thought it was a blast. Tip: for little hands, ask your child to crack egg on bottom of bowl and then use their fingers to open the shell (as shown above). This makes it easier for kids to crack eggs vs. using the side of the bowl.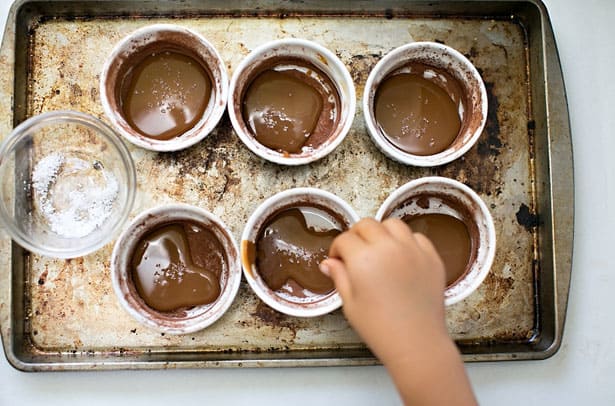 5. Add the dulce de leche to the bottom of each ramekin, sprinkle sea salt over each.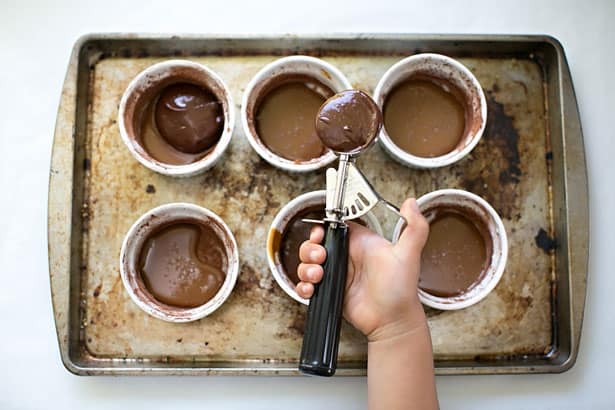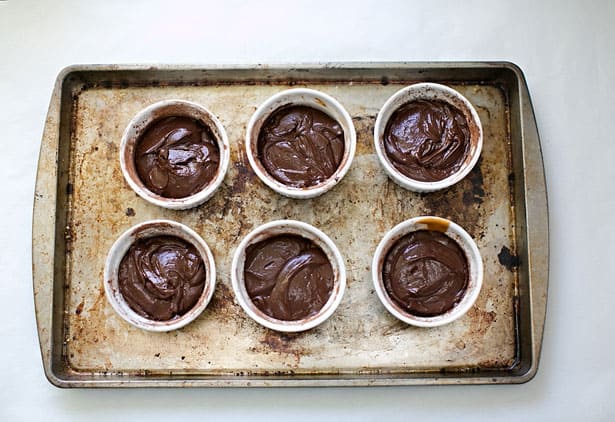 6. Add your chocolate mixture over the dulce de leche. Tip: using a scoop is an easy way for kids to "dump" ingredients in (e.g. when making muffins, cookies, cupcakes, etc). This is a 1 oz scoop and we scooped 3 oz into each ramekin.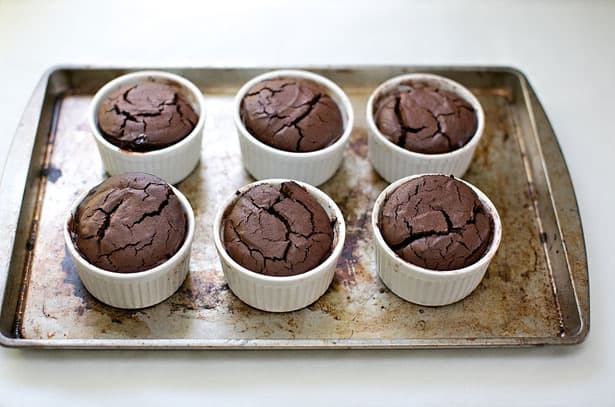 7. Bake for 15 minutes or until sides are firm but centers are still shiny (if you want a molten type of cake). We made these to take to a gathering and since they weren't going to be eaten right away, we baked for 5 minutes longer (20 minutes total) so the centers were more set.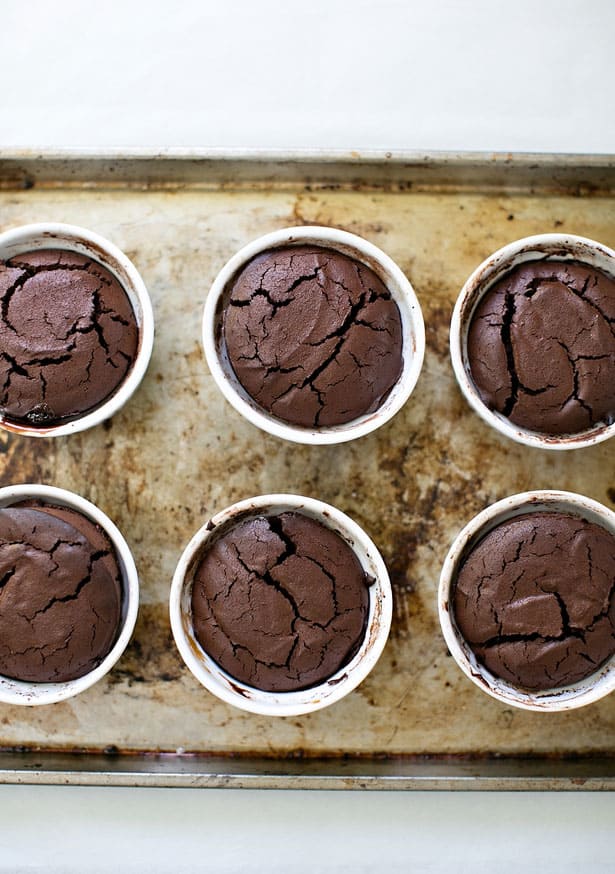 These mini chocolate cakes baked up so well and look as delicious as they tasted! They'd be great for a kids' party if you wanted to serve individual mini cakes. We served them with ice cream and they were amazing.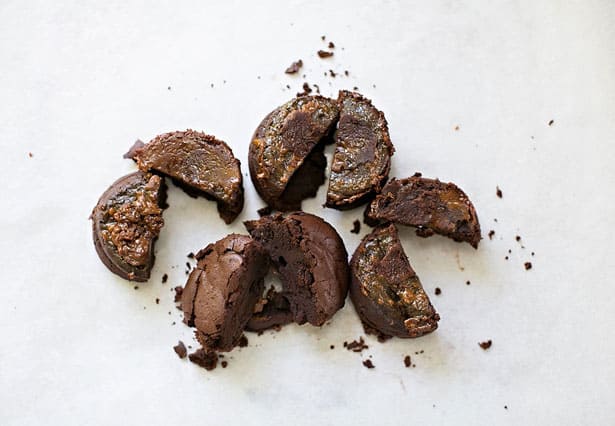 The caramelized bottom with touch of sea salt just made the cake. The cake itself isn't very sweet and you really get more of rich, dark chocolate flavor. But when combined with a bite of the caramel and touch of salt, it becomes well-balanced and delicious.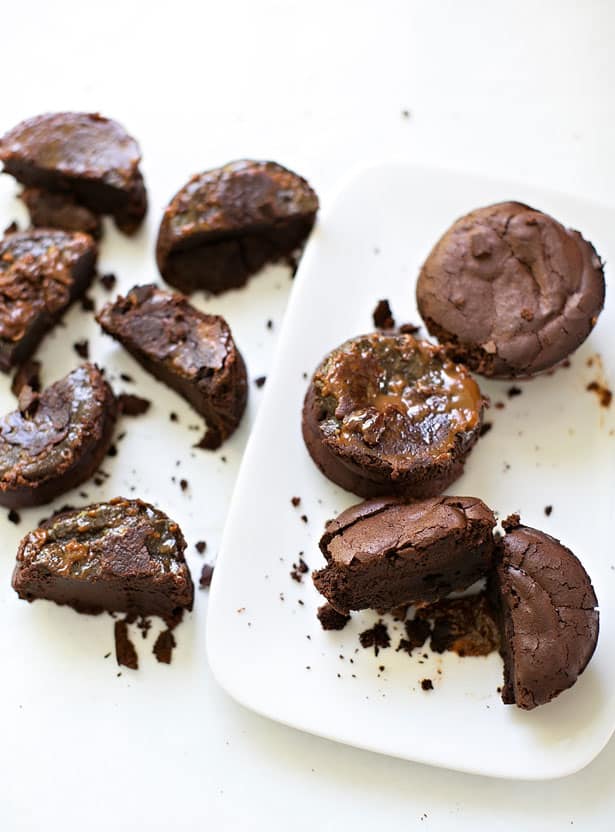 These chocolate cakes may look fancy, but as you can see from the steps above, it's a totally doable recipe for even a 5 year old to follow. The point is getting kids excited about trying new recipes, and out of the "kids foods" comfort zone once in while. Varying up how you cook with kids is what makes them stay interested and engaged!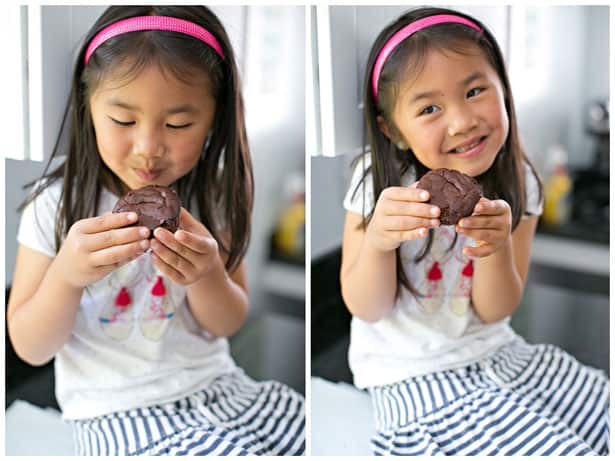 I can't tell you how happy it made my daughter to go full circle from meeting the chef, looking through the cookbook and picking out something delicious to make from it. I realize attending a book signing may not be something that happens everyday, but I encourage you to show your child a few cookbooks, tell them about your favorite chefs, go shopping for ingredients and make something amazing together. You'll end up having tons of fun along the way, I promise.
Who are some of your favorite cookbook authors and chefs?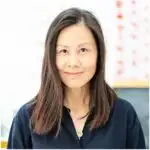 Agnes Hsu is a mom of three and has been inspiring parents and kids to get creative with easy activities and family friendly recipes for over 10 years. She shares her love for creative play and kids food to her 2MM+ followers online. Agnes' commitment to playful learning and kindness has not only raised funds for charity but also earned features in prestigious nationwide publications.