I've been teaming up with my bake shop to bring easy baking tips and recipes (check out our easy cupcake fondant decorating and chocolate bark). Today, I'm sharing one more idea that's perfect for holiday gift gifting.
Dry mix jars are fun for kids to help make as edible gifts – they'll love dumping flour, sugar, and chocolate into jars. Place a pretty tag with instructions and you have a delicious handmade gift. Who wouldn't want a jar of yummy cookie mix? This is our bake shop's recipe and is our top seller…enjoy!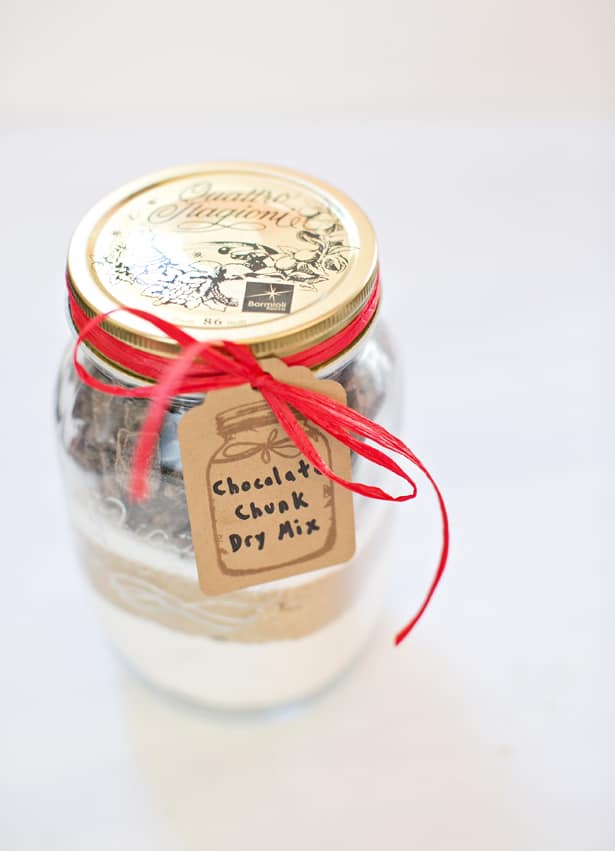 Chocolate Chunk Dry Mix Jar – Ingredients/Materials:
(makes 1 jar)

Packaging:
– mason jar (1 quart)
– ribbon
– gift tag and/or note card
Ingredients for inside the jar:
1 3/4 cups flour
1 1/2 teaspoons baking powder
1/2 teaspoons salt
1/4 + 1/8 teaspoons baking soda
1 cup brown sugar
1/3 cup white sugar
9 oz chocolate chunks or chips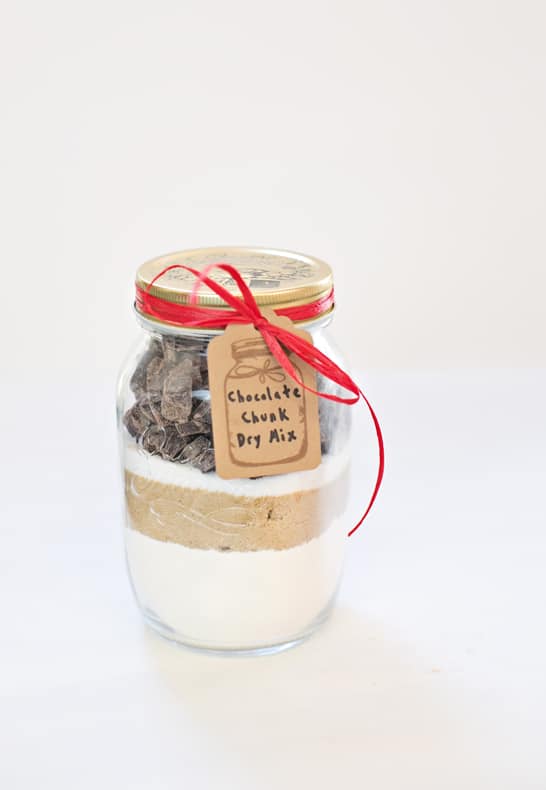 Instructions:
Step 1. Sift together flour, baking powder, baking soda and salt. Pour into jar and pack down with a tamper or flat kitchen tool.
Step 2. In this order, add the brown sugar, white sugar and finish with the chocolate chunks/chips, making sure to pack down after each ingredient is added.
Step 3. Label jar with the following instructions:
Pour chocolate chips or chunks into bowl. In a separate bowl, pour remaining dry contents. Melt 2 sticks unsalted butter, cool slightly. Add melted butter, 1 egg + 1 egg yolk and 2 teaspoon vanilla extract to flour mixture. Stir until combined. Add chocolate chunks or chips.
Scoop cookie dough in rounded tablespoons. Bake at 375 degrees for 8-12 minutes.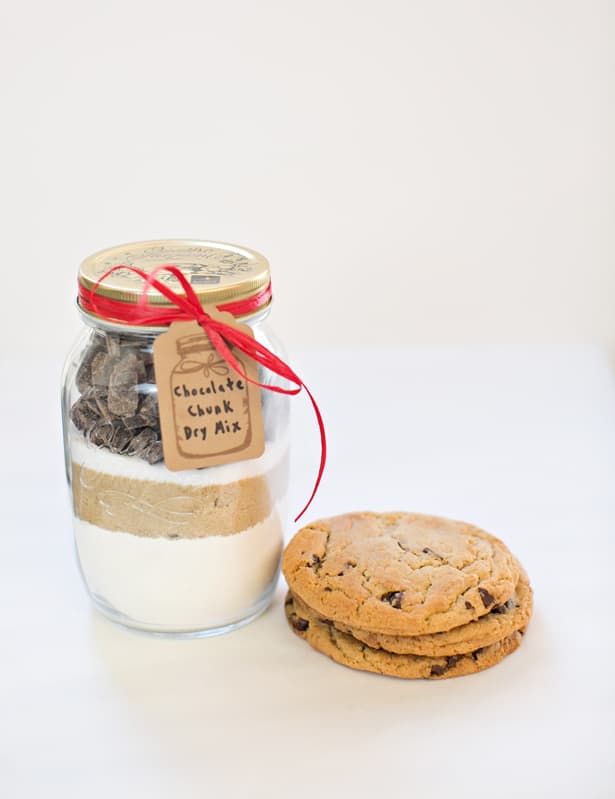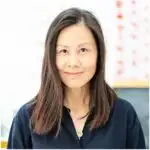 Agnes Hsu is a mom of three and has been inspiring parents and kids to get creative with easy activities and family friendly recipes for over 10 years. She shares her love for creative play and kids food to her 2MM+ followers online. Agnes' commitment to playful learning and kindness has not only raised funds for charity but also earned features in prestigious nationwide publications.