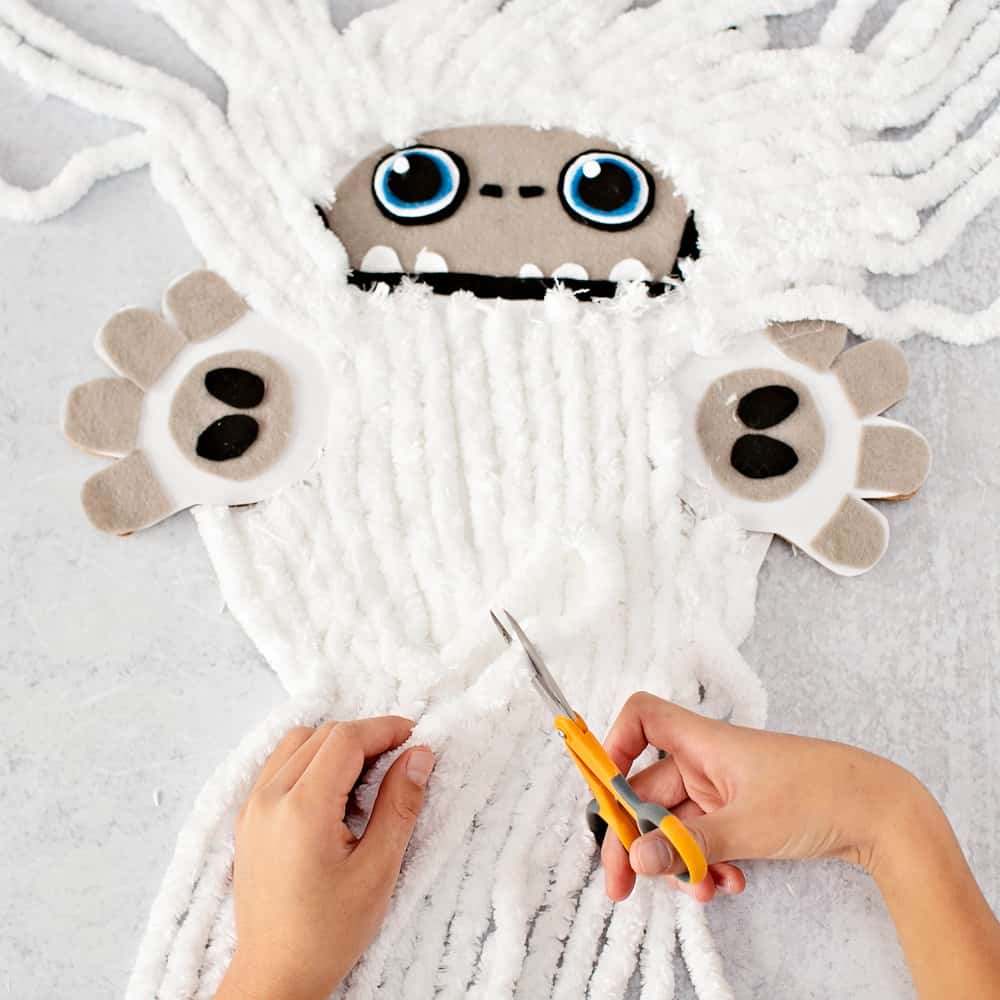 This post is sponsored by Universal Pictures Home Entertainment. All opinions are my own.
Our household is super excited about the new animated movie, ABOMINABLE available now on Digital, and on Blu-ray & DVD December 17, right as the holiday season is kicking off.
In our house, we love family movie nights. Being able to snuggle up together and enjoy the adorable and engaging characters in family-friendly movies is something we try to sit down and do together quite often.
The movie, ABOMINABLE, is one that we really love. If you haven't watched this amazing movie yet, don't worry. You can own it on Digital today, and purchase the Blu-ray very soon, plus it makes the perfect holiday gift (for your household and others).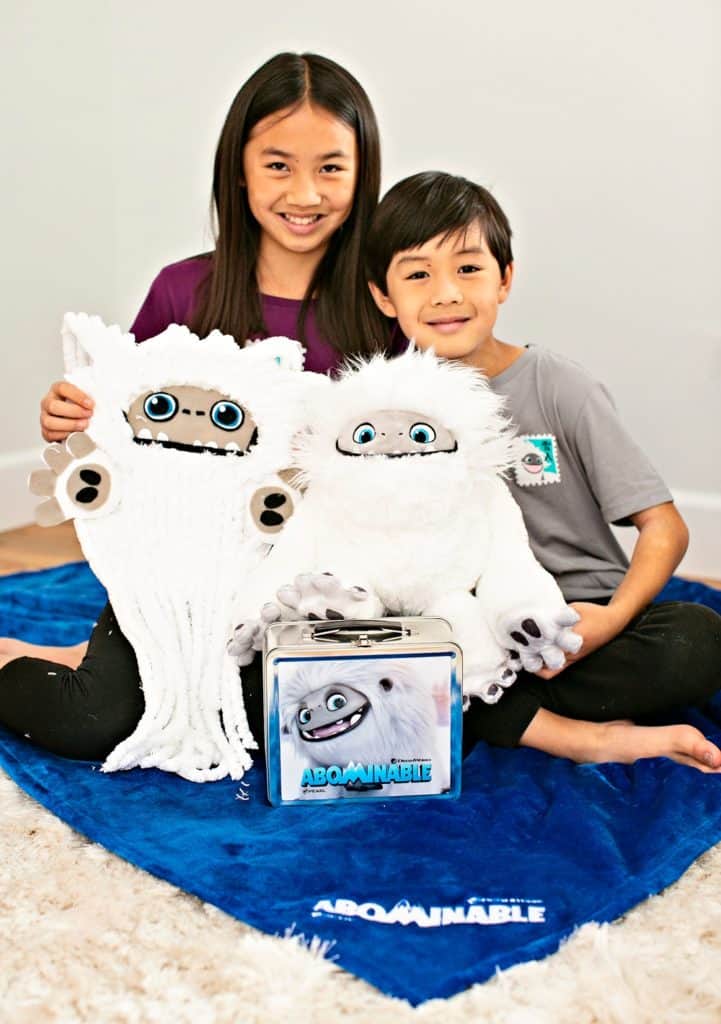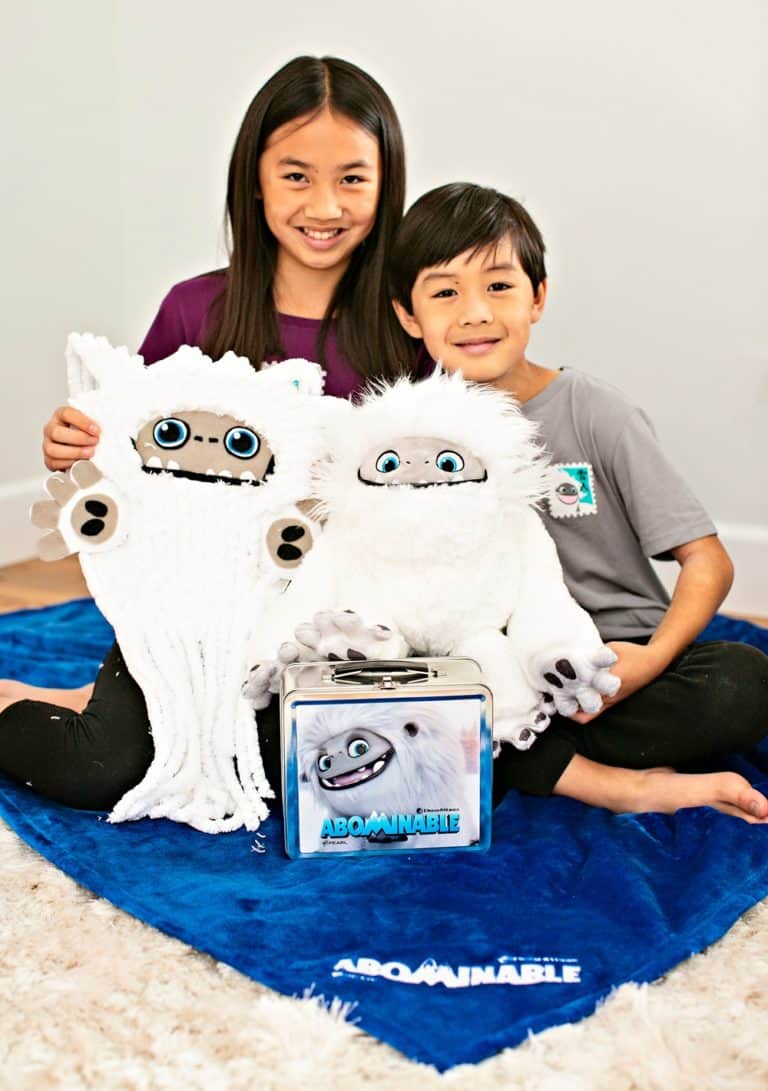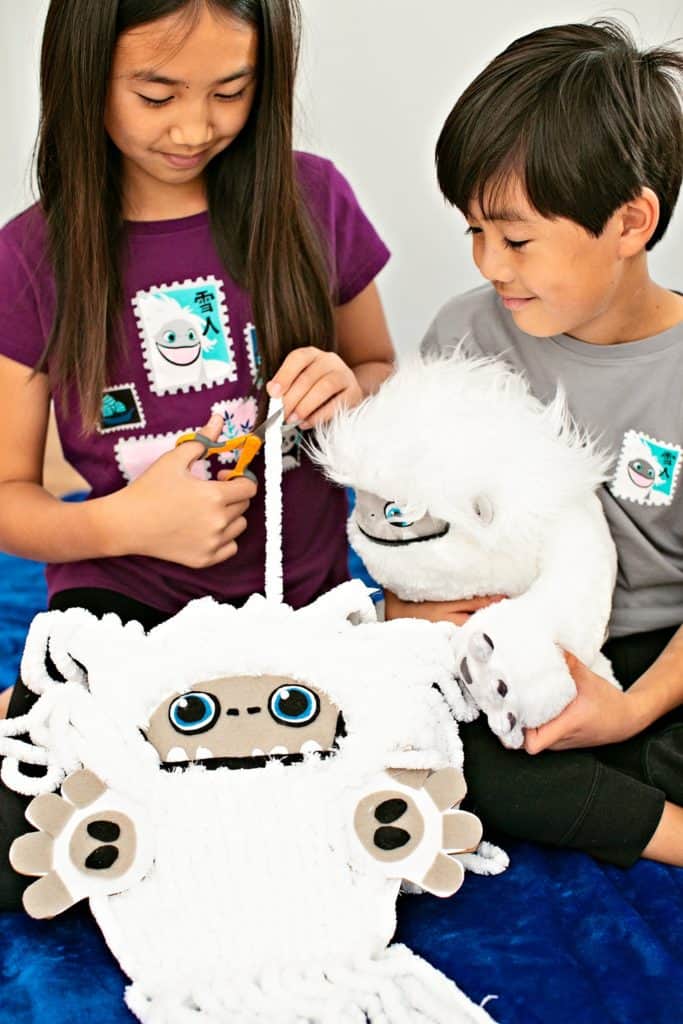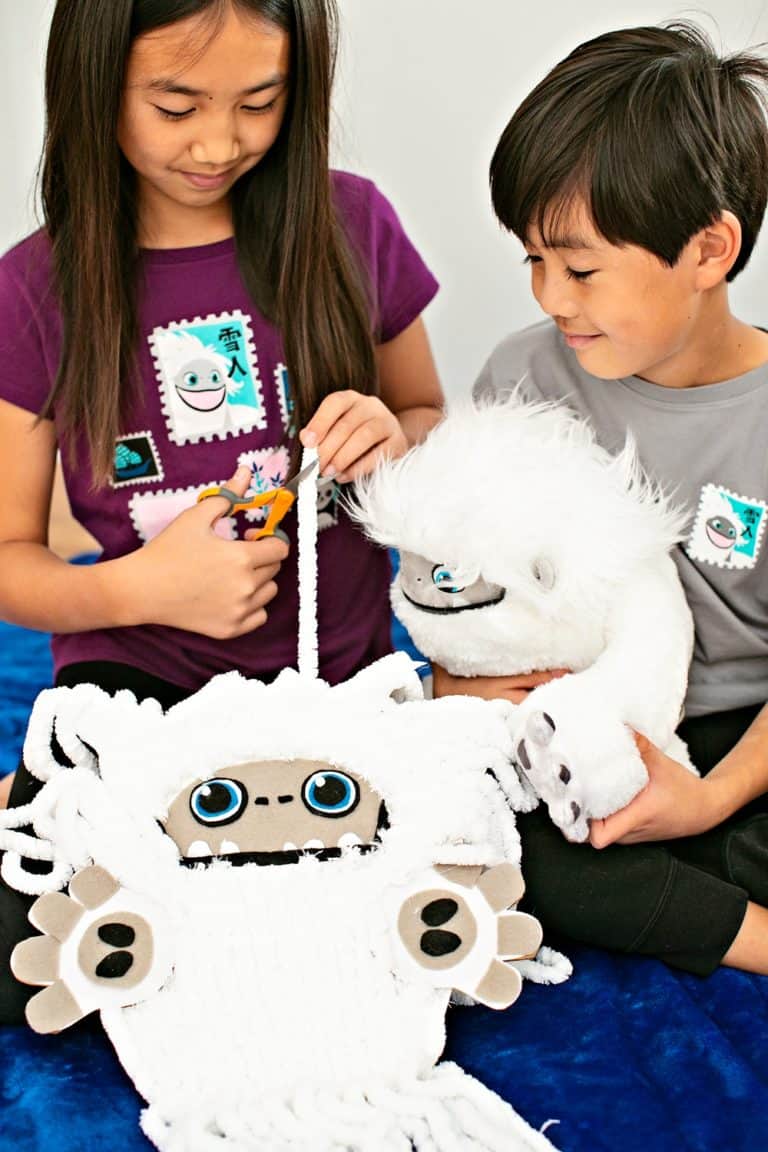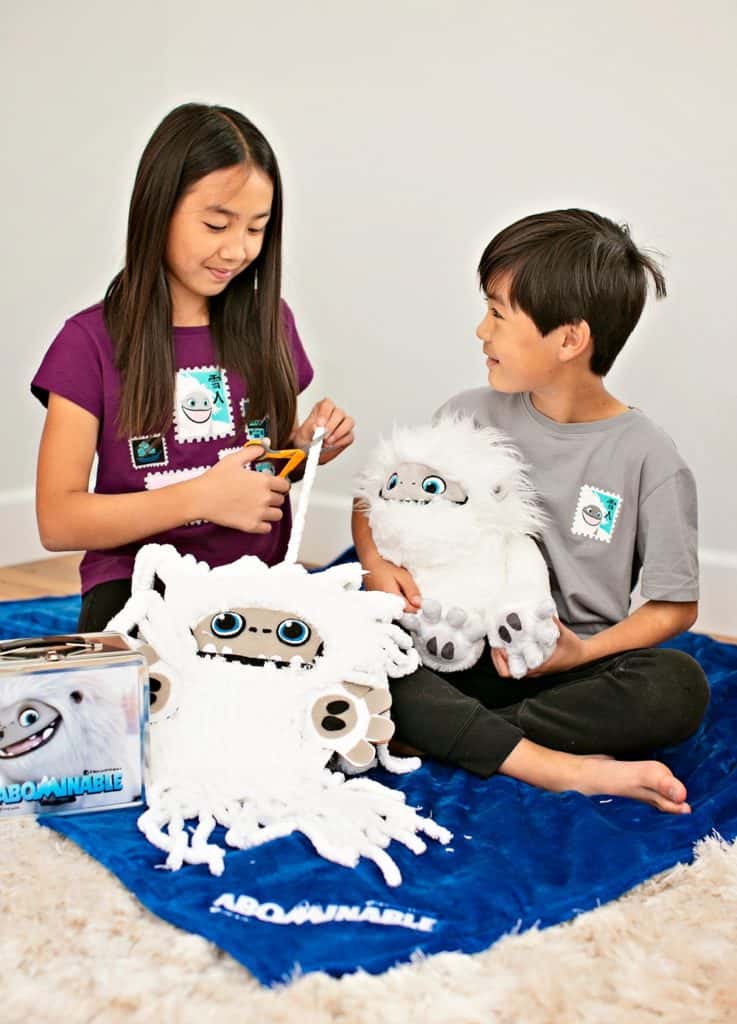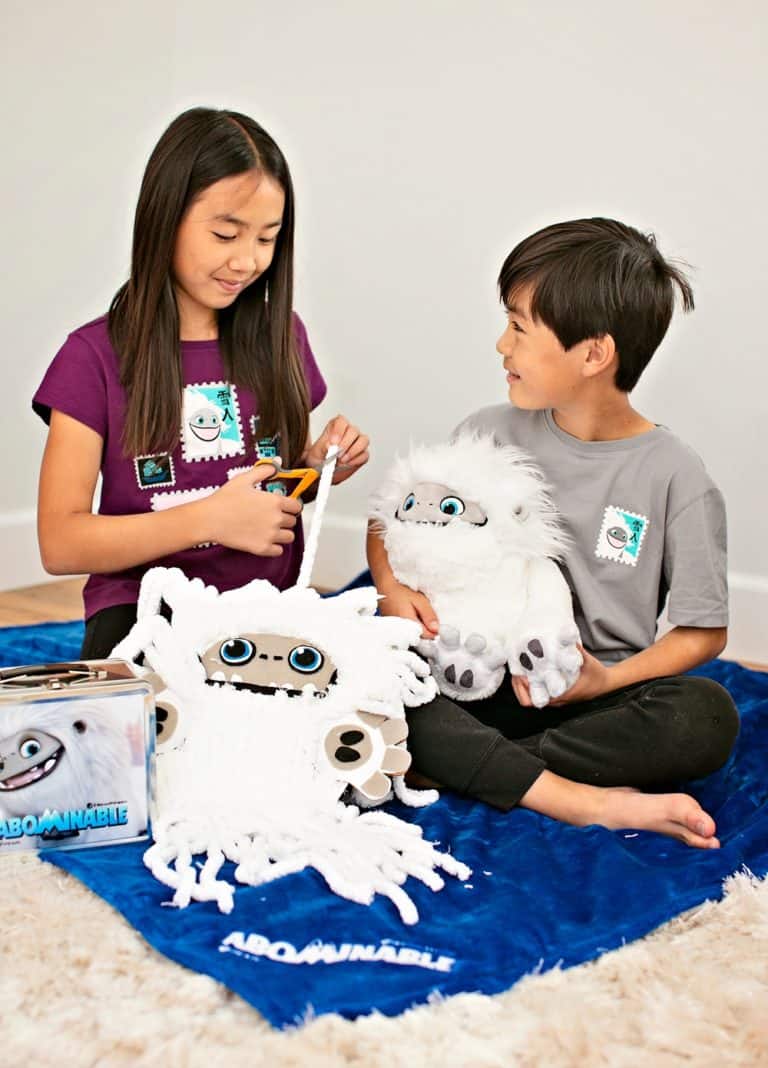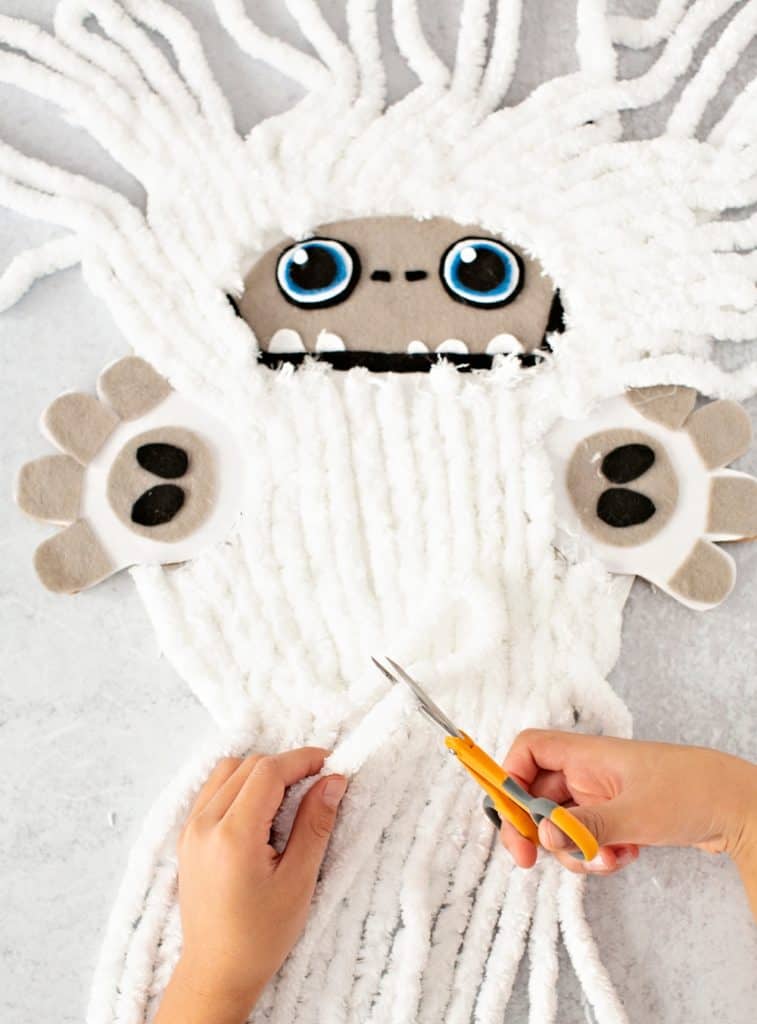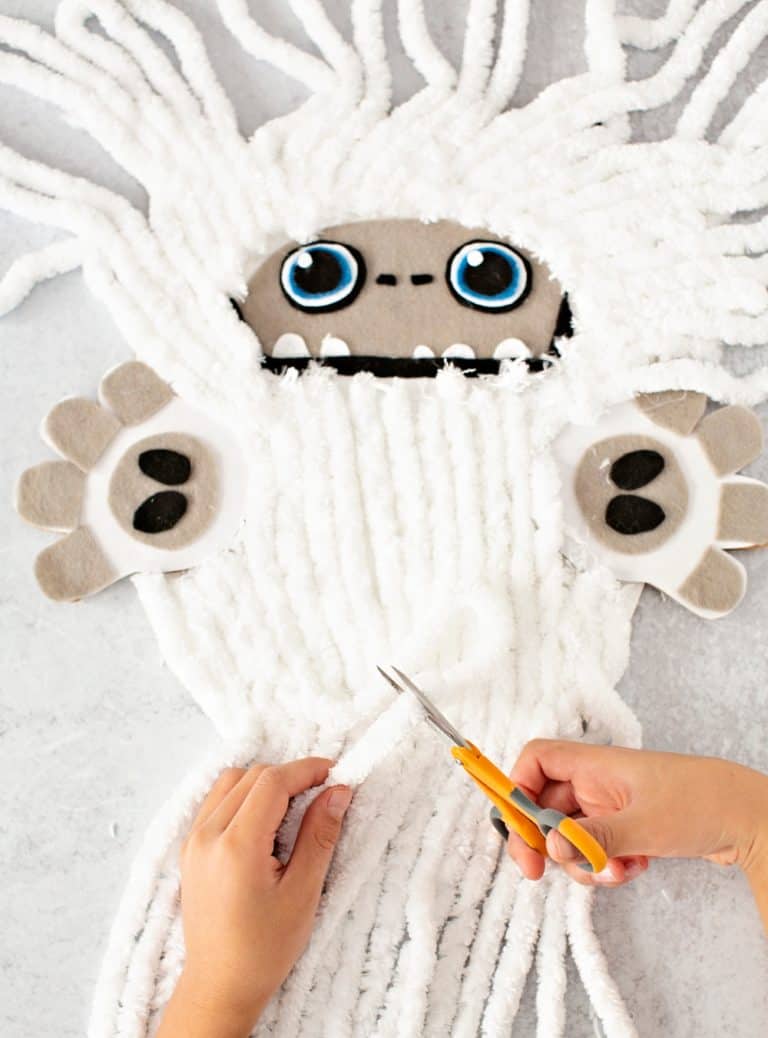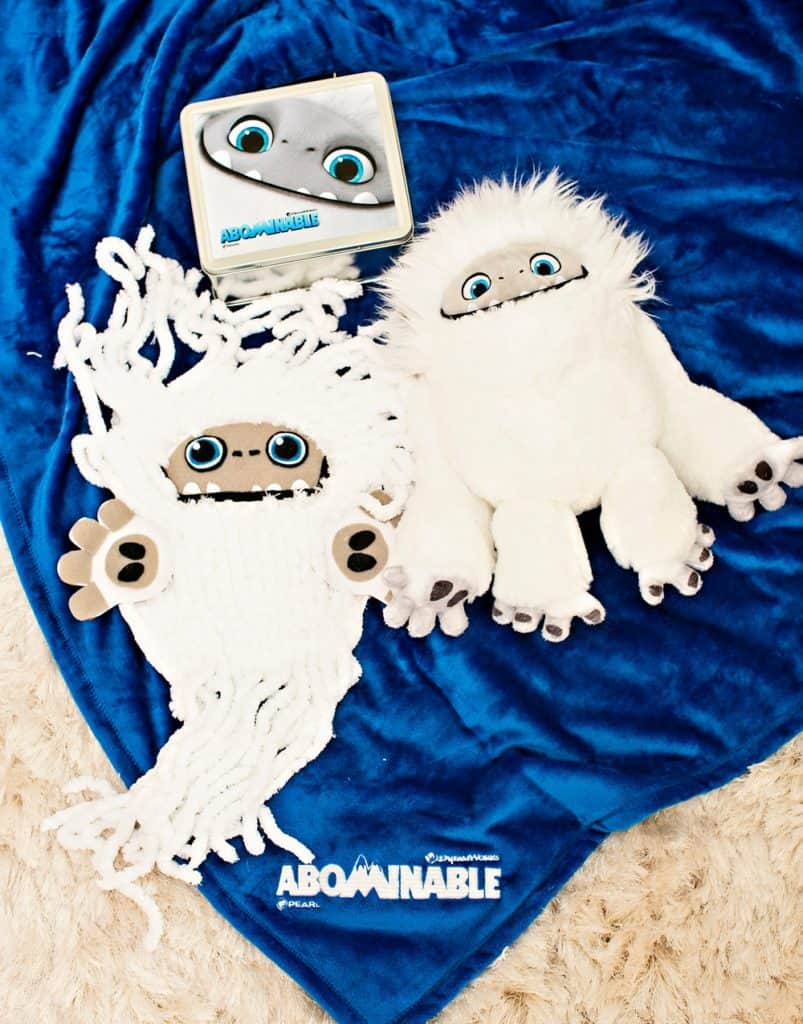 Reasons to fall in love with ABOMINABLE
Everyone will probably have their own reasons for falling in love with ABOMINABLE and the big, fluffy Yeti named Everest. Not only does he have the bluest eyes and a super fun grin, but he really does know a thing or two about true friendship as well. Just when you think you can't find it in your heart to open up to love this giant fluffy creature, he reels you in with just how special he truly is.
Our children really took to this movie and his character because of the fantastic animation that was created from the studio that brought you How To Train Your Dragon. If you haven't seen it yet, Abominable takes you on an epic 2,000-mile adventure from the streets of Shanghai to the breathtaking Himalayan snowscapes.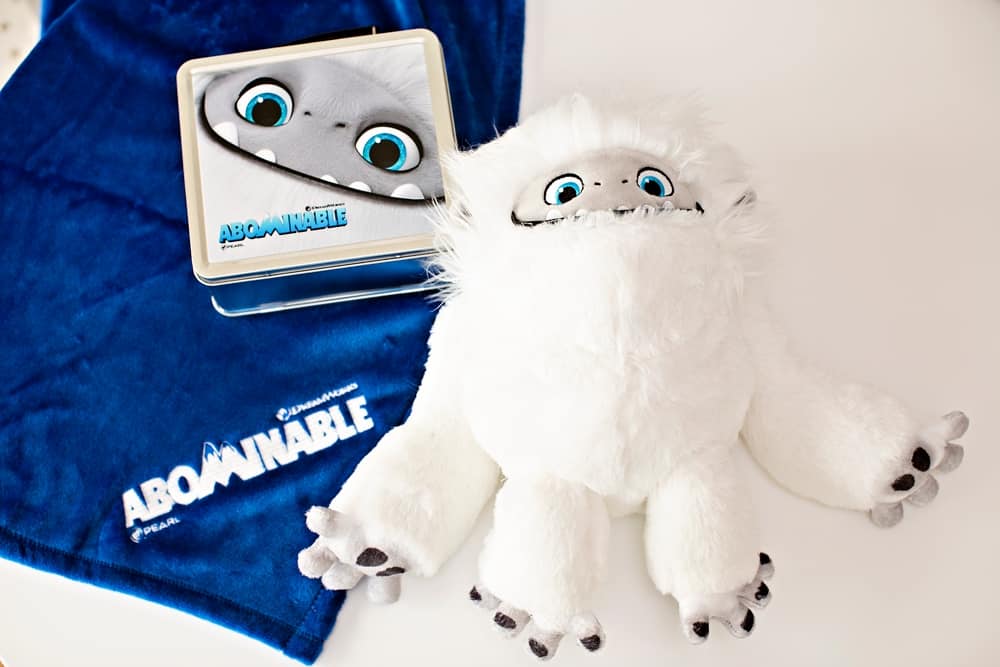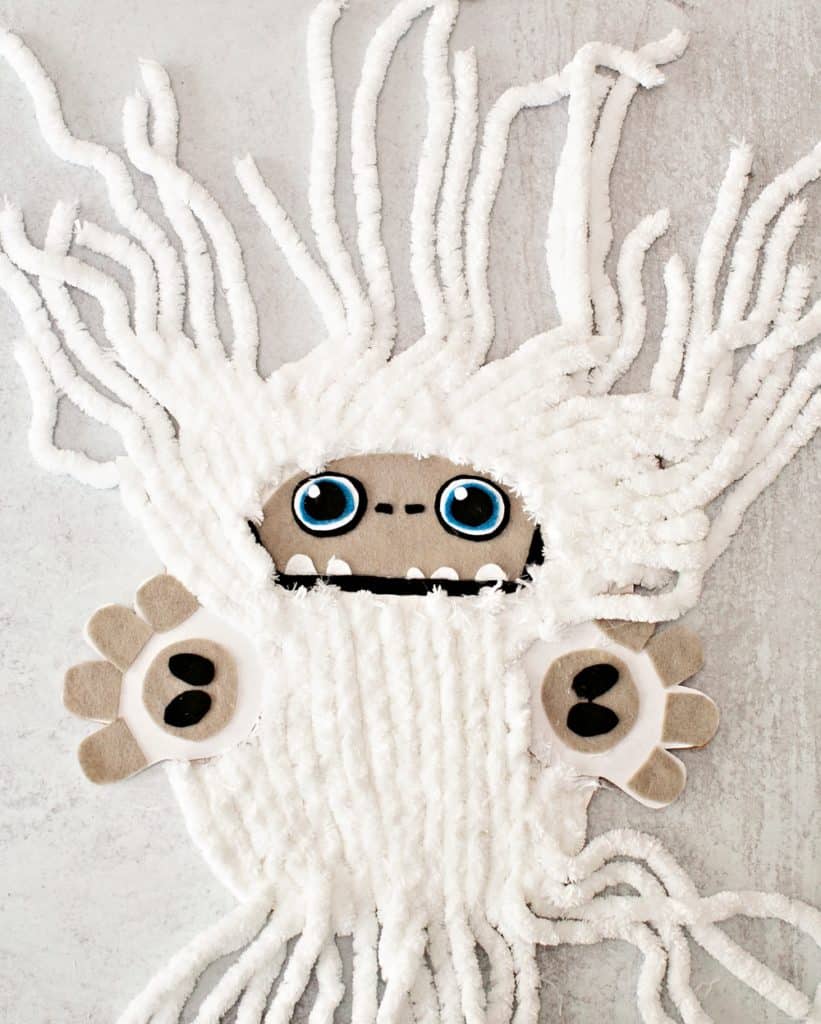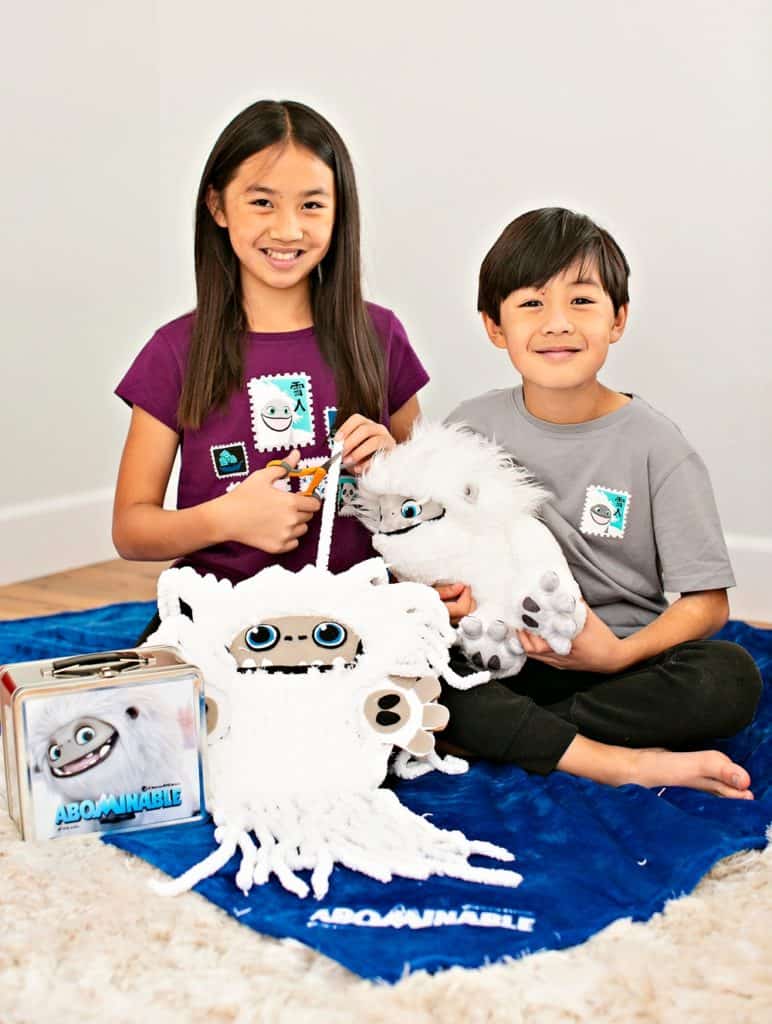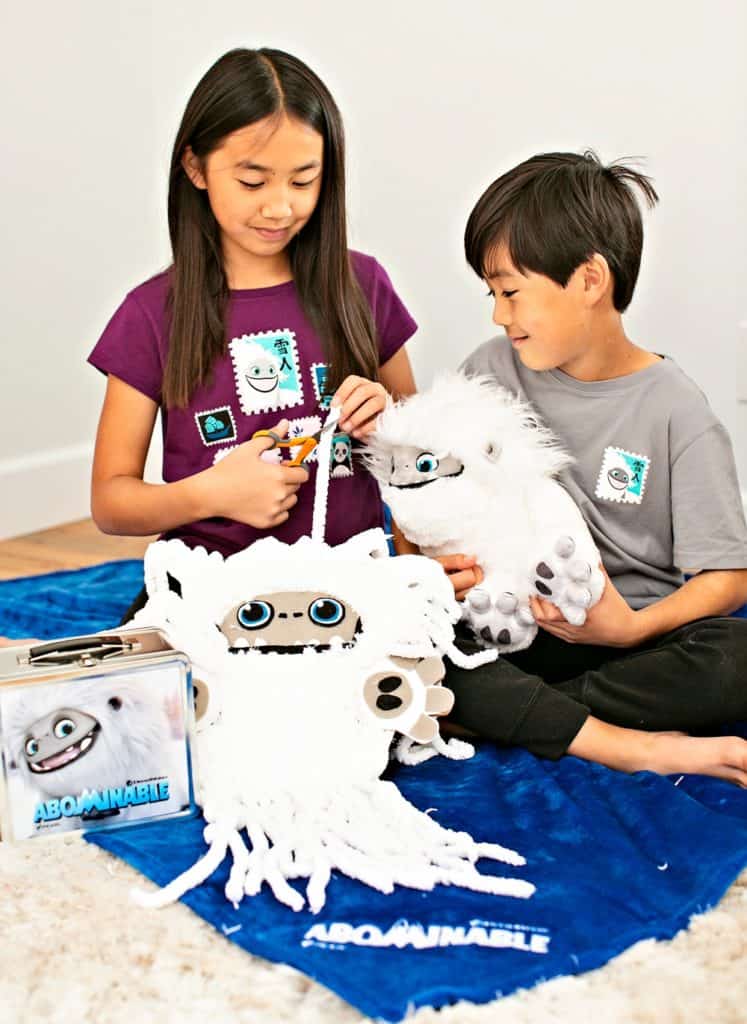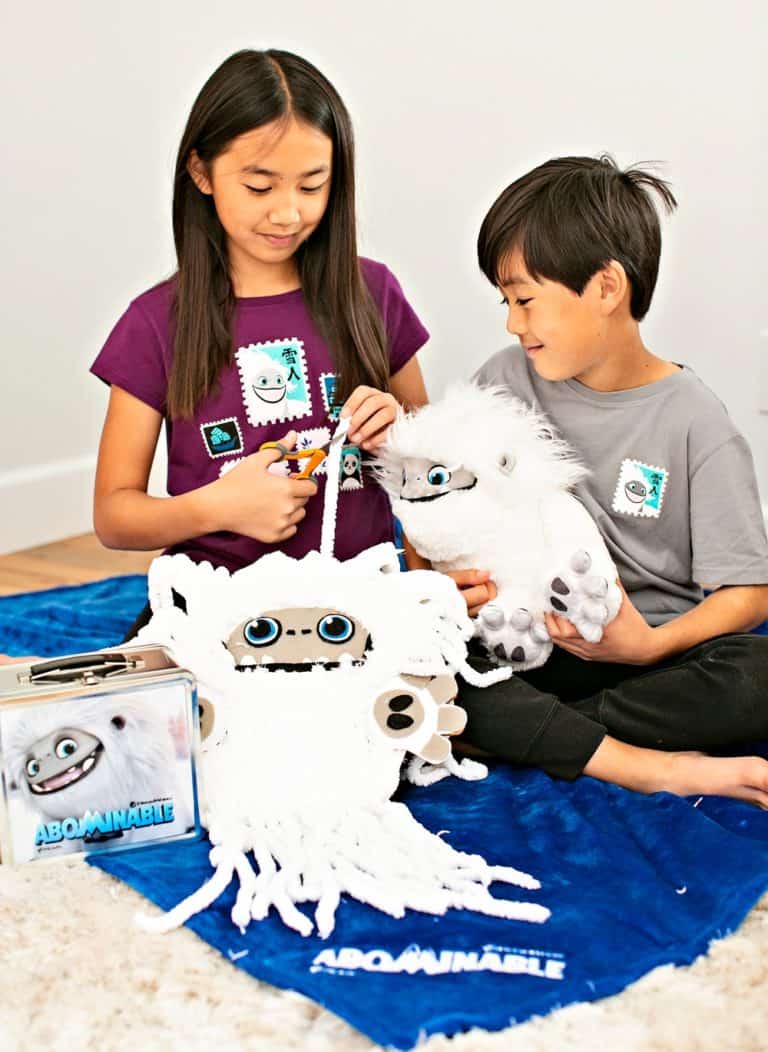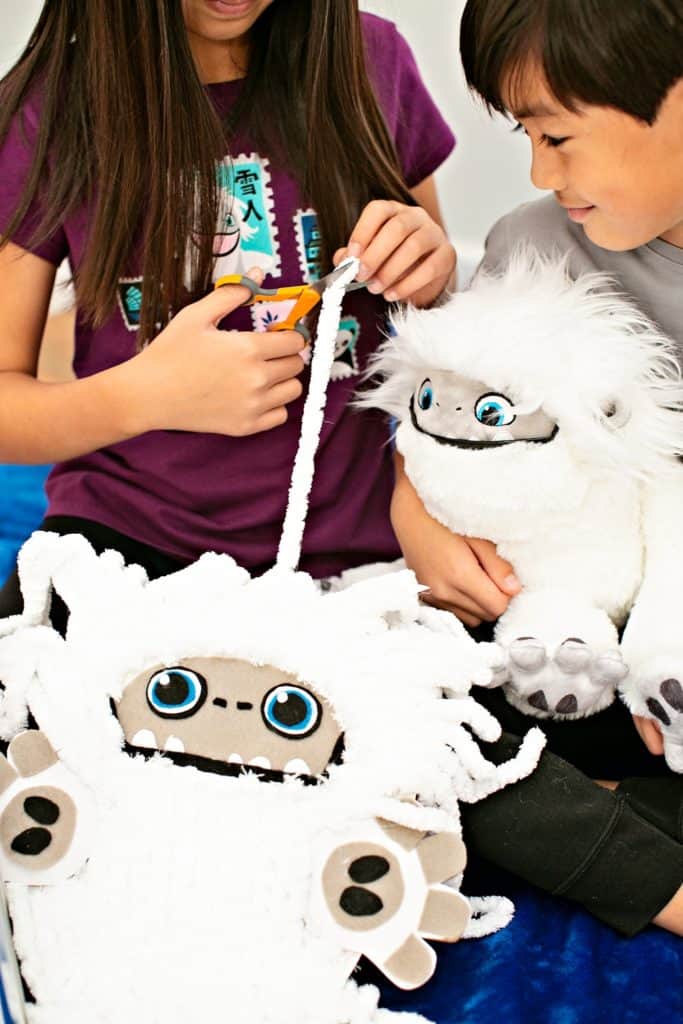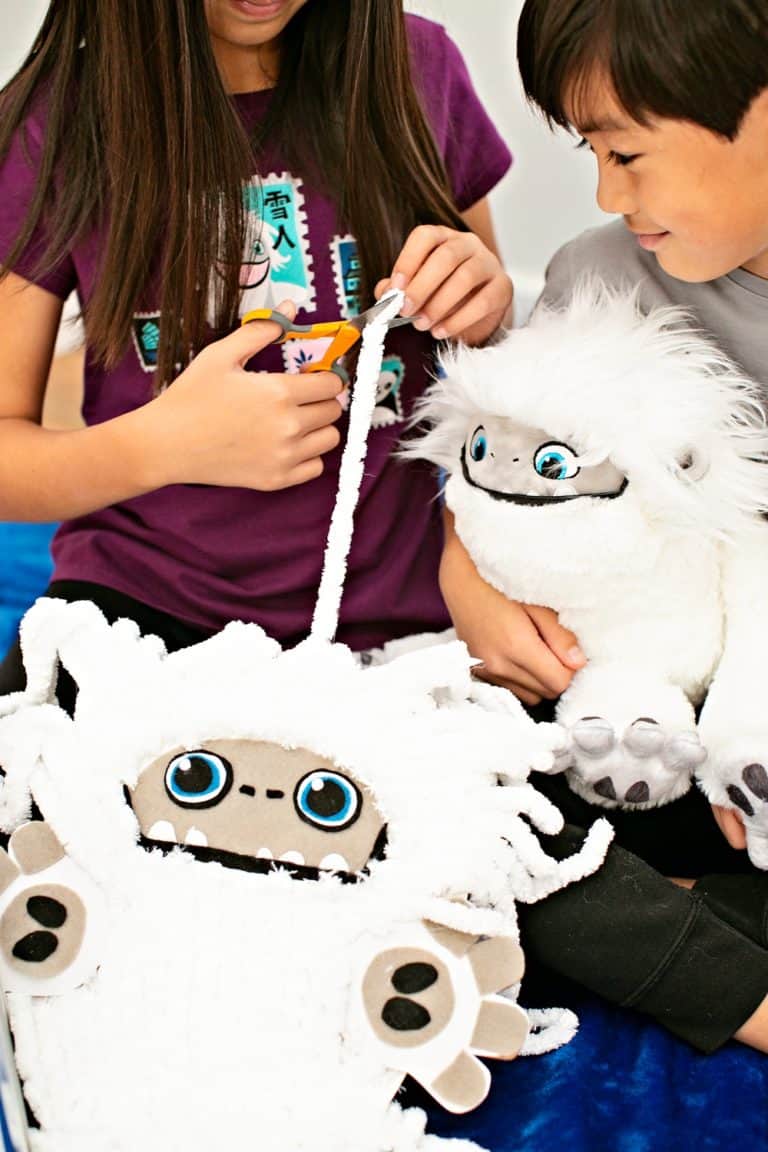 It features teenager Yi who encounters young Yeti on top of her apartment building in Shanghai. She names him "Everest" and sets out to reunite him to his family with her two mischievous friends in tow, Adventure awaits as they inevitably meet some obstacles along the way.
What I really enjoyed about this movie is that it shows teamwork and critical thinking in a way to help achieve ideas and goals about how to save the Everest.
The way that the teen stars of this movie work together to prove that love and kindness will prevail was mesmerizing and inspiring from start to finish. Watch the trailer below!
Cardboard Yeti – A fun family movie craft
In our house, we combine comfort, creating, and family time and it's always memorable. We decided to create a cardboard Yeti inspired by Everest and the movie that we could enjoy together as we pressed play during our family movie night.
Not only did we create an adorable cardboard Yeti, but we also knew that we had to dress the part, too. The kids wore fun ABOMINABLE tees from Tea Collection's limited edition line, had their plushie Everest toy, and snuggled up with their ABOMINABLE blankets to get ready for the movie.
The other great part about creating this adorable craft is that it's great for kids to practice their scissor fine motor skills. Kids will love trimming the Everest's fur!
Supplies needed for a Cardboard Yeti:
Felt (white, black, dark blue, gray)

White cardstock paper

Cardboard

White Yarn

Hot Glue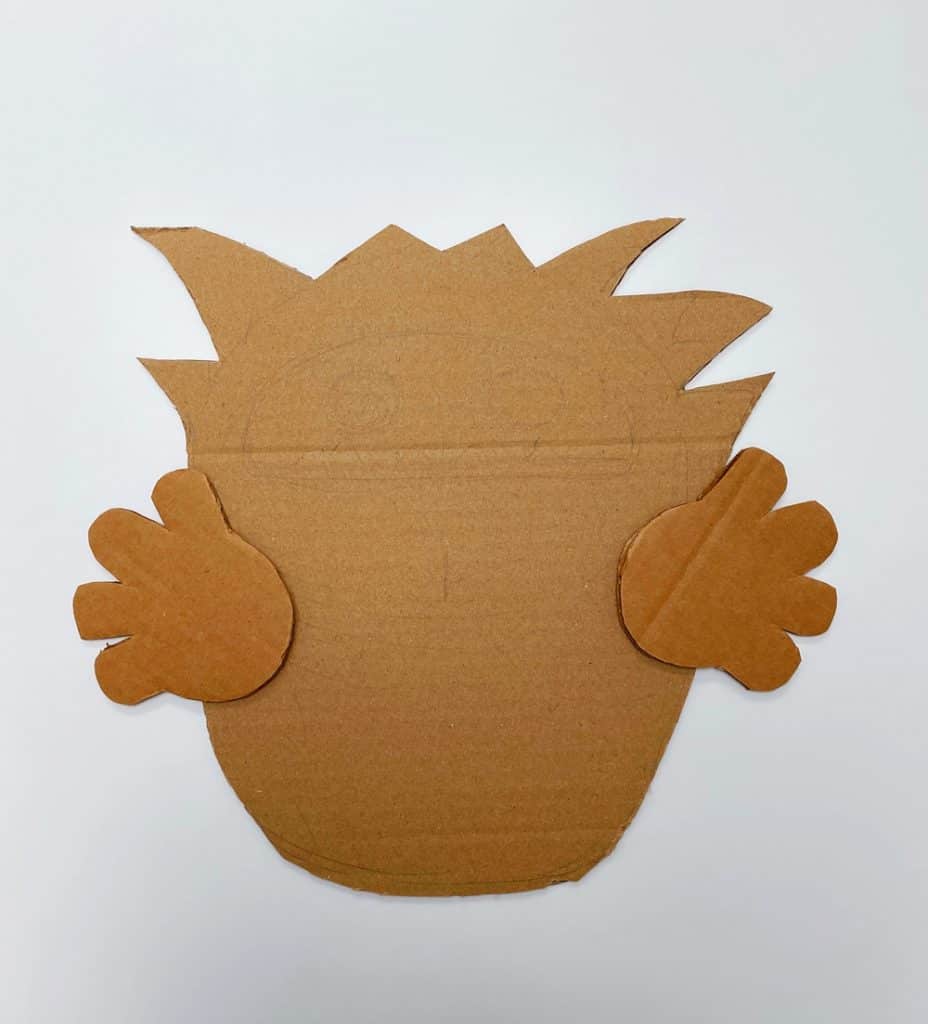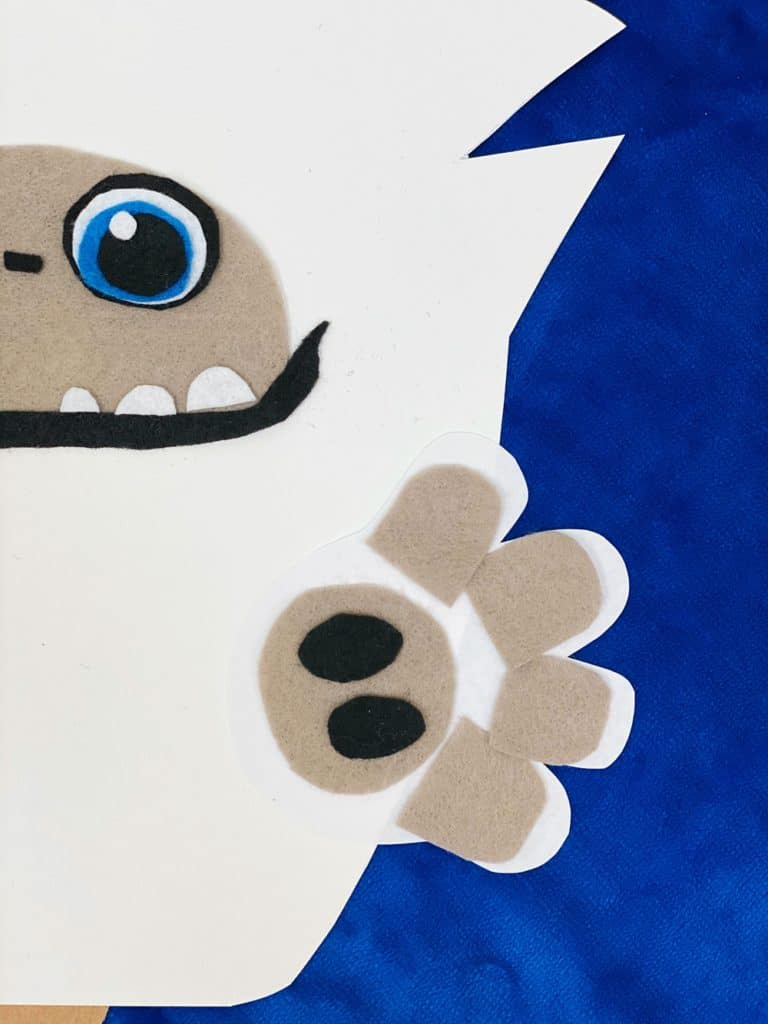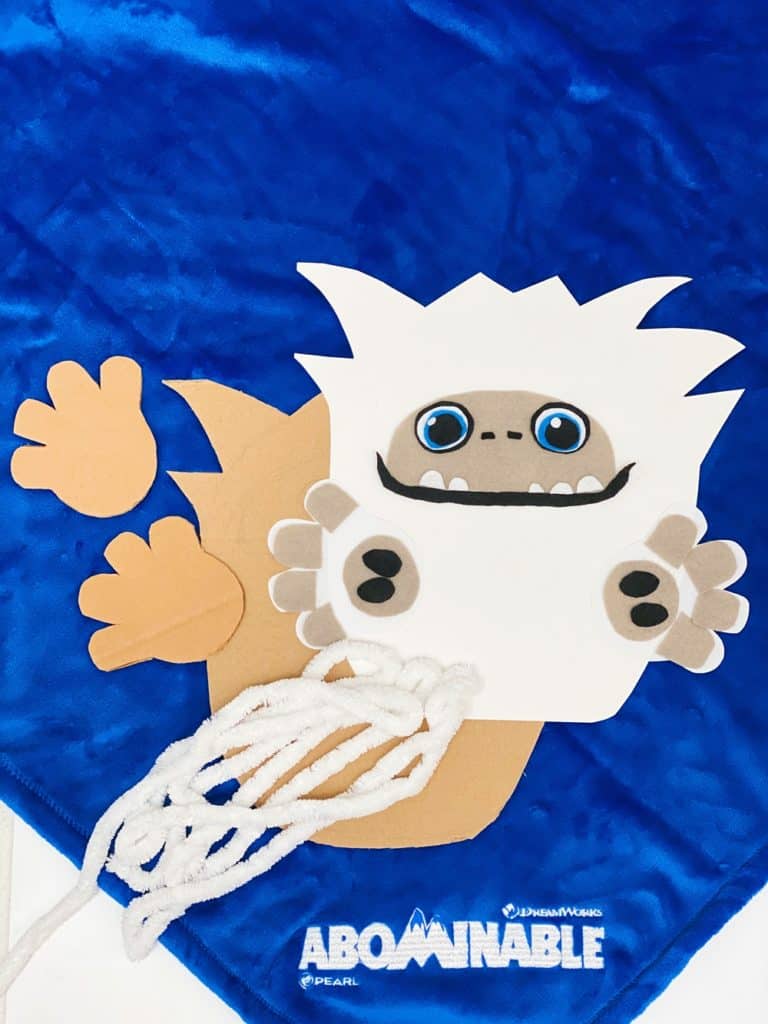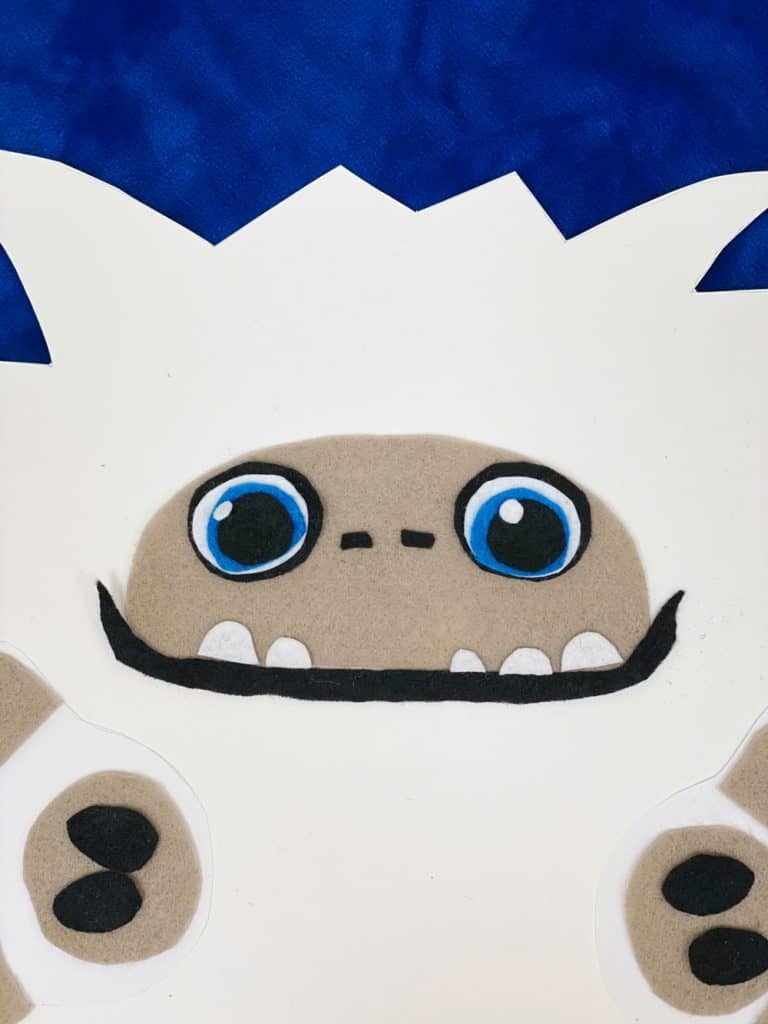 Directions to make a Cardboard Yarn Yeti
Step 1. Cut out a Yeti cardboard shape and two paws similarly shaped to Everest the Yeti.
Step 2. For the face details, out of felt; 1) cut out an oval gray shape, two small black rectangles for the nostrils and 5 rounded oval mounds for teeth. Note there are two teeth on the left and 3 on the right. For the eyes, from largest to smallest – cut out a two black felt circles, two white circles, two blue circles, two black circles and two tiny white circles. Layer on top of another.
Step 3. Cut out a black felt rounded line to outline the mouth where the teeth go.
Step 4. Cut out 8 gray felt pads for the hands, and two gray circles for the paws. Cut out two black ovals for each inner paw details.
Step 5. Trace white cardstock to go over your cardboard and paws and glue the white paper over the cardboard shapes.
Step 6. Glue the felt pieces over the white paper.
Step 7. Cut strands of white yarn and starting from the top, hot glue strands one by one to your cardboard Yeti.
Ask your child to practice cutting the Yeti's yarn to practice their scissor skills. As the yarn gets shorter, you can always add more strands!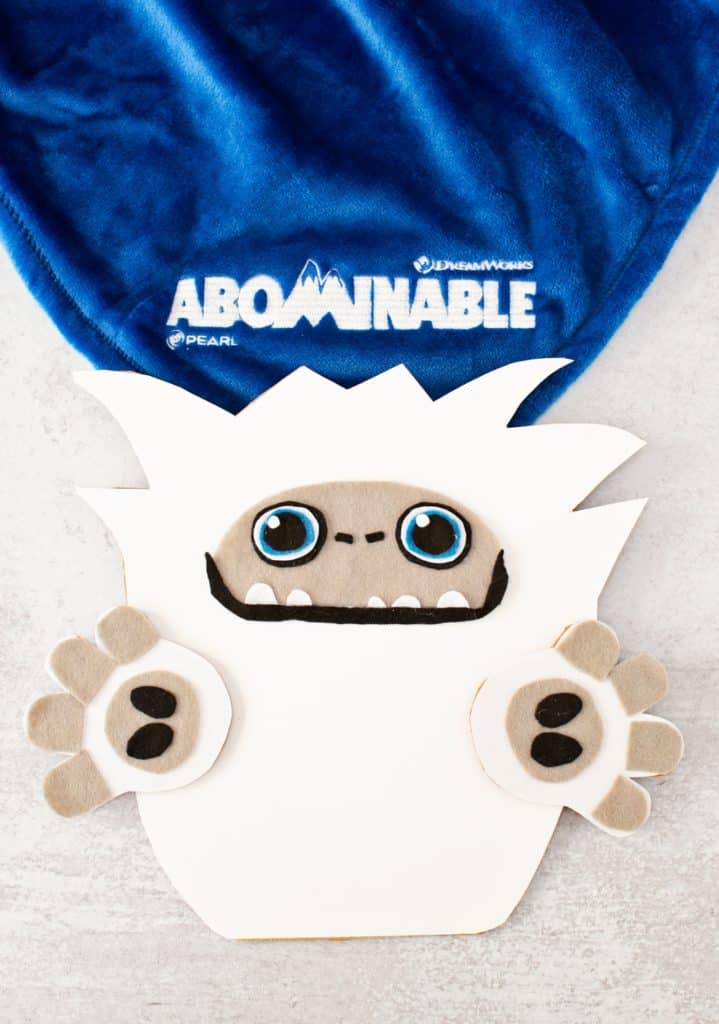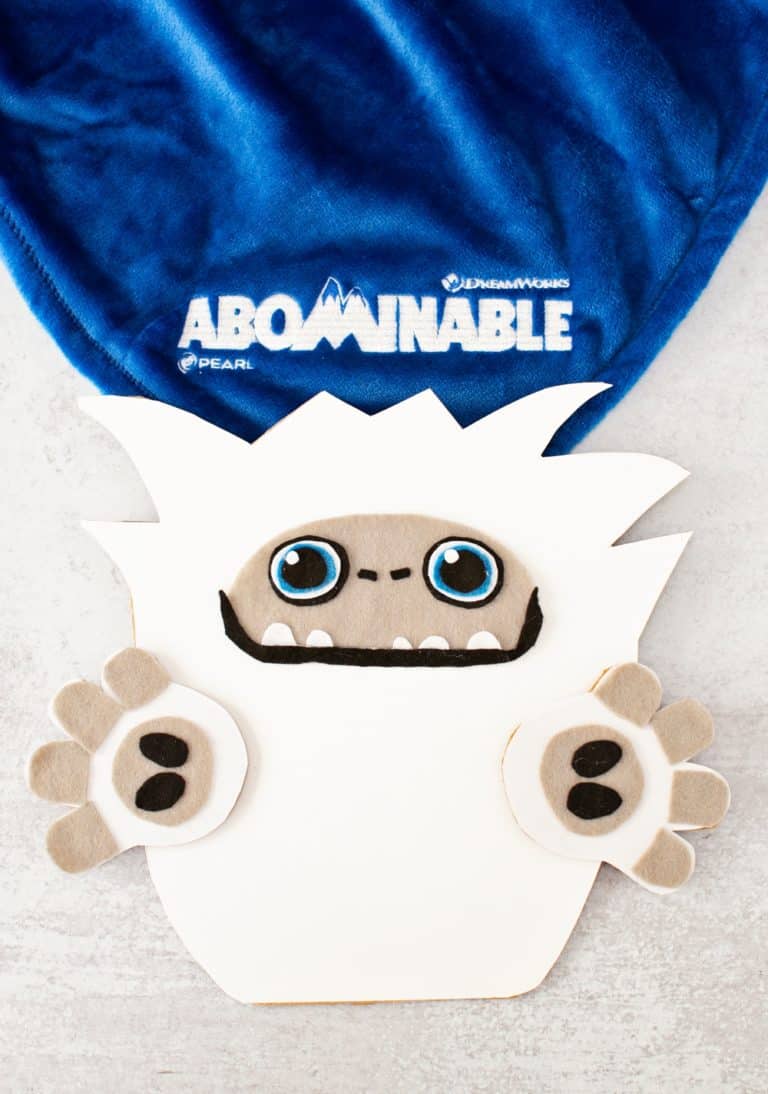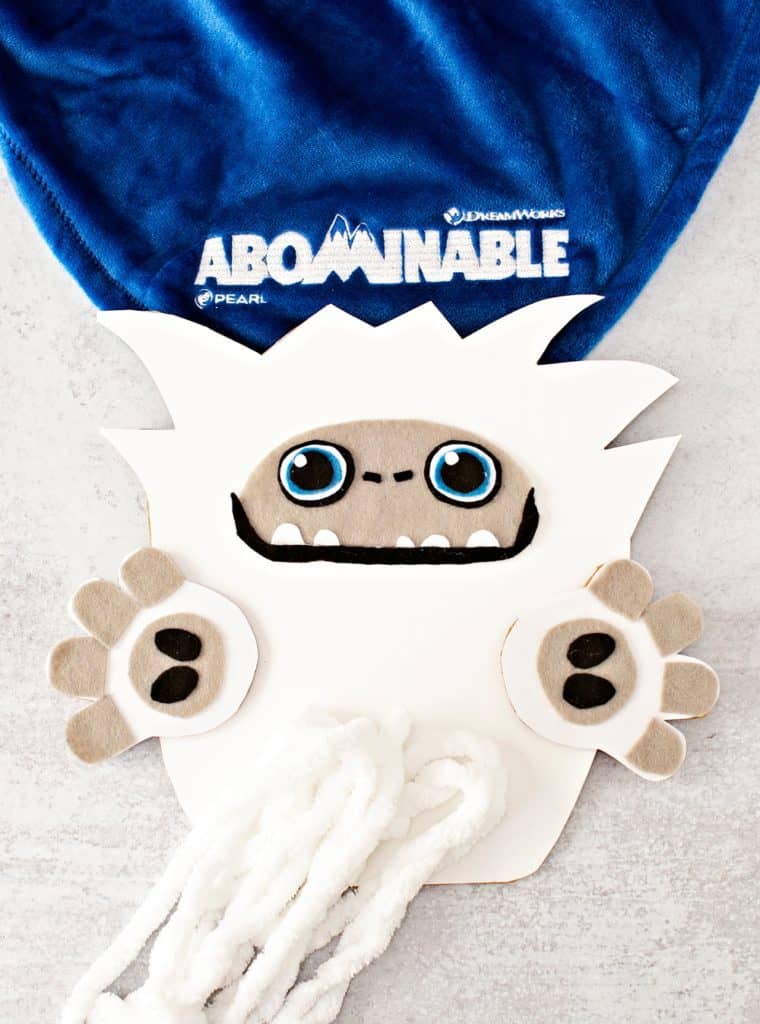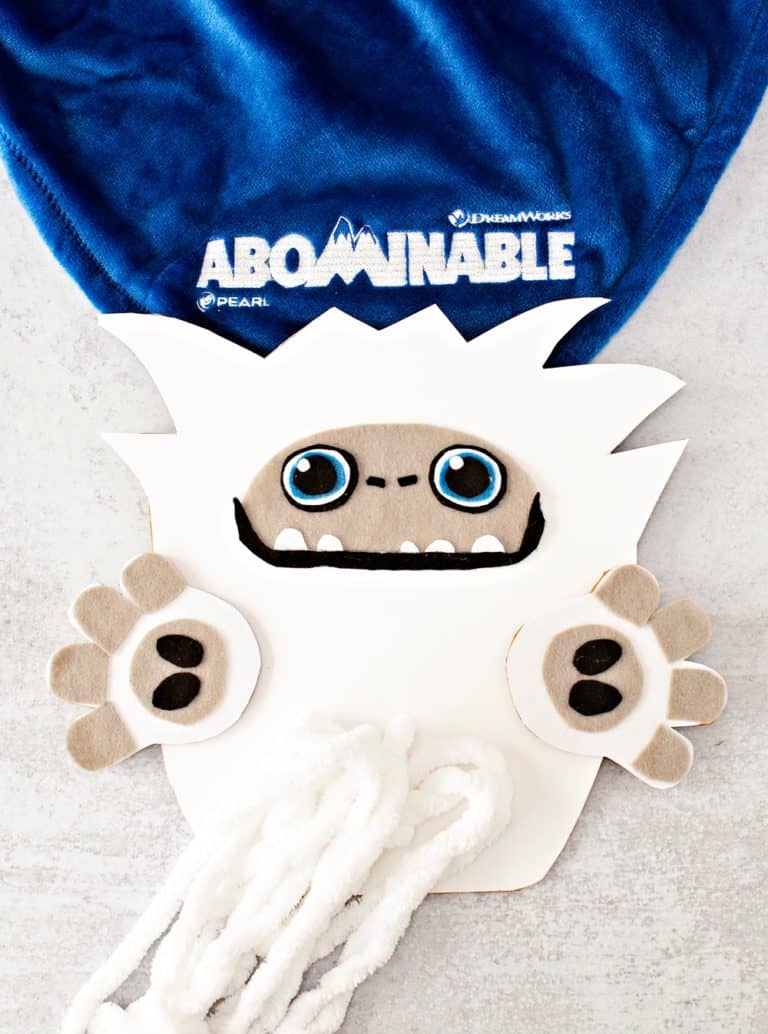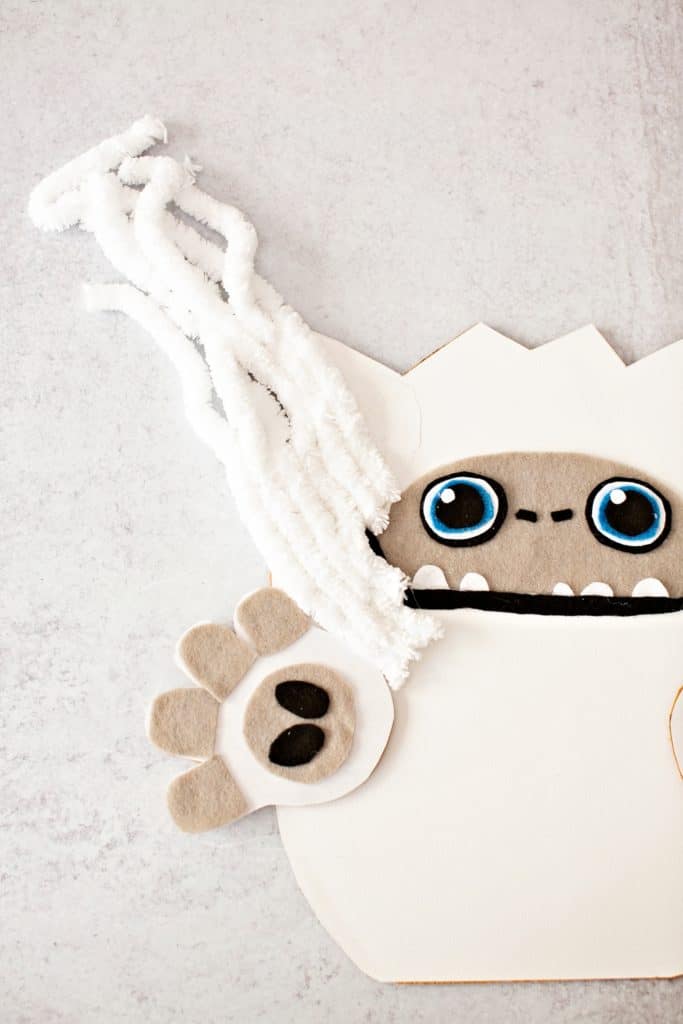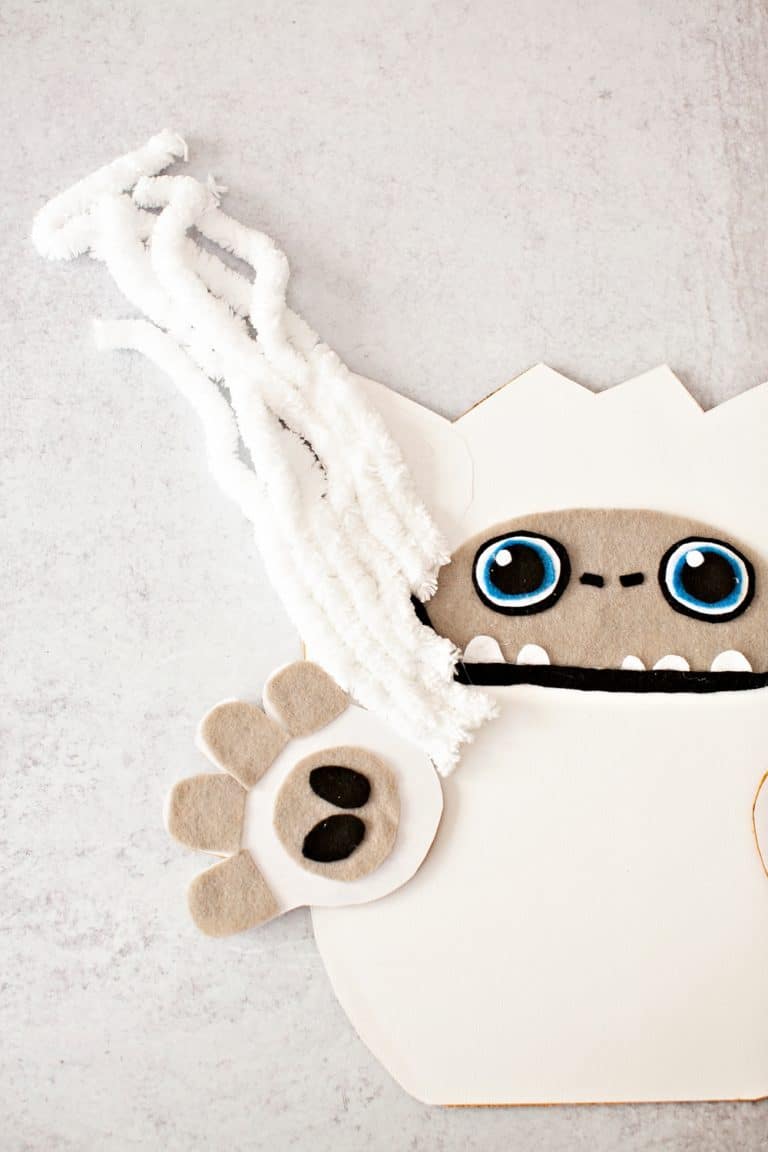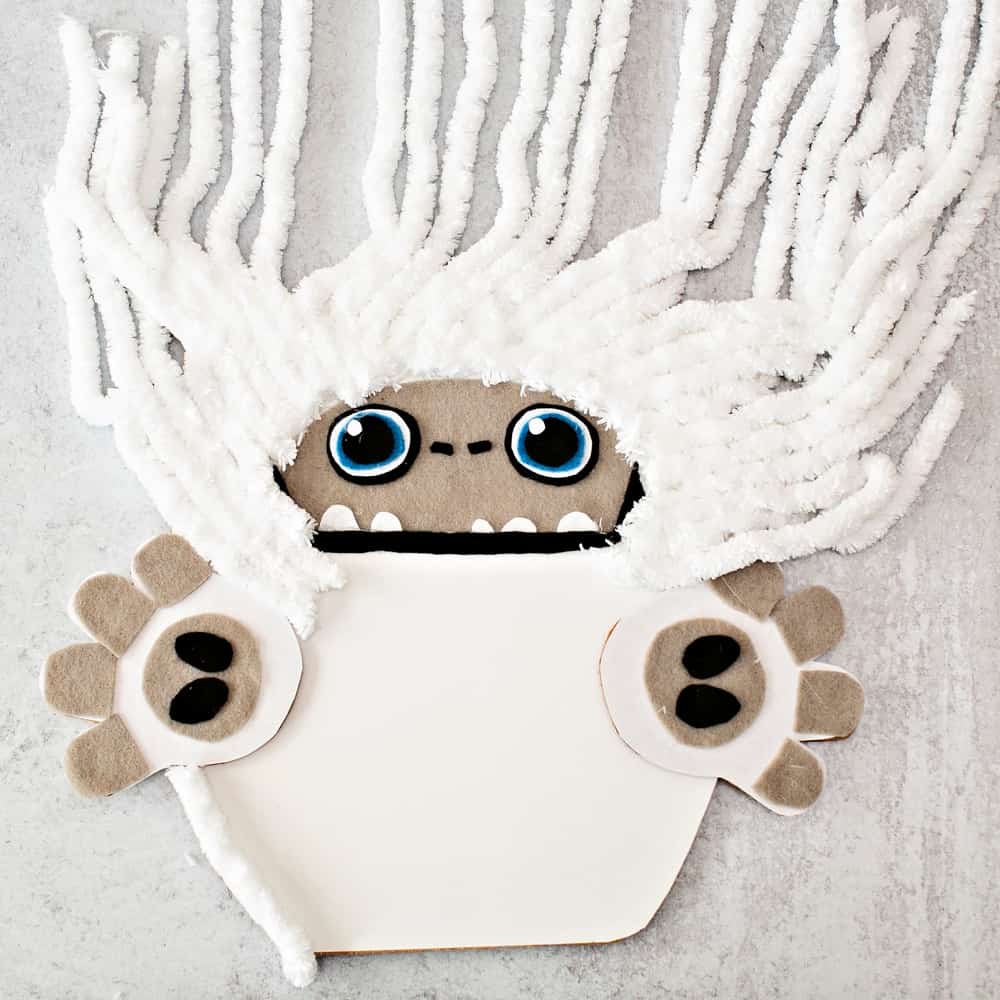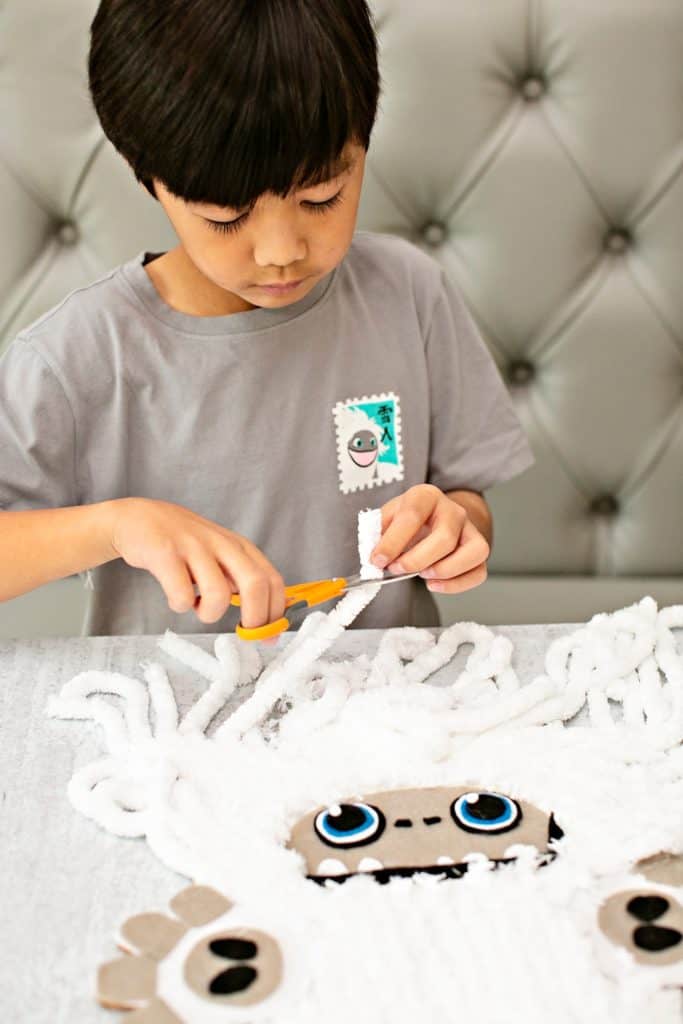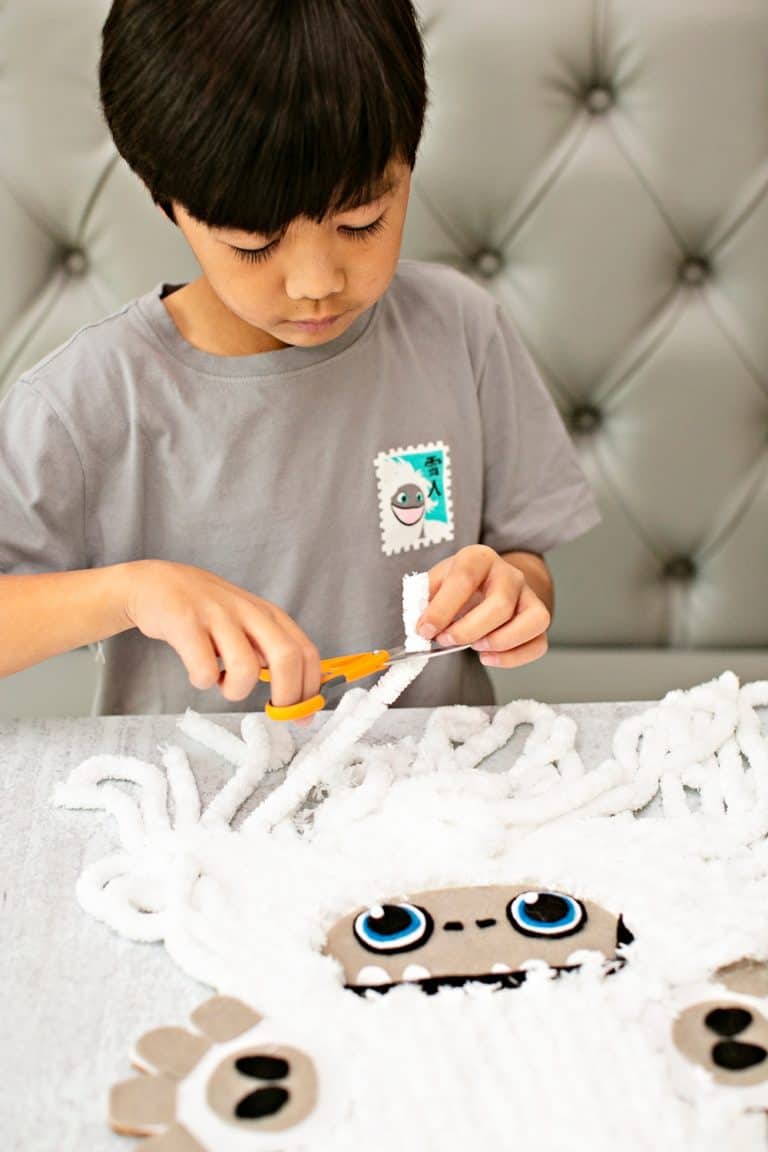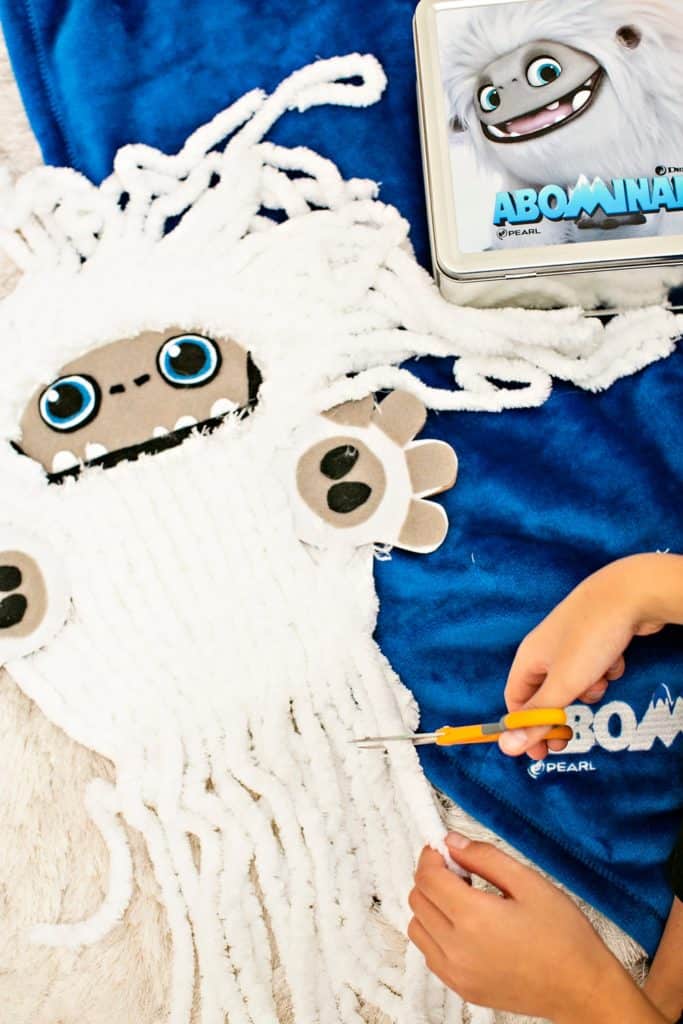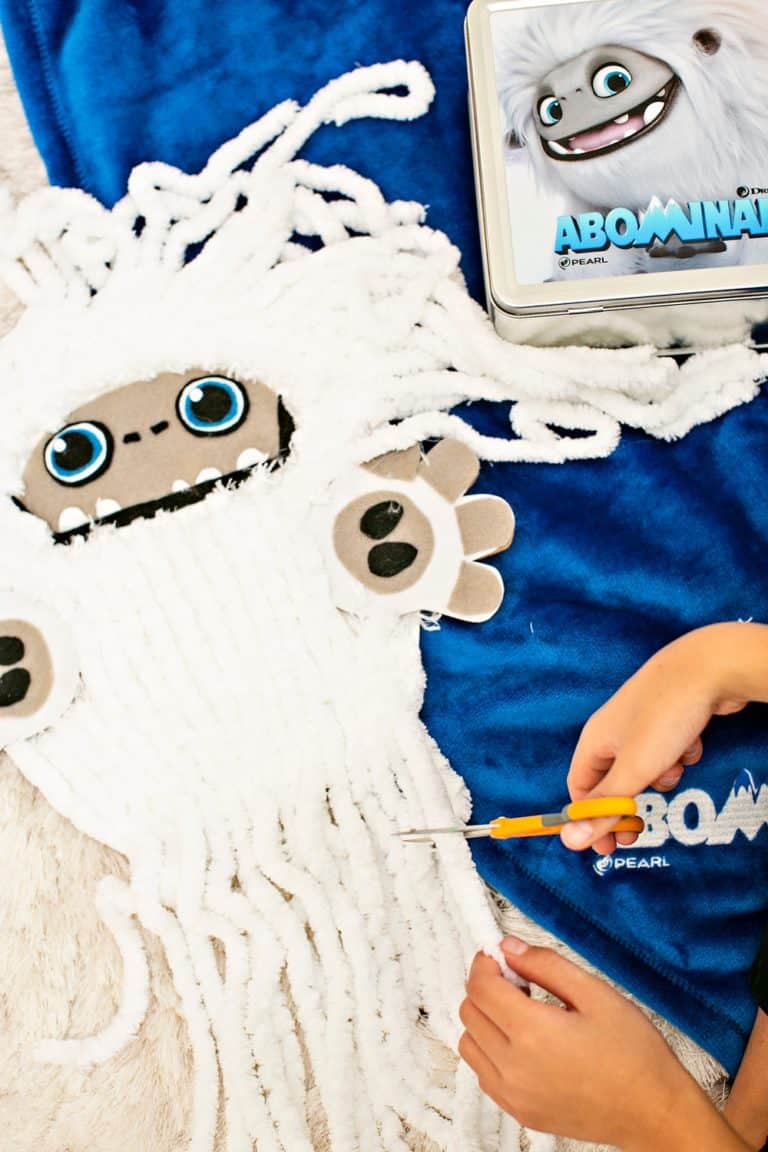 Own ABOMINABLE on Digital today, and be sure to mark December 17th on your calendar to pick up a copy (or two) on Blu-ray and DVD for holiday gifts or stocking stuffers.
Why not share the #1 Original Animated Movie of the Year with loved ones this season? The new release features over an hour of bonus content, including 2 original shorts.
This really is one of the best family-friendly movies this holiday season and would make a great movie night at home to share with all your loved ones.