I made these easy waffle cookies with icing and sprinkles as treats for my daughter's recent class birthday party. They were a huge hit with all the kids and a fun way to celebrate! Plus, they take minutes to bake up in the waffle iron.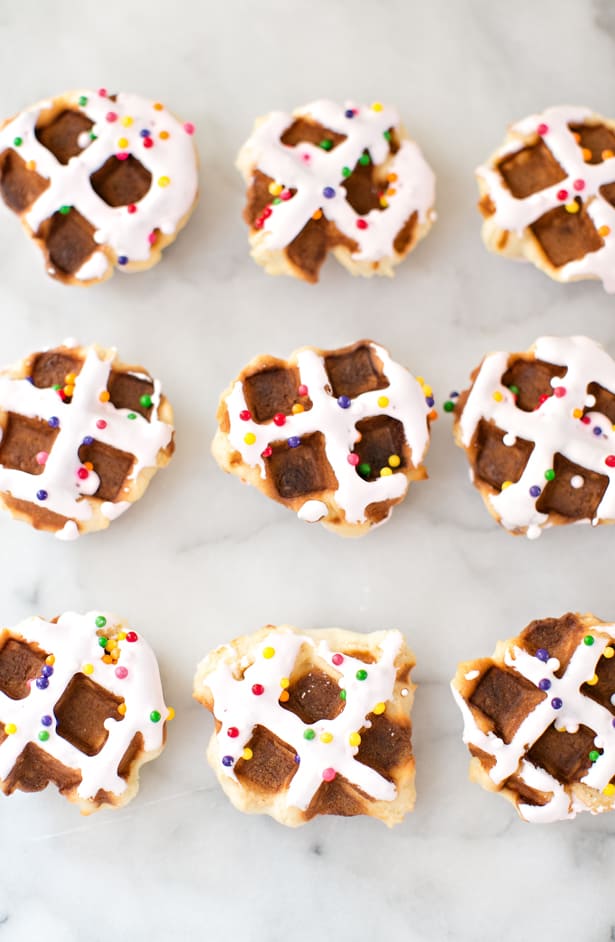 Birthday Waffle Cookies – Ingredients:
(makes fifty 2″ cookies)
Cookies
– 2 sticks (1/2 lb) softened, unsalted butter
– 1 1/2 cups sugar
– 3 1/2 cups all purpose flour
– 1 tsp baking powder
– 1/2 tsp salt
– 2 eggs
– 2 teaspoons vanilla extract
– 1/2 cup milk
Royal Icing
– 3 tbsp meringue powder
– 4 cups powdered sugar
– 10 tablespoons warm water
– pink food coloring (optional)
You'll also need a mixer, waffle iron and sprinkles.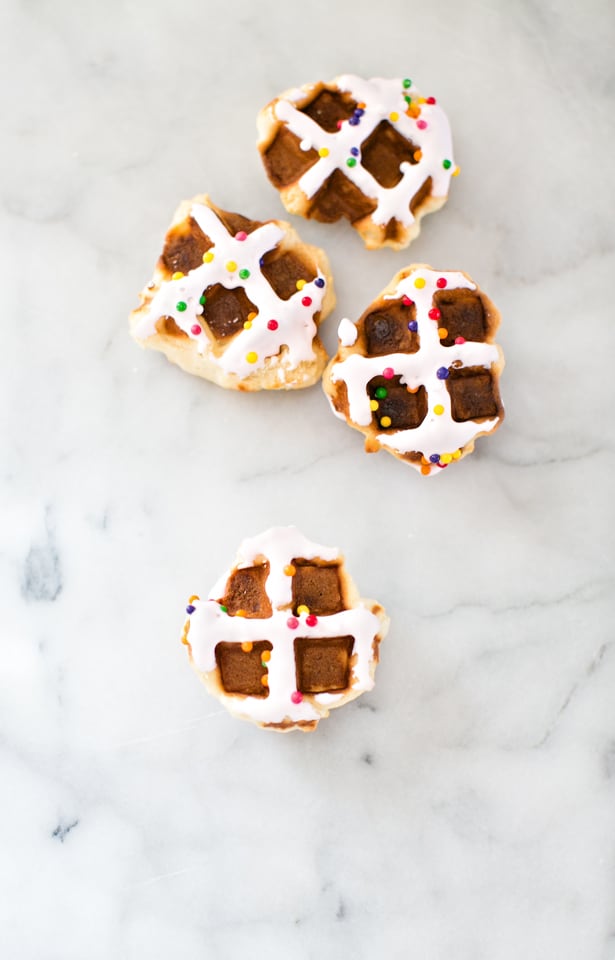 Instructions:
Step 1. Beat the butter and sugar on high speed until soft and fluffy.
Step 2. Add the eggs and vanilla and beat until well incorporated.
Step 3. Add the flour, salt, baking powder in a separate bowl and whisk well.
Step 4. Add the flour mixture and milk to the butter/sugar mixture. Stir on low speed until dough is combined. Do not over mix.
Step 5. Preheat your waffle iron and drop 4 heaping tablespoons of dough in each waffle section. Spread the dough a bit with a knife so the cookie will bake flatter. Bake for about 4-5 minutes. Remove and allow the cookies to cool completely before frosting.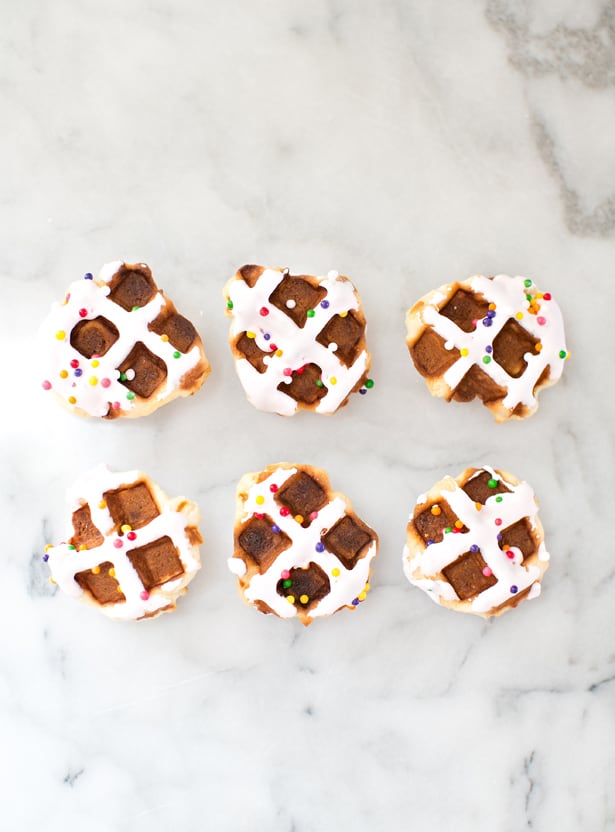 For the Icing:
Mix the meringue powder, powdered sugar and water on medium speed. I wanted a more liquid-y icing, so 10 tablespoons of water is more water than you'll need for a typical royal icing. You can add more or less or add more powdered sugar if it's too watery. You want a smooth icing that will be easy to dip the waffle cookies into and not too stiff.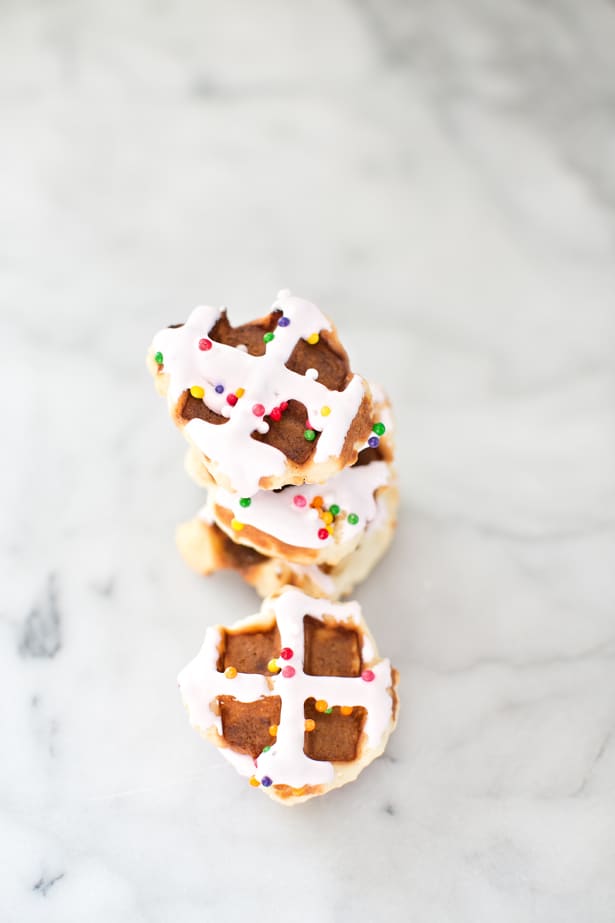 To frost, take one waffle cookie, dip it into the icing and allow to dry upright. Add sprinkles. The frosting will dry hard, since it's a royal icing. You can also dip the other side (which we did) once one side is dry.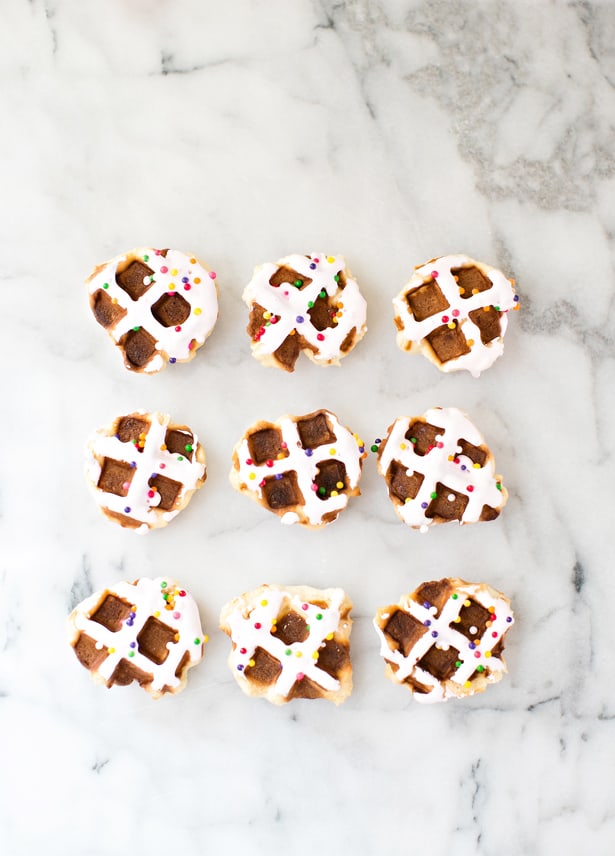 These waffle cookies are adorable and fun for kids to eat too! They are thick but have the consistency of a sugar cookie when you bite inside them. The royal icing adds a fun decorative look, with a sweet flavor that compliments the basic sugar cookie dough. They were a huge hit at my daughter's class party.
Have you ever tried baking cookies in a waffle iron? I think it's my new favorite way to bake!
Take a look here for more kid-friendly recipes or here for more party ideas.