Originally Posted: 6/4/2014
Once your little toddler graduates from using a walker, the fun begins with his first wooden ride-on toy! Luckily there are tons of choices ranging in style, design, and materials to choose from.
For classic and timeless appeal, wood ride-on toys are my go-to choice since they tend to be more durable and last longer. We will first look at 7 wooden ride-on toys, perfect for your beginner rider, and then some Waldorf inspired creations that I found.
7 Best Wooden Ride-on Toys
My top 8 choices have been carefully chosen for your little one. These ride-on wooden toys are safe, easy-to-assemble, and really fun for kids.
1. Haba Moover Dump Truck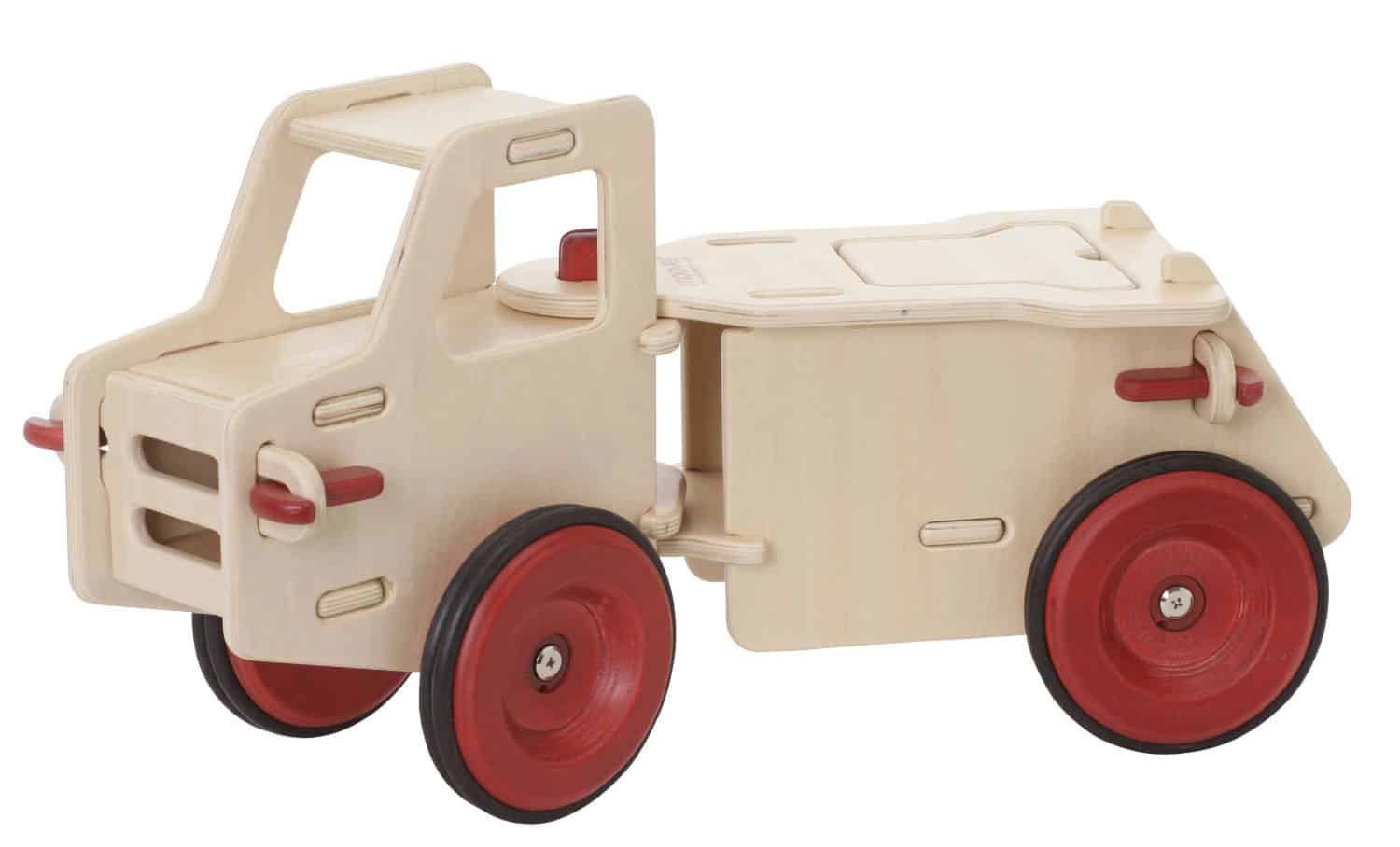 The Haba Moover Dump Truck is a wooden ride-on truck that costs $140. Small enough to scoot around the smallest spaces, with storage under the seat, this is a fun wooden riding toy that toddlers will love clicking into place.
2. Happy Trails Walk and Ride Wooden Giraffe
The Happy Trails Walk and Ride Wooden Giraffe is available for the great price of $50. The cute giraffe design is ideal for your animal-loving toddler. This toy has three wheels, making it perfect for developing coordination and balance. It is made with solid natural Beechwood.
3. Tender Leaf Toys Running Rabbit
The Farms Hopper Bunny Ride-On is available for $33. This inflatable sit and ride toy features a cute and fun rabbit design and tots will love scooting around on it with their feet. It's a perfect choice for toddlers who prefer bouncing over using pedals. The toy comes with an inflatable pump to make it easy to start bouncing around.
4. Price Lionheart Wheely Bug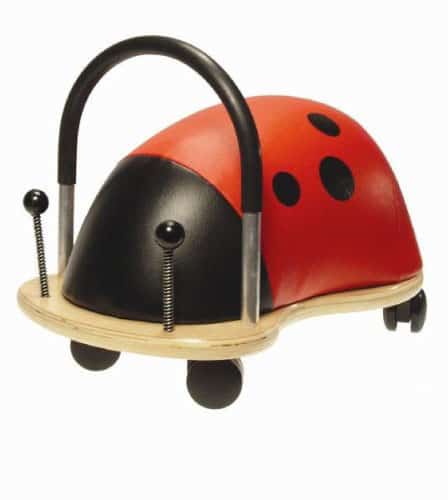 Prince Lionheart Wheely Bug costs $80. You can either choose to go for the lady bug or one of the other five adorable animals on offer. This adorable wood ride-on toy with a wooden base and plush cushion can go backwards, forward and sideways – the perfect option for an energetic toddler.
5. Hape Scoot Around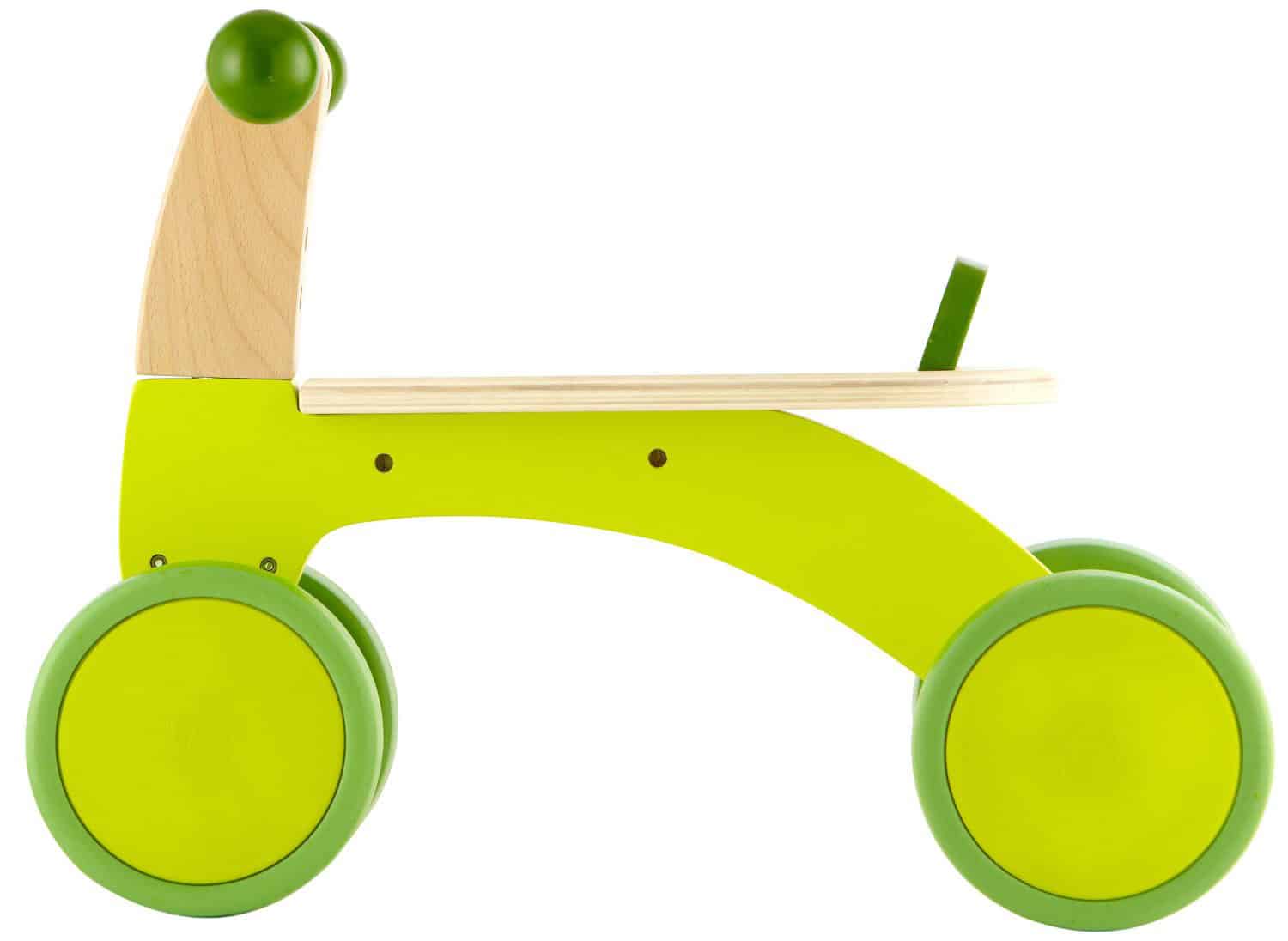 The Hape Scoot Around toy is available for $70. It's a beautifully designed and visually appealing wooden sit and ride with 4 wheels for stability. It is a safe option that will help your kid develop confidence and balance.
6. Kinderfeet Chalkboard Balance Bike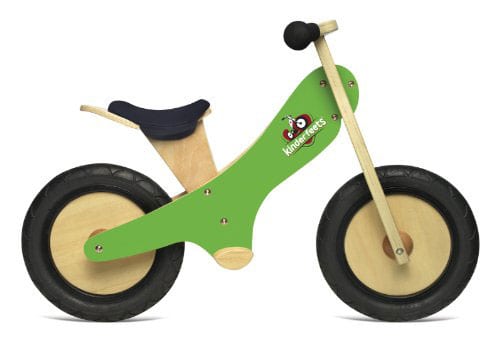 Kinderfeet Chalkboard Balance Bike costs $108. These riding toys for toddlers are made of eco-friendly birch trees. The starter balance bike is perfect for toddlers building up to pedals. It stands out with its chalkboard finish so kids can customize their own as a work of art – nurturing both physical and creative development.
7. Belleur Wooden Rocking Horse
Belleur Wooden Rocking Horse is available for $60. It is a unique ride-on wooden toy. Where the others can all move around, this is a stationary wooden ride-on toy. It is a lot of fun and a great way for babies or toddlers to get used to ride-on toys with lower risk.
Not only can these wooden riding toys for toddlers be great for you kid, but they also make excellent gifts. For more toddler gift ideas see 25 Playful Holiday Gifts for Toddlers, 5 Playful Wooden Kitchens, and 10 Big Creative Toys for Pretend Play.
Waldorf Inspired Creations
There's something very special about hand-painted wooden toys. They have substance and solidity, but exude simplicity. Check out this beautiful collection of handmade wooden toys. They're designed with early education in mind and built for the preschool years.
These Waldorf inspired toys are targeted for little hands to sort, stack, and count, while being solid and graspable. They are durable and timeless toys that can be played with over and again. Painted in bright, colorful non-toxic paints, from $15-$45.
Check out our Creative Kids' Products!