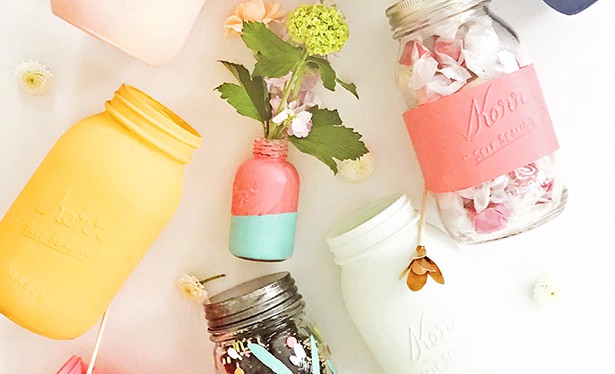 We are big time mason jar lovers in my house. They are inexpensive, durable, pretty, and oh so useful.
We use them to:
– store art supplies: pencils, pens, paint brushes
– store craft supplies: buttons, sequins, beads,
– as a drinking glass
– pack meals to go
– store loose change
– store bulk food items: nuts, dried fruit, and beans
– store clay and Play Doh
– as a vase for flower arrangements
– to hold silverware and napkins when we thrown parties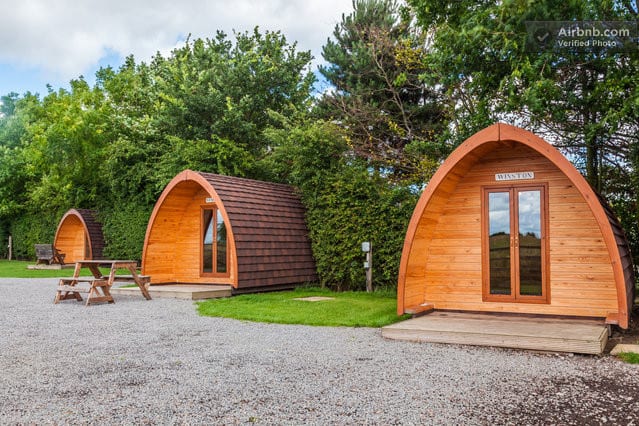 It was only a matter of time before they made their way into a DIY tutorial. We are going to show you 5 different ways to make a handmade gift in a mason jar. These make a lovely gift for any occasion and they are perfect for Mother's Day and Teacher Appreciation week!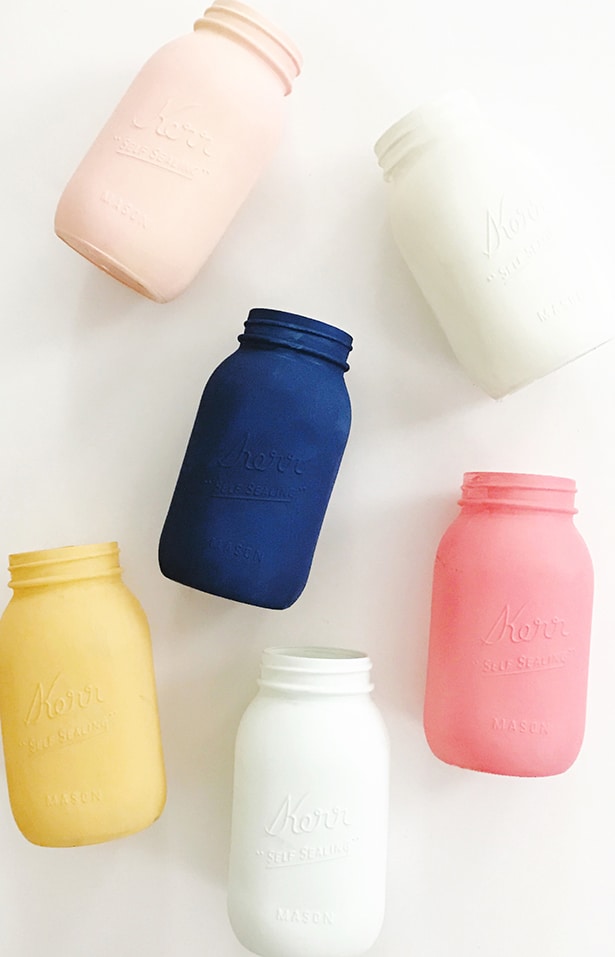 Step 1: Paint your mason jar! We really love painting our mason jars with chalk paint because it's impossible to mess up. The velvety matte finish looks great even after some wear and tear. You can keep it classic and do all-over color. You can polka dot, you can tape off sections and make stripes, you can make a two-tone jar very simply by painting all-over color, letting the paint dry and then dipping the bottom of your jar in a bowl of paint.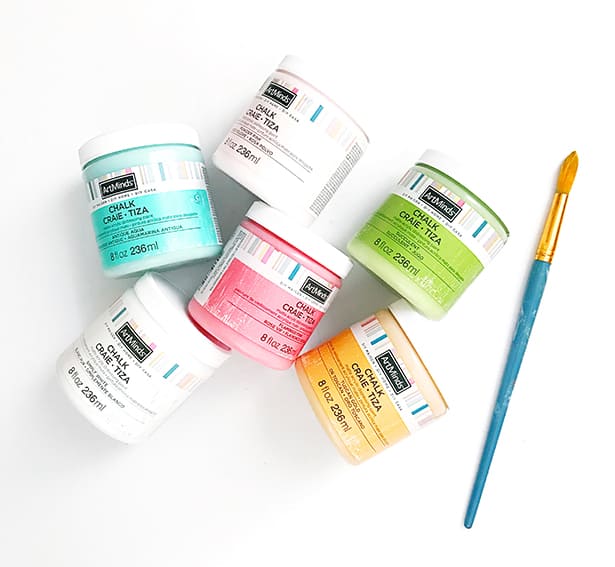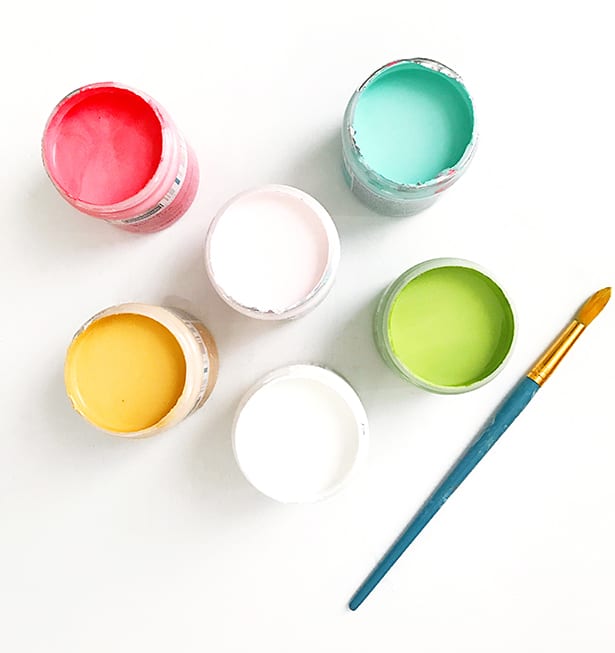 1) Fresh Flowers in a Mason Jar
Materials:
fresh flowers
scissors for trimming
chalk paint
baby wipes
paint brush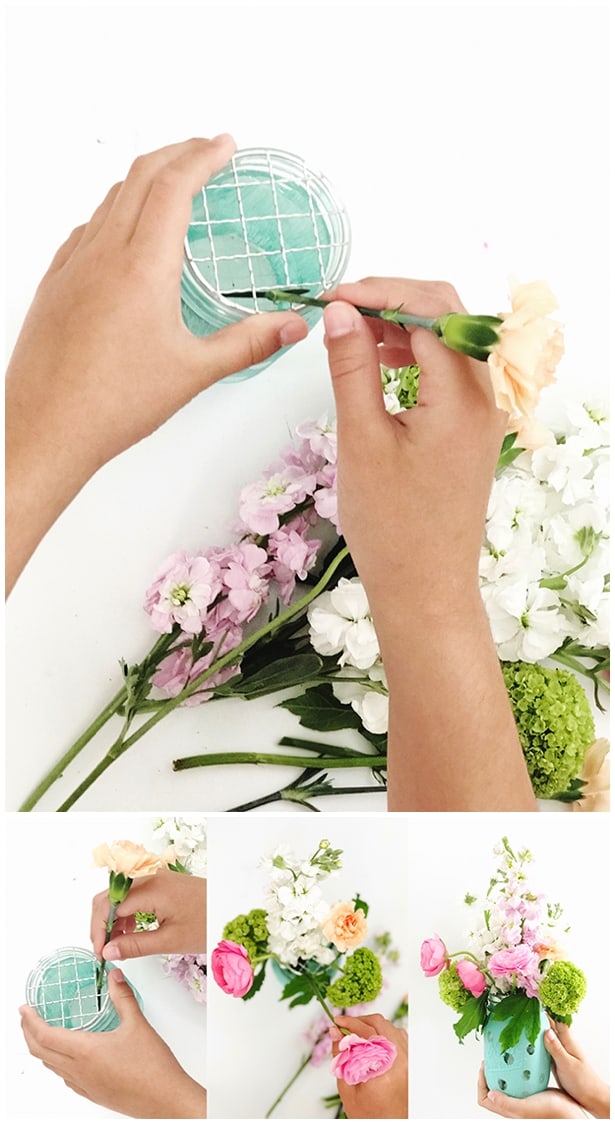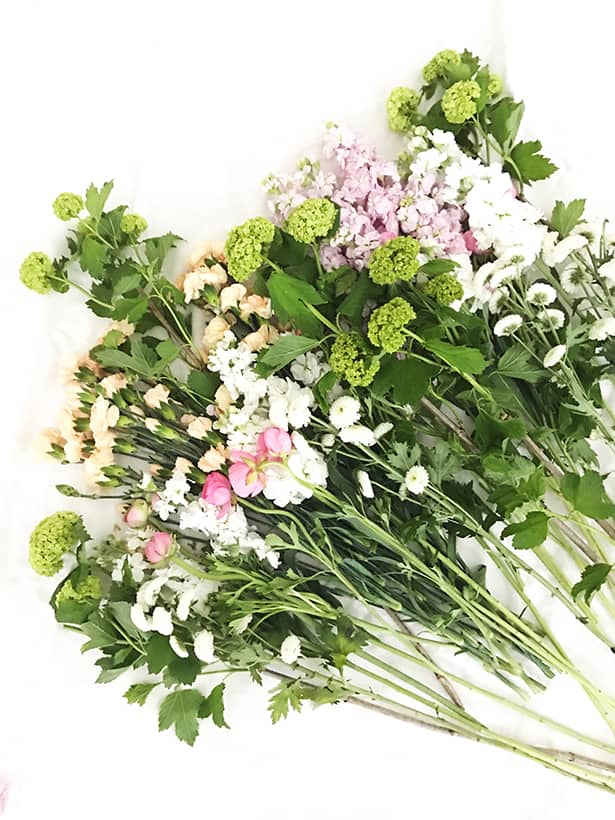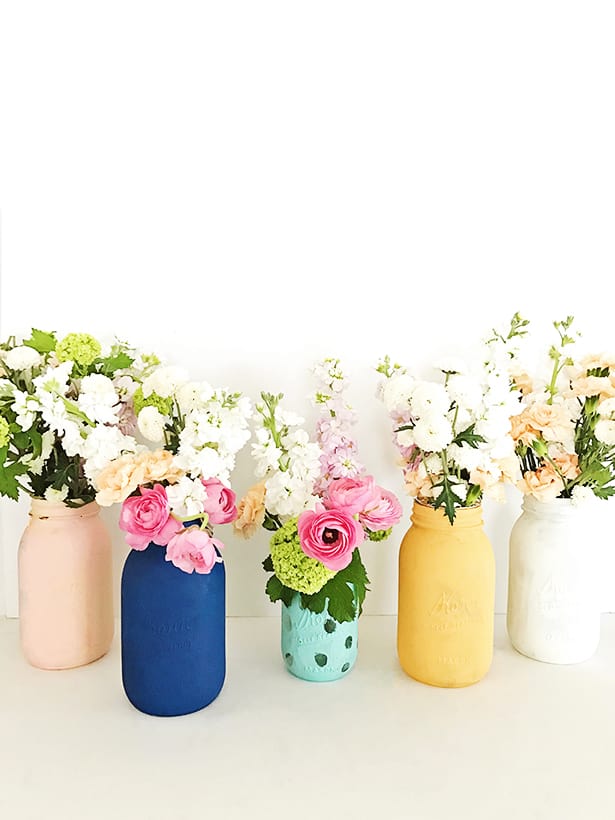 Go to your local market and pick out a few single flower bouquets. We were able to buy 5 single flower bouquets for the price of two assorted bouquets, so you definitely get more bloom for your buck this way. 2. You don't need to use this metal grid but it makes arranging fool proof and it really holds the flowers in place.
2) Salt Water Taffy in a Mason Jar
Materials:
64 oz. mason jar
bright pink chalk paint
foam brush
blue painters tape for masking the stripe
salt water taffy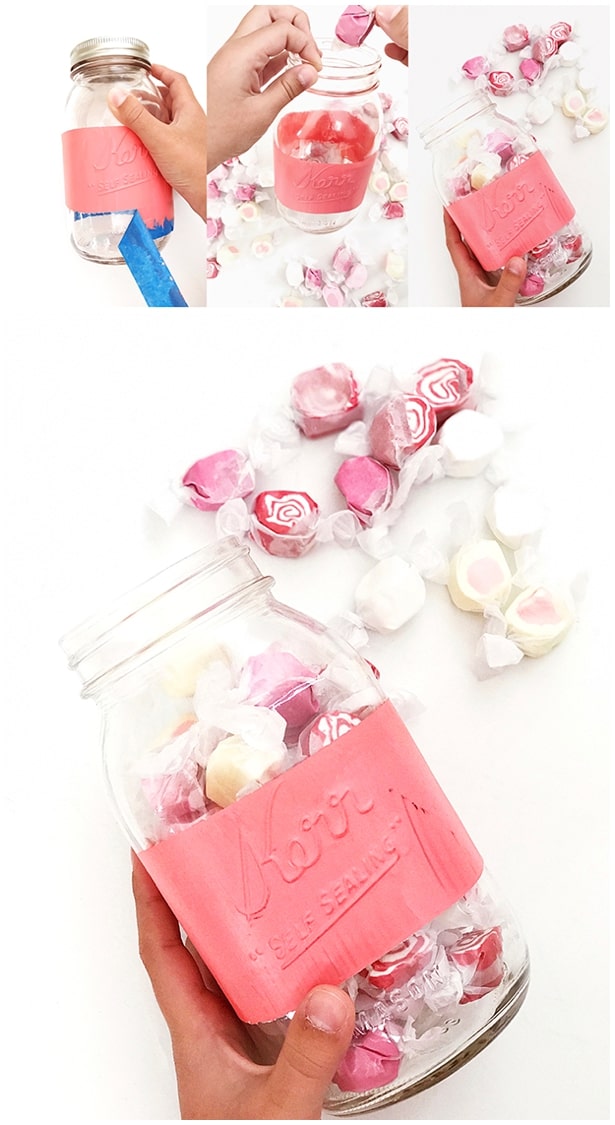 How pretty are these salt water taffy dressed up in their wax paper? So pretty that we wanted to show them off so we decided to paint a single bright pink stripe in the center and leave the rest of our jar see through.
3) Chocolate truffles in a Mason Jar
Materials:
64 oz. mason jar
chocolate truffles w/sprinkles
chalk paint
paint brush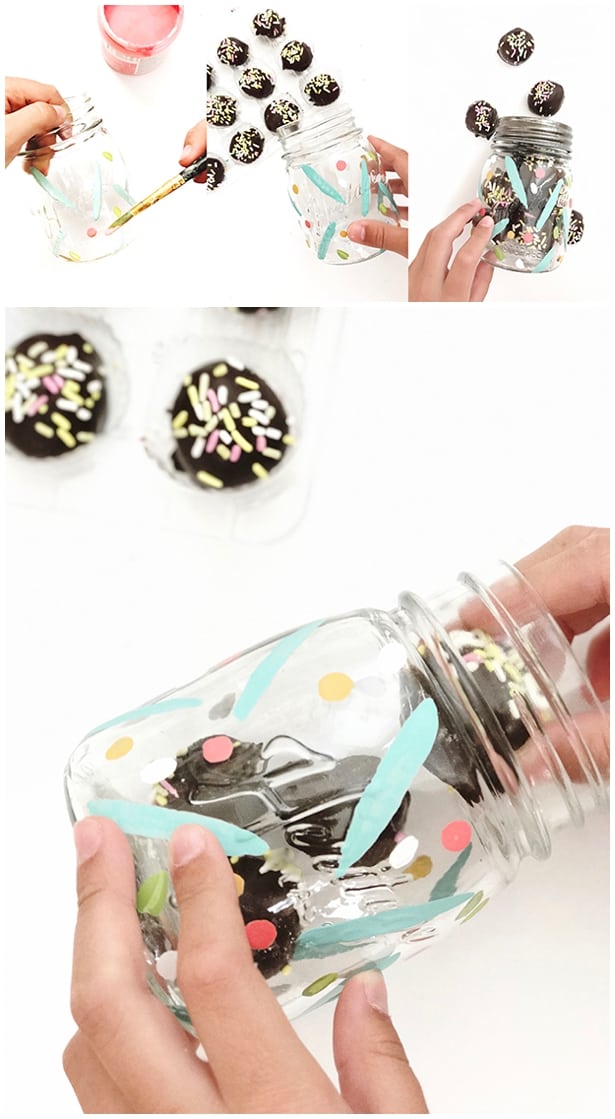 Paint your mason jar in a delicate pattern leaving lots of blank space so that your pretty little truffles can show through. Once your paint dries, carefully add your chocolates.
4) Handmade flowers in a Mason Jar
Materials:
heritage mini mason jar 2" x 3.75"
gold duct tape
light pink washi tape
hot glue gun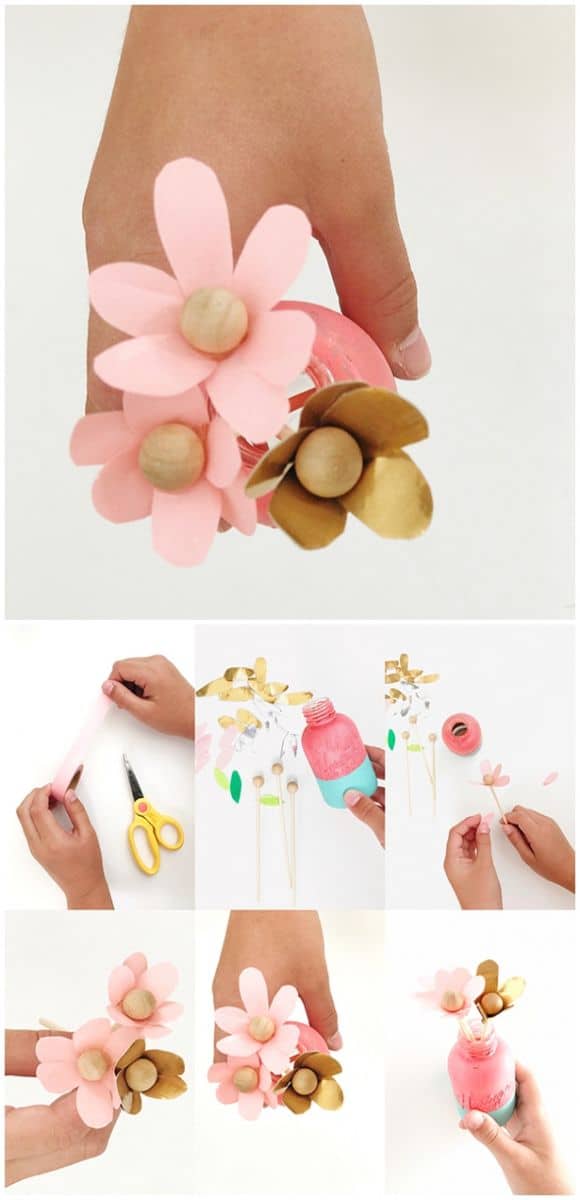 Take a 3" strip of washi tape or a skinny strip of duck tape and fold it in half. 2. Use your scissors to cut a simple petal shape out. 3. Once you have 5-6 petals you will attach them with a dab of hot glue, placing them one by one around the ball of your rock candy stick. You can follow steps 1 and 2 with green tape to add leaves. Arrange your washi and wood bouquet in your mini jar.
5) Handmade salt scrub in a Mason Jar
Materials:
16 oz. pint wide mouth mason jar
popsicle stick
organic coconut oil
sea salt
chalk paint
bowl
1 cup of sea salt
4 tbs of coconut oil
4 drops each of bergamot and lavender essential oil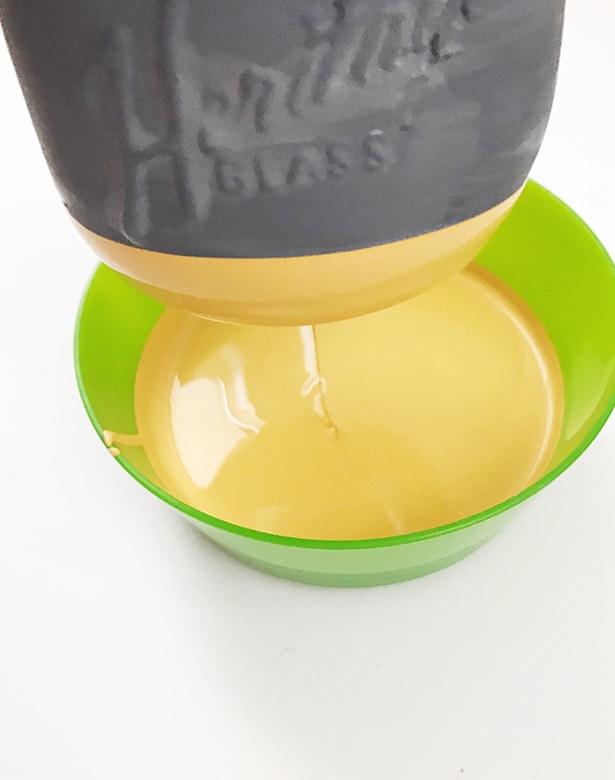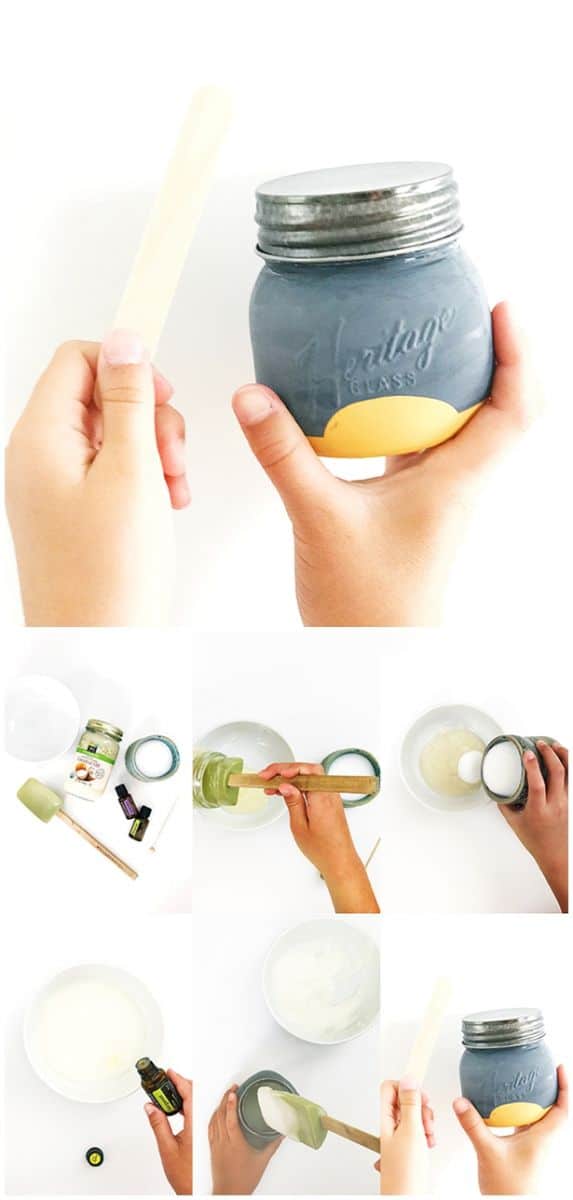 If you don't have essential oil you can use fresh limes, lemons, or oranges in place. Add 1 teaspoon of zest and 1 1/2 teaspoon of juice in place of the essential oil.
1. Get a ceramic or glass mixing bowl (you do not want to use any synthetic material if you are using citrus). 2. Add 4 Tbs. of the carrier oil of your choice. We used coconut but you could also use almond, olive, or jojoba oil. 3. Add in 1 cup of sea salt. 4. Stir until the oil and salt are evenly blended (it should be the consistency of paste). 4. Add in 4 drops of each of your essential oils or your citrus zest and juice and stir until blended. 5. Add your salt scrub to your mason jar.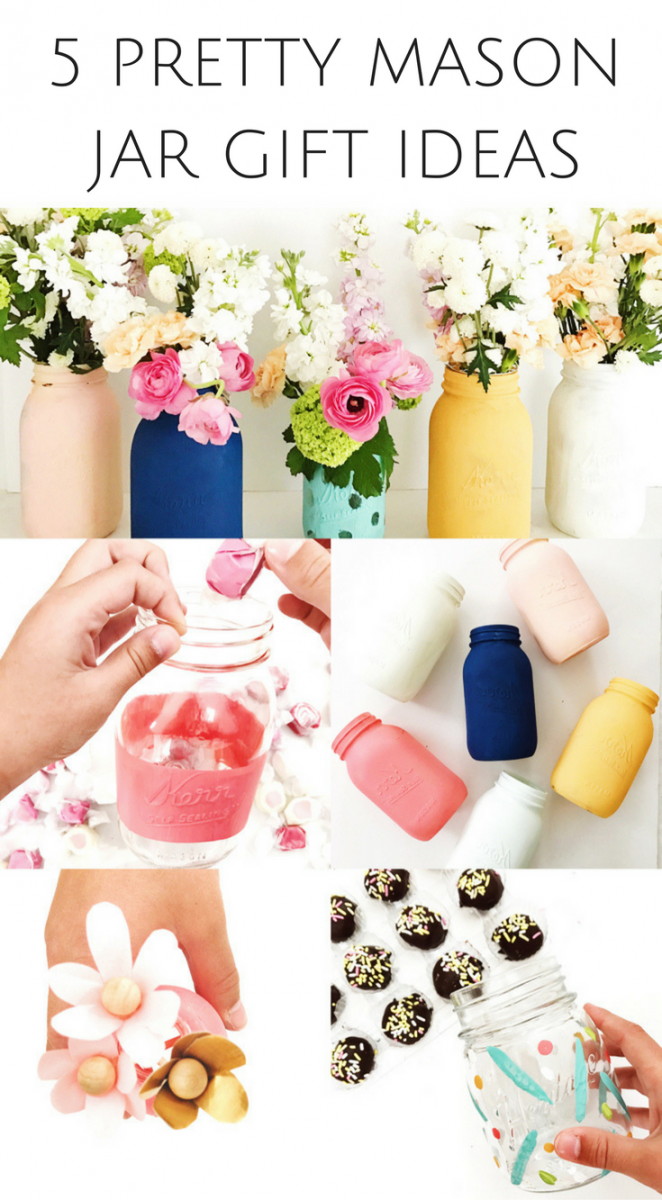 '
What are your favorite Mason Jar ideas?
How are you celebrating Mother's Day or Teacher Appreciation Week this year? Let us know in the comments!
Don't forget to check out more creative projects for kids.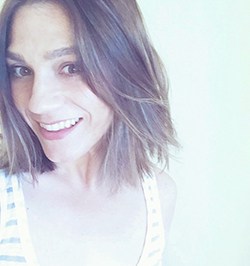 Meet Arielle Goddard – Los Angles based artist, designer, arts educator, mother of two girls, and founder of ART CAMP. Arielle has been teaching and developing art programs for close to 20 years. If you are looking for fresh, elevated, arts, crafts, and DIY inspiration follow her blog, Instagram and Pinterest.
______________________________________________________________________________________________________

Disclosure: Some of the links in the post above are "affiliate links." This means if you click on the link and purchase the item, we will receive a small affiliate commission. Regardless, we give our promise that we only recommend products or services we would use personally and believe will add values to our readers.