January 29th marks the 100th day of school for my kids and if you have young children, you'll know it's a big deal for them. The premise is for kids to come up with a creative showcase of 100 things or objects. I've seen some amazing examples at their school for prior years and online. Inspired by this cute 100 day project using goldfish crackers, we set out to make our own version – a 3-dimensional goldfish bowl that can be displayed and enjoyed long past the 100 day milestone.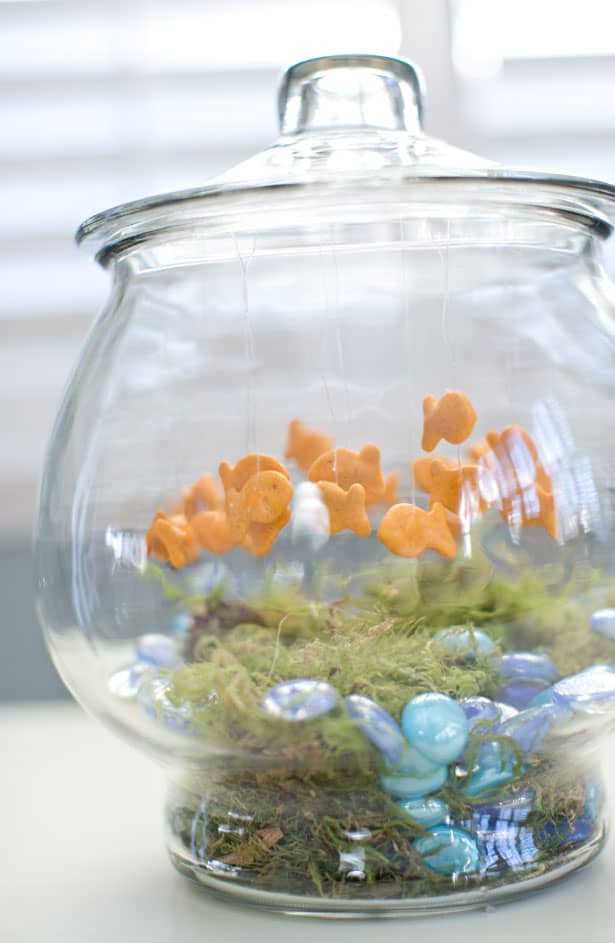 100 Days of School: Goldfish Bowl – Materials
– Goldfish crackers
– Glue dots
– Clear craft glue (I used this one)
– Transparent string (similar to fishing line or for clear bead cord for jewelry making)
– Bowl with lid (we happened to have this glass one on hand, but you could probably use a plastic one)
– Glass beads
– Moss (optional – I happen to have some on hand which added a nice touch)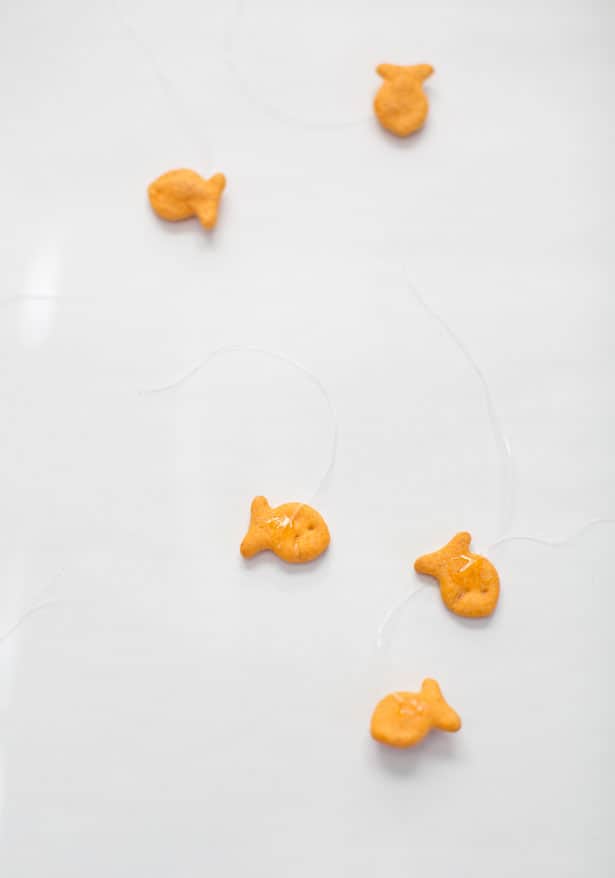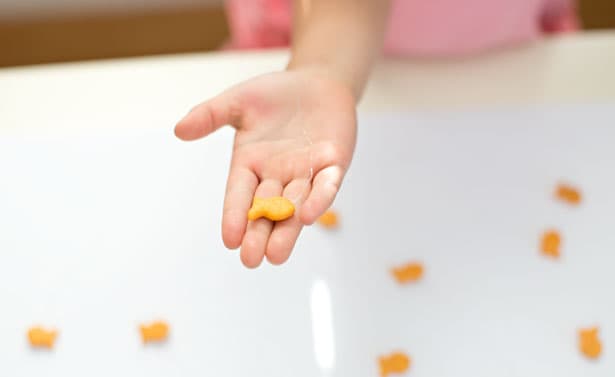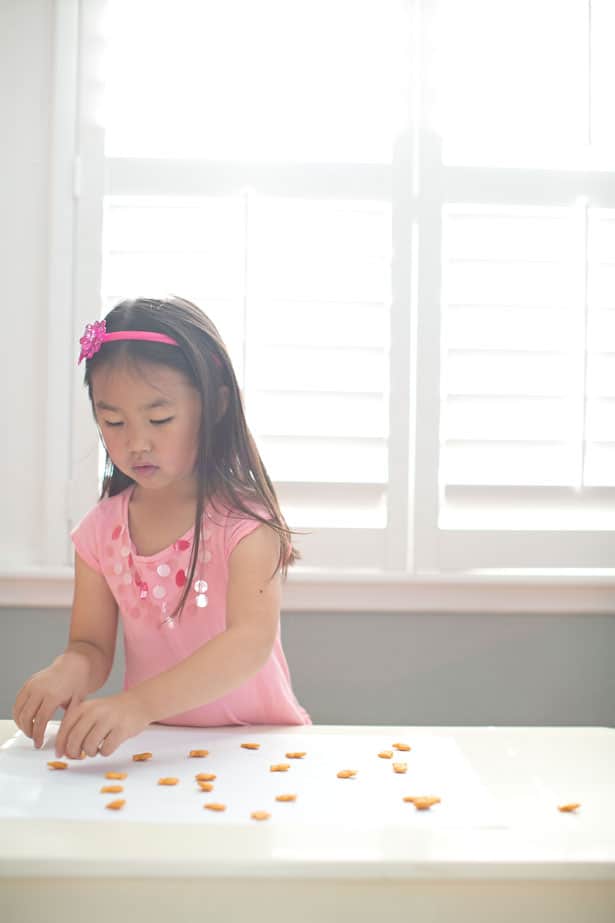 Steps:
1. Have your child count out 25 goldfish crackers.
2. Cut out 25 strings.
3. Place a dab of glue on the center of each goldfish and gently lay down one end of the string to each goldfish. Allow to dry completely.
4. Ask your child to count out 75 glass beads.
5. If using moss, place inside bowl and then ask your child to place the beads inside.
6. Use one glue dot per string with goldfish and attach the opposite end to the lid.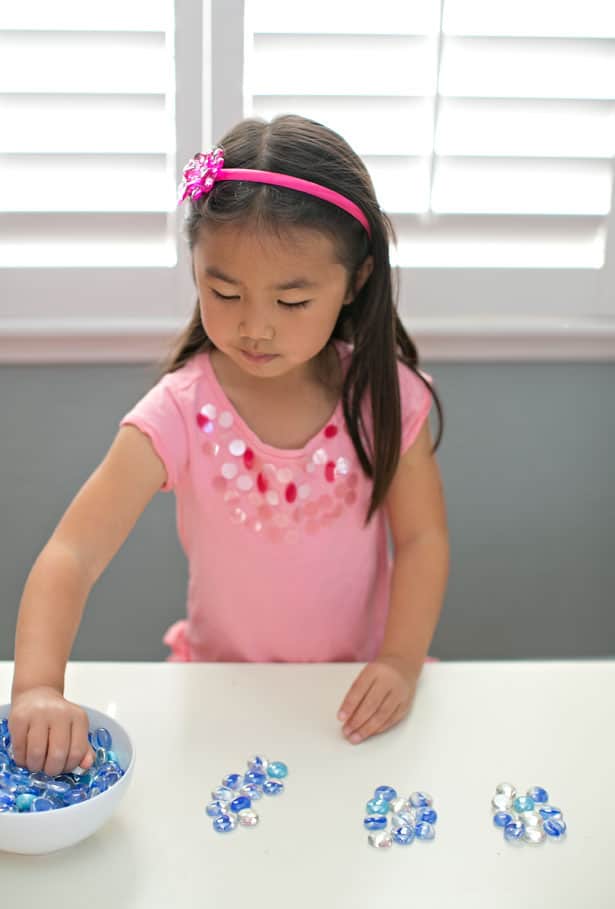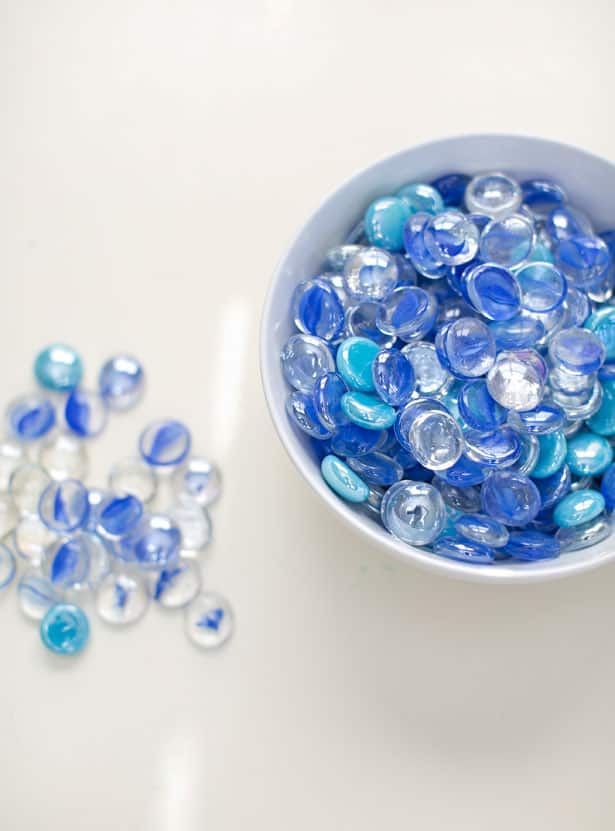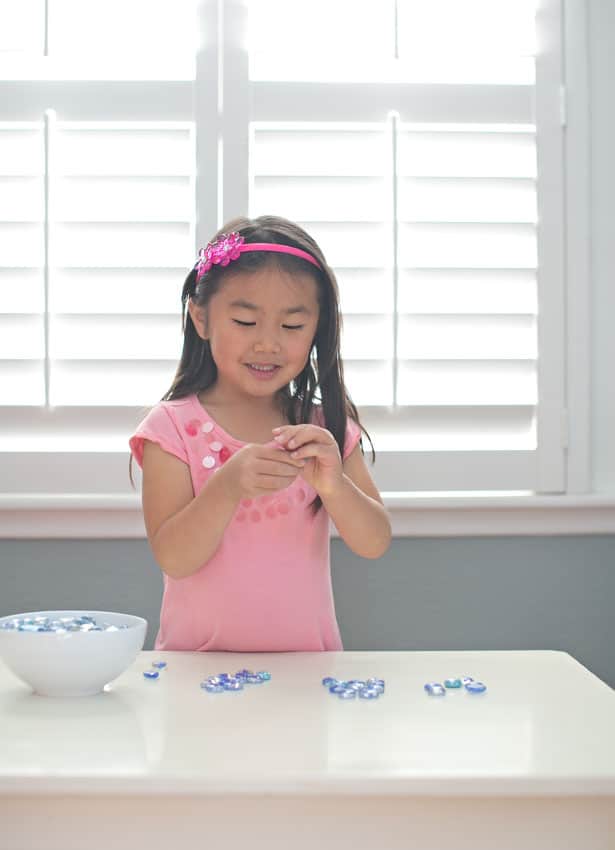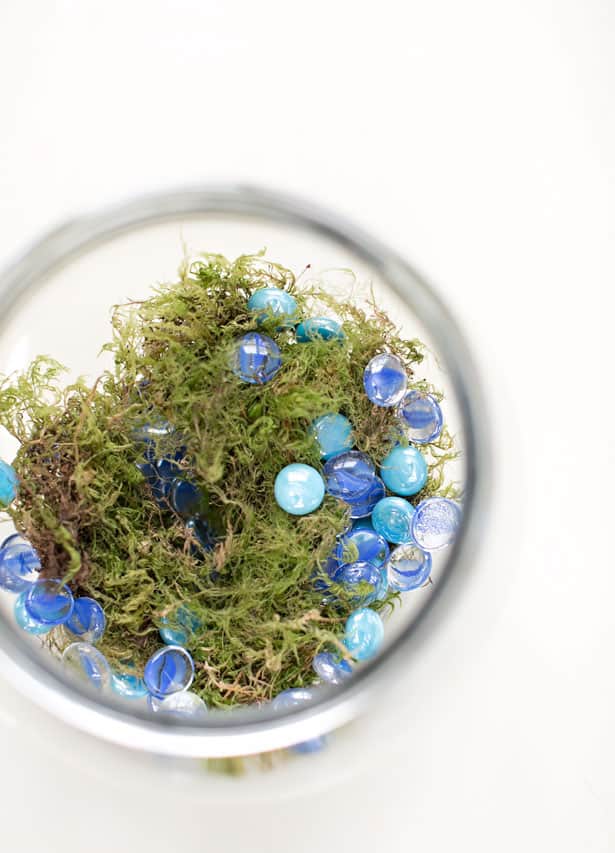 The whole point of the 100 day project is to have your child come up with an imaginative way to make something using 100 things and count them out. In this case, my daughter counted out 25 goldfish and 75 beads, starting in piles of 10.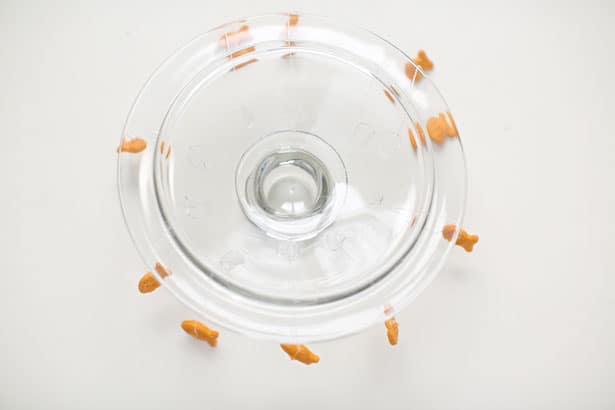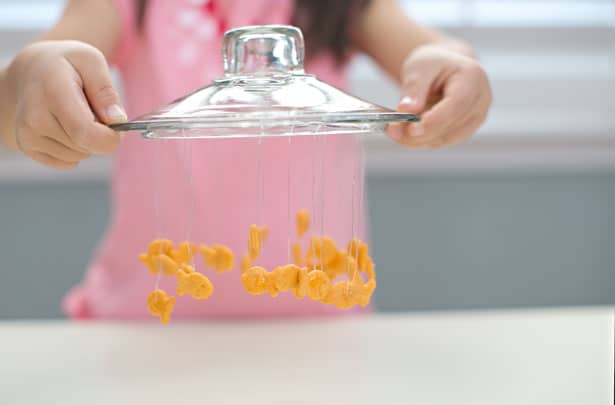 Close up of how the glue dots are holding the string in place. They stuck well and we were surprised by how strong they held up the fish!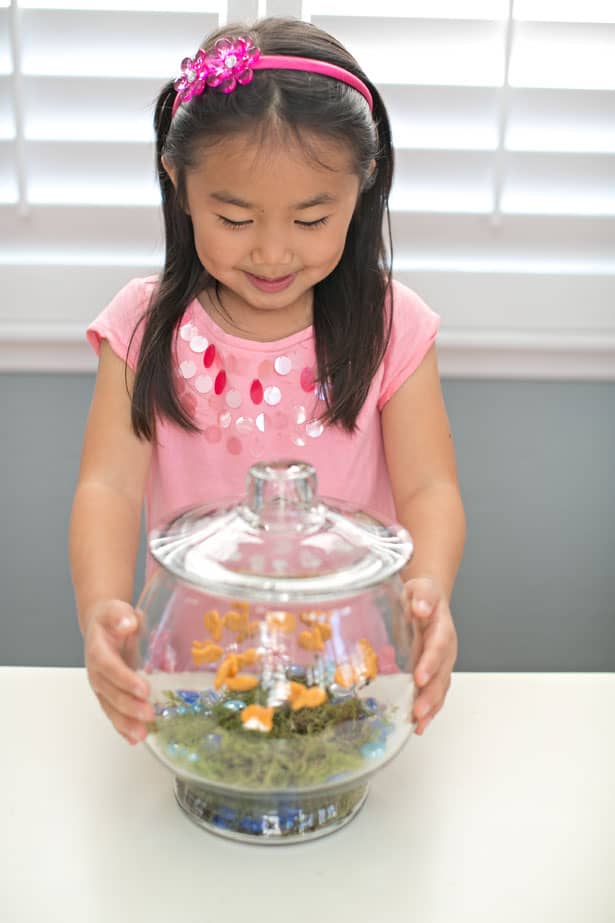 My daughter said this was one of the most fun projects we've ever done together and I agree – the end-result is so visual and fun!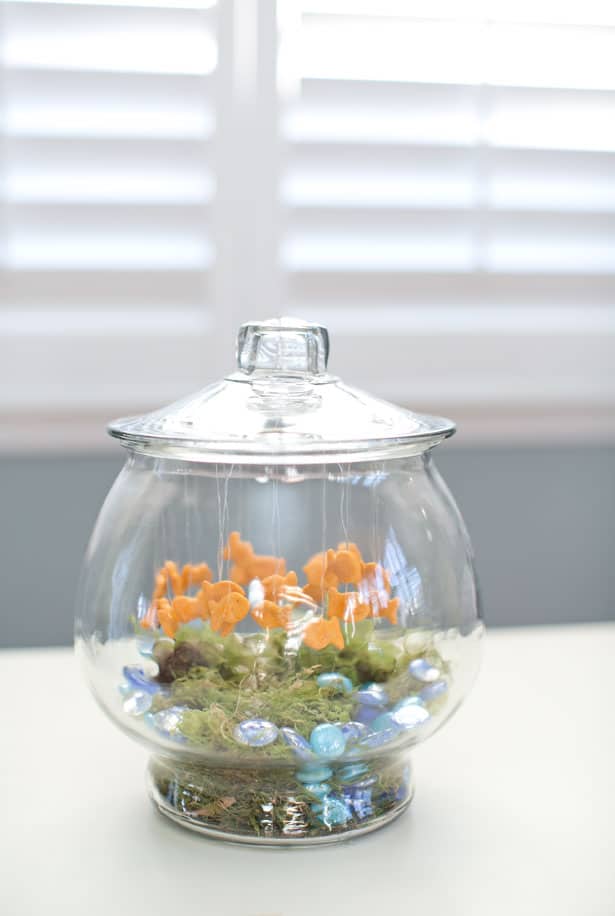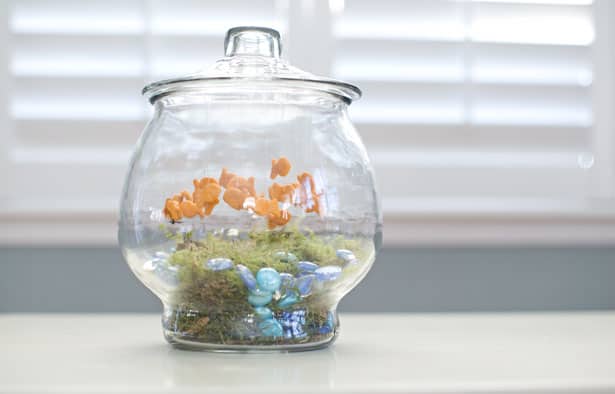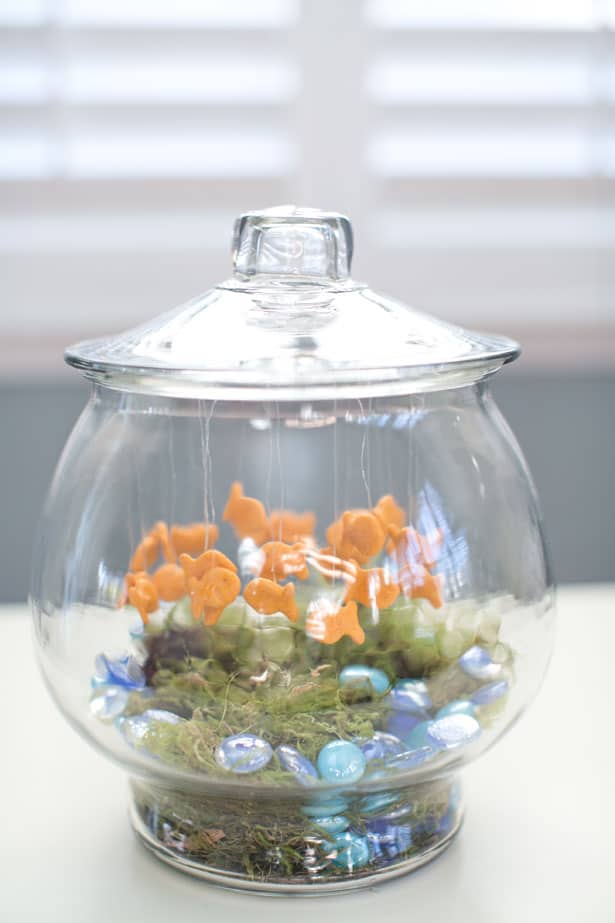 Beyond this being a 100 day project, it also doubles as a zero maintenance fish bowl your kids can enjoy for a long time to come. It looks amazing as a centerpiece and the kids inspect the fish each day!
What are some 100 day projects you've made with your kids?
______________________________________________________________________________________________________

Disclosure: Some of the links in the post above are "affiliate links." This means if you click on the link and purchase the item, we will receive a small affiliate commission. Regardless, we give our promise that we only recommend products or services we would use personally and believe will add values to our readers.