I take loads of photos of my kids on my camera phone and anyone who has young children know that they zoom by and never stay super still for a clear shot. I absolutely love the Snappy Cam App which acts like a fast shutter where you push down a button to take up to 60 photos in one second! This instantly decreases your chances of being left with all those blurred shots. It's also great for when your kids are playing sports, at the playground, running or dancing – which are things they tend to be doing most of the time.
Snappy Cam is available on iTunes for $.99. and in my opinion, well worth it to get that priceless shot of your kid.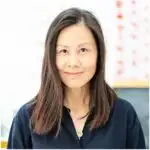 Agnes Hsu is a mom of three and has been inspiring parents and kids to get creative with easy activities and family friendly recipes for over 10 years. She shares her love for creative play and kids food to her 2MM+ followers online. Agnes' commitment to playful learning and kindness has not only raised funds for charity but also earned features in prestigious nationwide publications.