Looking for an easy last minute Thanksgiving dessert? These sweet potato bars come together quickly and are delicious, creamy and perfect to serve to kids or bring to a large gathering.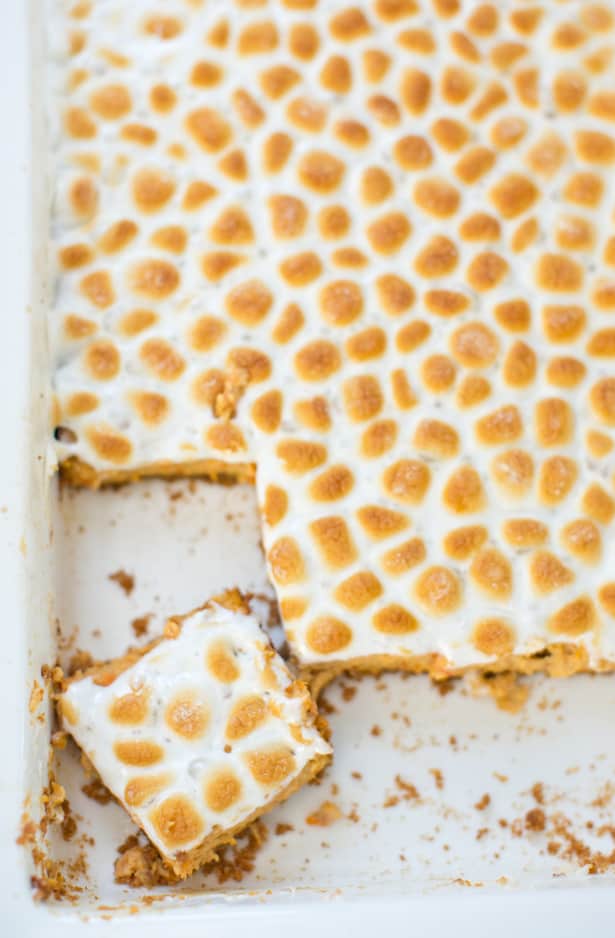 Sweet Potato Cream Cheese Bars with Marshmallows – Ingredients:
Graham Cracker Crust:
– 12 large graham cracker rectangles (about 1 1/2 cups crushed)
– 6 tablespoons melted butter
– dash salt
– 1/4 cup sugar
Filling:
– 2 cups mashed sweet potatoes
– 16 oz cream cheese
– 3/4 cup brown sugar
– 3 eggs
– 1 teaspoon vanilla extract
– 1/4 teaspoon cloves
– 1/4 teaspoon nutmeg
– 3/4 teaspoon cinnamon
– 1/4 teaspoon kosher salt
– 1/2 cup cream
– 3-4 cups mini marshmallows
You will also need a 13″ x 9″ pan.
Instructions:
(Preheat oven to 350 degrees)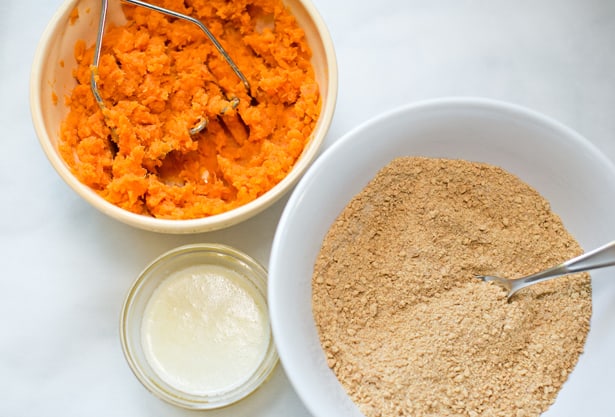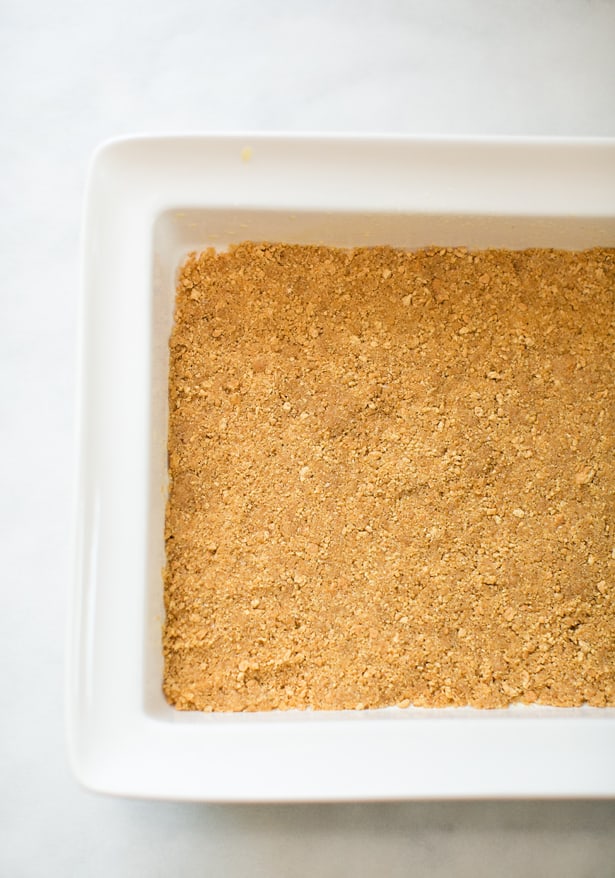 Step 1. Mash up your sweet potato. You can steam, boil, bake or microwave. I like to microwave cut up chunks in some water in a bowl for about 15 minutes (this all depends on how strong your microwave is).
Step 2. Prepare your crust by adding the melted butter, sugar and dash of salt to your crushed graham crackers. Mix to combine and pat down evenly on your pan. Bake in the oven at 350 degrees for about 12 minutes.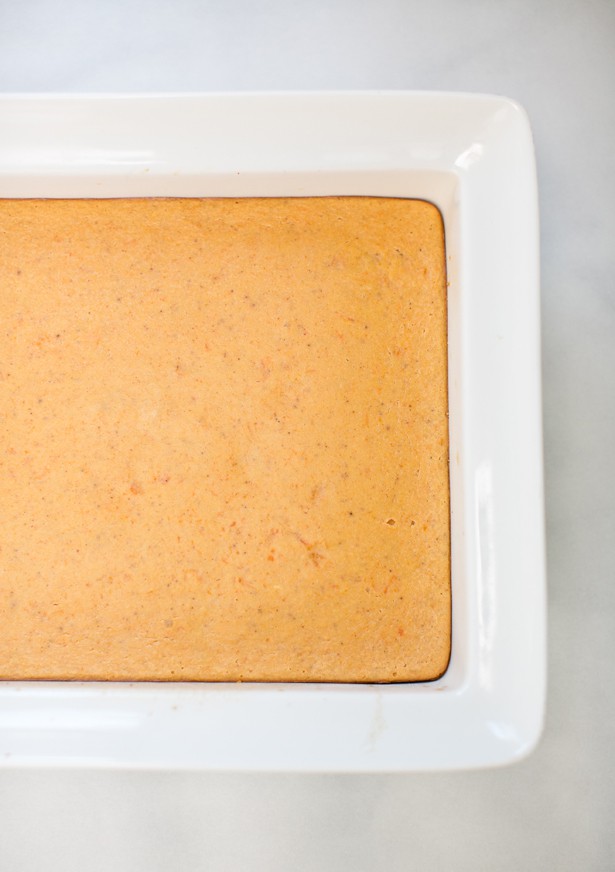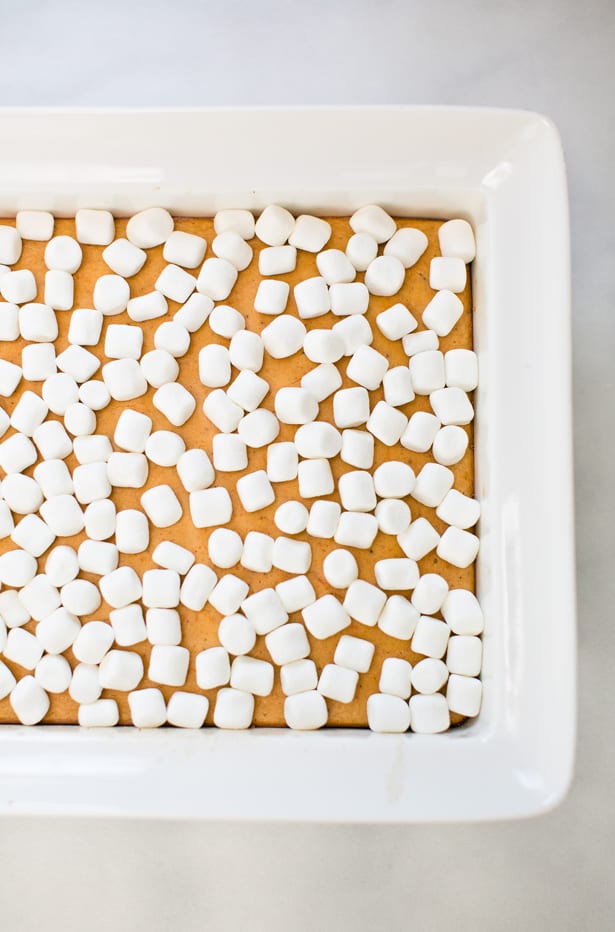 Step 3. Cream the cream cheese and brown sugar together. Add the eggs and vanilla and mix to combine well. Add the spices, salt, and sweet potatoes, mix until combine. Add the cream and mix until just blended. Pour over the crust and bake for about 30-35 minutes until the top springs back.
Step 4. Add mini marshmallows on top. Put your oven on broil and broil 2-3 for minutes. It's important to stand by the oven and keep an eye on top as the marshmallows can burn quickly!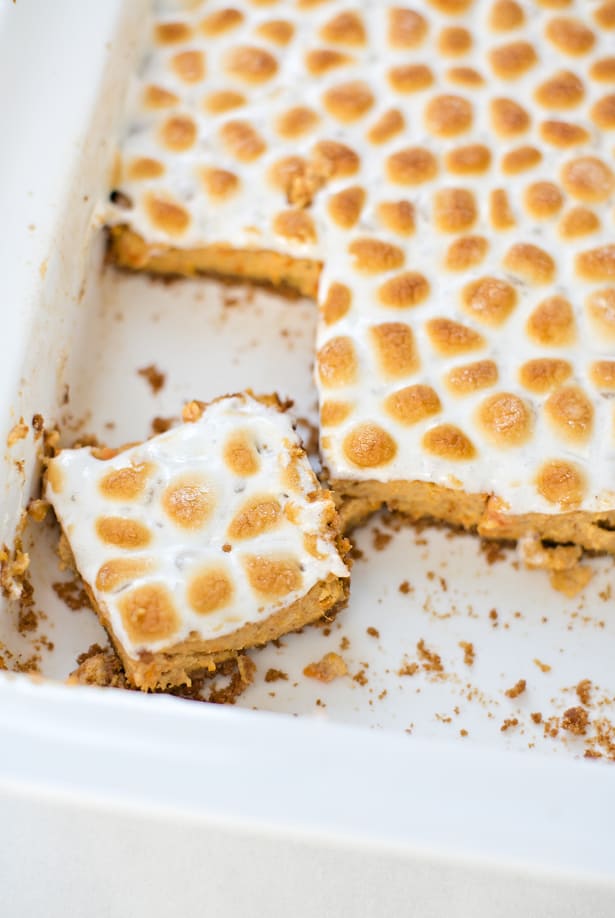 Allow to cool and keep refrigerated to store.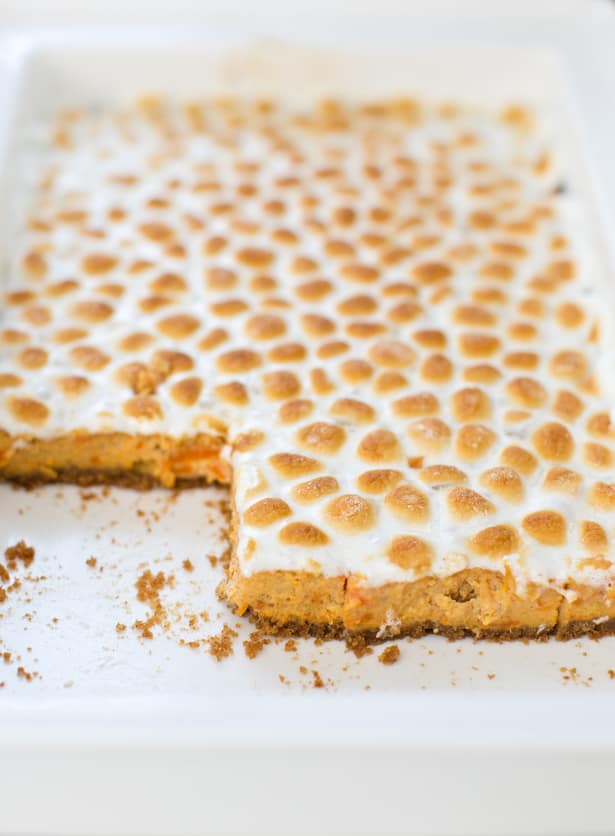 The filling is light and creamy and the graham cracker crust complements the spices and sweet potatoes perfectly. The filling itself isn't too sweet so the marshmallows on top give it some gooey sweetness.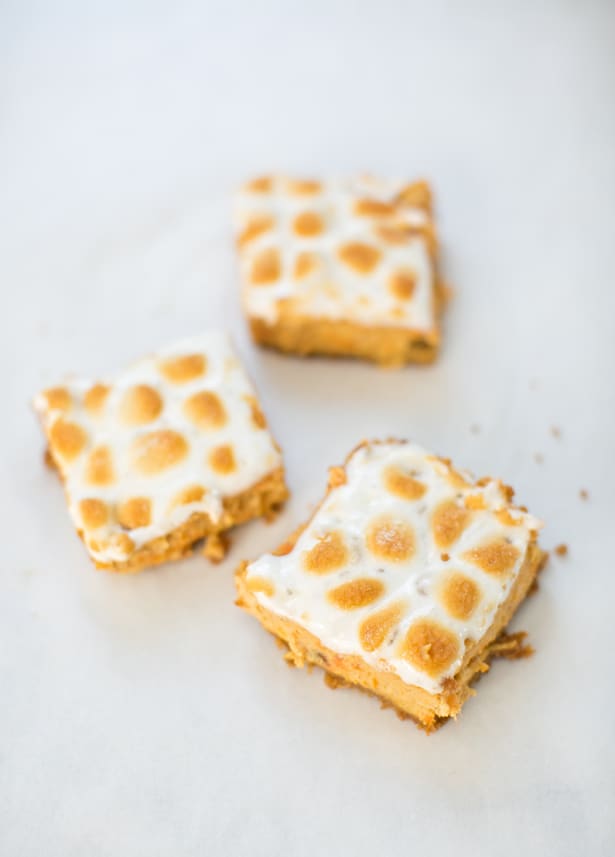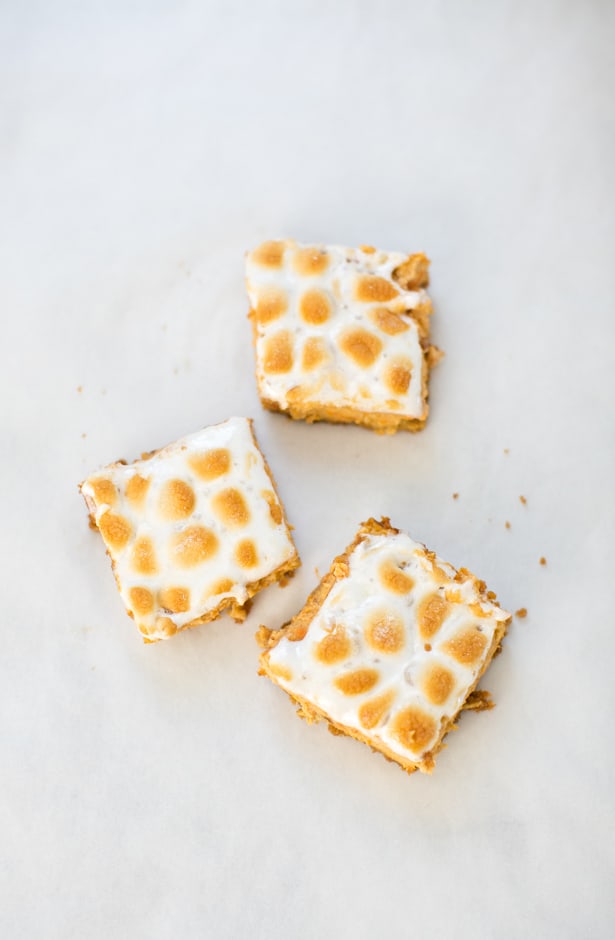 I like to serve these into tiny squares for my kids. They just love the marshmallows on top.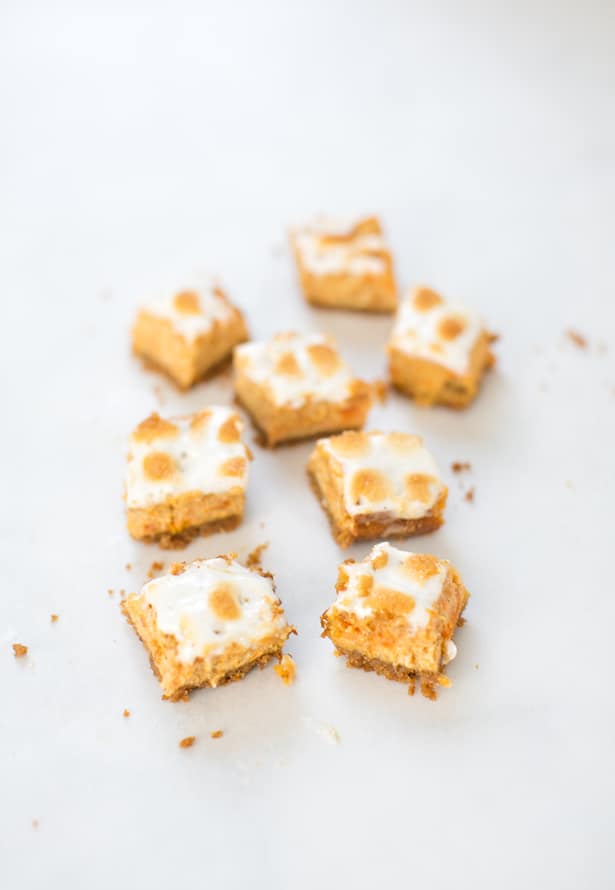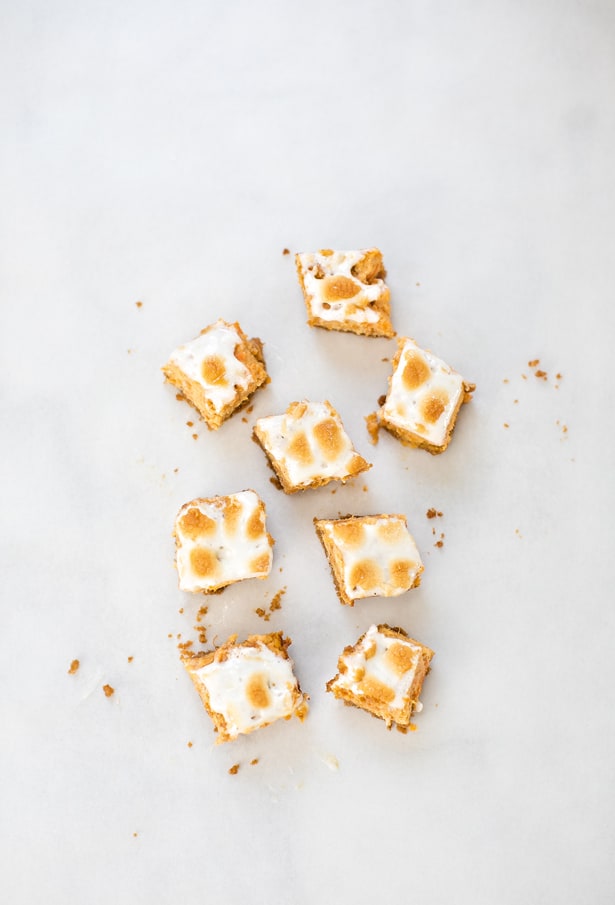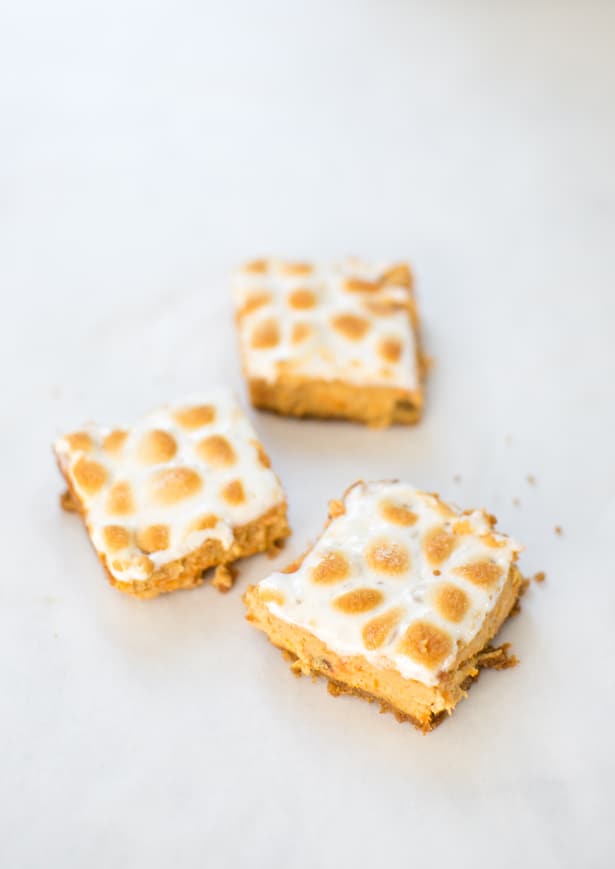 These sweet potato bars are a mix between pie and cheesecake filling. They're delicious and a hit among kids and adults! I like how they can be cut in small pieces or bars – easy to feed lots of people.
What are some of your favorite Thanksgiving desserts? Take a look here for more Fall and Thanksgiving ideas.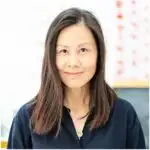 Agnes Hsu is a mom of three and has been inspiring parents and kids to get creative with easy activities and family friendly recipes for over 10 years. She shares her love for creative play and kids food to her 2MM+ followers online. Agnes' commitment to playful learning and kindness has not only raised funds for charity but also earned features in prestigious nationwide publications.