Sushi isn't something you'd think is a kid-friendly food, but it can be very kid-pleasing. Easy to eat with little fingers, perfect as a lunch or snack option and filled with an endless variety of ingredients, it's a winner all around. Plus, it makes great use of leftovers, requires minimal tools and is easy to roll up requiring no stove or oven.
Here's a quick and healthy sushi roll recipe I make for my kids which actually has them asking "when can we have sushi again?"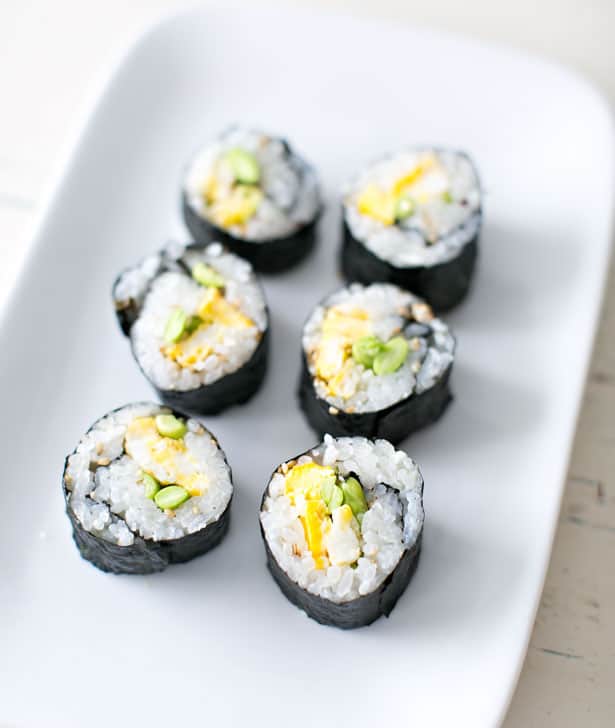 Egg, Sesame Seed and Edamame Sushi Roll – Ingredients
(makes 4 rolls)
– 4 Cups cooked Japanese rice (I use this brand)
– Nori sheets (large seaweed sheets)
– 2 Tablespoons Japanese rice vinegar
– 2 Tablespoons Sugar
– Eggs, fried lightly in some oil and salted
– Frozen, shelled edamame – defrosted (or substitute peas)
– Sesame seaweed salt (I use Eden Organic brand, found at Whole Foods)
– Sushi rolling mat (these are relatively inexpensive and can be found here)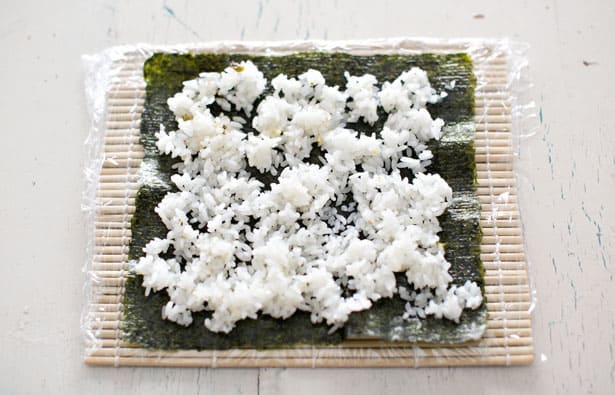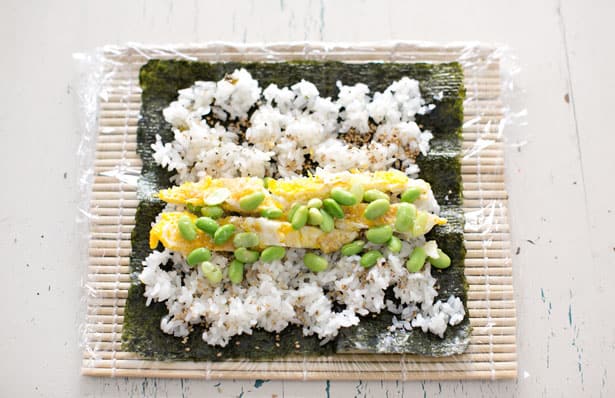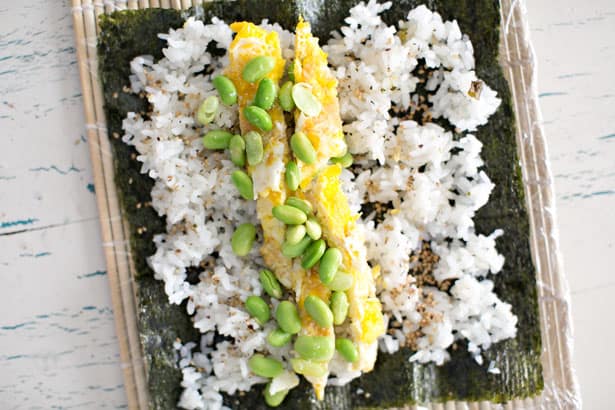 Steps:
1. Cook your rice accordingly (either stove top or rice cooker if you have one). Note: 2 cups of uncooked rice will yield approximately 4 cups of cooked rice.
2. Mix vinegar and sugar into a bowl and microwave until sugar has dissolved. Add to warm rice mixture and mix to combine.
3. Fry eggs into one large omelette in some oil. Season with salt.
4. Wrap your sushi mat in plastic wrap which prevents the seaweed from sticking. Line with one sheet of Nori.
5. Spread rice over the Nori (it helps to have damp hands to spread the rice and prevent it from sticking) then add strips of eggs and sprinkle with edamame and sesame/seaweed/salt mixture.
6. Roll your mat making sure to stop as you roll to press down firmly. Here is a great video showing you how to roll sushi from Make Sushi.
7. Using a sharp knife, cut the roll in half, then each half into halves. You should have 8 pieces of sushi per roll.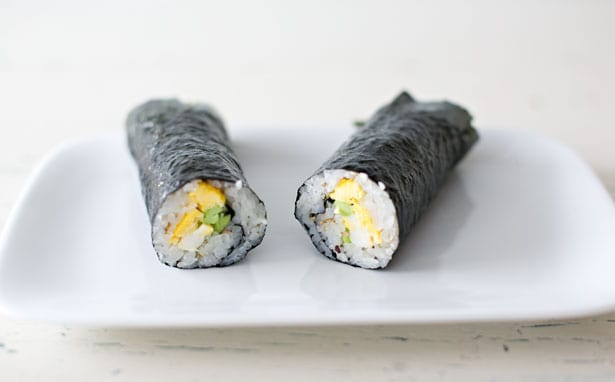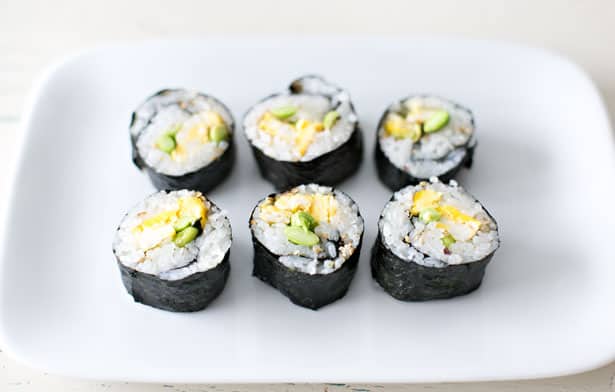 Once you have all the basic ingredients on hand (Nori, rice, and mat) making sushi becomes fun and easy. You can fill it with any creative ingredients your kids may like or even leftovers (we've filled ours with leftover broccoli and beef, chopped up). Some other ideas:
– Cucumbers and ham
– Ham, eggs and peas
– Avocado and turkey
– Bell peppers
– Smoked salmon or cooked fish
My kids love eating sushi this way and it's a nice break from all the sandwiches they have for lunch!
Have you ever made sushi before?