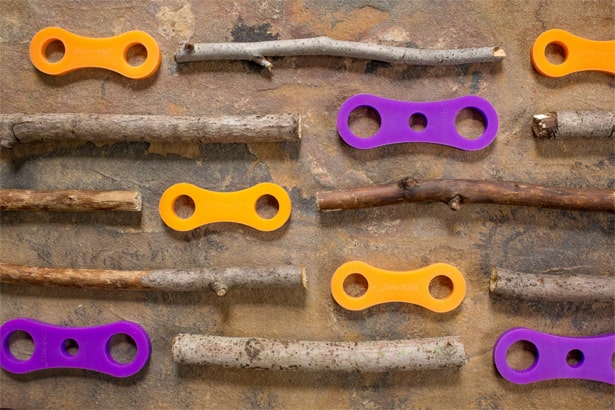 Stick-lets help children of all ages get back outside to create engaging and memorable experiences. By using Stick-lets, kids fall in love with the resourceful, renewable, and plentiful element: the stick! These durable, reusable, weather-resistant and safe silicone joints stretch the imagination through the simple act of lashing together various sizes of scavenged sticks. The flexible nature of the six shapes gives kids the freedom to build forts, toys, animal kingdoms, geometric shapes, and much more. Stick-lets also promote problem-solving, team building skills, imaginative dexterity, design discovery and hands-on learning through physical manipulation (ie. built with your own two hands!).
See what your imagination discovers.
Stick-lets offer several variations of kits, from a 6pc. Starter Kit to a 204pc. Educational Kit. Camouflage colors and gardening kits are available too!
Use discount code: HELLOFORT to receive 10% off your entire order. Expires August 1st, 2016.