Coding, or computer programming, is a hot trend right now. Learning to code helps children develop important skills like problem solving and critical thinking. Most importantly, coding teaches children that they can be creators, and not only have an idea, but actually turn their idea into something.
Robot Turtles is a board game that introduces young children to the basics of computer programming. It was created by Dan Shapiro, a software entrepreneur and father of twins. He started a Kickstarter campaign last fall, and in less than a month, he raised over $631,000 (far exceeding his $25,000 goal), making Robot Turtles the most backed board game in Kickstarter history.
What makes this game so unique is that it makes coding fun and accessible to children as young as four years of age, and it does so in a "screen-less" way that encourages parents and children to interact rather than children playing an app alone on an iPad.
In Robot Turtles there is no single winner, and more importantly, no losers. Instead, all players try to get their Turtle to the matching jewel, and whoever finishes first, gets ready to cheer on everyone else (more advanced players can even help their fellow Turtles)! This keeps the focus on play, rather than competition, and helps young children build confidence.
Another thing that makes Robot Turtles so special is that it is designed to be played by an adult and a child, but not in the traditional sense. In Robot Turtles, children are the Turtle Masters, and they get to decide where they want their Turtles to move on the board. The adult is the Turtle Mover, and like a computer, their job is to move the turtle according to the code written by the Turtle Master. But don't worry, the Turtle Master doesn't get to have all the fun, as Turtle Mover, adults are required to make silly turtle noises to accompany each move. Beep-Bop-Boop!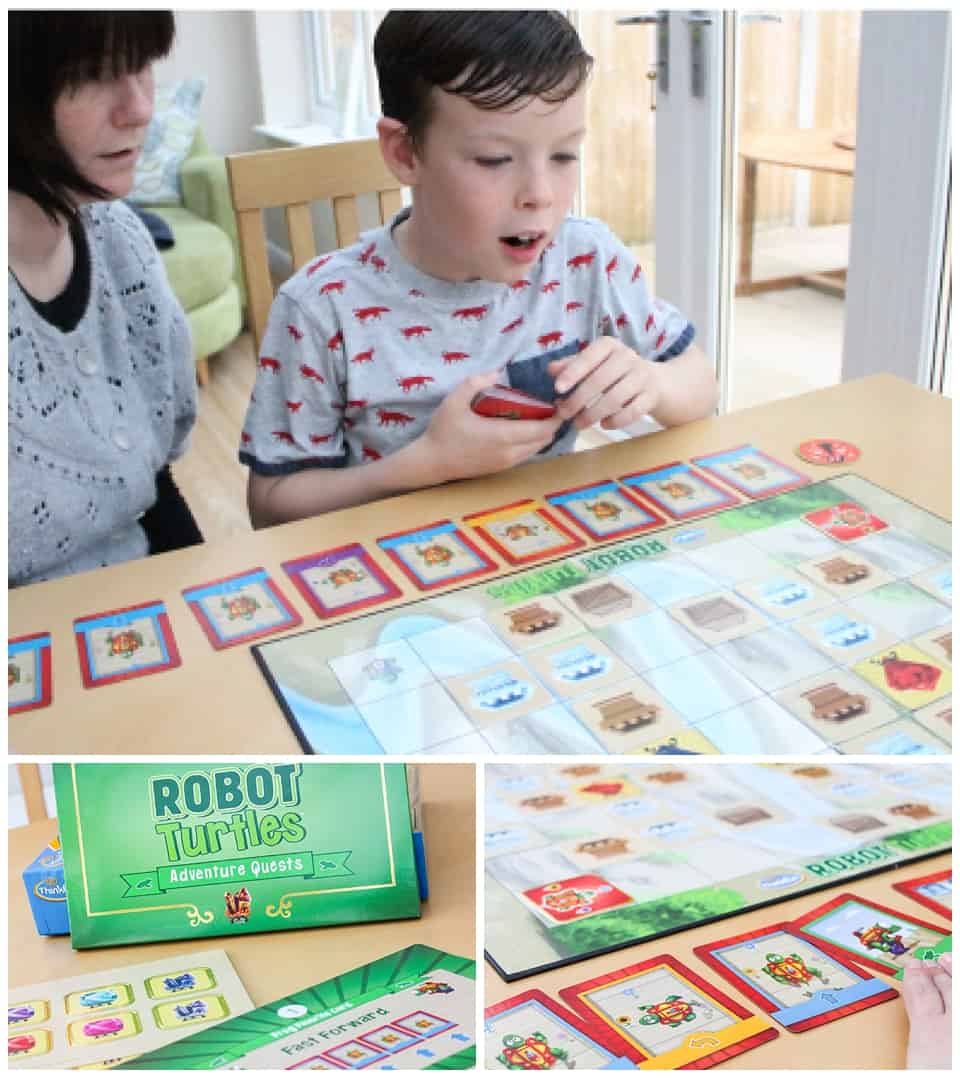 As children get better at coding, there are numerous obstacles that can be added as well as different board game setups that make the game more challenging. There are also advanced versions of the game for older children and adults, which makes this game one that will grow with your child.
Robot Turtles is now produced by ThinkFun, and is available on their website.