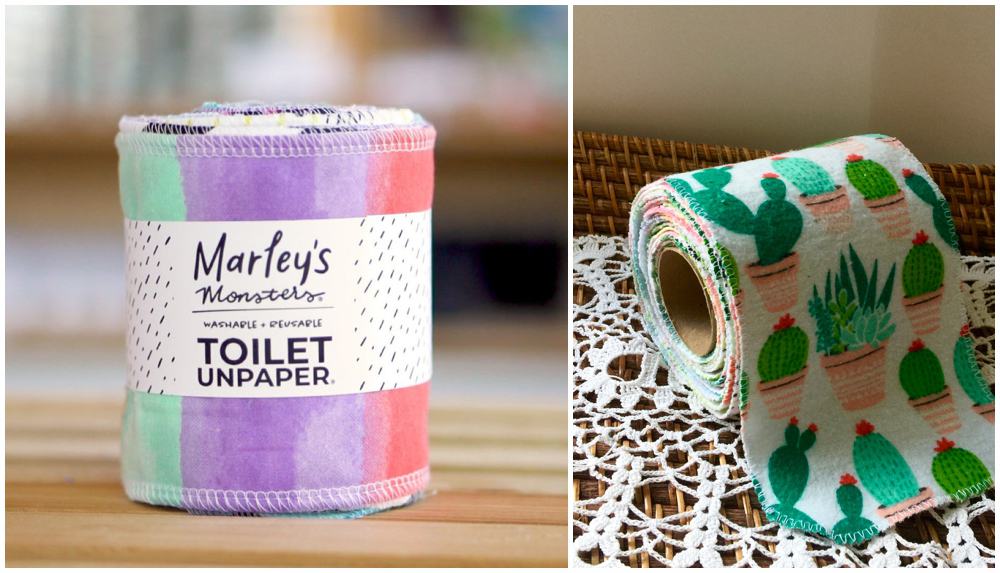 Photo credit: Etsy/Marley's Monsters (left) Etsy/Besse Margaret (right)
Sustainability is all the rage now with ethically sourced materials and better working conditions in order to make the earth a better place. I'm all for it. I mean, if we have reusable cloth diapers, then why can't we have reusable toilet paper?
According to True Plumbers and AC, most people use 20,000 sheets of toilet paper per year, which adds up to around 100 rolls of toilet paper. That's a lot of waste, literally!
That's just the average person. Think about when you have kids and how much toilet paper they use. I'm sure they don't follow the 2-squares rule like adults do. They probably roll out half the roll and use it to wipe!
If you do use toilet paper make sure to save those paper tube rolls to make recycled crafts like paper tube fish and paper tube caterpillars.
Is Reusable Toilet Paper Good For The Environment?
That's why reusable toilet paper is rising in popularity. If we can make clothing more ethical to reduce waste, then why can't we reduce the waste for our bums? The more we take care of our planet, the more it takes care of us. This isn't just a phase, it's a lifestyle that will create a better environment for everyone.
I've done a ton of research and found some amazing shops on Etsy that sell reusable toilet paper in all sorts of shapes and colors. The great thing about Etsy is that everything is unique! You may actually pay more, but you know that each item is carefully and sustainably made and will last you a lifetime.
Who Sells Reusable Toilet Paper?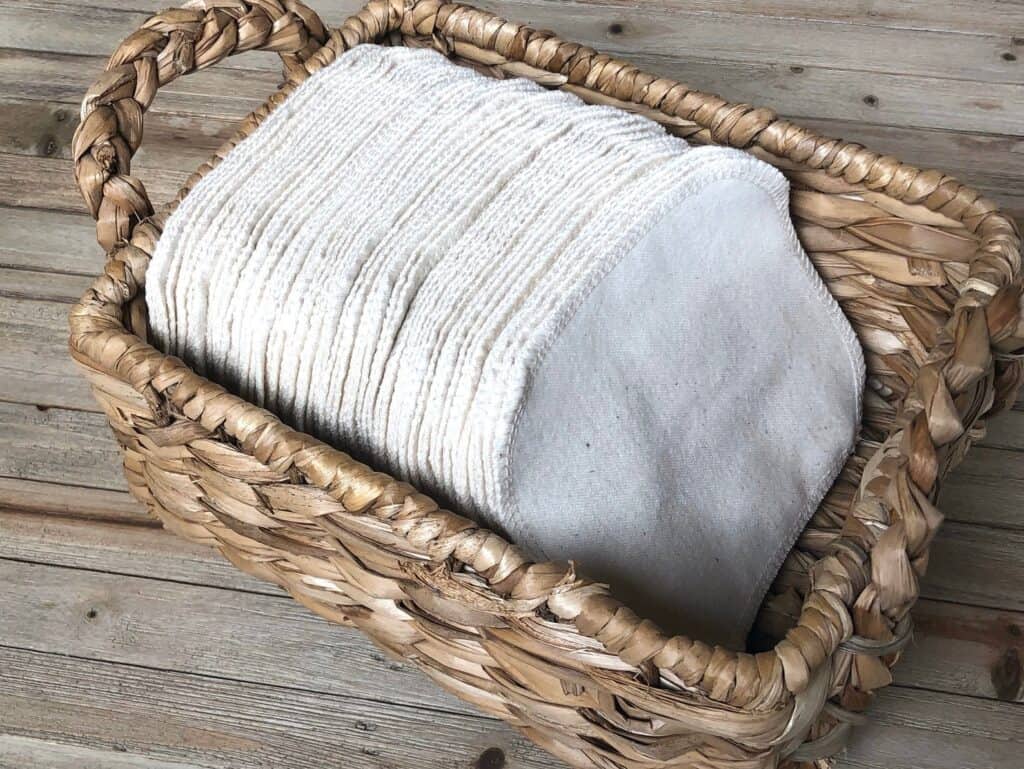 Photo credit: Etsy/Green Little Nest
For instance, the shop GreenLittleNest has some organic reusable toilet paper that comes in rounded, square sheets! They have the option of choosing 10, 15, or 30 wipes with an option for 100% cotton. Each square is made out of 2 ply organic cotton flannel and is around 5×6 inches. The edges are sturdy and professionally surged, and the sheets are completely biodegradable if you choose the 100% cotton option! Pricing starts at $17.00, which is super reasonable for the quality. What I love about this shop is that it's super minimalistic and simple. If you're not into crazy patterns or colors, this item is perfect for you!
Photo credit: Etsy/Mama Bear Baby Wear
Another shop I stumbled upon was MamaBearBabyWear. They offer multi-colored sheets of reusable toilet paper starting at $9.25! You can choose which colors you want, such as earthy neutrals, rainbow, and cool spring, and you can add snaps for an extra $3.00. Each square is made of 100% cotton flannel, which is a sturdy, absorbent fabric! With 10,902 reviews, this item is a HOT seller on Etsy! What I love about this shop is that there is so much variety with this item, it's hard to pick just one!
The last shop that caught my eye was Marley's Monsters The name of their product is "Toilet Unpaper Rolls: Surprise Prints," and the price is $38.00. Each piece of toilet paper is made from 100% cotton flannel, and comes in a pack of 24 rolls! Each toilet paper strip is 4.5" wide x 12" long. These are single ply with edges sown for durability to prevent fraying. What I love about this shop is that the rolls are uniquely printed with fun patterns, so it's not just plain white like regular toilet paper.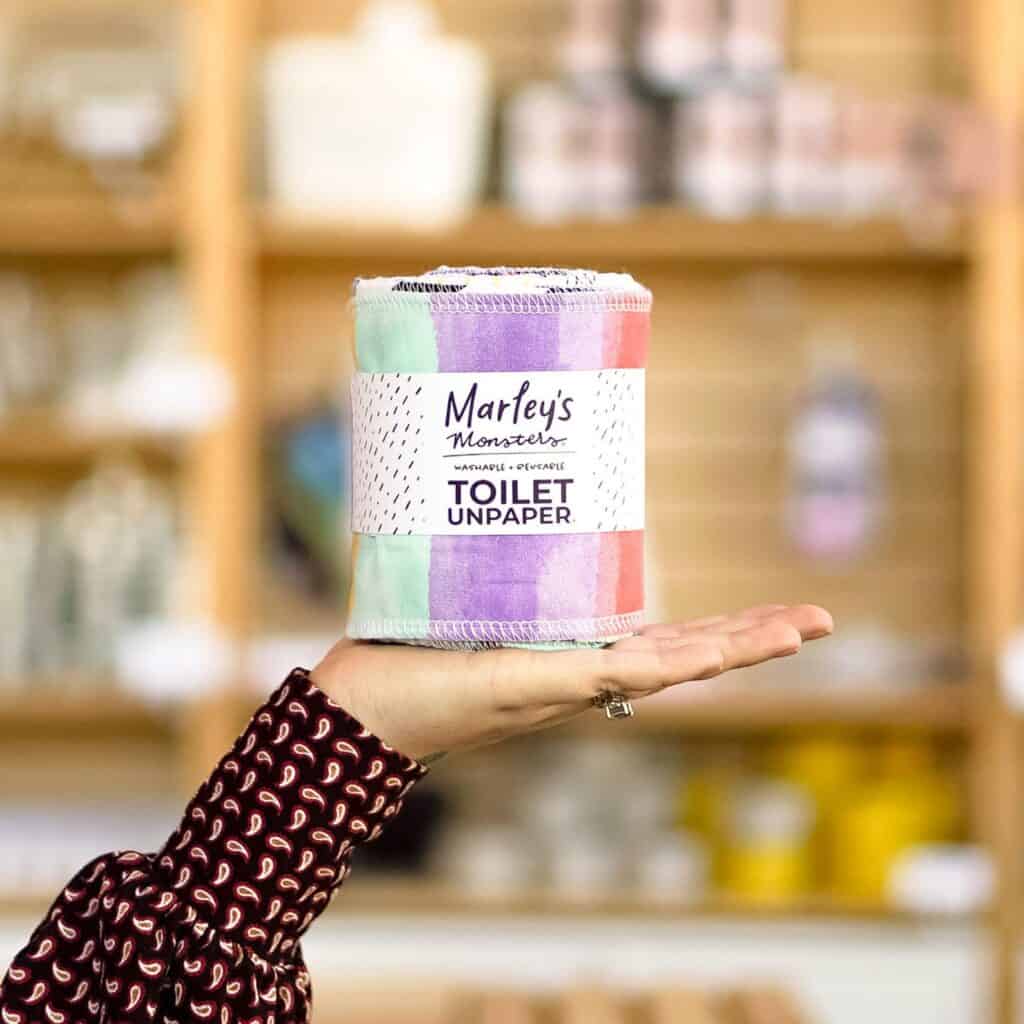 Photo credit: Etsy/Marley's Monsters
Here is one where the print just catches your eye and you want to buy it for the design aesthetics! Shop Besset Margaret sells this cute cacti reusable cloth toilet paper roll of 12 flannel mixed prints for $10.85+ However, keep in mind the roll received per the shop will be a "random assortment of mostly mixed prints with a few complimentary solids, which are UPCYCLED end cuts from Cloth PaperTowels."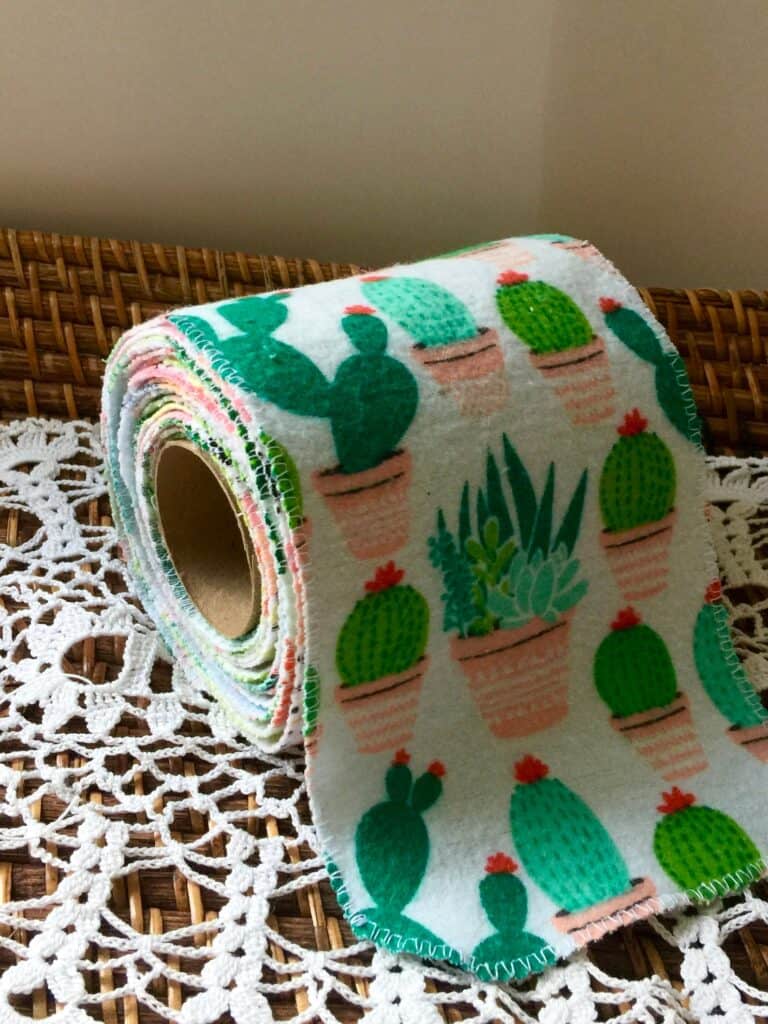 Photo credit: Etsy/Besse Margaret
Why Would I Buy Reusable Toilet Paper?
However, I can understand there may be some hesitancy. I mean, you are literally wiping your waste onto a piece of cloth, and instead of flushing it away, you are washing it. This may be a bit gross to some of you. You may also be susceptible to bacterial growth if you wait too long to wash your toilet paper sheets.
The cons do not outweigh the pros, however. I am loving this movement toward creating a sustainable, ethical environment in our world. We produce so much waste and pollution that it's actually causing global warming, which can lead to mass devastation for humans and animals. It may be something you're not used to, but it's definitely worth a try!
Reusable toilet paper allows us to do something small in order to make a HUGE impact on our world. If we take these small steps, we will be saving the world, one roll at a time!