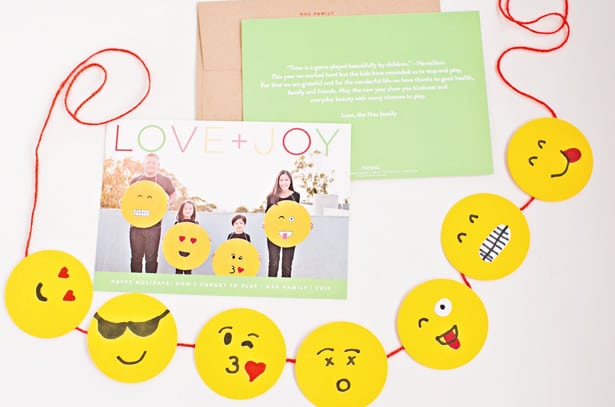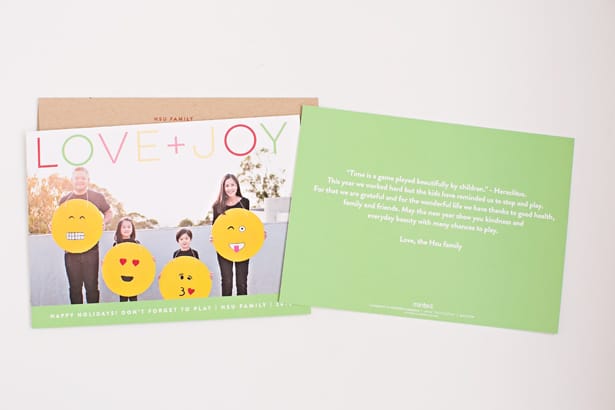 It's hard to believe that in a couple of months, the year will be wrapping up. As I reflect upon the last year, one theme for our family stands out and it's the notion of play Our kids are out of the diaper stage, late night feedings, and terrible two's. At age 4 and 6, the kids are so much fun to interact with and seeing new adventures through their eyes is a blessing. They remind me to stop and play. Simple as that. Work can sometimes be so demanding that I feel grateful to have this constant reminder.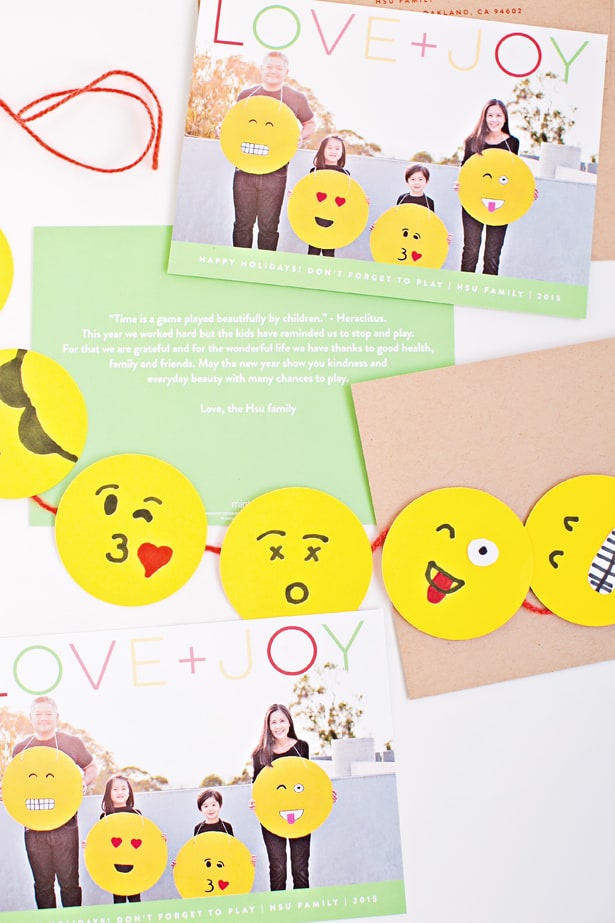 So of course when I was thinking of what I wanted our holiday cards to represent this year, I chose "play" as the theme. We don't have many family photos of all of us, but one we do have which I love is one of us all dressed up as emojis for Halloween. The costumes are handmade so they are special to us. Plus they represent what we love doing best as a family, I mean what is more playful than dressing up as a big happy face?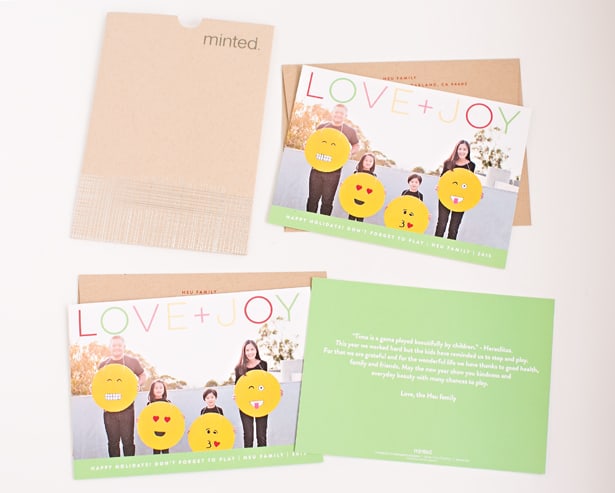 Since I knew I wanted a colorful and playful card I turned immediately to my favorite stationery site, Minted, to peruse their options. We've used their holiday cards for many seasons past and I can always depend on their top-notch quality and customization options. I also appreciate their mission in showcasing independent artists, something that is personal to me as supporting handmade makers is important.
I must have spent hours perusing Minted's lovely card options but only because I love looking through good designs. If you're more of a "I know what I want" kind of person, Minted offers great filters – you can choose the number of photos, text layouts and themes from "modern" to 'classical" and many more choices. Once you have your card chosen, their easy built-in template makes it simple to upload photos and view your card, make quick edits and choose colors. Although an emailed proof is always sent to finalize.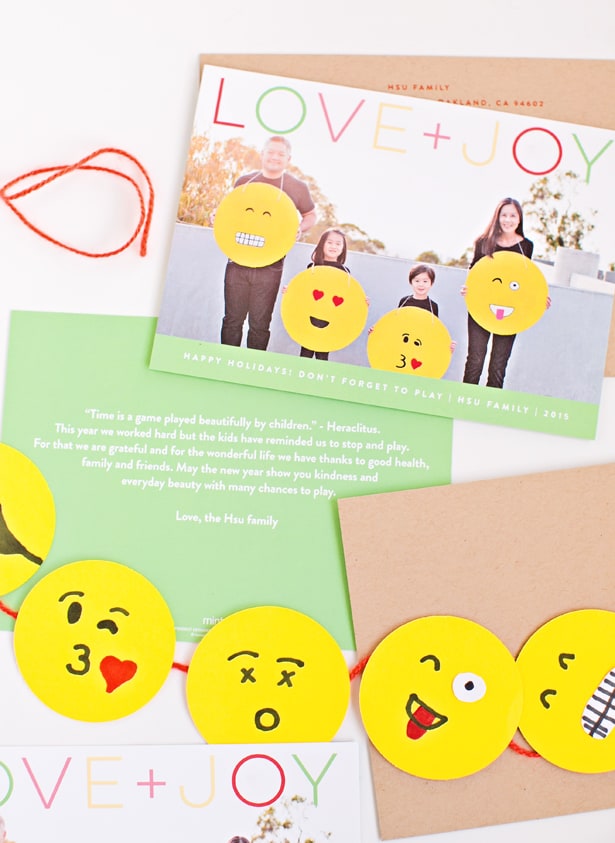 For our cards, I chose a colorful Love + Joy theme because the bright colors connote the playful message and year we've had. I was able to choose additional customization options like paper type, text on the back of the cards, and printed addresses.
I am thrilled with how our cards turned out and decided to make a cute, mini emoji garland to add a fun surprise inside some of the cards. All you need to make it are yellow and white card stock paper, markers, string, tape and glue.
Simply cut out circles (use a circle cutter or any circle shape) and draw in your favorite emojis. For certain emojis like the one with a grin for example, you'll want to cut out white cardstock and glue on the face first before hand-drawing the details. Simply tape the faces to string and include as a cheerful touch to your card or garland on your Christmas tree!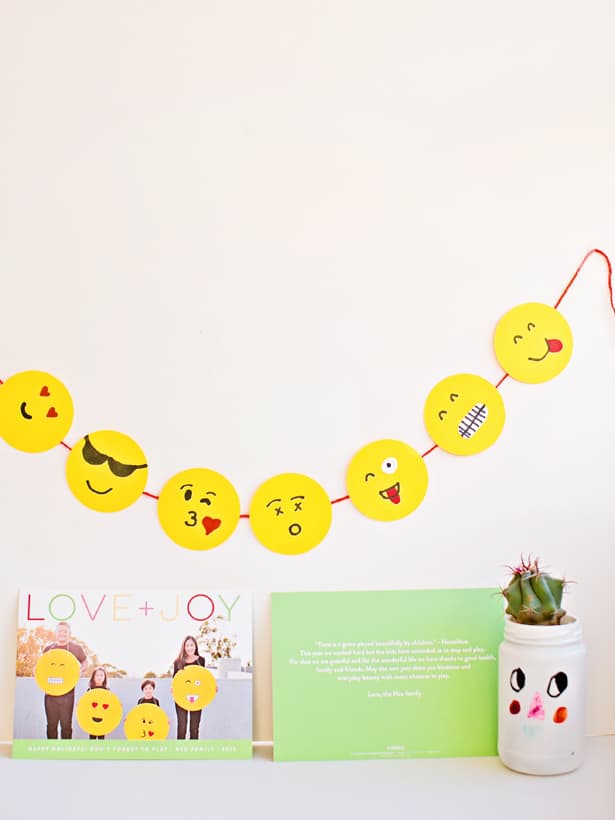 Check out all of Minted's fabulous holiday cards and gifts this season and use code BRIGHT25 for 25% off + free shipping through 11/19/15.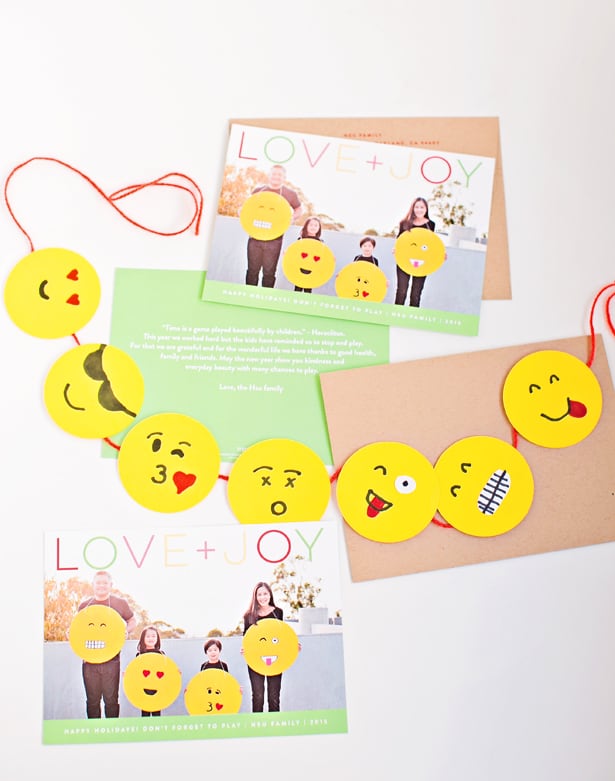 Thank you to Minted for sponsoring this post.