I think my life changed when I heard about one pot pasta. I've seen various versions of it such as this tomato and basil one or one using sausage. It seems too good to be true – place all the ingredients in one pot, bring to a boil and voila! Dinner in less than half hour. I thought this was a great recipe to try next in our Cooking With Kids series. For our version, we decided to make a sweet potato (kid-friendly) one pot pasta with sage, shallots and bacon. This was by far one of the easiest and most delicious dinners I've made with the kids and got a big thumbs up from them.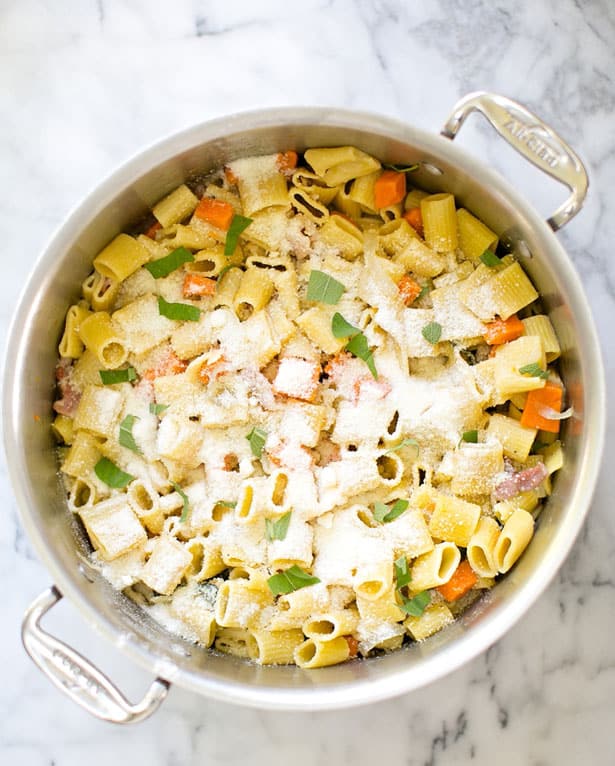 One Pot Sweet Potato Sage Shallot and Bacon Pasta – Ingredients-
– 1lb (16oz) rigatoni pasta
– 2 cups diced sweet potatoes (about 1/2″ dice)
– 1 large shallot
– few leaves of fresh sage
– 4-5 slices thick center cut bacon (fat trimmed)
– olive oil
– 6 cups water
– 1/2 cup grated parmesan cheese
– salt/pepper to taste
Steps: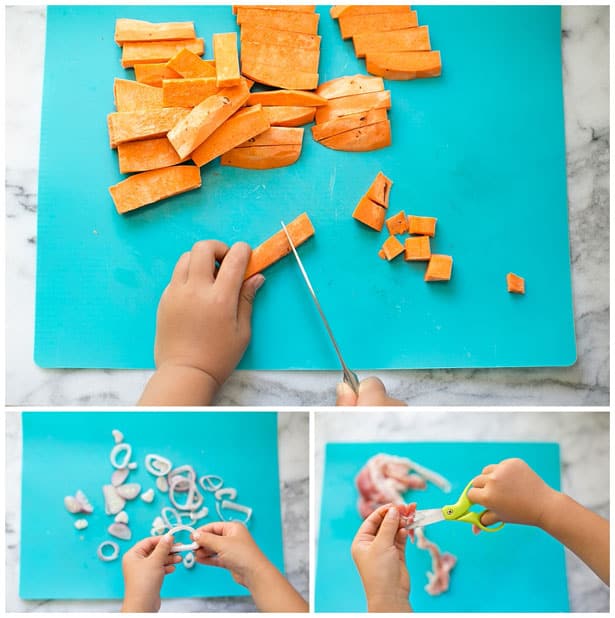 1. Wash, peel and cut sweet potato into strips. Help your child cut strips into 1/2″ dice.
2. Slice the shallot and ask your child to peel off the "rings."
3. Trim the fat off the bacon and ask your child to use scissors to cut into pieces. Tip: scissors are a great tool for kids to use in the kitchen and easier to handle than a knife.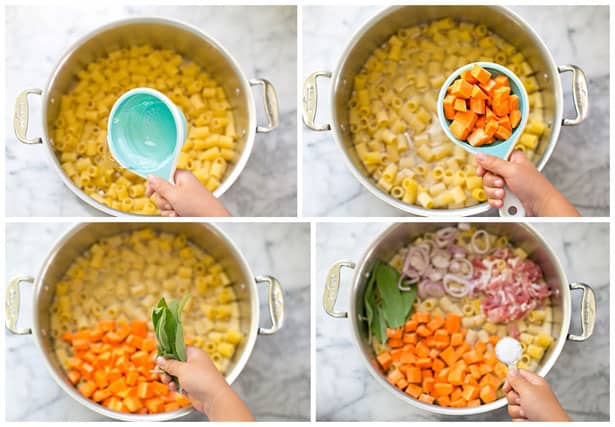 4. In a large pot, ask your child to add the dry pasta, sweet potato, sage leaves, shallots and bacon. Add a couple of tablespoons of olive oil. Salt and pepper (we added 1 tsp of kosher salt).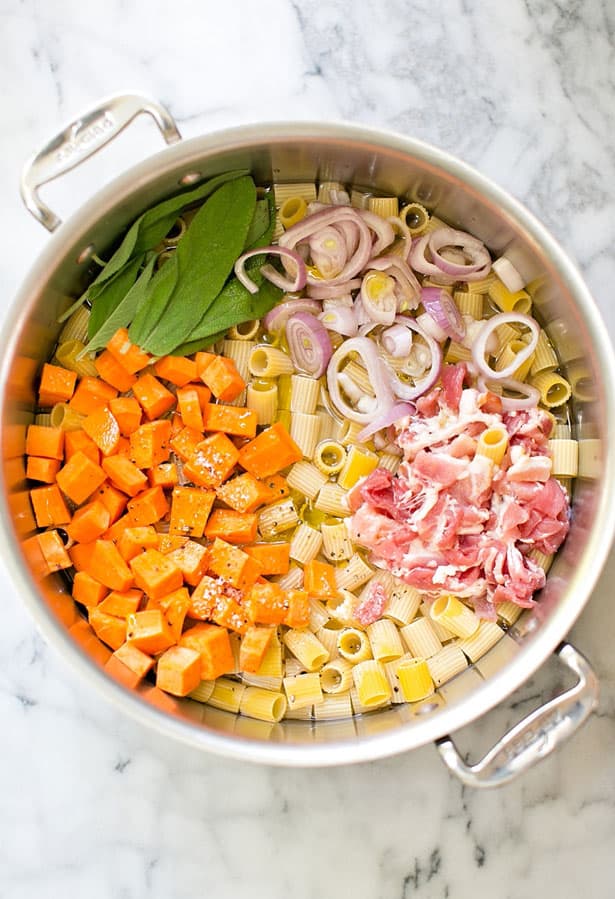 5. Bring to a boil and then reduce to medium heat for about 10-11 minutes until water is absorbed and pasta is cooked. Make sure to stir a couple of times to mix ingredients up while cooking. And that's it!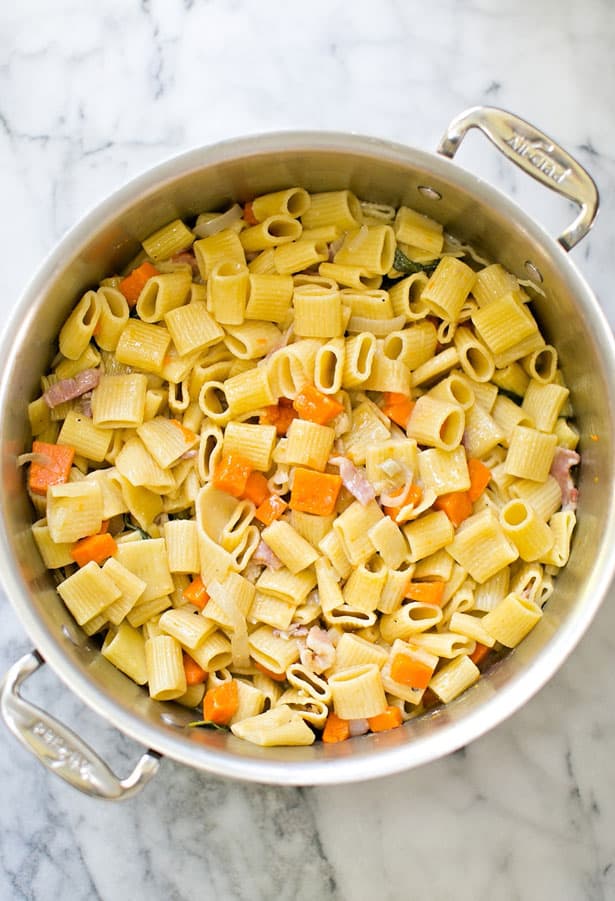 This is how the pasta should look like when it's done.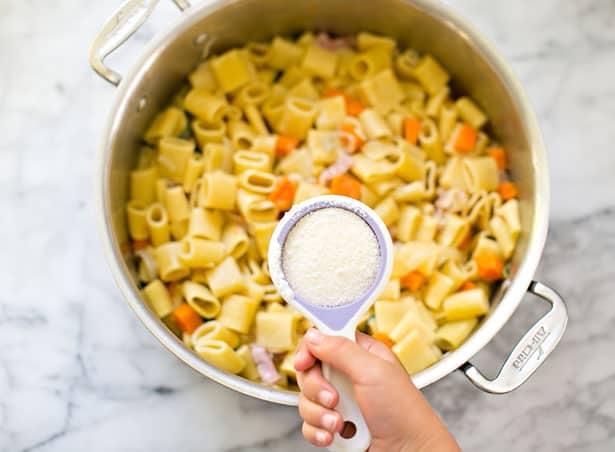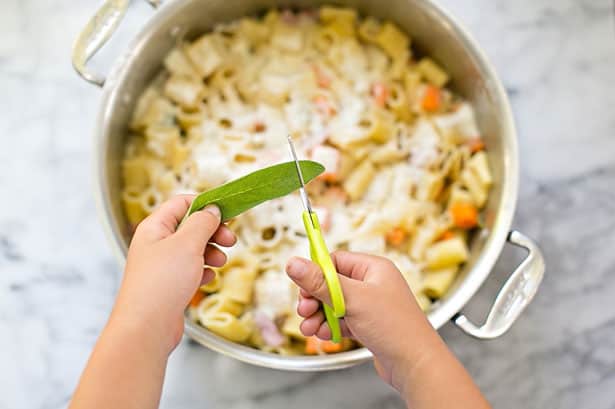 You can add parmesan cheese and sage for garnish and color.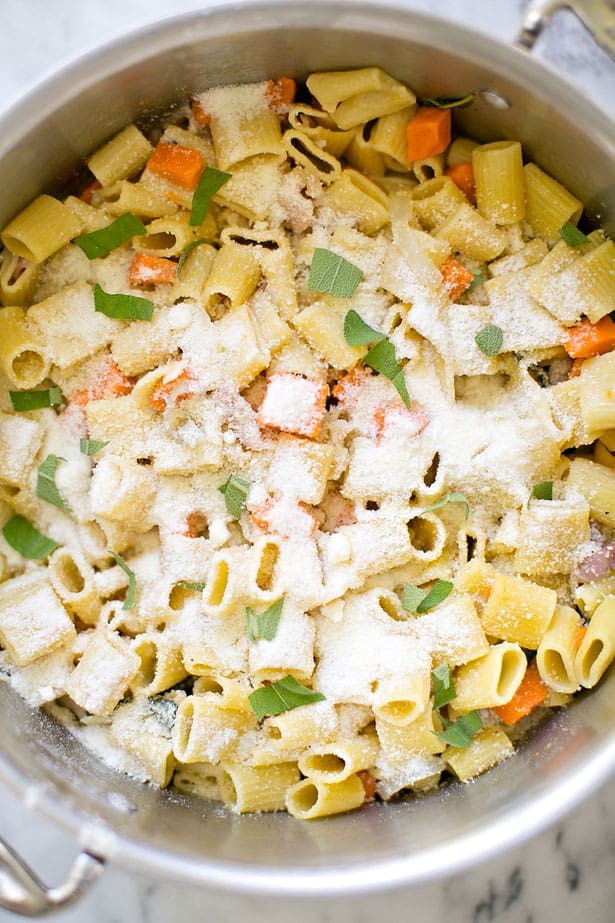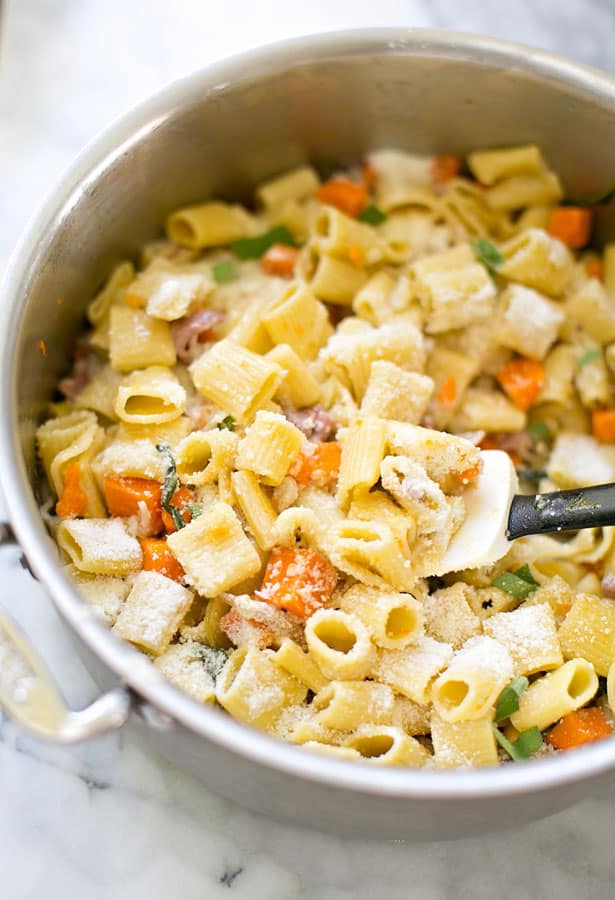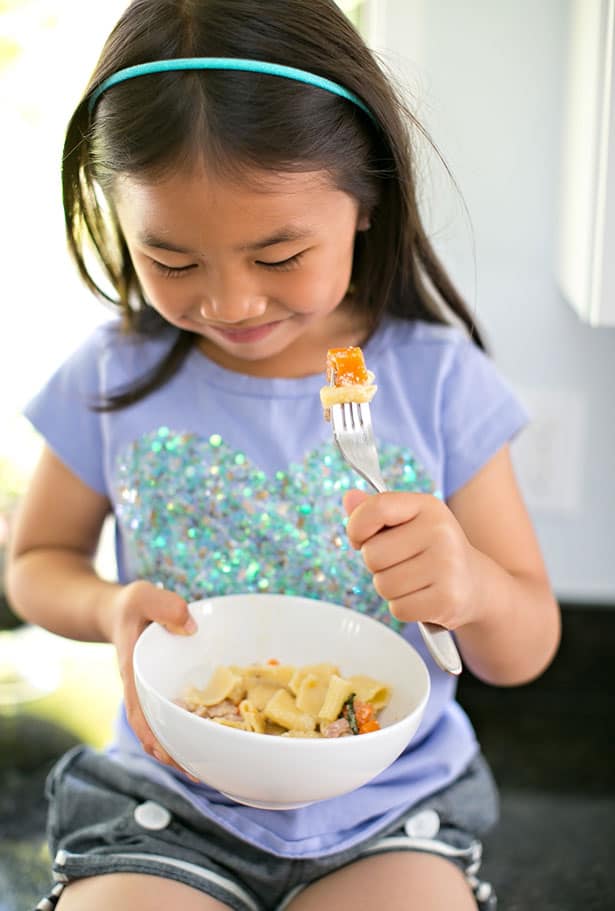 I can't describe how amazing the flavors are when combined – sweetness from the potatoes balances the bacon and the shallots and sage add great complementary flavors. It's also a hearty dinner that easily feeds a family of 4, plus extras for leftovers.
The biggest bonus – kids can easily make this recipe, it leads to relatively little mess and is so versatile. I'm now a big fan of one pot pastas and love that you can pretty much add any of your favorite ingredients to make dinner on the fly.
Have you ever tried making one pot pasta? If so what are some of your favorite ingredients to add?