Here's a delicious and savory stuffing recipe full of kid-friendly ingredients like apples, cranberries and sweet potatoes. Bake these up in muffin tins and you've got the perfect serving size for little ones!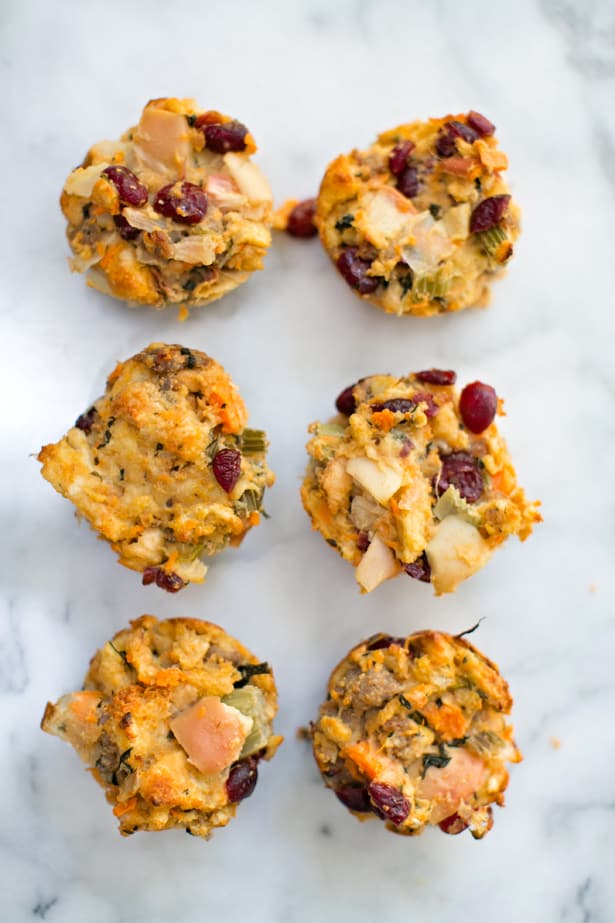 Muffin Sausage Sweet Potato Stuffing with Apples and Cranberries – Ingredients:
(Makes 24 muffins)
– 16 oz (1lb) loaf of sliced white French bread, cut into 1″ pieces
– 1/2 lb mild Italian sausage (you can omit this if you want a vegetarian stuffing, or use up to 1 lb total if you want extra meat)
– 8 tablespoons (1 stick butter)
– 1 cup diced onions
– 2 cups sweet potatoes (cut into 1″ pieces)
– 2 cups chopped apples (cut into 1″ pieces)
– 2 cups diced celery
– 1 cup chopped Italian parsley
– 1.5 tablespoons chopped sage
– 1.5 tablespoons chopped oregano
– 1.5 tablespoons chopped thyme
– 1 cup dried cranberries
– 2 cups low sodium chicken broth, divided
– 3 large eggs
– salt and pepper to taste
*You will also need a muffin tin or a 13″ x 9″ pan if you want to bake this as a casserole
Instructions:
(preheat oven to 375 degrees)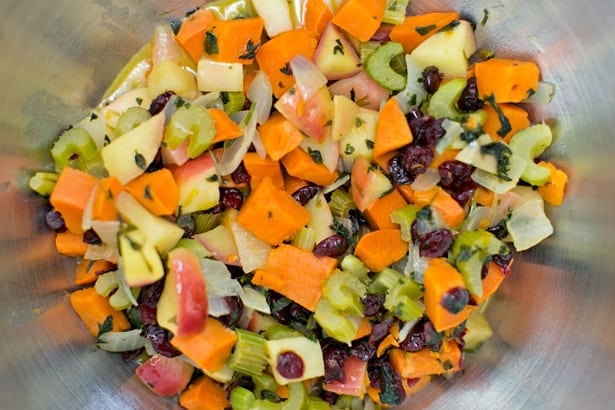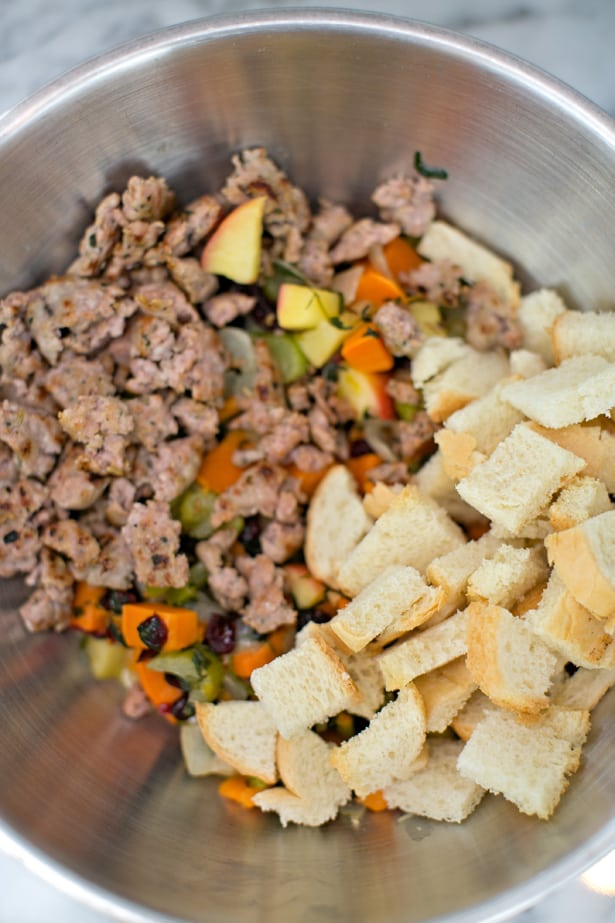 Step 1. Add your bread cubes to a pan and place in the oven (set at 375 degrees) until lightly toasted, about 10 minutes.
Step 2. In a large sauce pan, fry the sausage on med-high heat until no longer pink. Set it aside in a bowl.
Step 3. Add the butter to the pan, onions, celery, sweet potatoes, apples, herbs, parsley and cook on med-high heat until the onions are soft. Add 1 cup of the chicken broth to the pan, bring to a boil, and then turn down to a rolling simmer until the sweet potatoes potatoes are fork tender. Add the cranberries cook in the pan for just a couple more minutes. Salt and pepper to taste.
Step 4. In a very large bowl, add your sweet potato mix, sausage and toasted bread crumbs. Give it a good mixing (using your hands is best).
Step 5. In another bowl, combine the remaining 1 cup of chicken broth and 3 eggs, add to large bowl of stuffing. Mix thoroughly.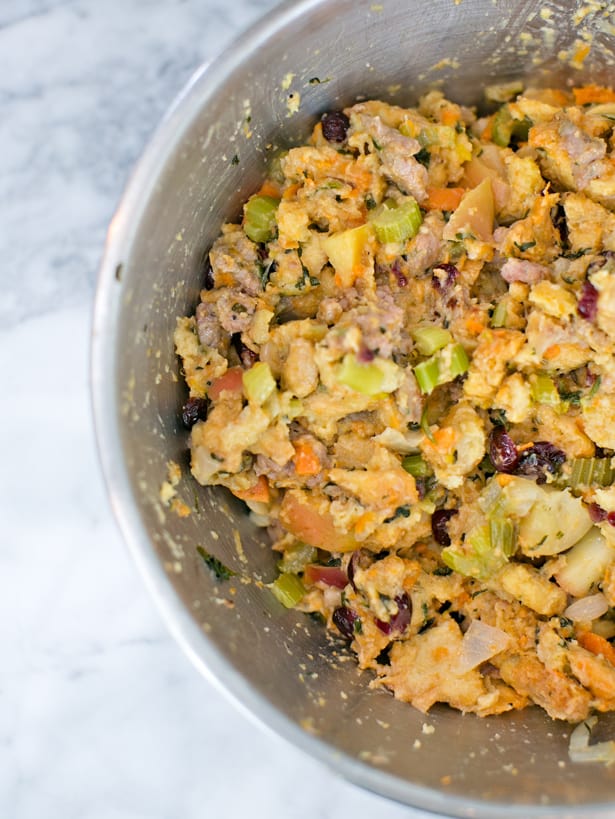 Step 6. Oil your muffin tin pan. Scoop to the top, making sure to pack the stuffing down. Bake at 375 degrees for about 25 minutes or until the tops are golden. Alternatively, you could bake all the stuffing in one 13″ x 9″ pan for 50-60 minutes.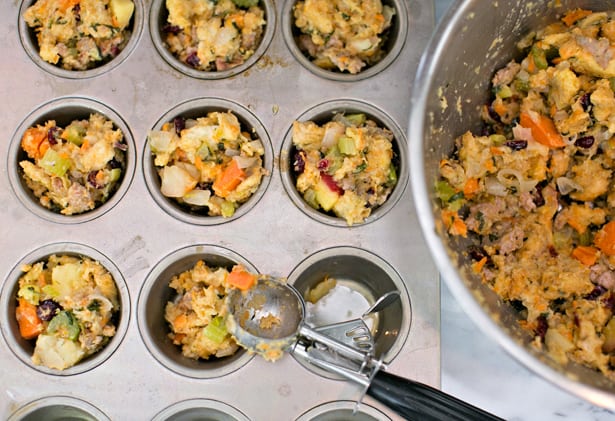 Stuffing about to go in the oven (below).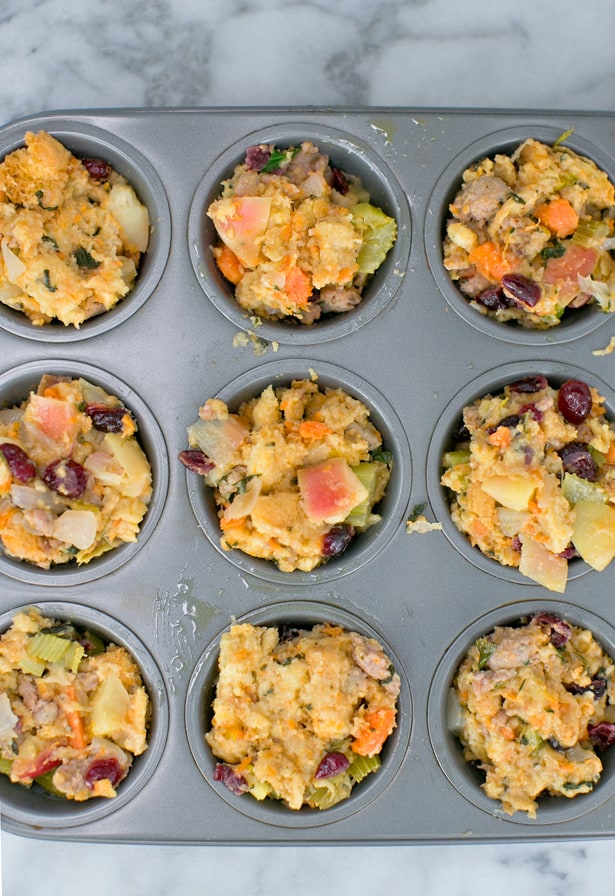 These stuffing muffins are perfectly portioned and each bite is bursting with flavors from the sweetness of the cranberries, apples and sweet potatoes and the savory combination of herbs and sausage.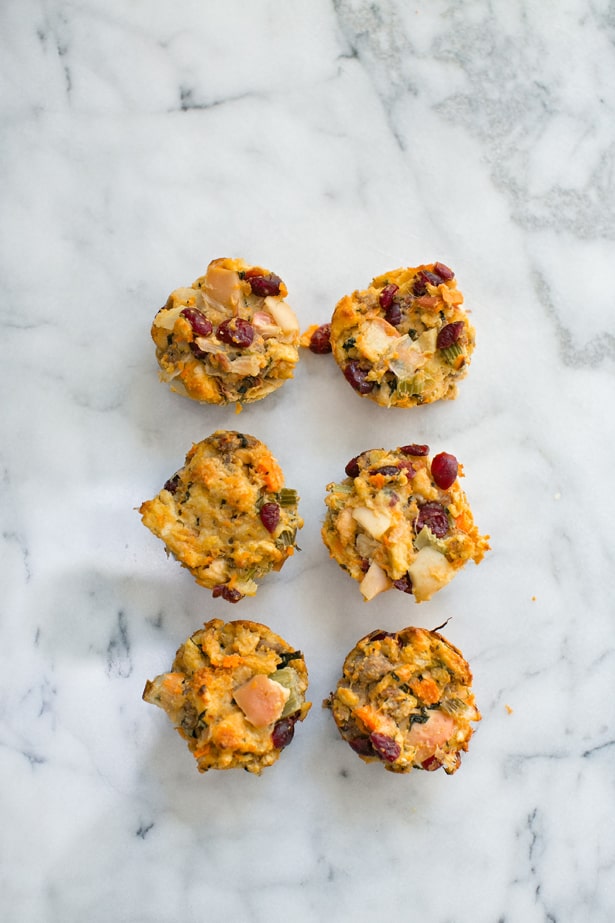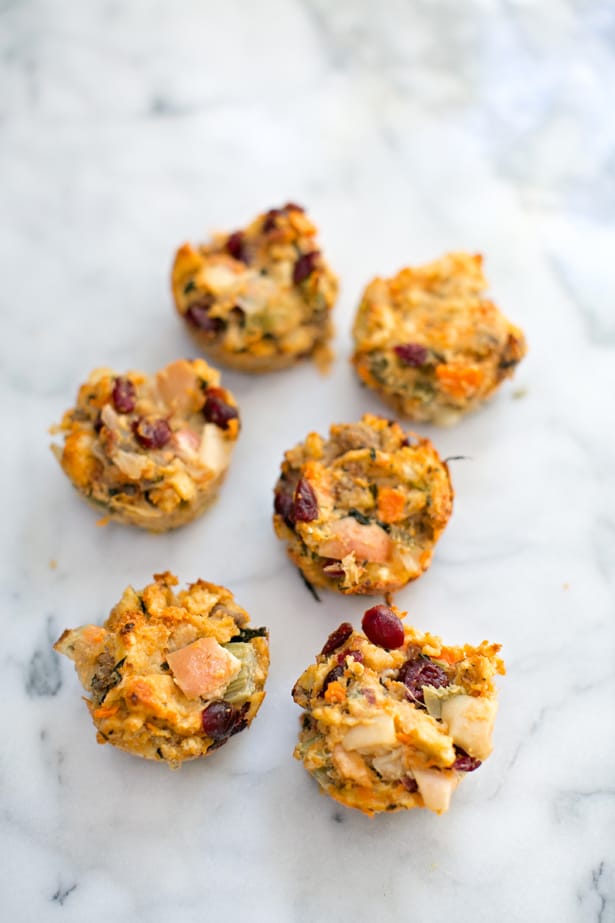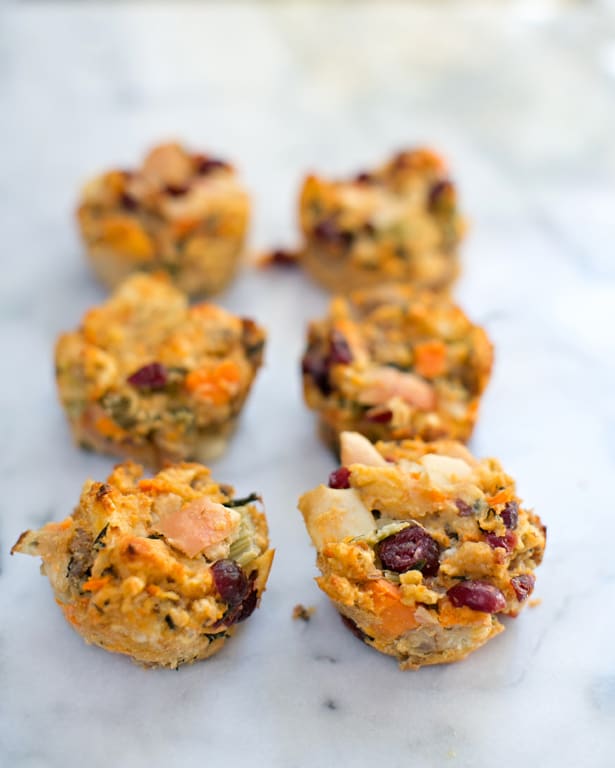 These stuffing muffins store well, and are easy to dole out as leftovers. The kids love them! We are planning to make them for our Thanksgiving dinner.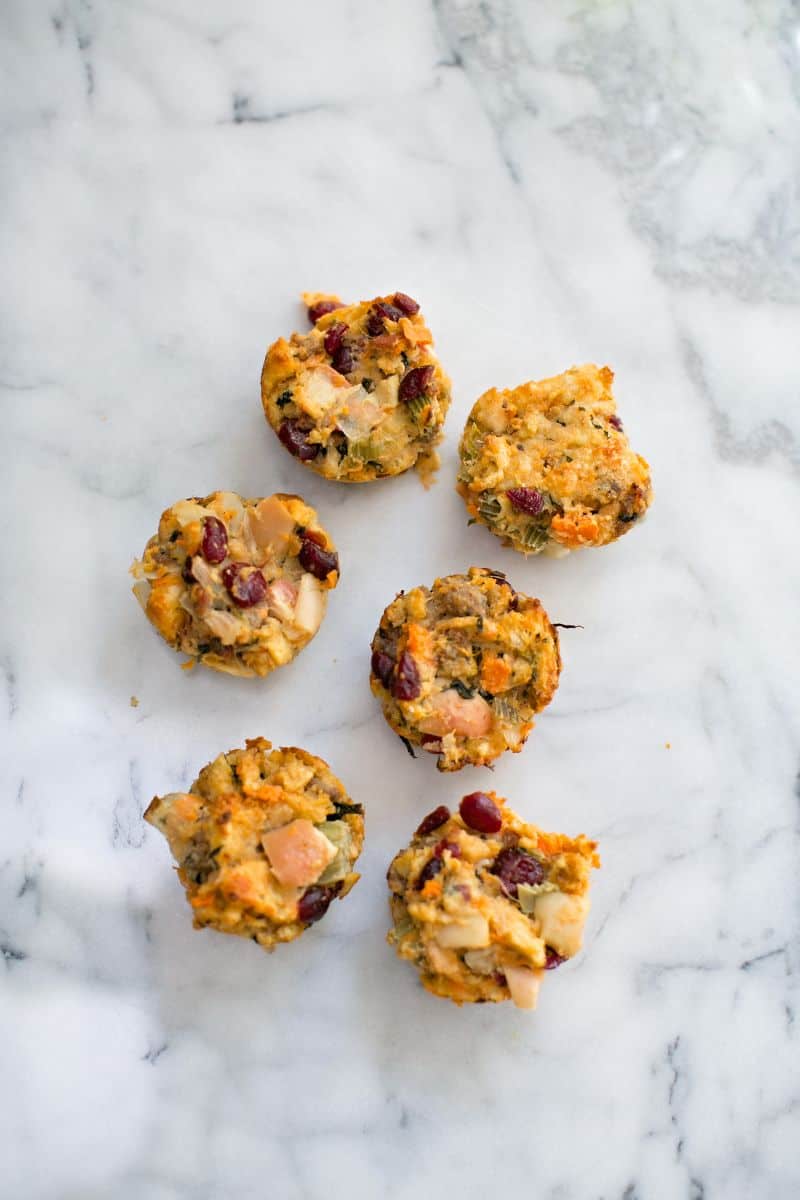 What are some of your favorite Thanksgiving side dishes for kids?
Take a look at more kid-friendly Thanksgiving eats here. And also some of our favorite muffin-tin recipes.