These mini hand pies are so easy and delicious to put together using only two ingredients if you use ready made puff pastry dough. They're easy to stuff with any type of jam or jelly you may have on hand. I decided to make some fall inspired ones with apple butter and also cut out a pumpkin "window," but you could omit these steps to make it easier (they'd still taste just as delicious).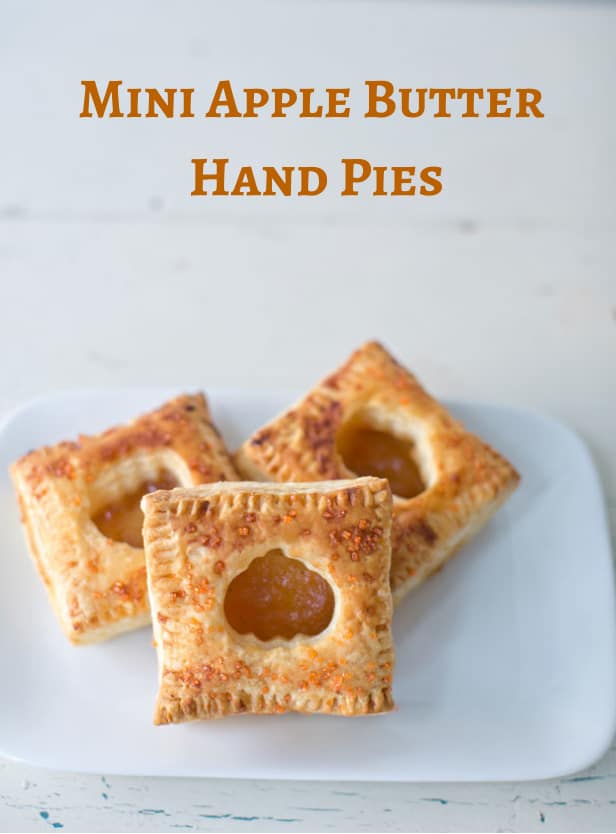 Mini Apple Butter Hand Pies – Ingredients:
1. Two sheets of frozen puff pastry sheets, thawed (I used Pepperidge Farms ready to bake sheets, 17.3 oz)
2. Apple butter (you can get this at most grocery stores, and contrary to the name, there isn't any butter in this – it tastes like a mix between jam and applesauce)
3. Milk to glaze the pastry (optional, if you want that extra golden crust)
4. Orange sparkling sugar (optional, or you can just sprinkle some regular sugar on top, prior to baking)
5. Mini Pumpkin cookie cutter (again this step is completely optional – I found mine at a local kitchen store or you can buy one here)
Steps:
(preheat oven to 400 degrees)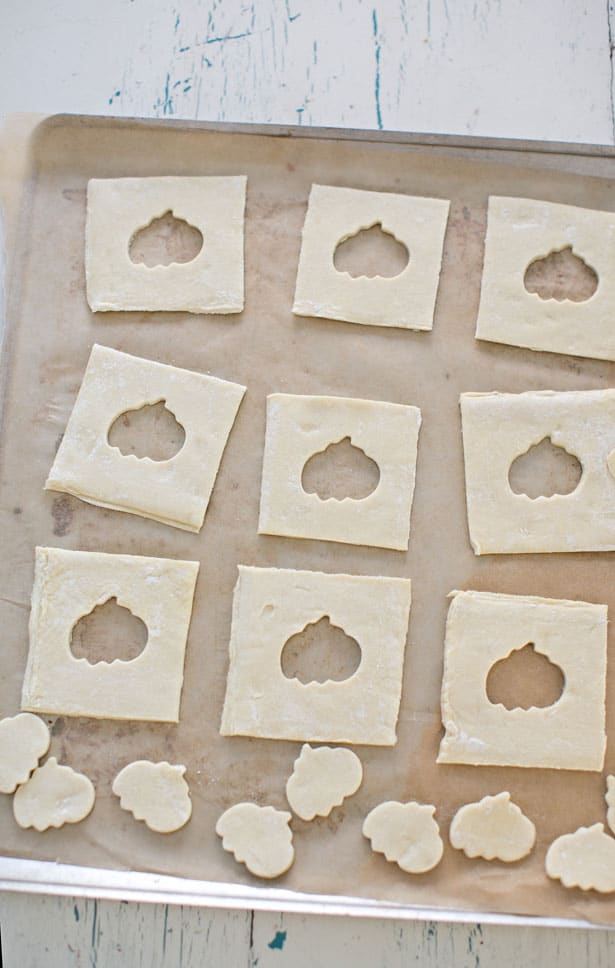 1. Make sure your pastry dough is thawed but still cold (which helps it bake up as flaky as possible). Lay the two sheets on top of each other and cut 9 squares giving you a total of 18 squares.
Punch out a pumpkin shape on 9 of the squares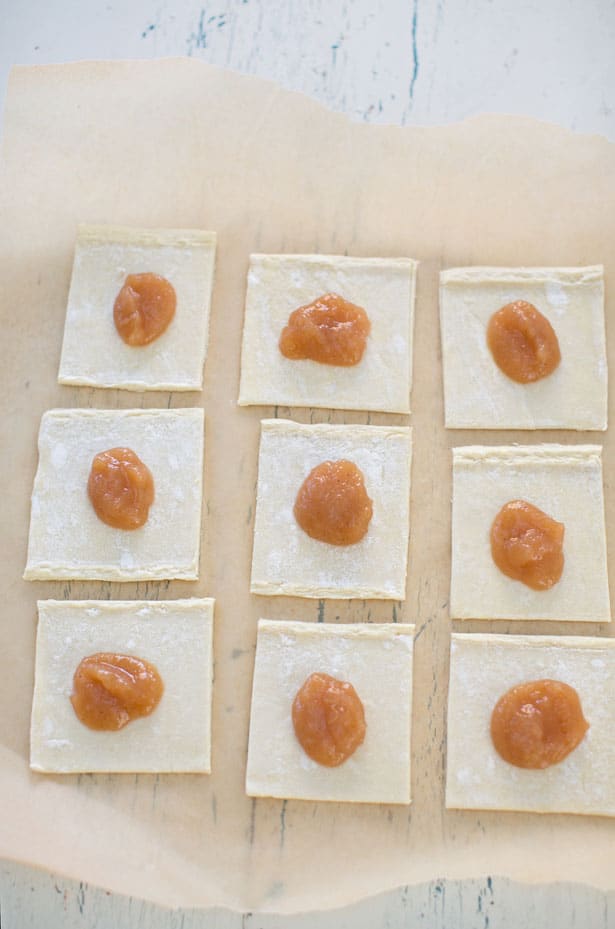 2. Place 9 squares on parchment paper over a baking pan. Fill each square with 1 1/2 Tablespoons of apple butter.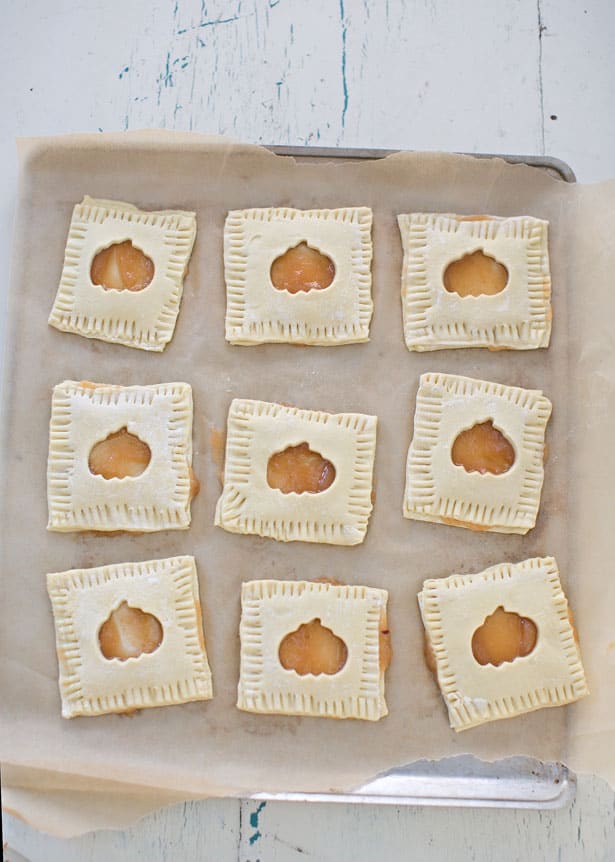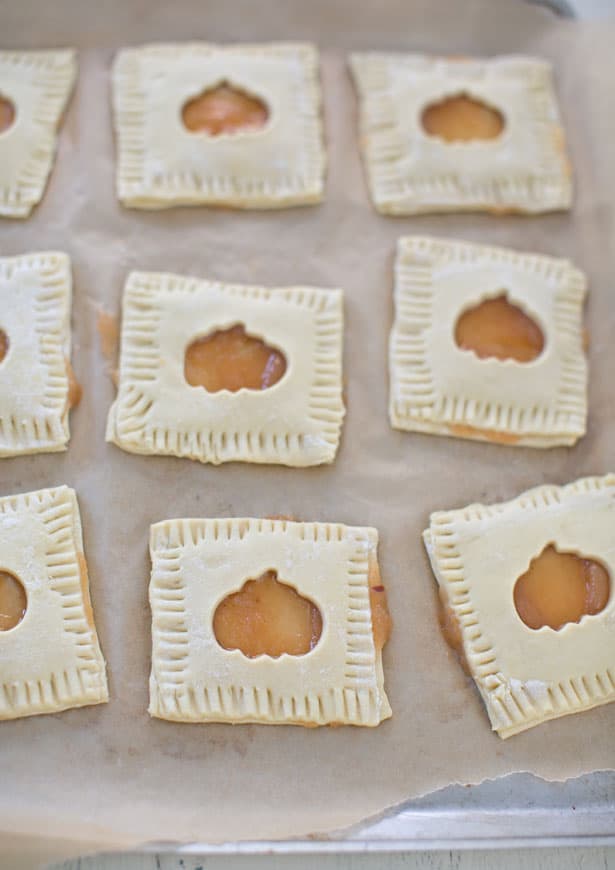 3. Place the square with the cut out pumpkin over the square that has the apple butter and press all sides down with a fork to seal the edges.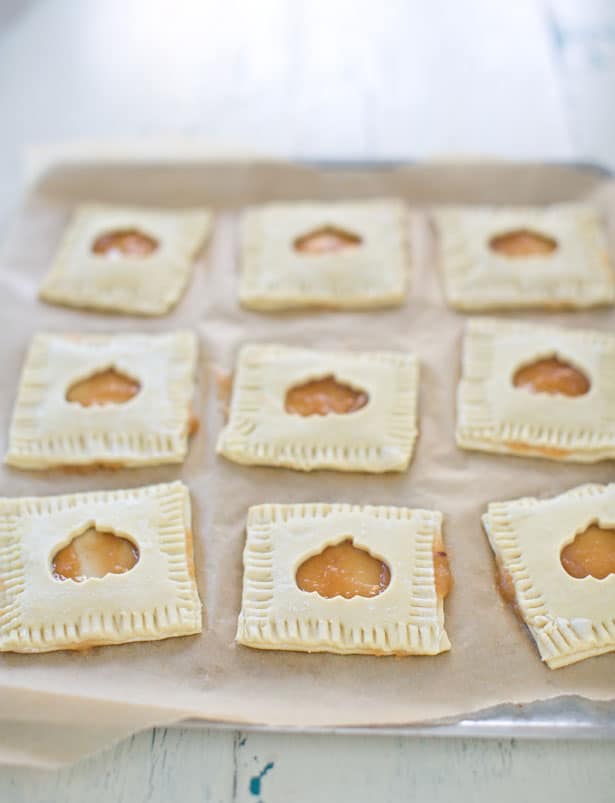 4. Brush the pastry tops with milk and sprinkle sparkling sugar over them. Place on the center rack of the oven preheated to 400 degrees and bake for 30-35 minutes, rotating pan in between, until the tops are golden and puffy.
Note: it's important that your dough be chilled and cold before placing in the oven so it is as flaky as possible. If the dough becomes too soft, place the assembled pies in the refrigerator for 15-20 minutes until they are chilled again.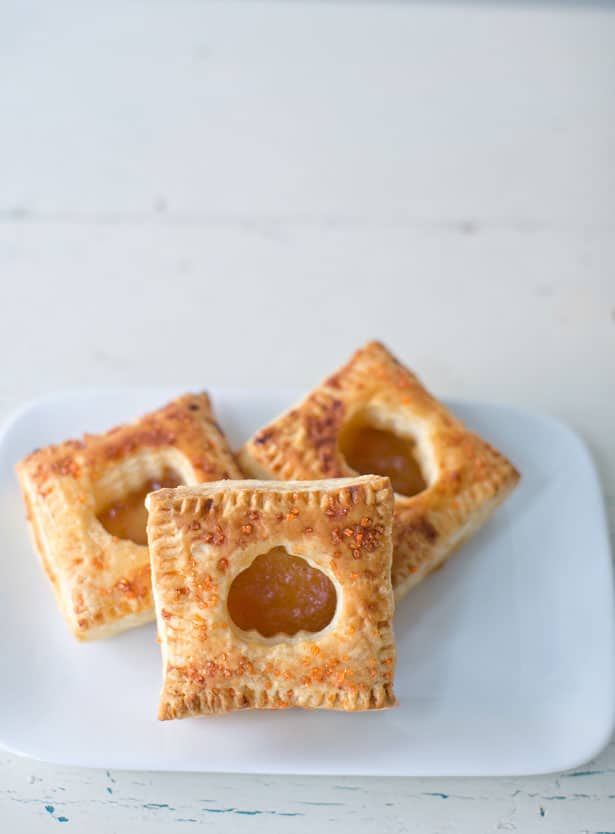 These are small and easy for kids to eat as a treat or dessert. I cut them in half for an even smaller serving. The kids loved them and the apple butter is actually not too sweet. They were delicious!
Have you ever made hand pies before?
For more sweet apple inspiration, check out 6 Amazing Apple Desserts.