Meet Maker Mom Sam from the blog Thrive 360 Living. Sam is also the talented creative who makes beautiful story stones which we featured here. I love Sam's colorful and artistic approach to everything she makes. Her blog is a treasure trove of cute preschool and toddler ideas from learning crafts to DIY toys. One thing you'll immediately notice is Sam's vibrant use of colors. Perusing her site will inspire you to take up a paint brush and start making something with the kids right away!
Welcome Sam and thank you for sharing your creative tips with us!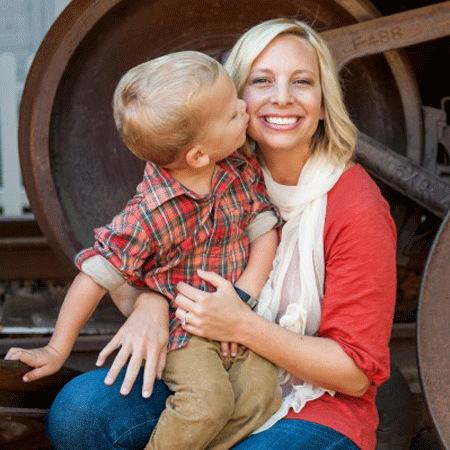 Please tell us a bit about yourself and your blog.
Before I had my son I spent over 10 years in the marketing with a focus on communication and internet marketing for a large corporation. When my son was two I decided that it would be fun to take my marketing and social media knowledge and start a blog about the activities that we would do together. Not only did my blog become a great creative outlet, but it also turned out to be a wonderful way to connect and share with moms from around the world. When people started asking if they could purchase the painted stones that I made for my most popular posts and I activities, I thought it would be a great next step to open an Etsy shop.
What are your tips on getting creative with kids?
Sometimes people think that it's hard to set up creative projects for kids, but honestly it's not. Kids are easy. Sometimes it's our own thinking that gets in the way. My biggest tip is incorporating themes or materials that you know your child is drawn to. My son loves cars, so we've made cars out of rocks, wood, toilet paper rolls, egg cartons…you get the idea. For materials he loves stickers, so I collect all kinds of stickers and sticker gems over time and utilize them with many of our projects. When you can get a child excited about art based on something that already interests them, they'll be more open to exploring other ways of creating.
Where do you draw your creative inspiration?
I take pictures of everything. I have a folder on my phone filled with creative ideas. Lately I've drawn a lot of inspiration from Instagram. There are many amazing artists, photographer, and moms on there that I follow. When you surround yourself with creative people, even when it's online, you can't help but be inspired.
What are a few favorite activities you've done with the kids?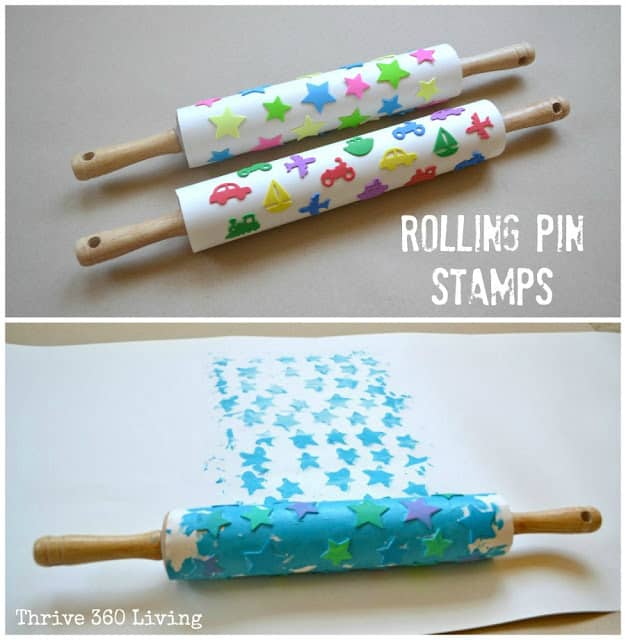 My son and I both love our rolling pin stamps activity. It's one of our favorite ways to make our own wrapping paper.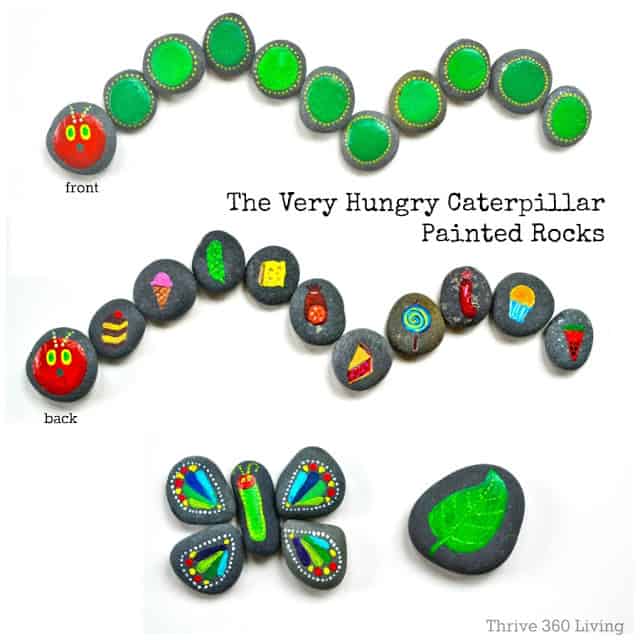 Painting rocks is another favorite activity. Now that my son is older we do it together. When he was younger, he loved to play with the sets that I would make him. His favorite was our "The Very Hungry Caterpillar" set.
These days you can find a lot of our favorite daily creative activities on my Instagram page here.
If you were stuck on a desert island with the kids, what crafting materials would you absolutely need to have?
I would absolutely need sticker rhinestone gems. You can decorate everything with these stickers. How pretty would giant leaves look covered in a rainbow of gems? And they are great for making patterns and outlines too!
And because we love books and are always looking for good recommendations, what are some of your favorite children's books?
Our newest favorite is called "The Dot" by Peter Reynolds. It's about a girl named Vashti who thinks she can't draw. I love the underlining message that there's an artist within all of us.
Last, who are some of your favorite bloggers that inspire you?
I'm constantly inspired by other bloggers. I adore the colorful and beautiful art projects from Meri Cherry. Jean Van't Hul, from The Artful Parent is my go to when I need to plan some fun after school activities for my son. And Katherine Maries blows me away with the most wonderful surprises and activities she plans for her children.
Thanks for stopping by Sam and sharing your creative tips for kids. Your colorful and creative approach to life is so visually inspiring. I love your idea of centering themes around your kid's interests and The Dot happens to be one of my and the kids' favorite books too!
Visit all of Sam's creative projects over at Thrive 360 Living, her Etsy Shop over here and get her latest creative projects and updates over on Instagram.


P.S. If you'd like to be featured as a Maker Mom, please drop us a note here! We'd love to hear from you.