As you know we're all about sharing creative ideas for kids here on hello, Wonderful and love to feature all the creative moms and bloggers out there who share their inspiring stories and ideas.
So we thought it was time to take a look at the moms behind all these amazing ideas with a new series called Maker Mom. Here we'll feature our favorite creative moms and get their tips and insights on how to play and learn creatively with kids.
Our very first featured Maker Mom is Meri Cherry from Meri Cherry blog. Over at Meri Cherry, you'll find tons of creative ideas for little ones, especially ones focused on art and sensory play. What I love about Meri Cherry is her inviting and relaxed approach on creating with kids and how she beautifully captures the joy in it. It's not about perfect arts and crafts over there. You truly get a sense of how much fun the kids are having and are left with a feeling of wanting to jump right in with your own! Say hello to Meri Cherry!
Please tell us a bit about yourself and your blog.
Hi! My name is Meri Cherry. Yes, that is my real name. I know it's crazy. My husband is a Cherry. On our second date he said, "you know you're in big trouble if we get married right?" I just laughed it off when he told me his last name. Here I am, 6 years later and I love my name. It somehow works in my world of kids and creativity. My blog is a place where I share all about arts, crafts, and family. I am a born crafter from a long line of crafty mamas. I teach arts and crafts at an elementary school in Hollywood, California. I have two young daughters, Gigi and Diana and we play and create and make a mess all the time. I love sharing our artful adventures together.
What are your tips on getting creative with kids?
I think moms often don't know where to start with art, so I love this question. My best advice is to keep it simple and focus on the process rather than the outcome. If your kids are little, get some oversized watercolor paper (I like it because it's really thick and durable) and some tempera or watercolor paints and just let your kids paint. When it's dry, let them squeeze glue all over it. When they're done squeezing the glue, let them stick some feathers or pom poms or popsicle sticks on it. Process art is the way to go with young kids. No mistakes. No expectations. Just give them materials and a space to work and they will love it!
Where do you draw your creative inspiration?
I am a huge fan of the Artist's Way by Julia Cameron. I've written morning pages daily for the past 5 years. Morning pages are basically free form writing for about 25 minutes a day. I find so much inspiration in my morning pages. I also get a lot of ideas from other bloggers. I see a material or idea and then think, how can I work with that in an interesting way? Sometimes, I pretend I'm on a crafting game show and I am faced with different crafting challenges. I'm kind of whacky.
What are a couple of favorite activities you've done with the kids?
Hmm…we've done some really fun things over the years. I think my top three faves are Evolving Canvas Process Art, Crayon Art Sculptures, and pretty much everything on this list of Sensory Art Activities.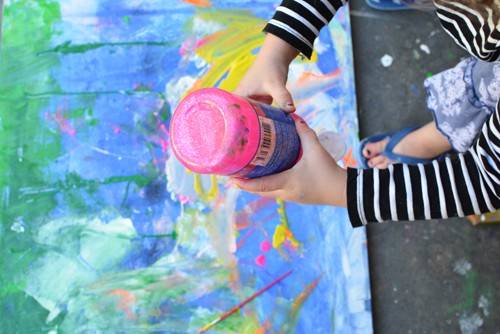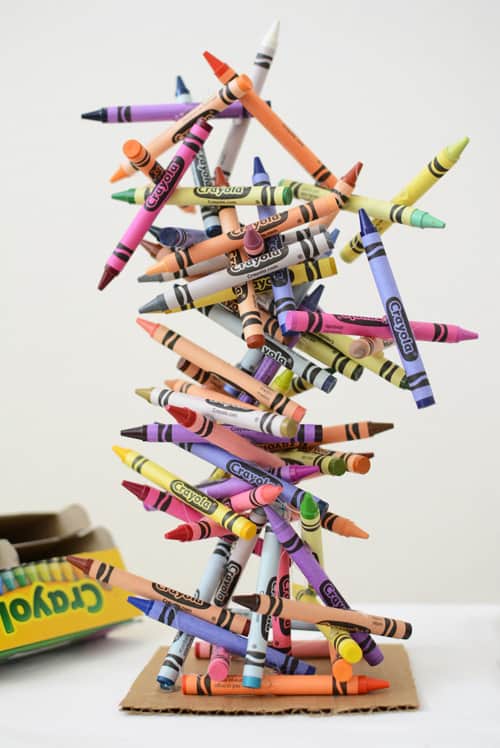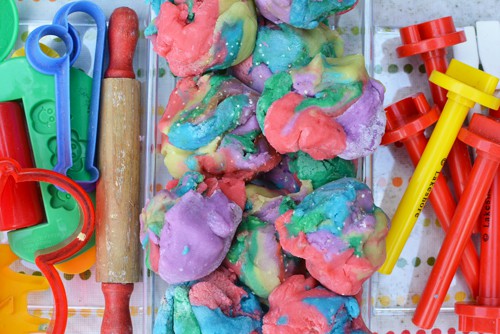 If you were stuck on a desert island with the kids, what crafting materials would you absolutely need to have?
Sculpey!!! That's a definite. That's a definite. I'd also love to have paint dots. They last forever and you can do so much with them. Some washi tape would be cool too. And Duct tape. Maybe some Biocolors too to paint plant life and rocks and stuff. Ahh, can I have that many things on the island?
And because we love books and are always looking for good recommendations, what are some of your favorite children's books?
My kids love the Pete the Cat series and Go Dog Go. The Gumdrop Tree and Press Here are also current faves. We are always looking for good recommendations ourselves!
Last, who are some of your favorite bloggers that inspire you?
Some favorites of mine are Bar at Art Bar, Gina at Willowday, and Ana at Babble Babble Do.
Thank you so much Meri Cherry for taking the time to give a peek into your creative life with kids!
Make sure to visit Meri Cherry and follow her on Facebook, Pinterest and Twitter.
P.S. If you'd like to be featured as a Maker Mom, please drop us a note here! We'd love to hear from you.