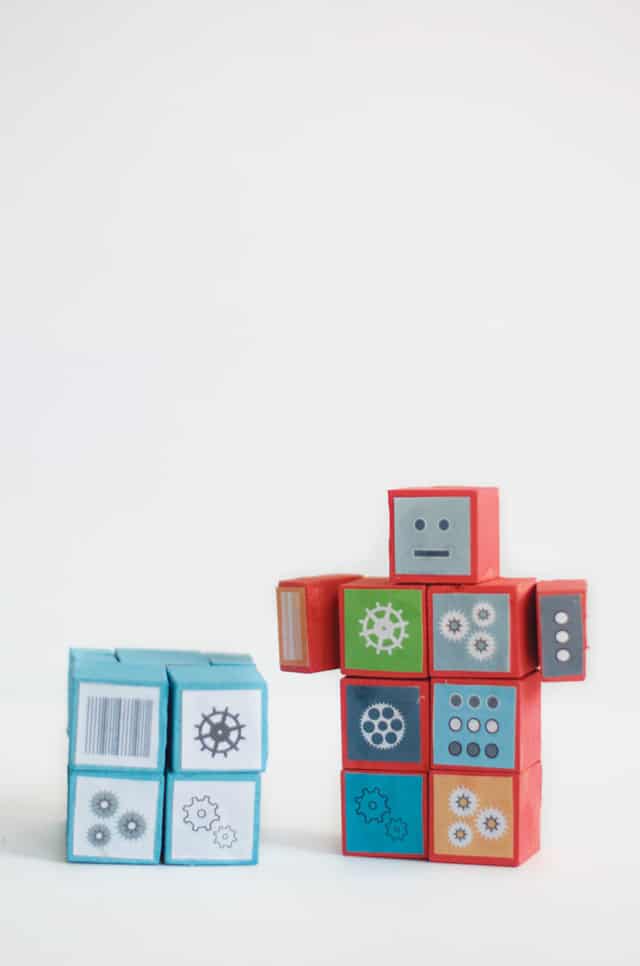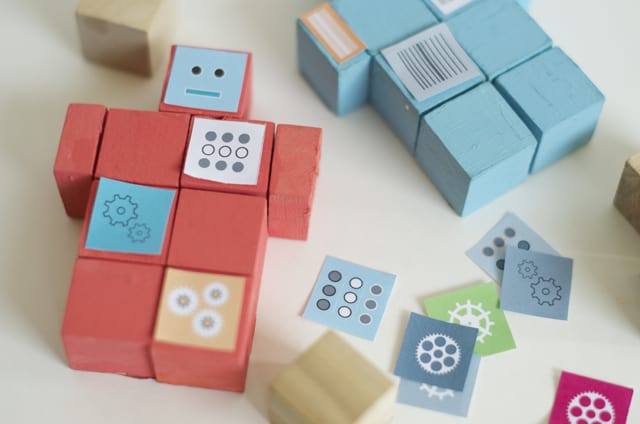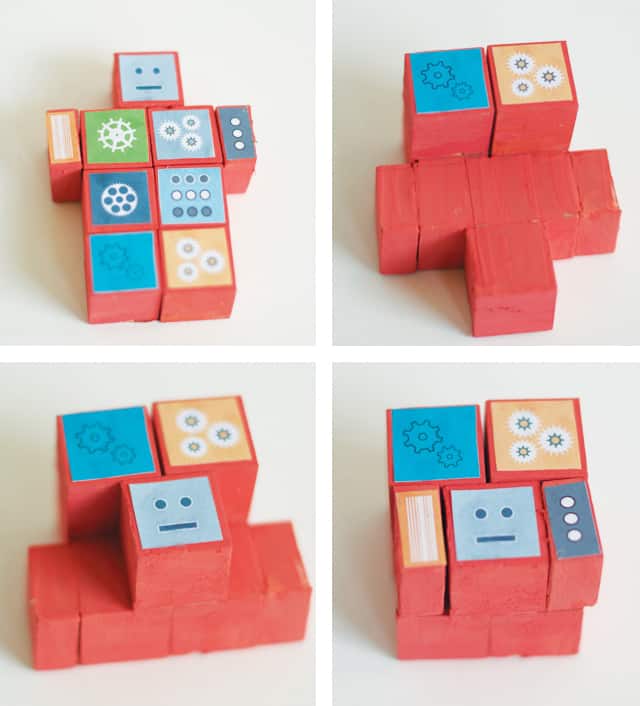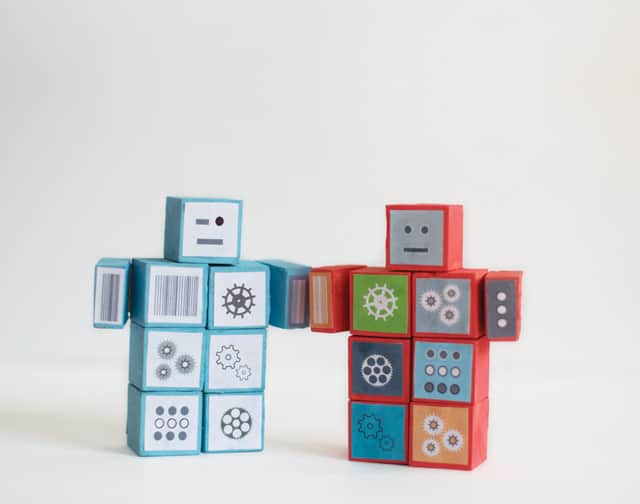 I was inspired to make these little robots after watching my son happily playing with a robot toy we picked up a few months ago. We painted, taped and glued one inch wood blocks to create our own handcrafted versions. They can bend and fold into a small cube, or you can manipulate them to make various fun shapes. Great company on long car rides, like our scavenger hunt game, they also make the best imaginary playmates. Plus, you could have kids decorate their own robot at a futuristic themed birthday party, don't you think?
A simple and fun craft, making these spacey fellows was one of our favorite things to do this week.
Wood Robot Cube Friends – Materials:
8, 1 inch wood cubes
Duct or shipping tape
Paint
Glue
Robot Decal Printables HERE.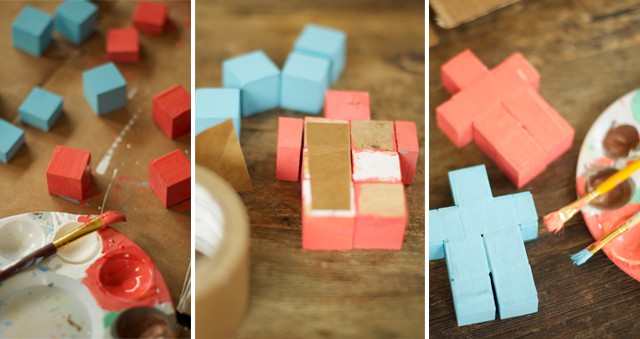 In order for the robot to make a cube shape you have to saw one of the cubes in half using a small saw. You can skip this step, but the robot will not make a perfect cube, but is still fun to play with.
First, paint all of the cubes leaving one side unpainted. Let them dry completely about an hour.
Next, lay the wood cubes on a flat surface, unpainted side up. Tape the back of the robot completely, so that all of the cubes are linked. Paint the back side of the robot.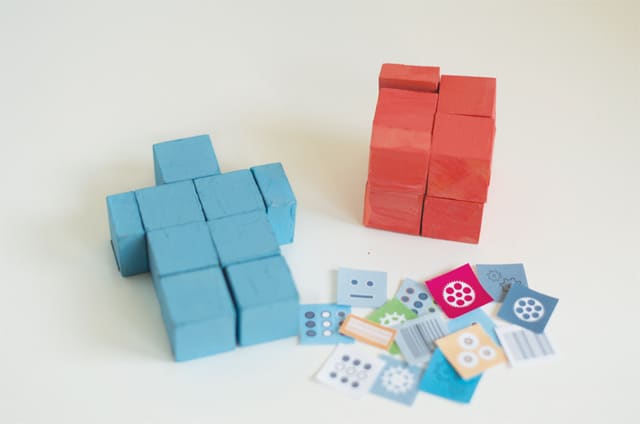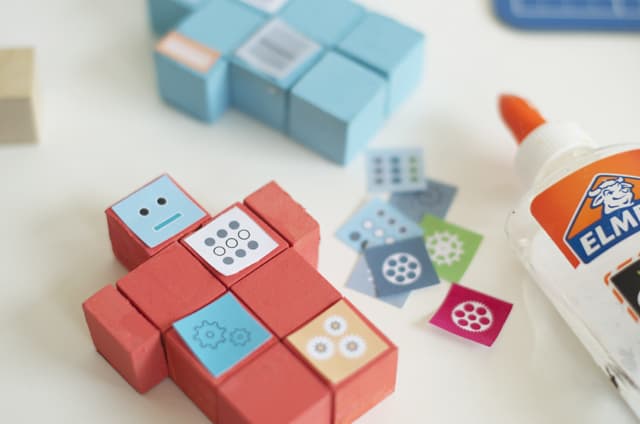 Print out decal printable and trim. Glue them on to the painted robots.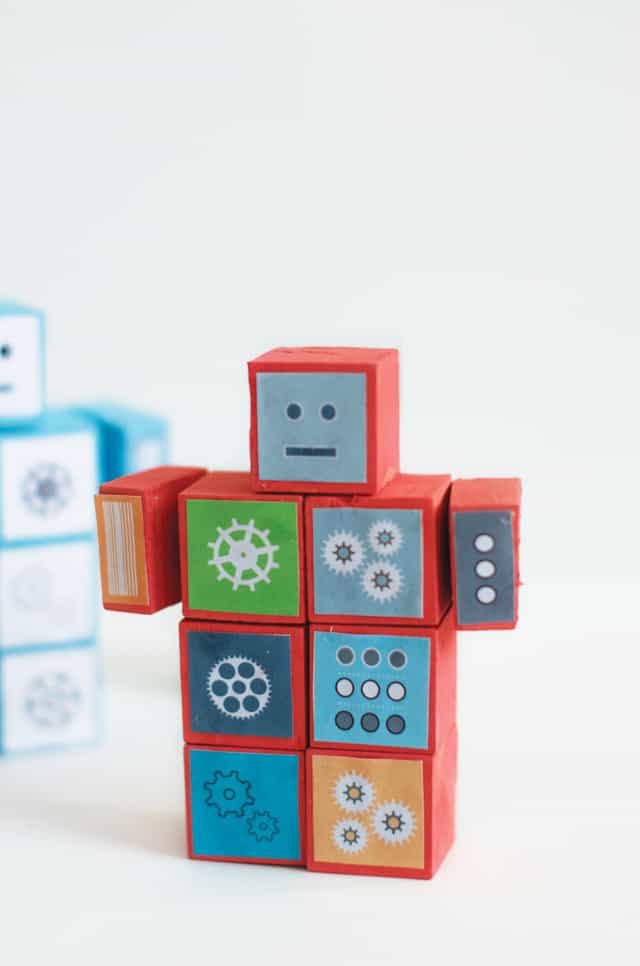 Enjoy!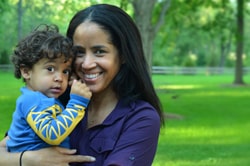 Lisa Fyfe is a graphic designer and mom to a lovely 4 year old boy, Rowan. After having him, life changed ten-fold. From life as an art director in publishing in New York, to a slower paced life in Connecticut, and now San Diego, creativity has always been the constant. Rowan changed everything and amazing inspiration came from this unexpected place. Little Monster is where she shares diy's and recipes inspired by motherhood. You can follow her on Facebook, Instagram, Twitter and Pinterest.