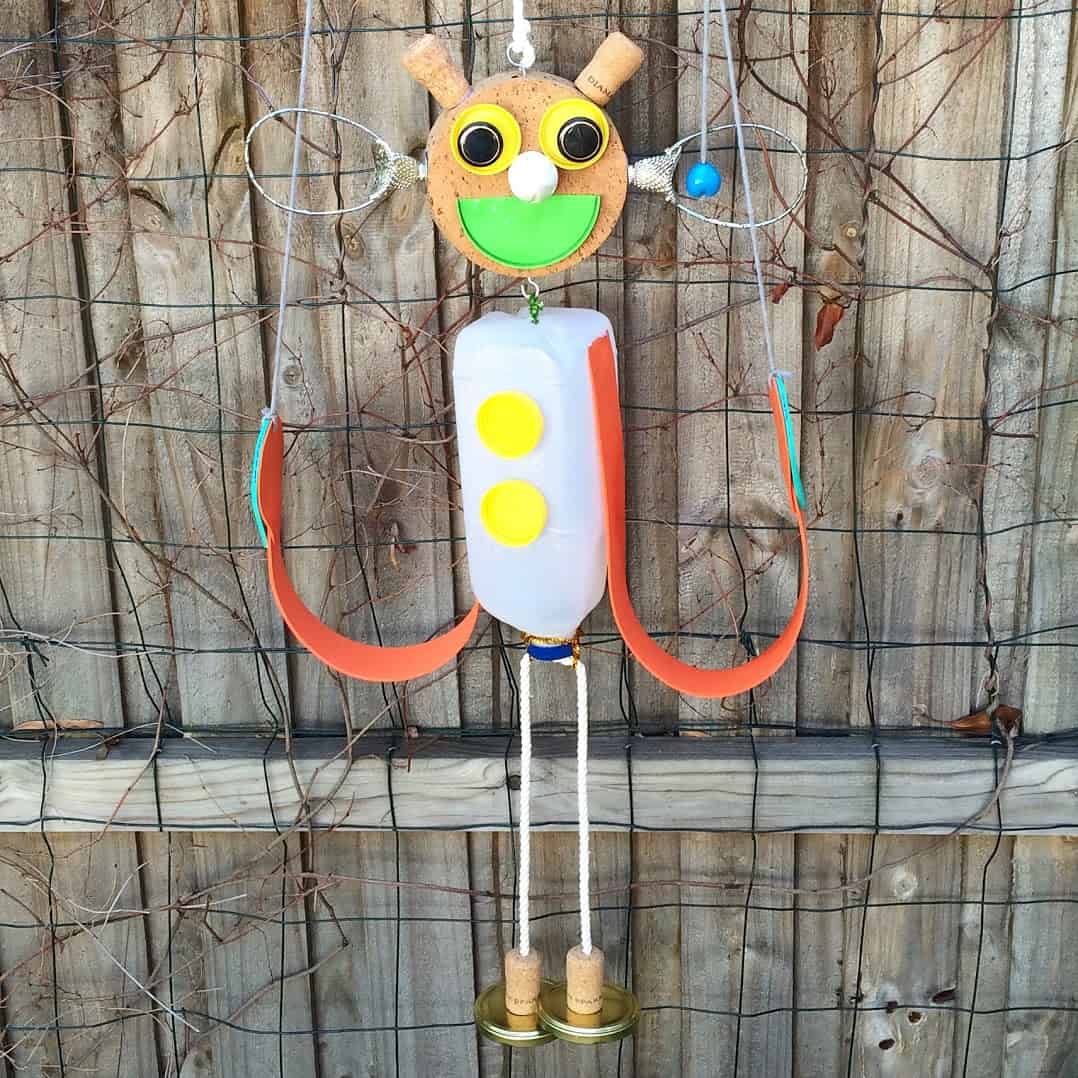 Meet Mr. Puppety. He's a big guy with a soft heart. Essentially a very simple marionette puppet as characterized by the strings attached to his limbs. These attach to a rod that allow the operator to control his movements. At first glance this will look like a lot of materials but they are really just a guide.
What you need:
Large cork/ small box/ yoghurt container
Assorted bottle tops/lids/corks
2 liter plastic milk or juice bottle
Foam sheet/cardboard/ fabric strips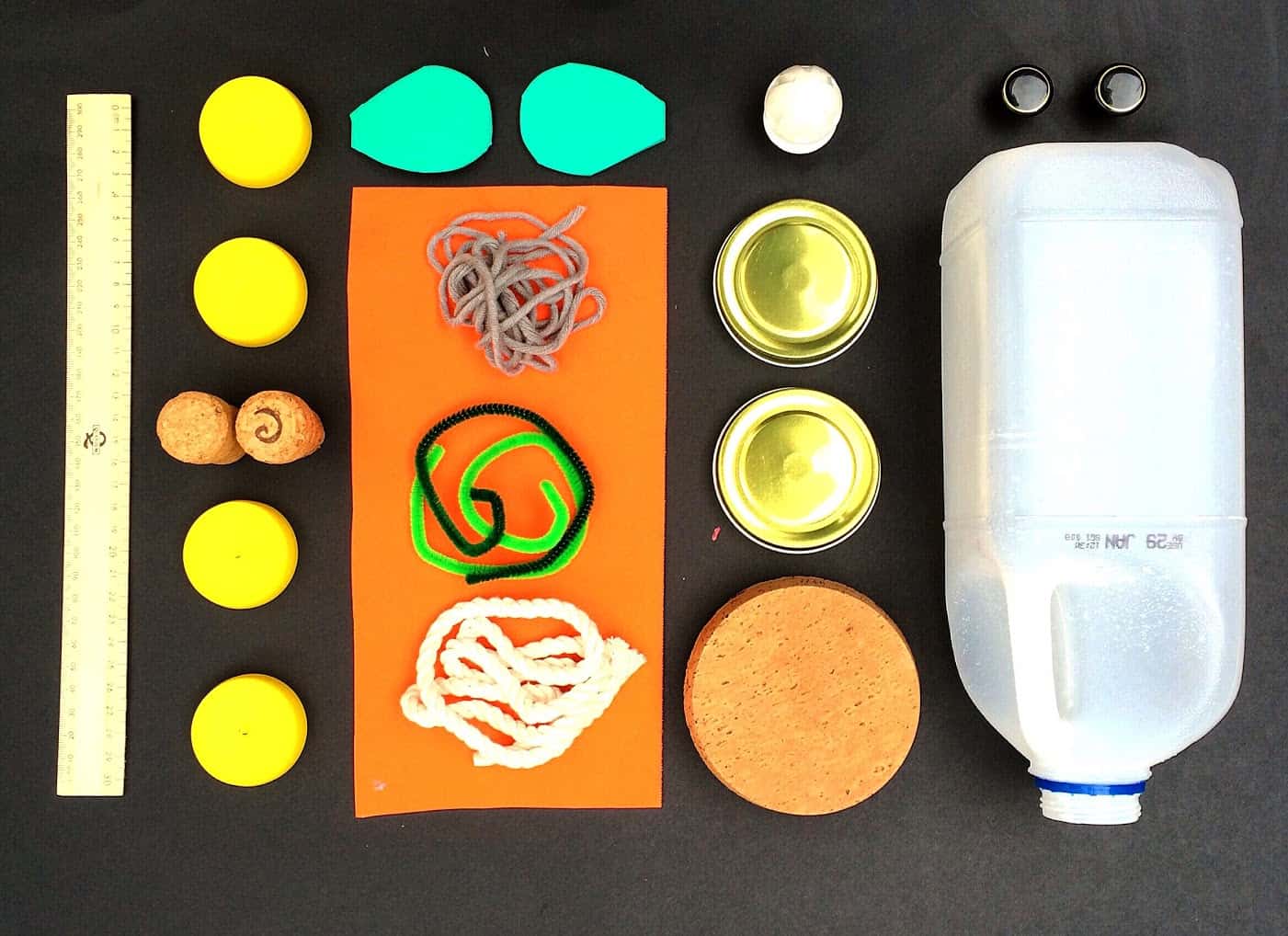 To make:
Step 1. Begin by attaching the large cork/box/container to the base of the milk bottle. We used an eyehook screwed into the cork, attached to a pipe cleaner we threaded through two small holes made in the base of the milk bottle.
Step 2. To make the arms, cut two long strips of foam sheet or fabric (about 50 cm each) and attach to the sides of the milk bottle with hot glue.
For the hands, cut two round shapes from foam sheet or card and attach to the ends of the arms with hot glue or staples. Punch a small hole in the end of each hand.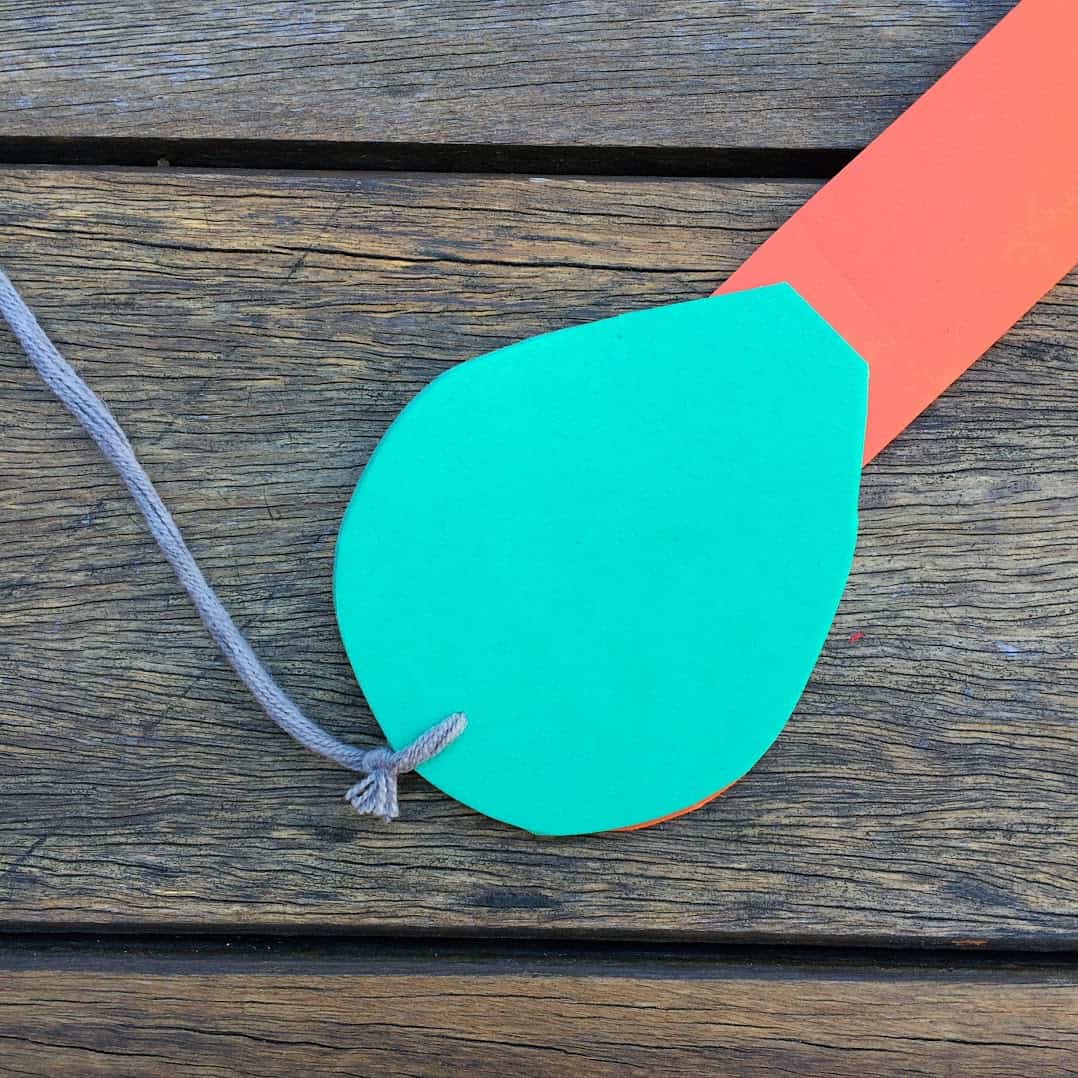 Step 3. To attach the legs, remove the milk bottle lid and make two small holes in the center using a punch or sharp blade. Feed a pipe cleaner through the holes and then screw the cap back on. Cut a length of rope to about 60cm and secure in the middle to the milk bottle lid using the pipe cleaner you just attached. We added another pipe cleaner, which we twisted around the lid so that the legs would sit a bit further apart.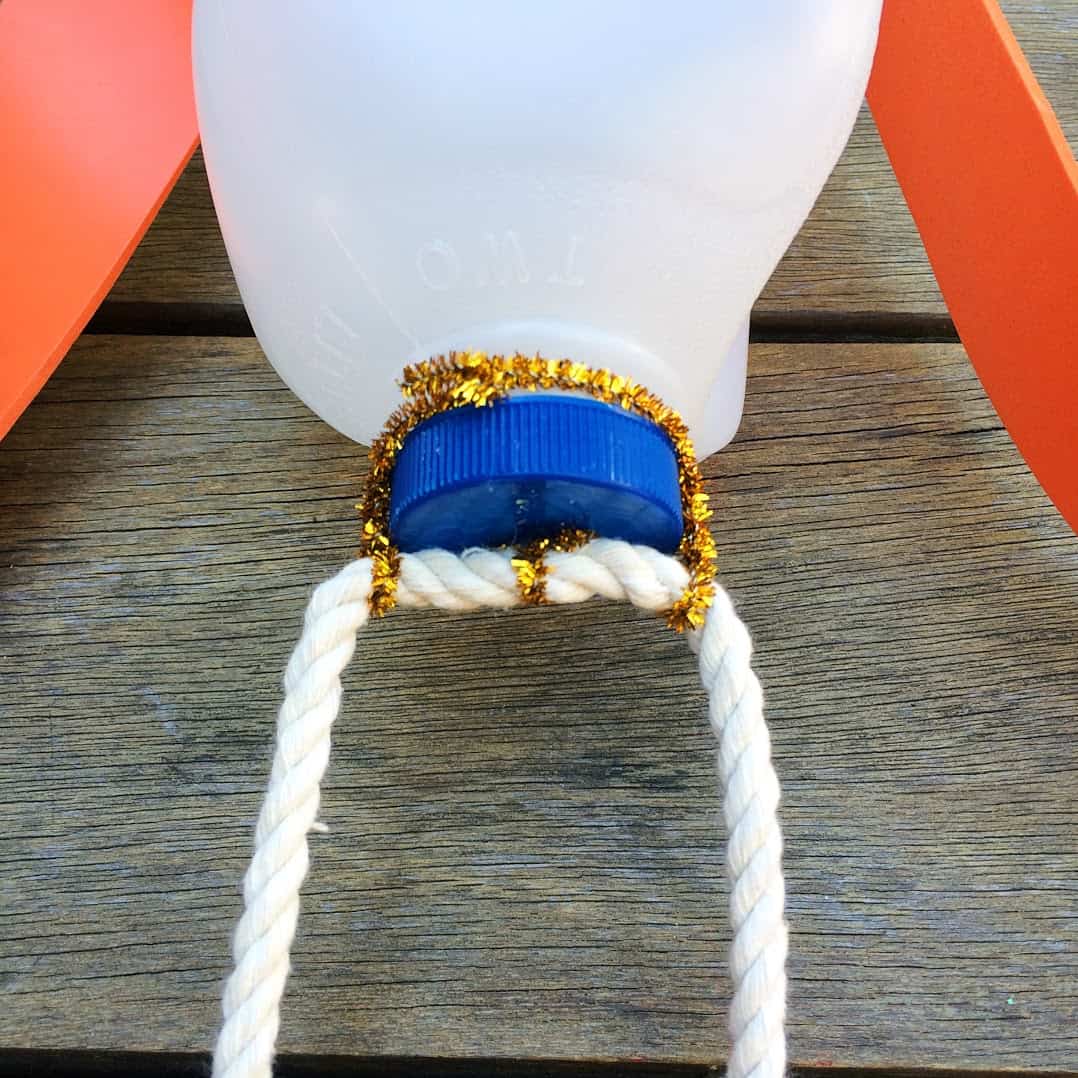 Step 4. To make the feet, take two corks and two jar lids and in the centre of each drill a hole big enough to feed the rope though. Once you have done this, tie a knot underneath the lid and secure in place using hot glue. If you don't have a drill (and really who does) you could find some alternative weights to tie on to the end of the rope legs. It doesn't really matter what you use but it needs to have a little bit of weight so the puppet can 'walk'.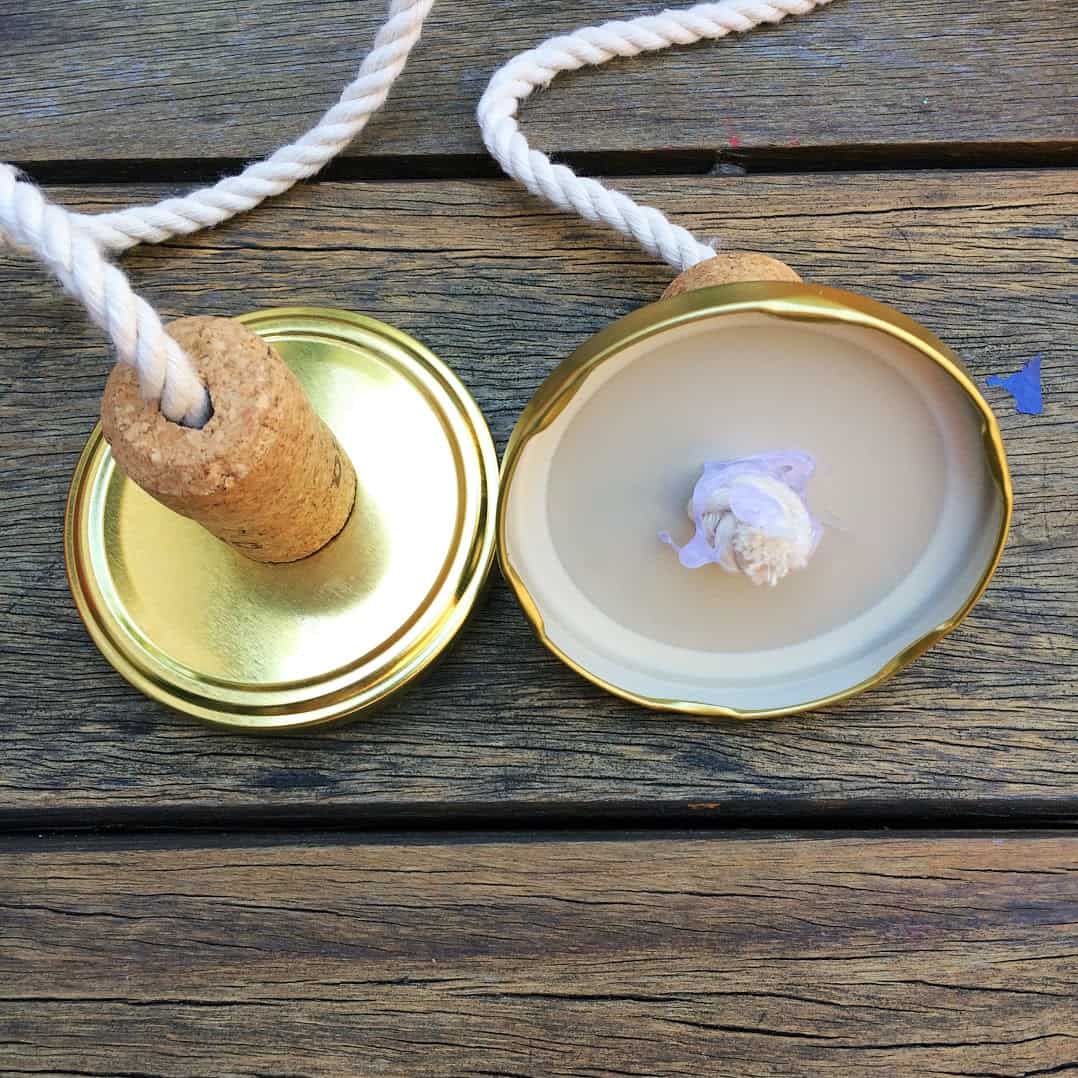 Step 5. Next cut two lengths of string and attach them to the holes you punched earlier in the hands. Cut a small length of rope and attach it to the top of the puppets head. We used another eyehook but this will vary depending on what you use for the face.
Tie the strings onto the rod or ruler. We drilled holes through our ruler and fed the strings through using large beads as stoppers. This is allows us to manipulate Puppety's hands by lifting and lowering the strings on the arms to make him wave.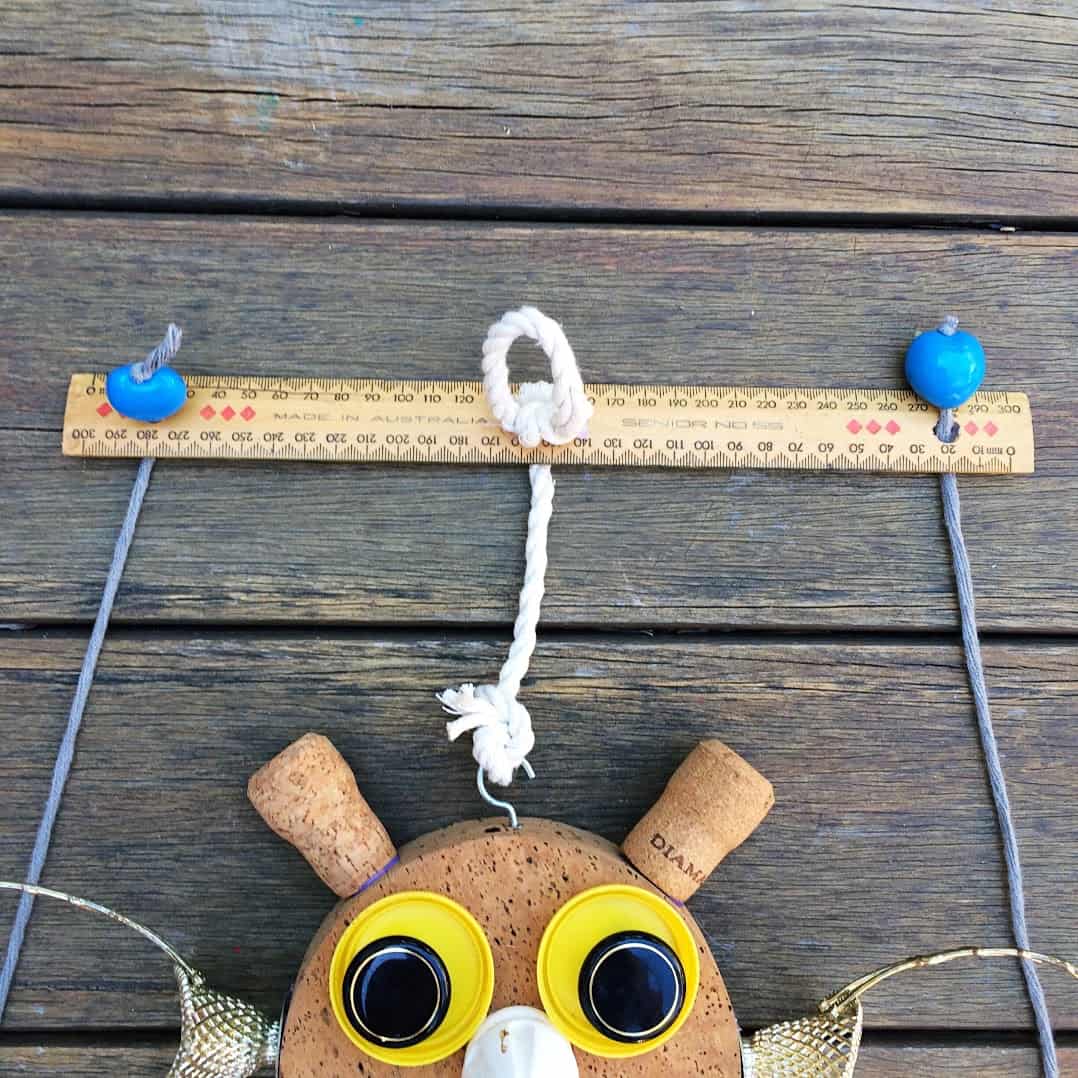 Decorating:
Step 6. Now for the fun bit! Grab some corks, bottle tops, plastic scraps etc. and make a face for your puppet. We used 4 corks, a door knob, some strange plastic baskets and half a plastic tub lid but feel free to really go to town here and use whatever you have lying around. It's amazing how much personality a few bits of rubbish can give the big guy!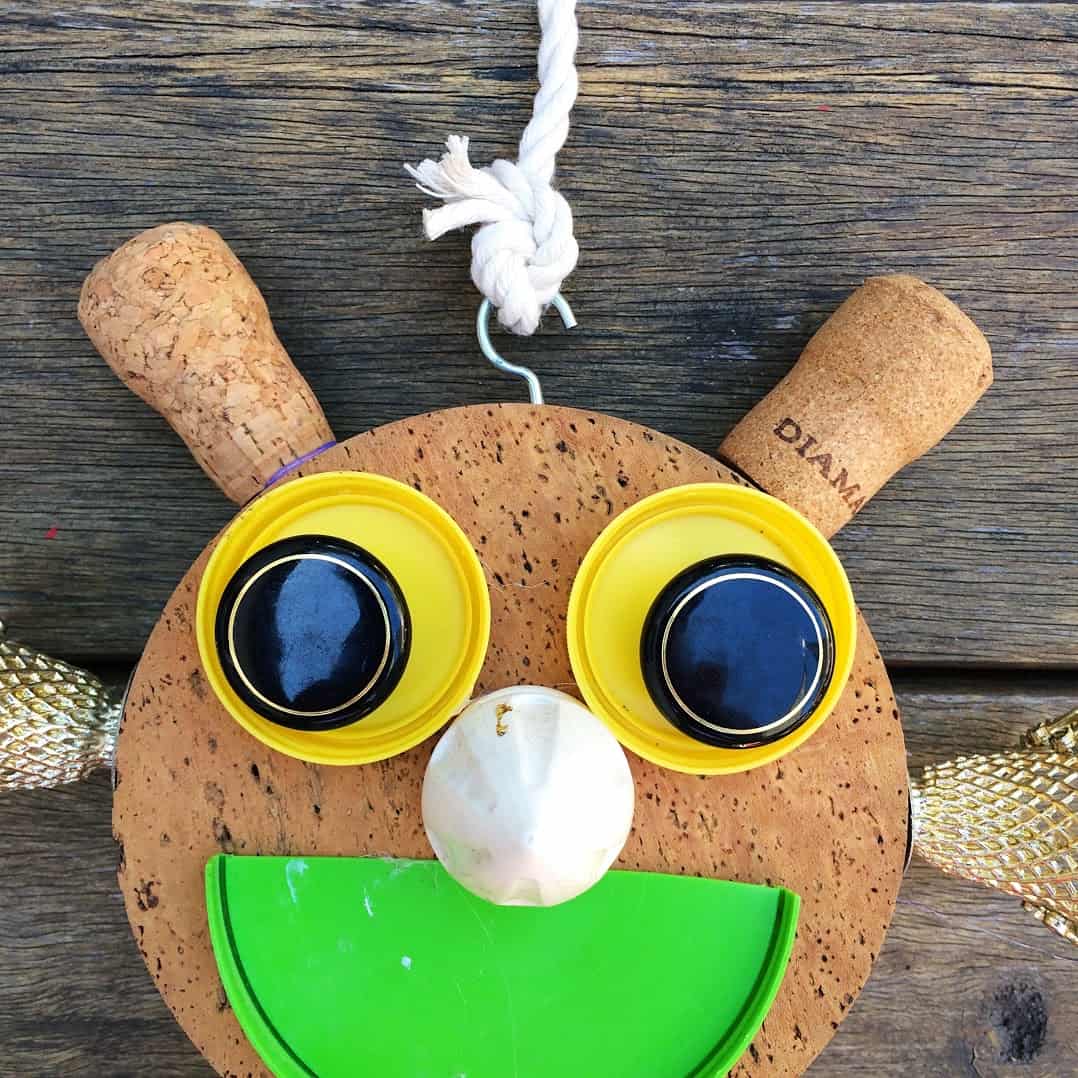 You are done! Why don't you take him for a walk outside and introduce him to the neighbors!
What are your favorite puppet crafts? Check out these cool ones made from spoons!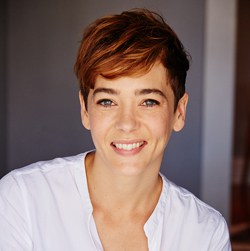 Susie Rugg, the creative mind behind the crazy fun Handy with Scissors is a Sydney based mum and maker with a passion for turning 'junk' into art. She has a degree in Object Art from the University of Sydney and when not at home trying to get her reluctant 3 year old excited about craft, she hangs out at The Museum of Contemporary Art Australia where she is the Children and Families Coordinator. Follow Susie on her creative adventures on Instagram and her blog.
ABOUT THE PUPPET SERIES:
It's no secret that I love puppets, I always have and I always will! For my recent self-induced puppet challenge, I decided to make 7 different puppets over 7 days that were both simple to make and to operate. Mr Finn (age 3) and I had lots of fun and are really excited to share a few of our favorites here. They are perfectly imperfect and like most of our projects, use predominantly recycled and repurposed materials.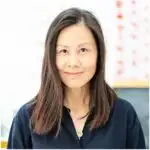 Agnes Hsu is a mom of three and has been inspiring parents and kids to get creative with easy activities and family friendly recipes for over 10 years. She shares her love for creative play and kids food to her 2MM+ followers online. Agnes' commitment to playful learning and kindness has not only raised funds for charity but also earned features in prestigious nationwide publications.