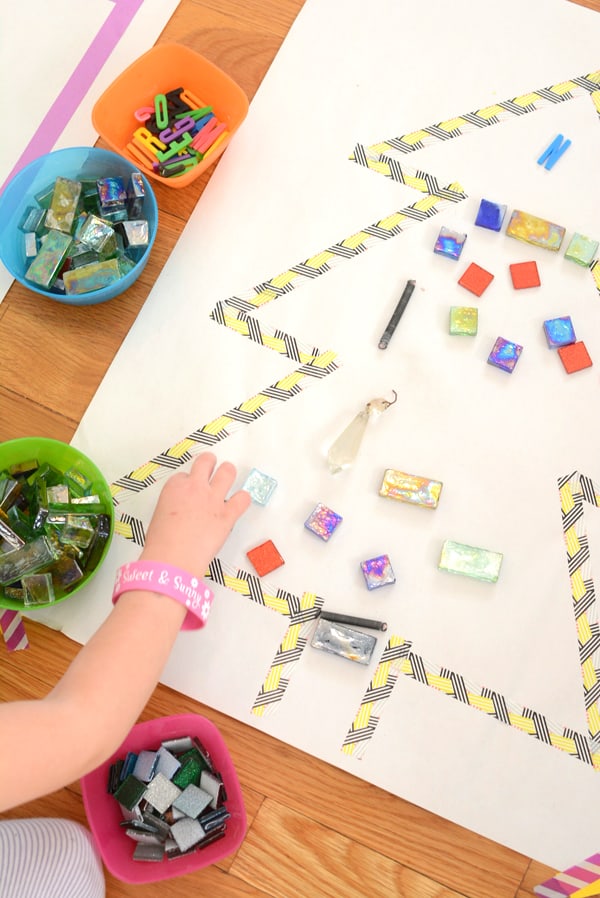 Hey guys. Has it been a month already? So happy to be back on hello, Wonderful for a holiday art project for kids – Holiday Mosaics. I've taught mosaic art for years and years. It's a beautiful art form that dates back thousands of years. Temporary mosaic projects are super easy to do and really fun for young children. There are so many ways to do them too. Of course, if you're child is still putting things in his or her mouth, make sure to use safe, large objects and use your own discretion. Here's what we did.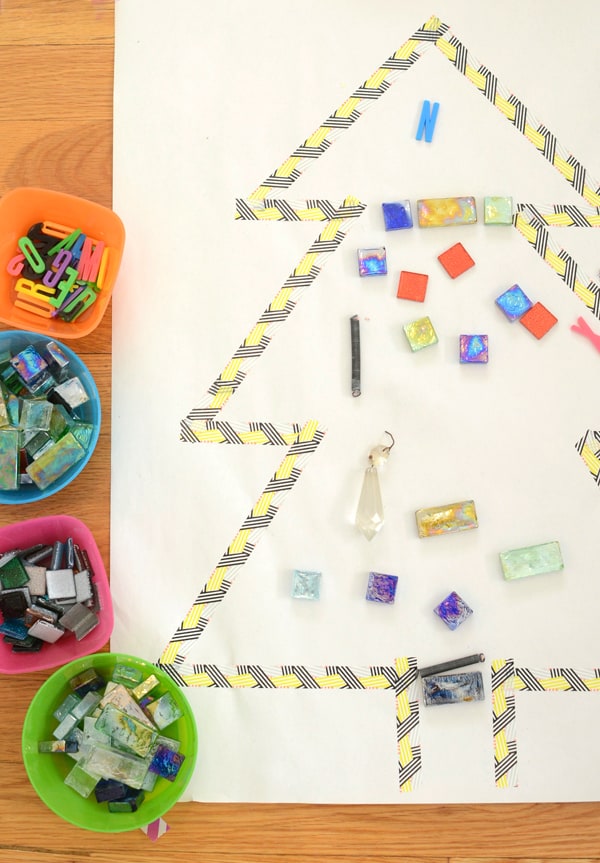 *This post contains affiliate links.
First you'll need some tape. You can use washi tape, aka my addiction, or any masking tape. You could even use chalk, like we did here. Once you have your outline material, you will need a flat surface. You can use a big or small piece of paper or put the tape directly on the floor. It comes off easily enough. We made two simple shapes, a Christmas tree and a dreidel. You could also do a stocking, candy cane, or Jewish star. If you've got mad taping skillz you can bust out Santa. I'd love to see a picture of that!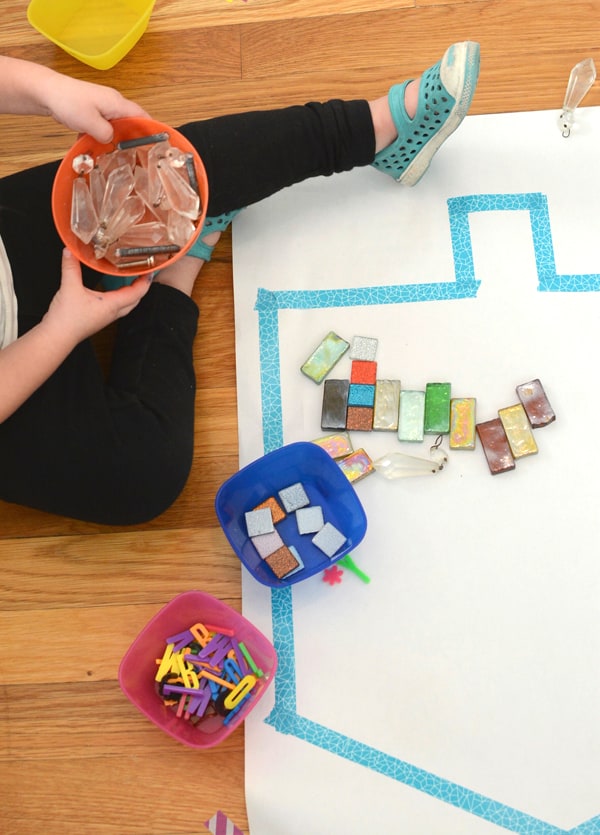 Once you have your holiday design, which doesn't need to be perfect by the way, you are ready to start the mosaic process. You'll need several collections of different things. We used all kinds of mosaic tiles and alphabet letters. These letters I found at our local craft store but you could use these alphabet tiles for all kinds of things. You could also use items from the cupboard like dried beans, toothpicks, q-tips, or even little toys. There is no right or wrong way to do this.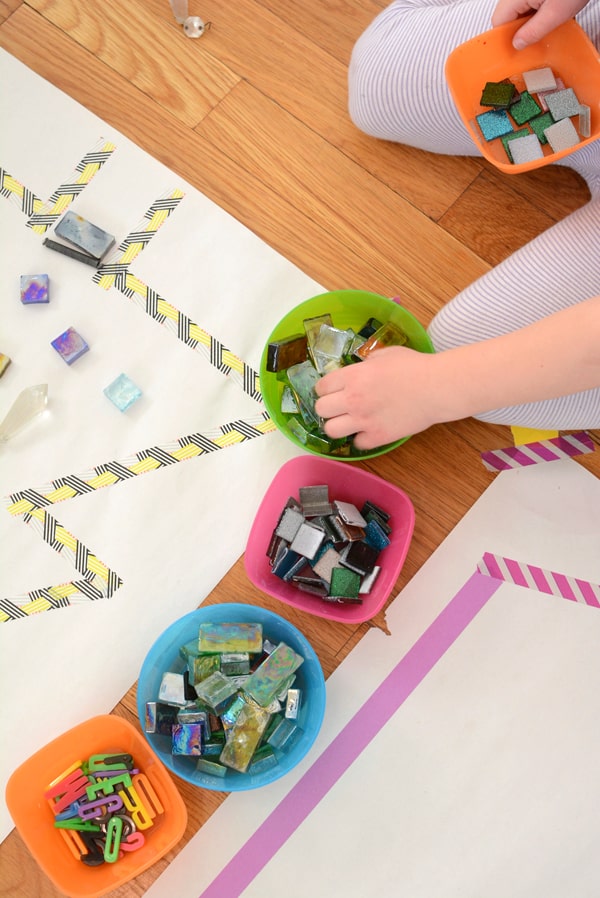 My younger daughter enjoyed pouring the objects into different bowls, while my older daughter was very happy to decorate her tree. Now that she has discovered the alphabet, it was really fun trying to make words and naming different letters.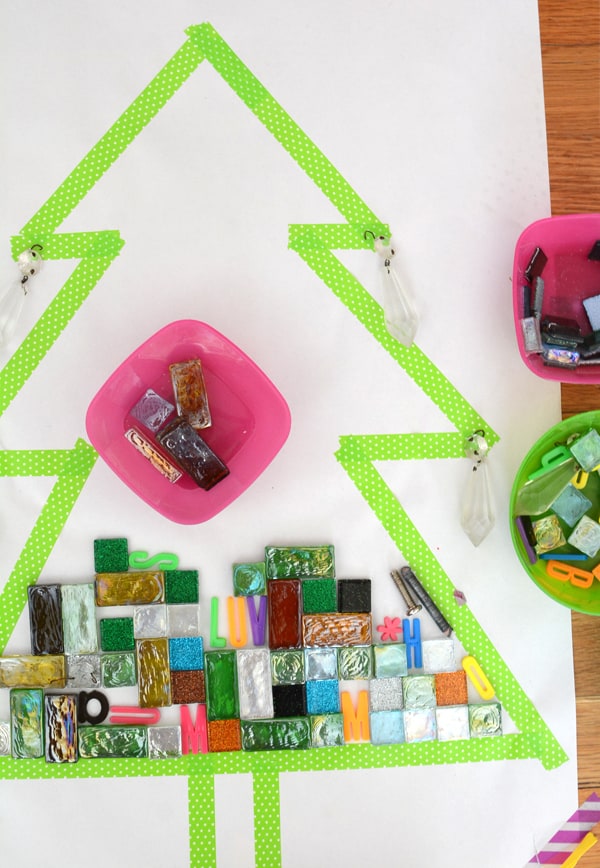 If you do your design on paper you can save it and bring it out at different times when you're looking for something fun to do. We made a few on small paper too that my girls really liked. For more fun holiday art projects check out our washi tape holiday wall art, and our jingle bell noise makers. Happy Holidays everyone! xo Meri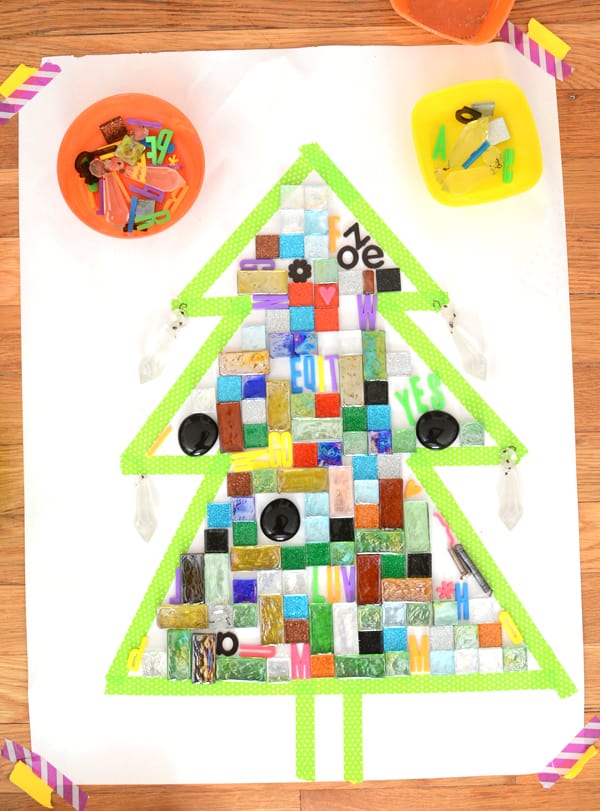 Meri Cherry, yes, that's her real name, is an arts and crafts blogger at mericherry.com. She lives in Los Angeles with her husband and two daughters. Meri works as an art teacher. She is passionate about the process of art, thrift stores, and the Reggio approach to learning.