We're excited to introduce you today to artist and children's illustrator, Yuliya Gwilym. Yuliya also runs ROKKAKUKIDS, an "ongoing project that unites creative activities for children" with the goal of kids developing creativity.
Yuliya is sharing a cute and simple cardboard project with us today that also makes a fun playdate or party craft. Thanks Yuliya and welcome!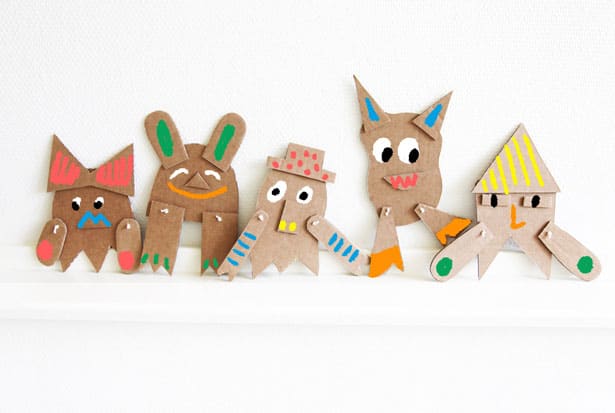 Cute Cardboard Creatures – Materials:
– Cardboard
– String
– Paint
– Glue
Instructions:
– Cut out cardboard shapes in different sizes with smaller shapes overlapping to make features like noses and mouths which you can glue over the larger pieces of cardboard.
– Attach string where you want moveable parts and joints.
– Have kids paint the cardboard features and bodies to their choosing.
Yuliya Gwilym is a children's illustrator originally from Ukraine based in the Netherlands. She writes and illustrates children's books as well as designs creative activities for children. Follow her latest work on her blog, Instagram, and Facebook. Her work can also be purchased on her Etsy shop.