I recently discovered Inkoydye which is a light activated ink that can be printed on any fabric and even canvases. My daughter and I experimented with Inkodye for the first time by making cool screen printed kids' clothes.
Since my daughter loves to draw, I thought it'd be fun to do something art related with Inkodye. Inspired by this tutorial which uses a glass plate and dry erase markers on fabric, we did something similar except used transparent paper and a canvas to make cool looking pop art.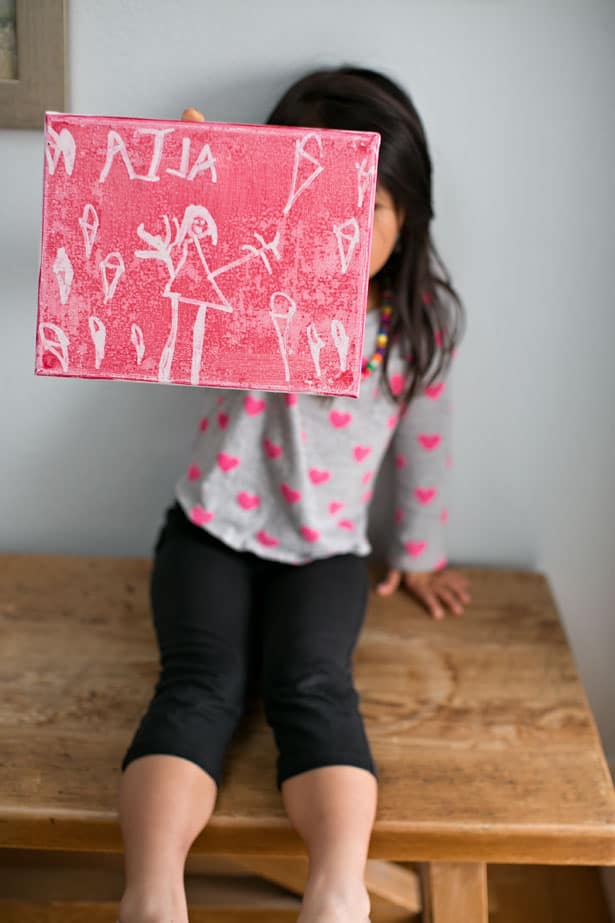 Pop Art Canvas Using Kids' Drawings – Materials Needed
1. 8 1/2″ x 11″ Transparent paper
2. Inkodye (we used the red color)
3. Black dry erase marker (we used Expo Markers)
4. foam brush
Steps:
1. Using a black dry erase marker, have your child draw on a sheet of transparent paper. The thicker the lines the better to transfer the drawing onto the canvas.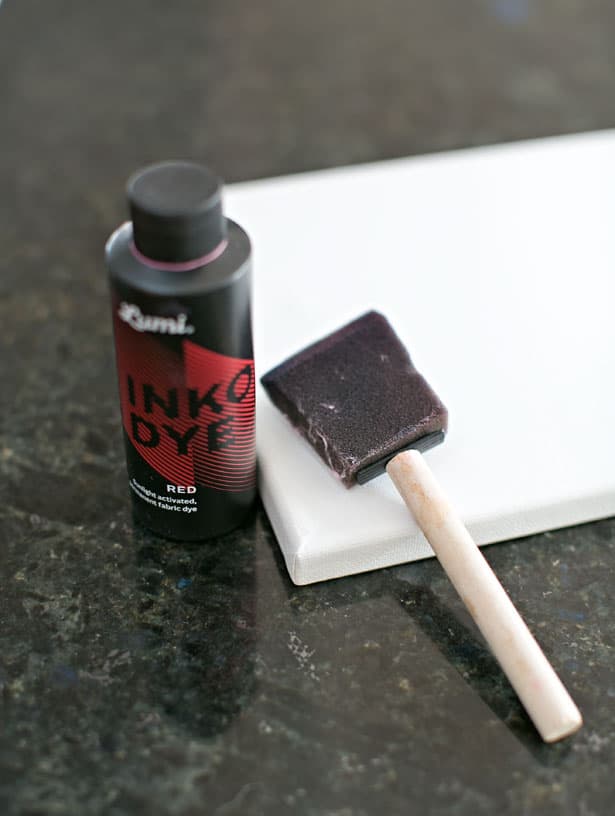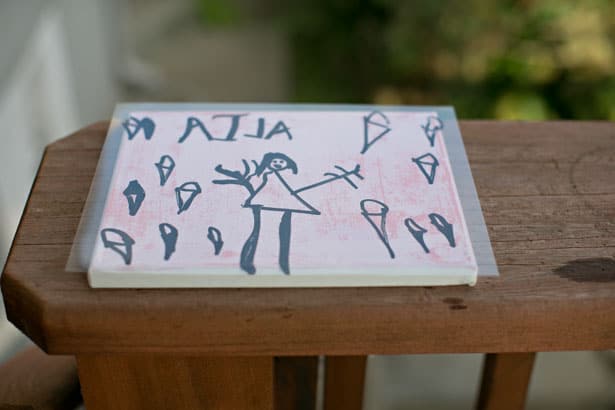 2. Brush Inkoydye with the foam brush all over the canvas, making sure to give it a good, even coating and dabbing the canvas so there are no uneven spots (we could have done a better job of that as you can tell from the finished piece below).
Immediately place the drawing ink side down on the canvas and transfer outdoors where natural sunlight wil start the dying process.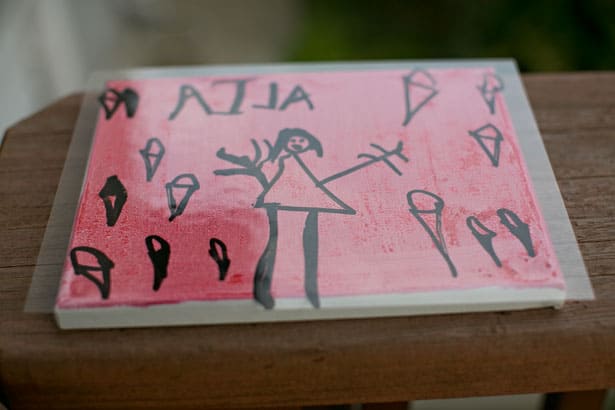 As you can tell above, the process starts immediately and the bright hue you see is after about 30 minutes, but it will depend on how bright the light is outdoors.
Once you're satisified with the color, remove the transparent paper and you are done!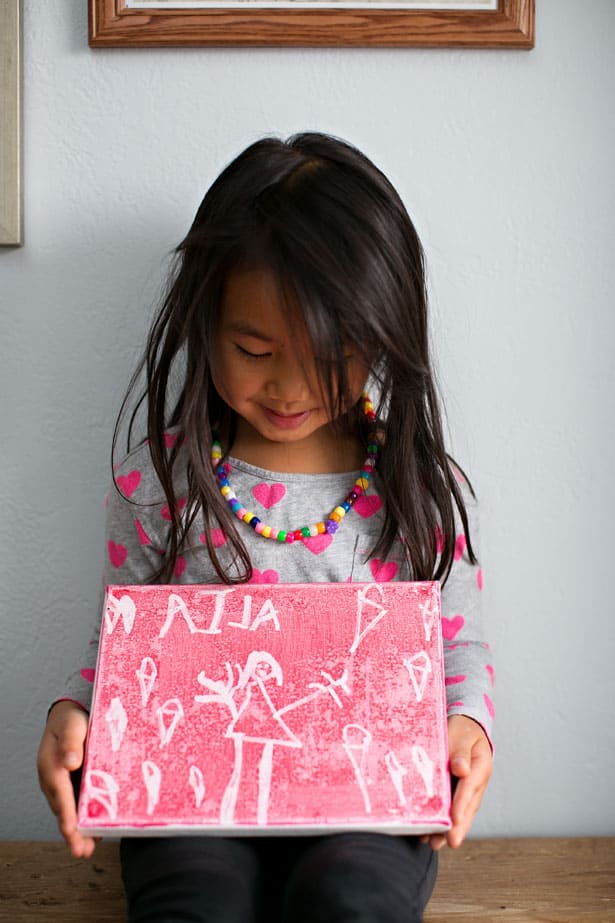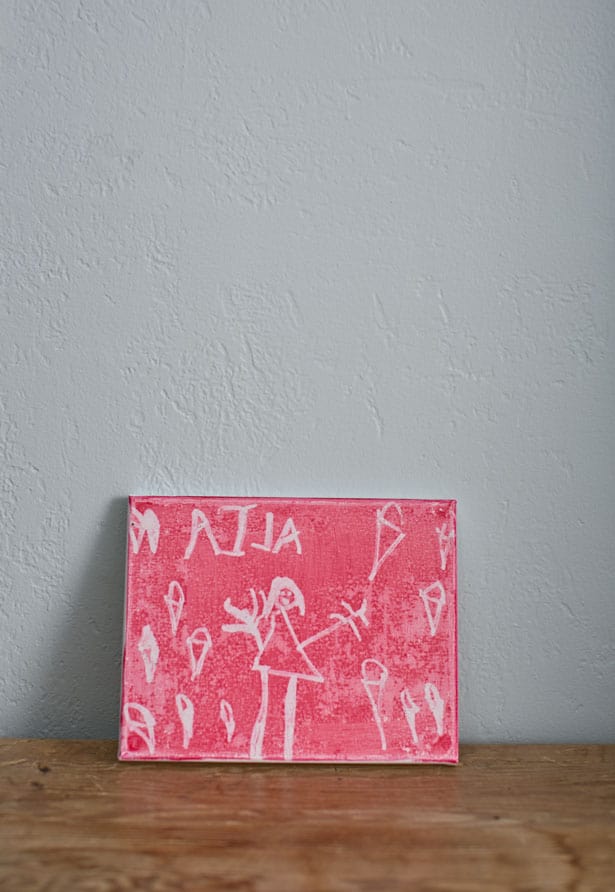 My daughter had so much fun making this cool representation of her artwork. The process of watching the ink turn colors is really fun too!
These canvases would make special holiday gifts for the grandparents or anyone who is special to your child. It's a quick project that's easy to do and provides instant gratification, especially good for younger kids who have shorter attention spans.
Have you used Inkoydye before?
______________________________________________________________________________________________________

Disclosure: Some of the links in the post above are "affiliate links." This means if you click on the link and purchase the item, we will receive a small affiliate commission. Regardless, we give our promise that we only recommend products or services we would use personally and believe will add values to our readers.