I'm excited to share another tutorial in collaboration with my bake shop. We've shared easy fondant decorations, chocolate bark and cookie jar mixes. Today, we're showing you how to frost the perfect sprinkles cake. Wonderful for celebrating any kid celebration, big or small!
As you'll need lots of sprinkles to fill a cake, it's easiest to go small and use a 4 or 6 inch cake. The instructions below are on a a 4″ wide cake.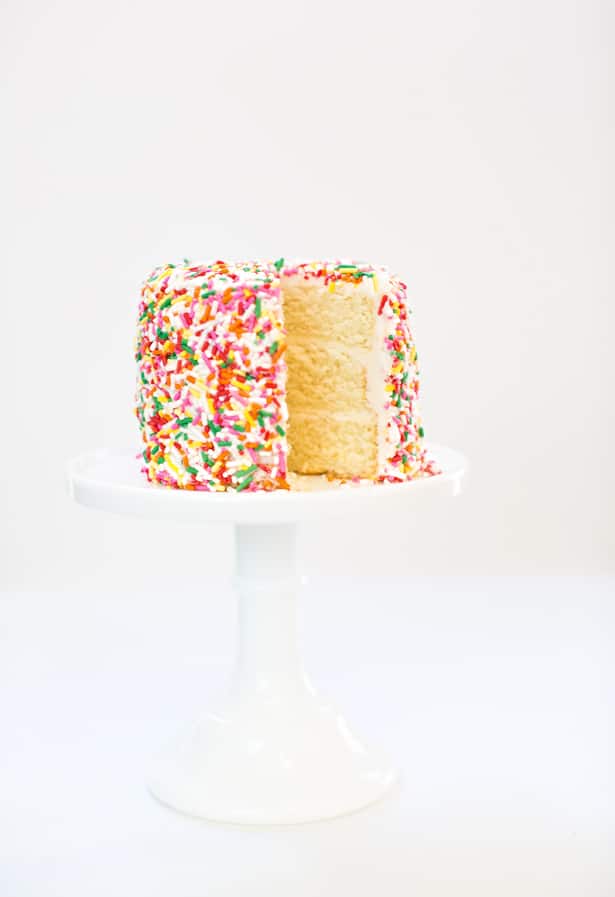 Instructions: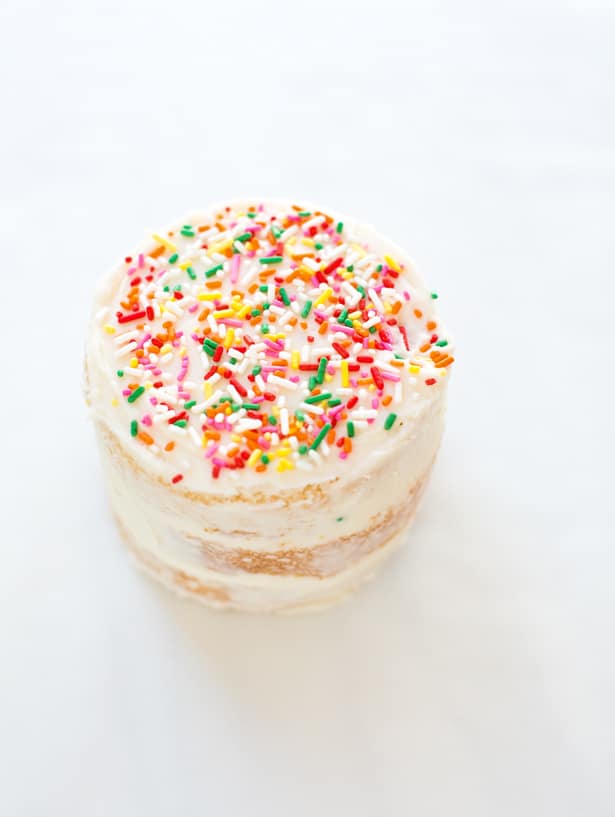 Step 1. Bake cake and allow to cool. Once cooled, cut layers using a serrated knife. You can choose to cut 4 layers for your cake or only 3. This way you have 1 extra just in case.
Adhere first layer of cake to cake round or plate with a dab of frosting. Using an offset spatula, spread a thin layer of frosting on top of cake, making sure that it is even. Place next cake layer on top of that and repeat until all layers are connected. Don't worry if some frosting spills out from layers. Add a crumb coating to sides of cake. Finally, put a layer of frosting on top of cake that is a bit thicker than the previous layers. Cover the top sprinkles. Place cake in refrigerator or freezer for at least 10-15 minutes.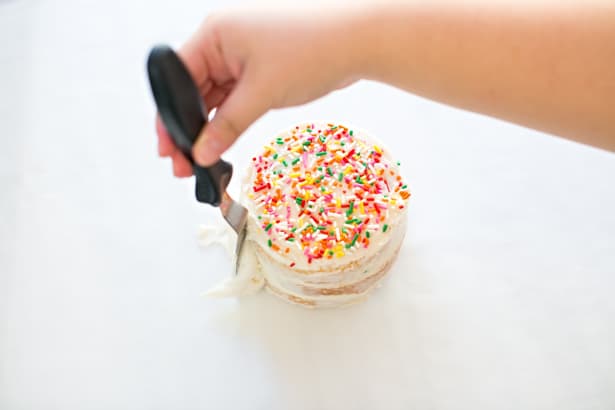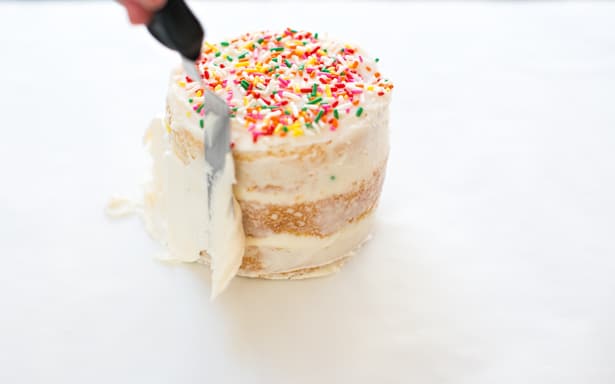 Step 2. Once your cake is cool, remove from refrigerator or freezer. Add a layer of frosting around sides of cake and smooth out as best you can with an offset spatula.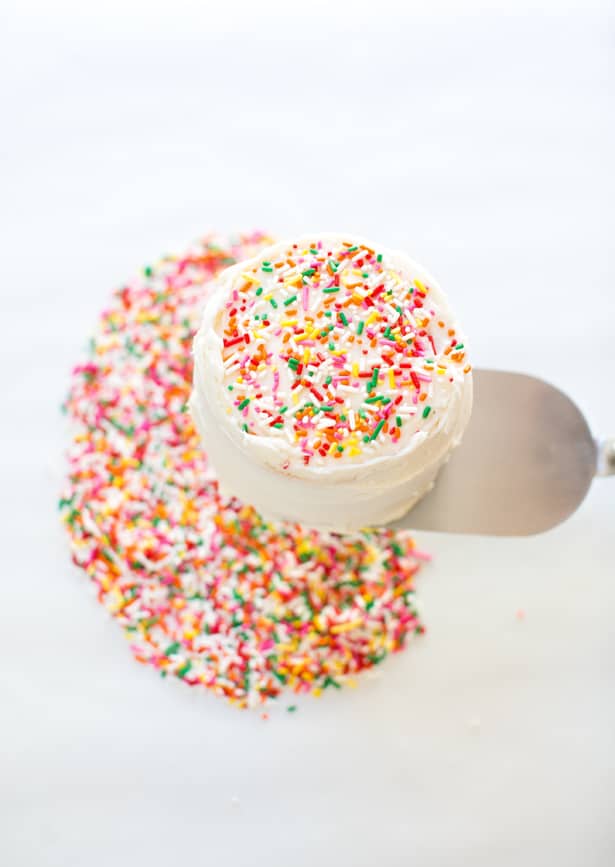 Step 3. Add your favorite sprinkles on a large sheet of parchment paper and gently place the cake on its side onto the sprinkles.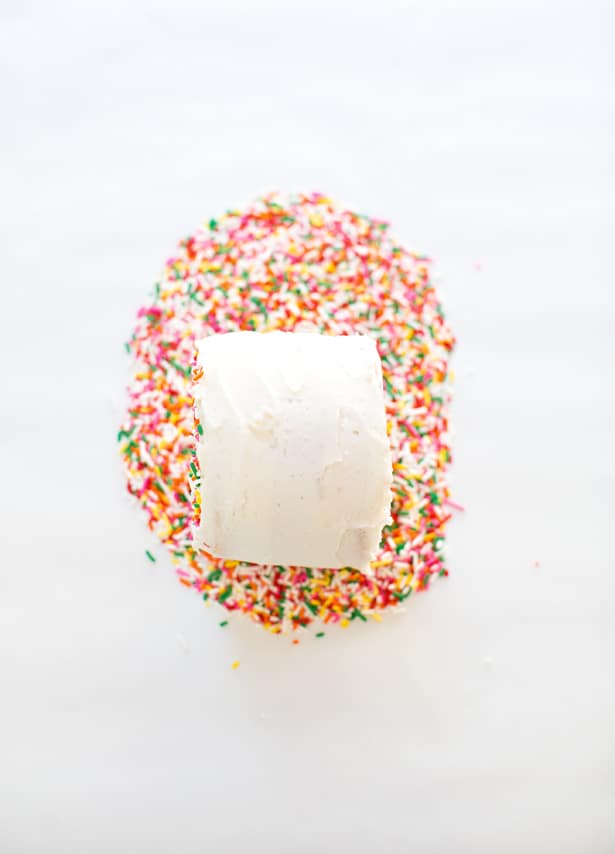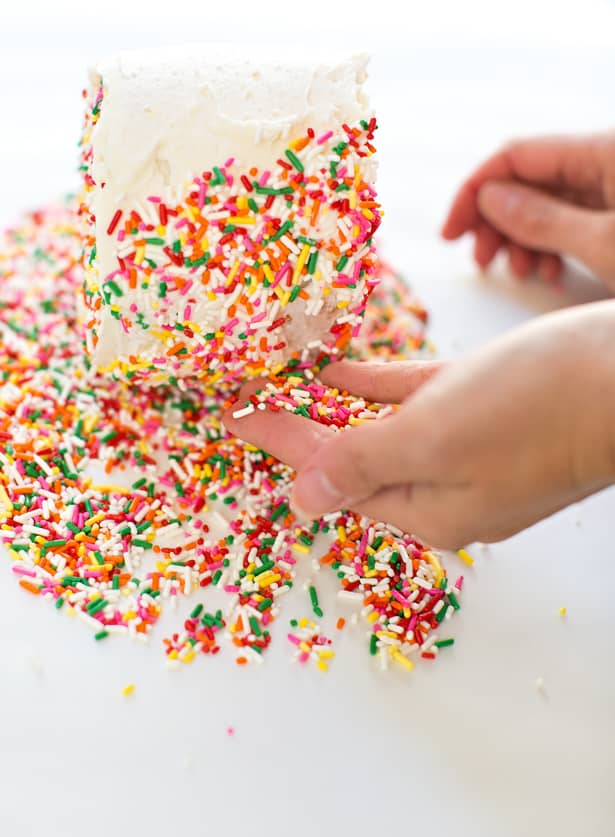 Step 4. Gently roll the cake in the sprinkles until it is covered. Add more sprinkles by hand if needed.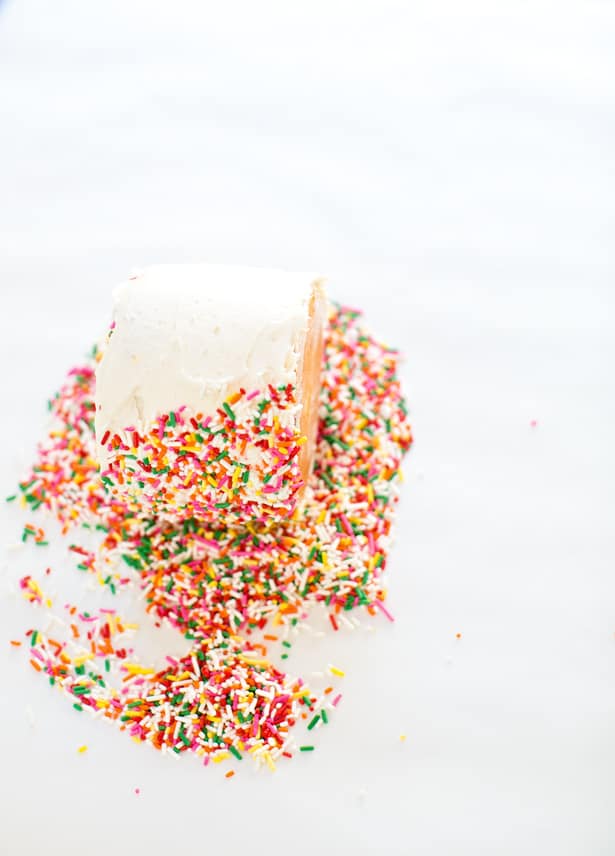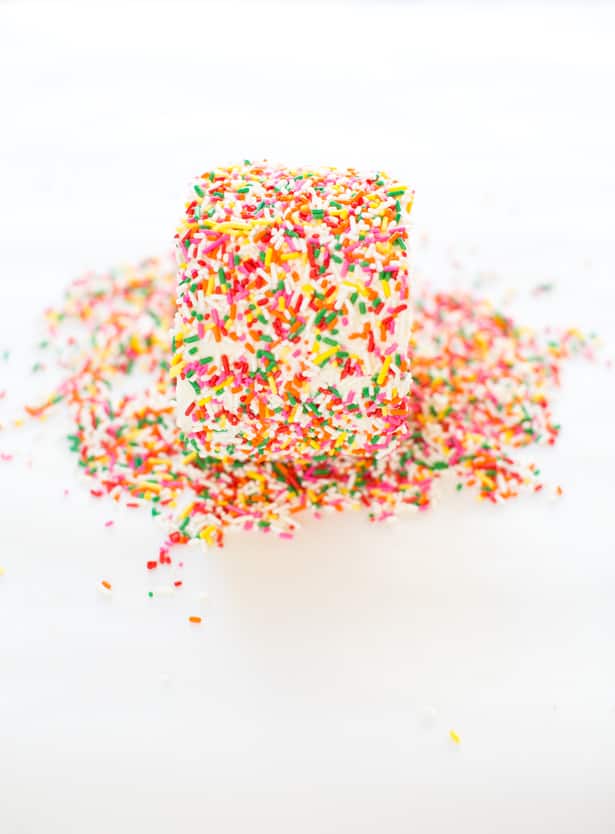 And you're done! A perfectly sprinkled cake for your next party.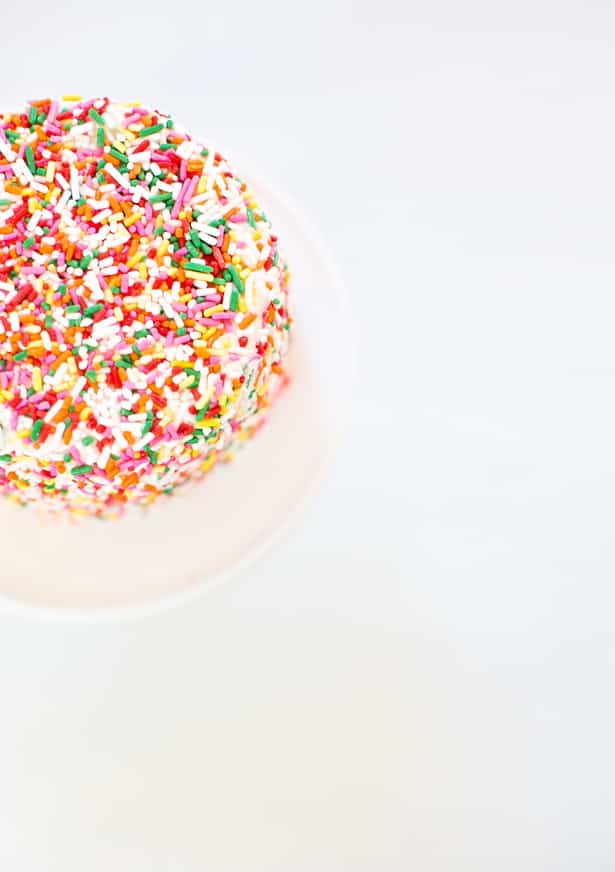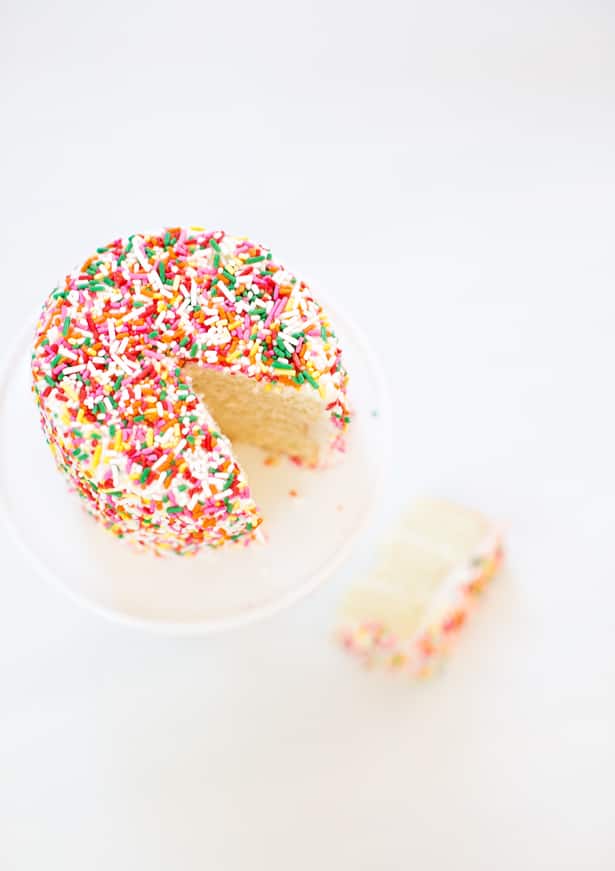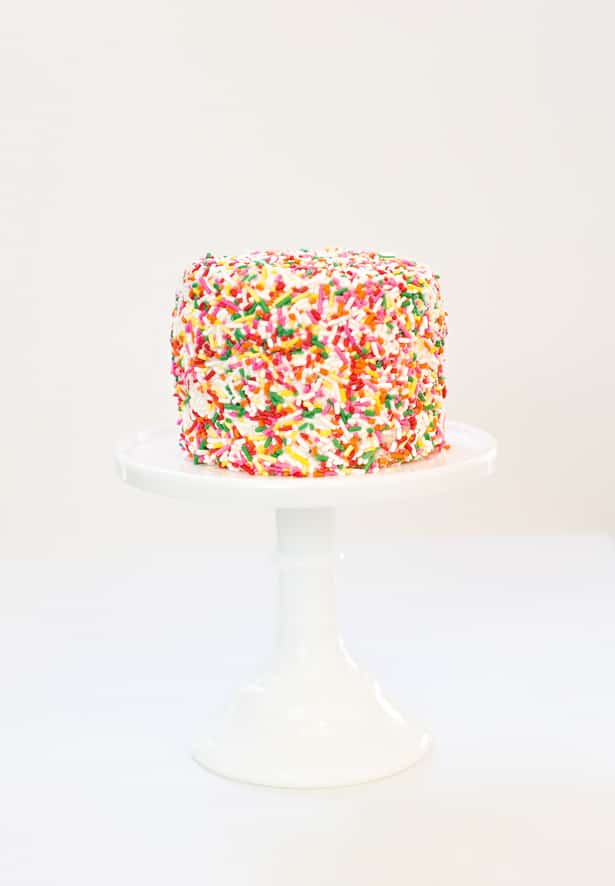 I just love sprinkles cake because of the colors and keeping them small makes them the perfect celebration cake for kids. Make sure to pick sprinkles like these (also called Jimmies) which hold up better instead of ball shaped sprinkles which roll off and are harder to maneuver.