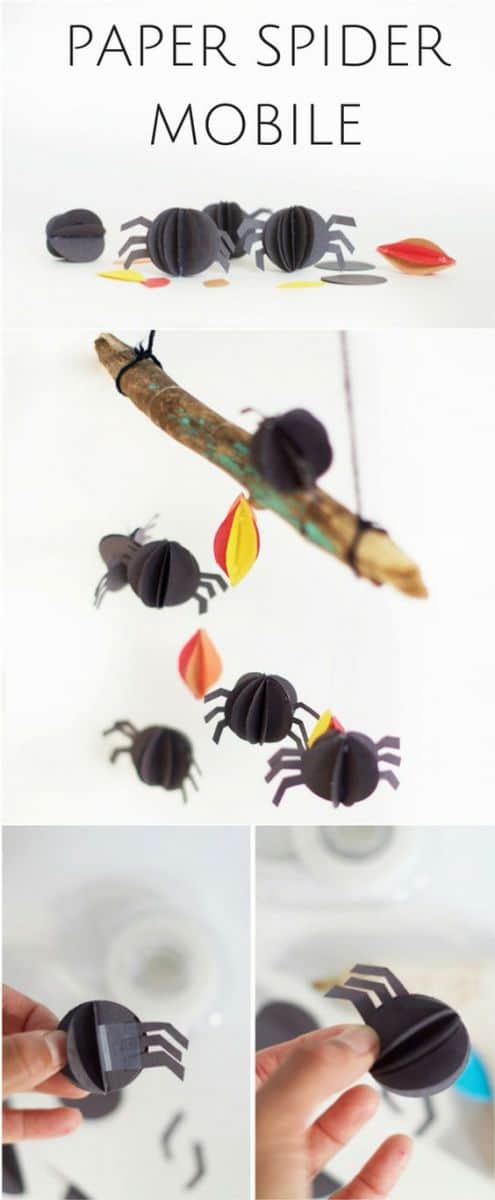 Fall is such a lovely time of year. The temperature in the air shifts, colors shift from green to golden, and best of all, Halloween! Here is an easy and fun craft that will add a little warmth and spookiness to your Halloween decor, and get you ready for the fun of the fall season.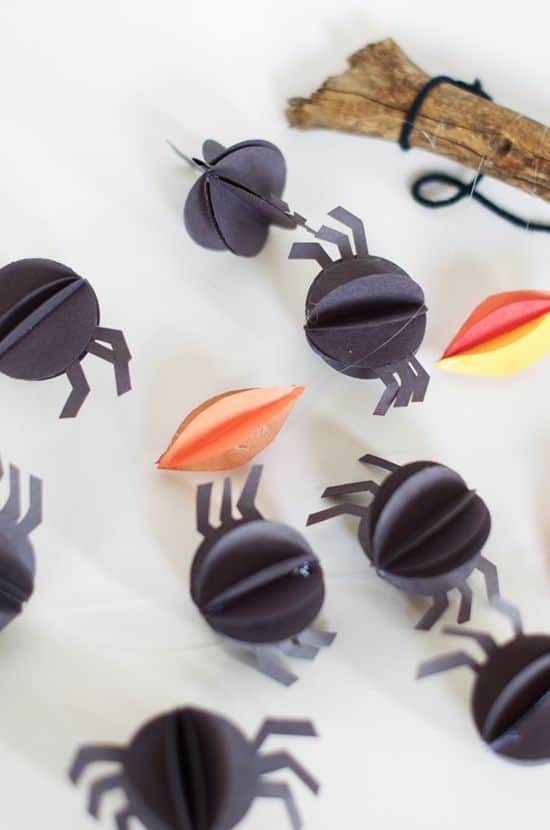 Halloween Paper Spider Mobile – Materials:
– Construction Paper in black, red, orange and yellow
– Tree Branch
– 1 1/2 inch hole punch
– Scissors
– Glue Gun
– Fishing line
– Clear tape
– Yarn
Cut out black circles with the hole punch. Also, cut out the legs of the spider. Fold all of the circles in half, except one.
Add a thin strip of hot glue down the center of the first circle, and glue a half circle to it. Repeat on the reverse side. You can stop here or keep adding half circles to make your spider more dense.
For attaching the legs, use a small piece of clear tape to connect three legs together. Tape the three legs to one section of the paper balls. Glue this piece to its neighboring half circle to conceal the tape. On the opposite side of the spider, repeat with another set of legs. In order to make the fall leaves, use the same technique. Cut out a leaf shape in three different colors. Fold them in half, and hot glue them together to make a 3-D leaf shape.
Use your glue gun to attach the fishing line to the spiders. Add a small dot of glue to the bottom and top of the inner crease of the spider. Then, lay the fishing line on top of the glue, so that the fishing line lays vertically down the spider. It should be configured so that the spider will hang fairly straight. You can use a needle to thread the fishing line into the spiders, but I found the glue worked just as well, and was a bit easier.
Have fun with it! You can also just string the little spiders, without creating a mobile. This would make a fun, spooky garland to add to your Halloween decor.
Check out more fall and Halloween ideas for kids!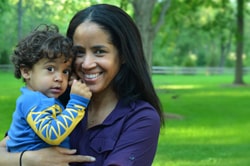 Lisa Fyfe is a graphic designer and mom to a lovely 4 year old boy, Rowan. After having him, life changed ten-fold. From life as an art director in publishing in New York, to a slower paced life in Connecticut, and now San Diego, creativity has always been the constant. Rowan changed everything and amazing inspiration came from this unexpected place. Little Monster is where she shares diy's and recipes inspired by motherhood. You can follow her on Facebook, Instagram, Twitter and Pinterest.