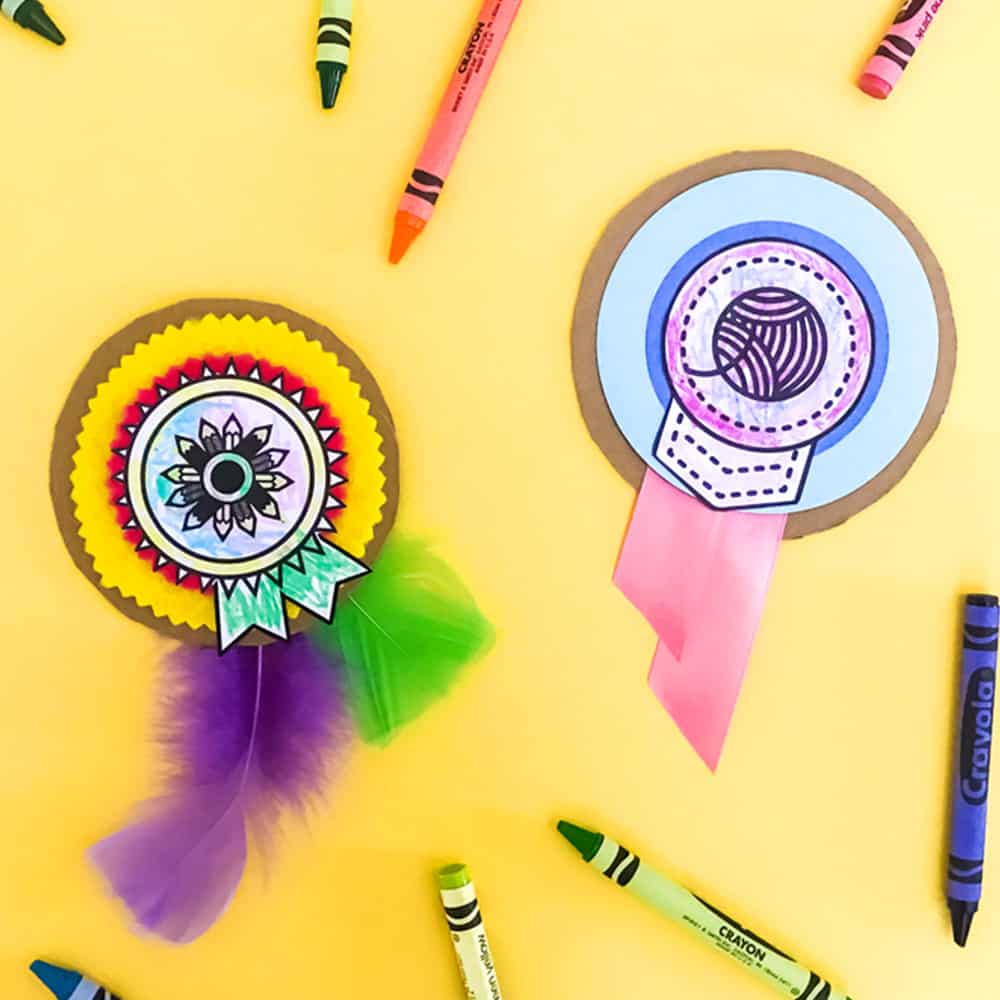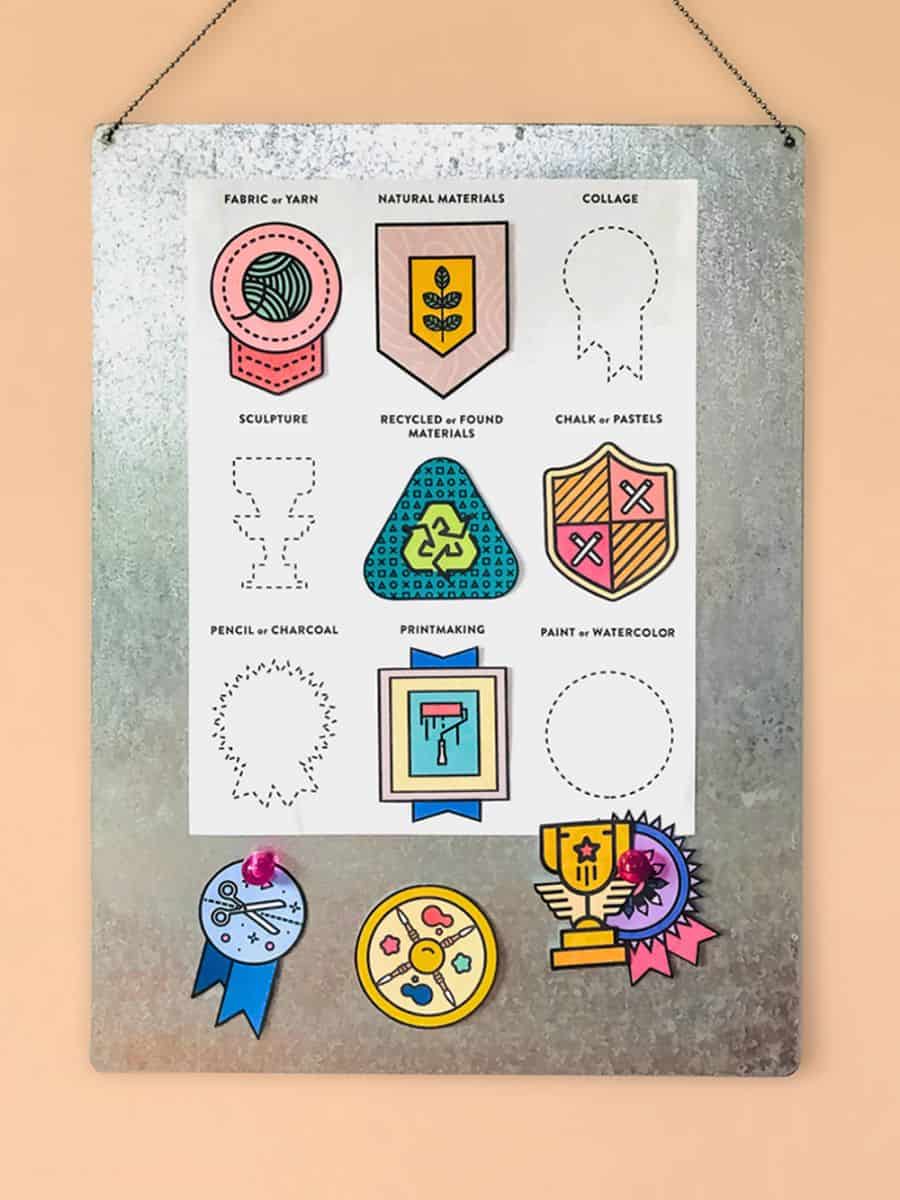 With the dog days of summer coming, I thought I'd share an awesome art-based boredom buster that's a great way to stay busy and creative while exploring the wide world of art! These fun printable badges were created one afternoon when it was too hot to go outside and everyone was feeling crabby, bored and couldn't think of one thing to do. I printed these out, grabbed a bunch of supplies we already had, and made it into a day of art olympics. With a badge for 9 different types of art mediums, these are a great way for kids to discover new materials, set some creative goals and make tons of fun artwork! These badges not only act as a goal-setting system and small reward, they provide a wonderfully simple set of prompts that makes picking out an activity so, SO easy.
(P.S. Check out 50+ Awesome Art Projects to go along with these badges!)
In addition to the visual learning benefits, exploring a series of new mediums helps children develop critical skills they'll need across all areas of development. It's also a great way for young artists to embrace risk-taking, find new ways to express themselves and learn a variety of processes.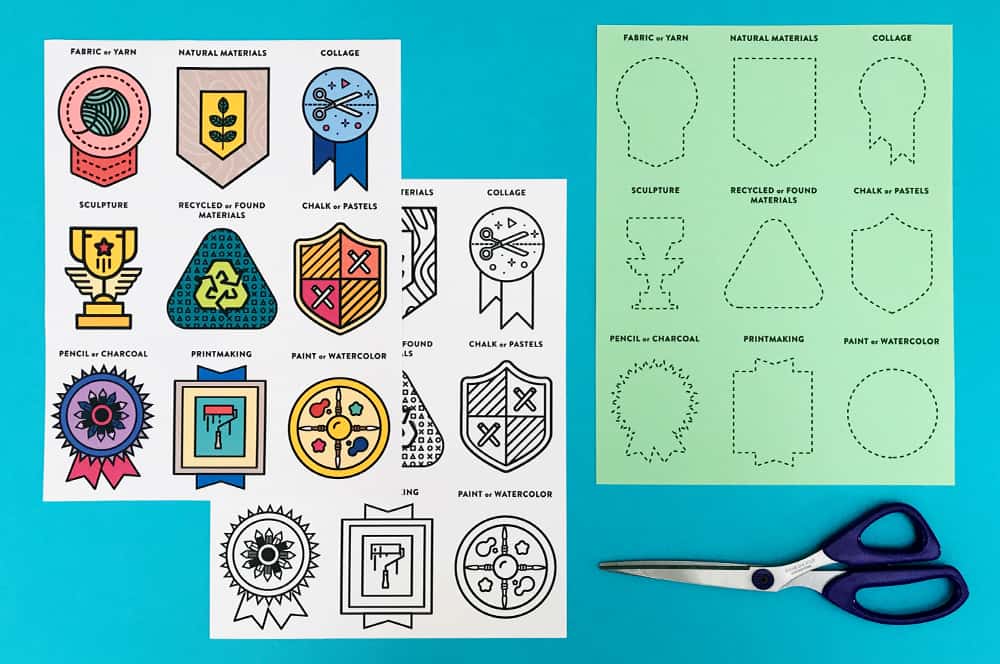 Supplies:
1-3 Sheets of 8.5 x 11 Heavy Card Stock
Scissors
Free Printable Template (download right below)
Click Here to Get Your Free Printable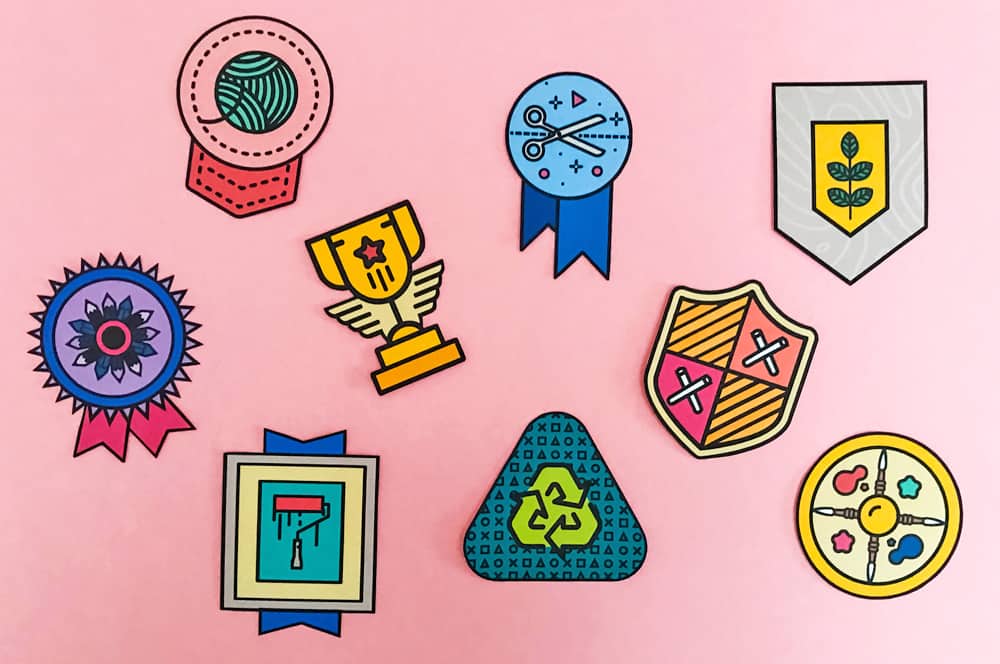 Optional:
A Sheet of Sticker Paper
Materials for Decorating or Embellishing (Crayons, Cardboard, Ribbon, etc.)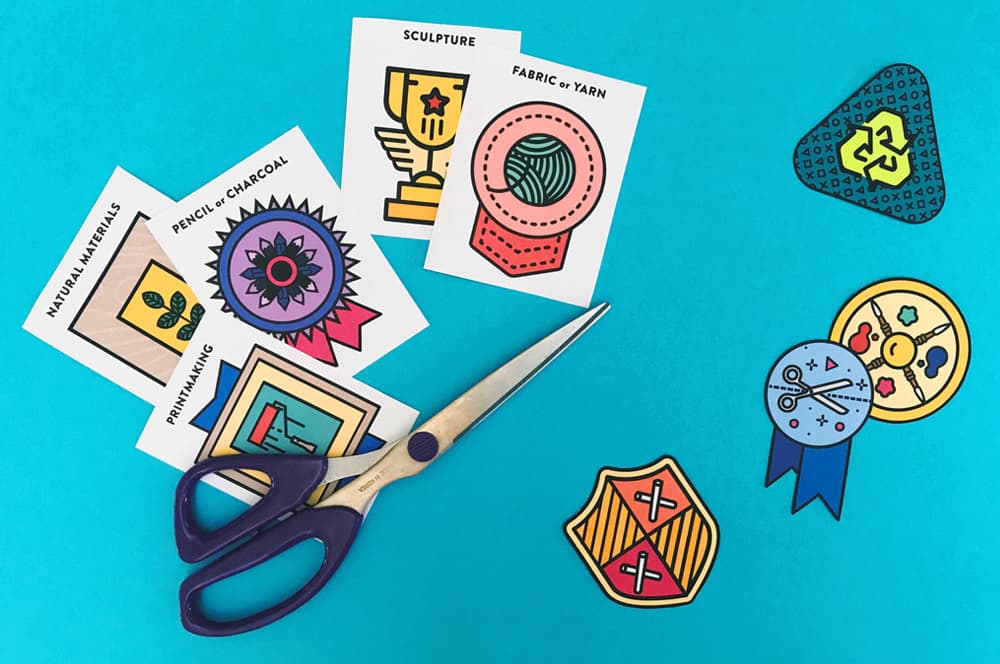 Step 1: Print the desired template pages on a heavy cardstock.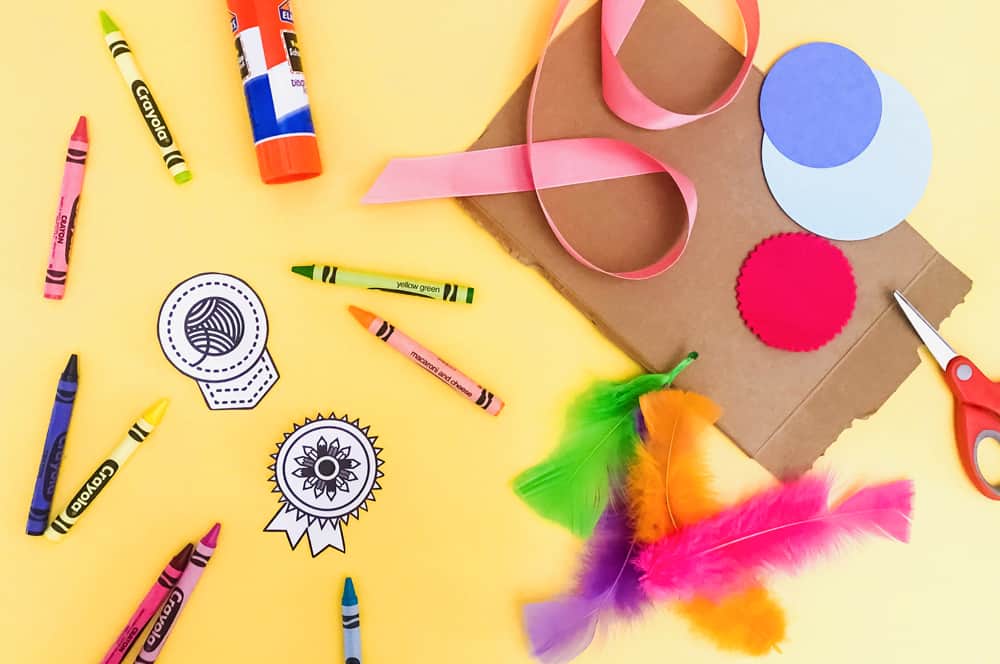 Step 2: If using the full-color badge page, cut them out now (or let the kids do it on their own!). If using the black and white page to be colored in, you can cut out now or * for younger artists * let them color/decorate, then cut out (seems to work a bit better for small hands).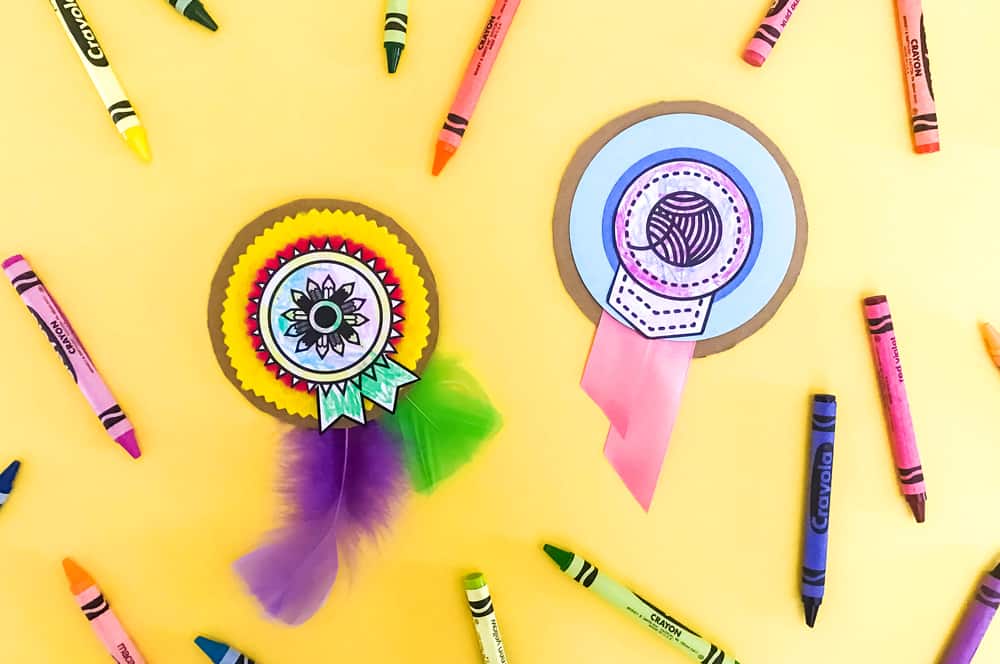 That's it! You can use the page with the dotted lines as a "collector" page or just let kids accumulate badges in your own creative way!
Other Ideas for Use:
Create a week or month-long art challenge – for your favorite little, the whole family, or a classroom!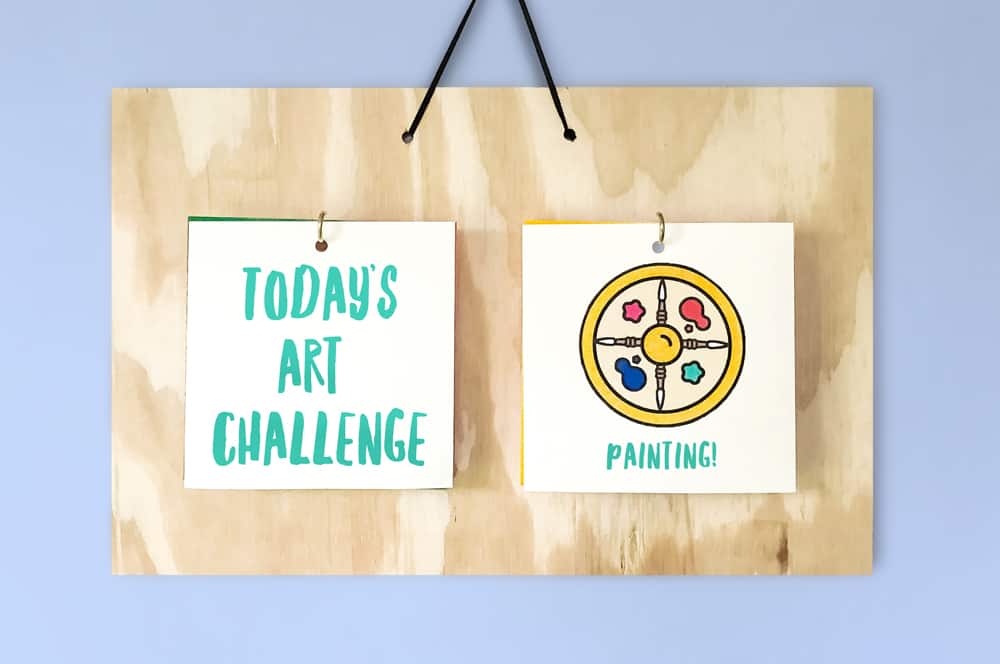 Use a self-laminating sheet to easily create reusable badges – or glue a pinback on for a wearable badge. Make your own art charms for a mega-reward lapel pin set, necklace or charm bracelet – just print on shrink film, cut out and bake! Or just make a fun set of stickers as we did!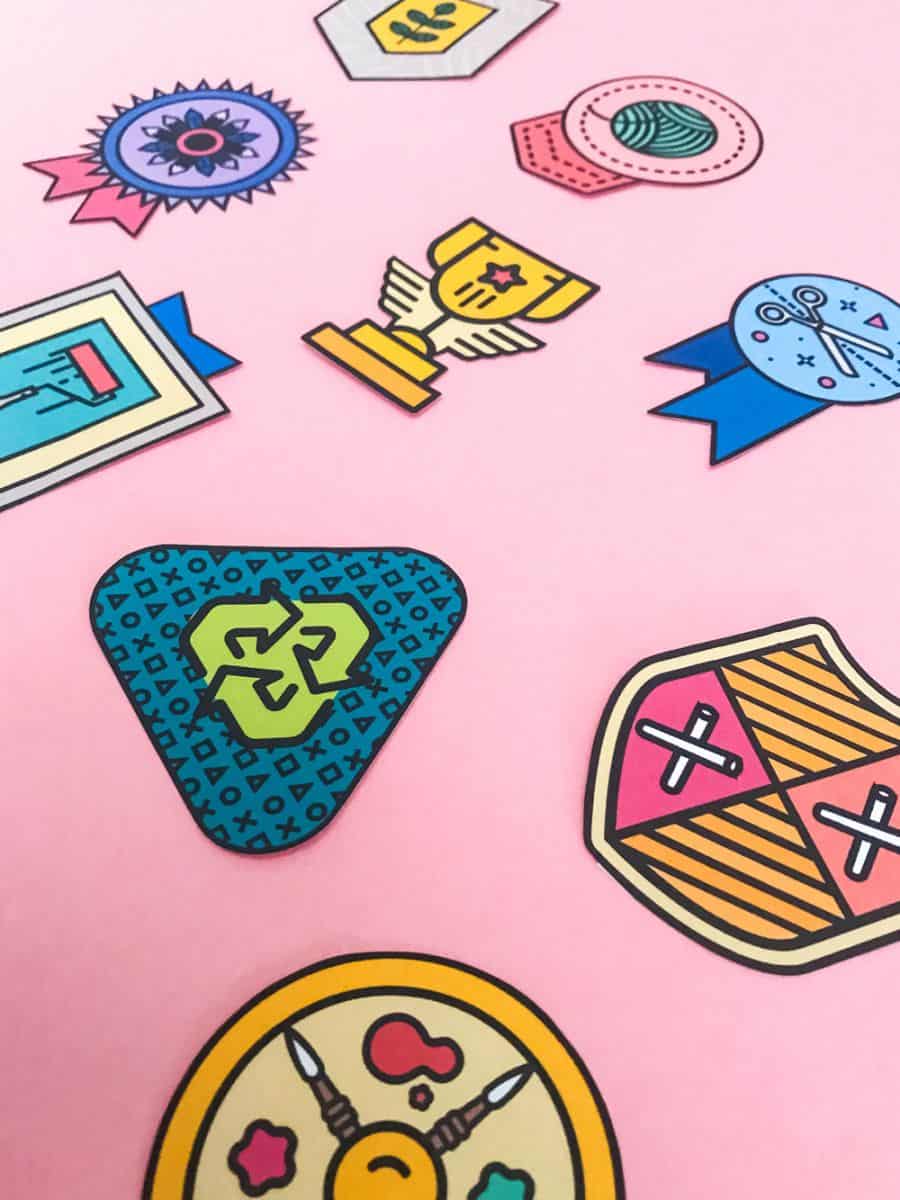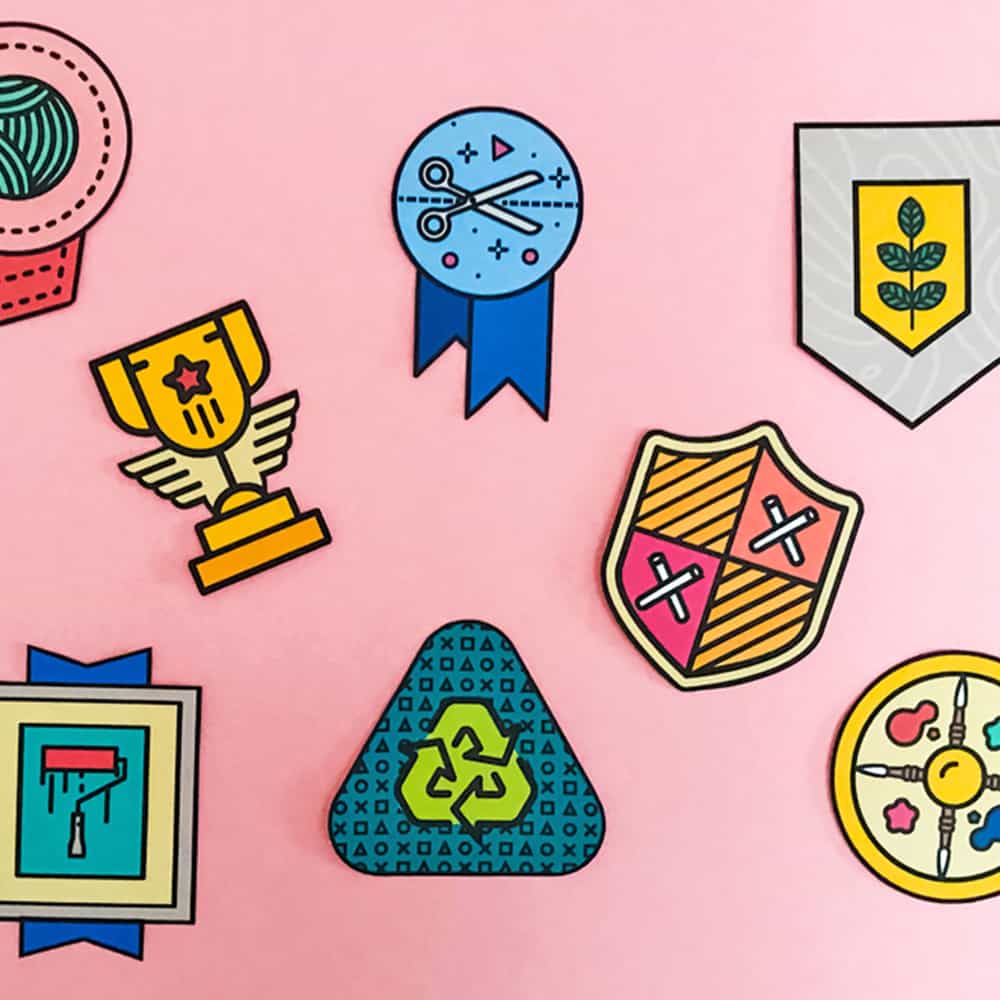 What are some fun ways you encourage kids to create? Check out TONS more creative projects for kids HERE!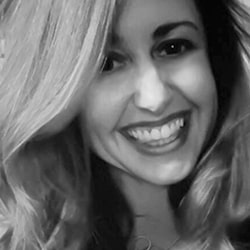 Amanda Eldridge is the Managing Director and Lead Designer at barley & birch. Driven by carbs, coffee and a passion for cultivating imagination, she aims to help families discover their creative potential and be inspired to generally make the world a better place through art, play, adventure, activism, conservancy and community. When not tinkering with ideas, designs and projects for barley & birch, Amanda enjoys working as a modern art curator and managing her own small design business. Beyond work, you'll likely find her playing mom to Thor – her ginormous Golden Retriever, reading a new book, or traveling anywhere she can. For more fun projects and printables, you can explore the barley & birch blog or follow b&b on Instagram, Facebook and Pinterest.
______________________________________________________________________________________________________
Disclosure: Some of the links in the post above are "affiliate links." This means if you click on the link and purchase the item, we will receive a small affiliate commission. Regardless, we give our promise that we only recommend products or services we would use personally and believe will add values to our readers.