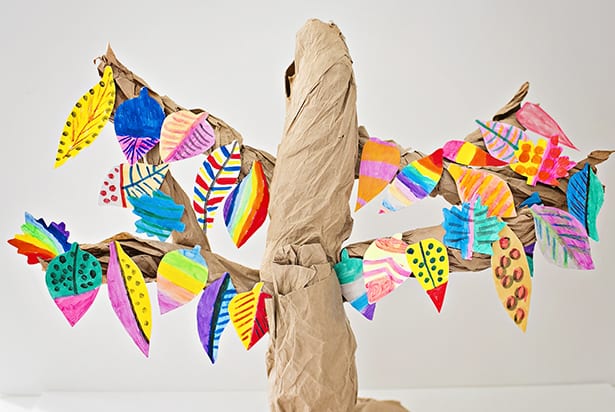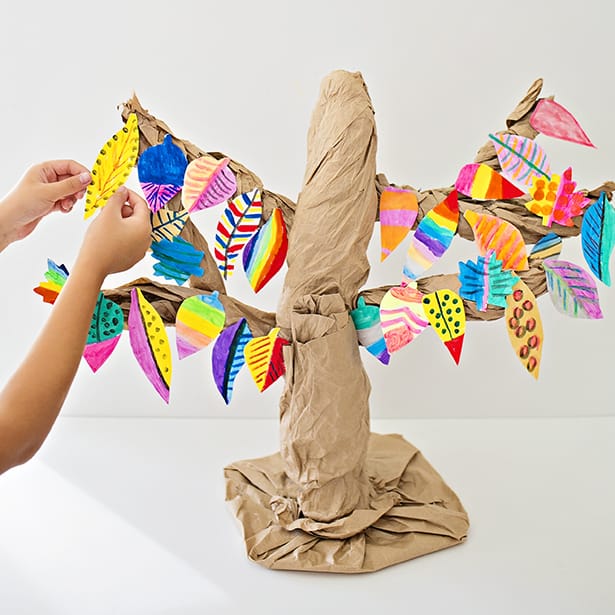 This post is sponsored by Kwik Stix. All opinions are my own.
Starting September, you can find Kwik Stix at Michaels, Walgreens, and BJ's Wholesale.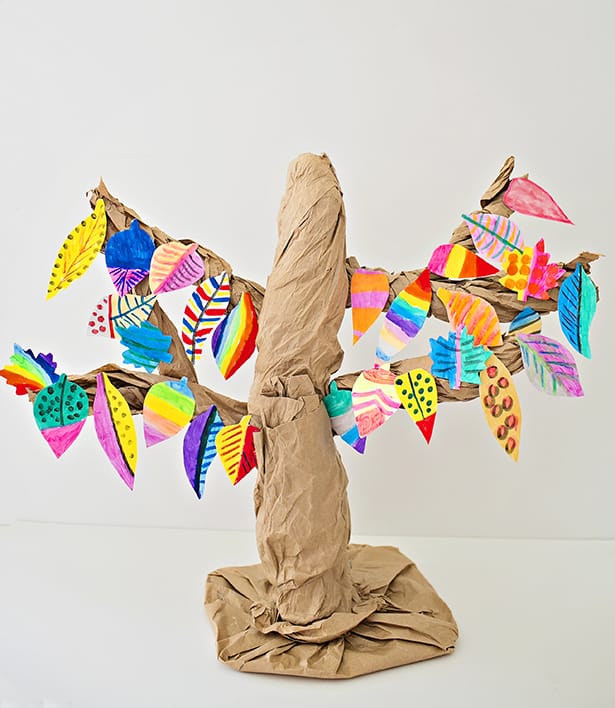 Are you already seeing fall leaves and autumn weather in your part of town? We're still experiencing some residual end of summer weather, but that's not stopping us from enjoying fall! Celebrate the change in season with this beautiful fall tree and painted leaves kids can create.
You don't need much to make this gorgeous fall art project for kids. Kids will love twisting brown butcher paper to create a tree, branches and painting leaves. For the leaves, we used our favorite Kwik Stix paint markers (see our giant painted snowflakes) that come in brilliant neon, metallic and classic colors. These solid tempera paint sticks are perfect for little hands and dry in just 90 seconds. We're excited to see them in a new skinnier Thin Stix size for finer details.
We also created a free printable template for leaves (see below) so all you have to do is print them out and start painting!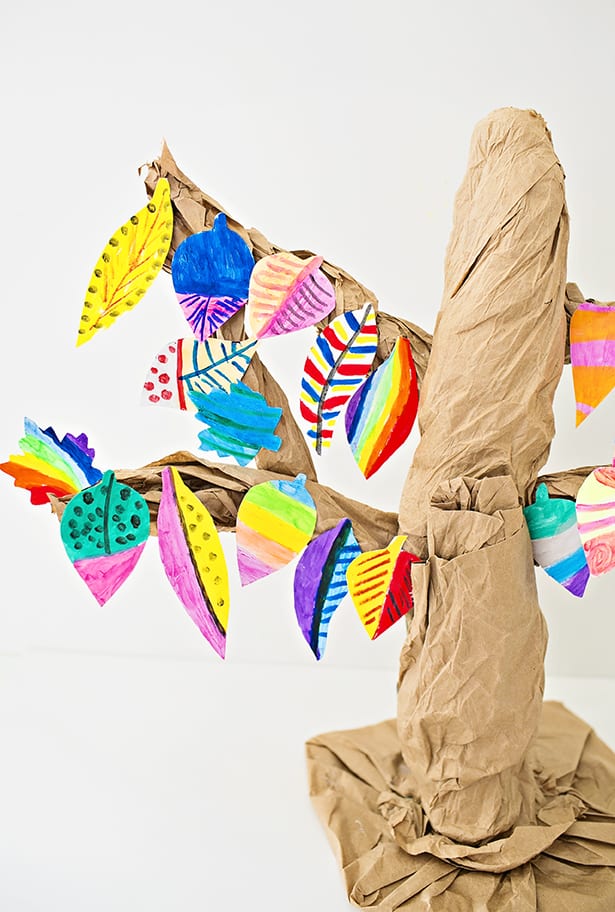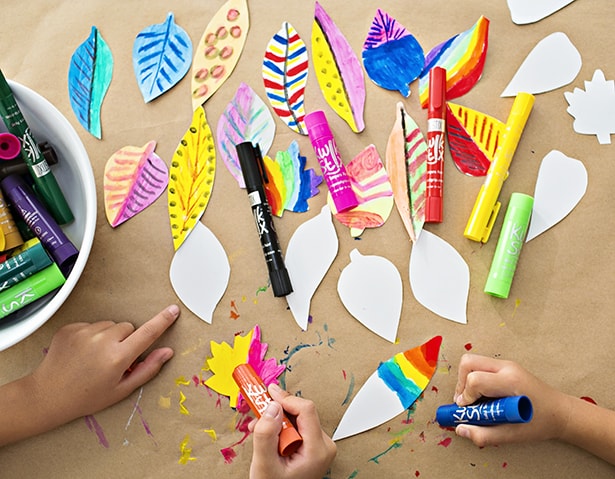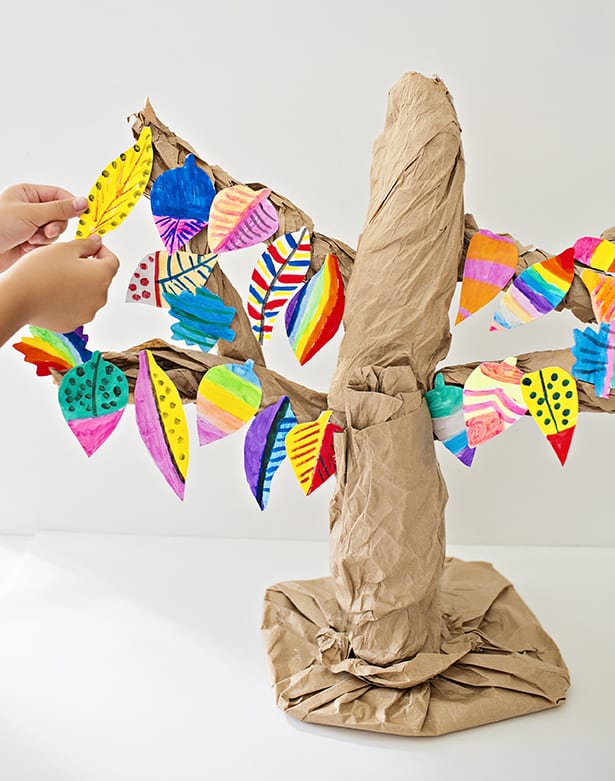 Fall Tree and Painted Leaves Art Project – Materials:
TREE:
– Brown butcher paper
– cardboard tube, strong tape, hot glue gun
– Piece of cardboard for tree base
LEAVES:
– White cardstock
– Leaves printable (download free template right below)
Click Here to Get Your Free Printable
– Kwik Stix and Thin Stix
– Scissors
– Glue dots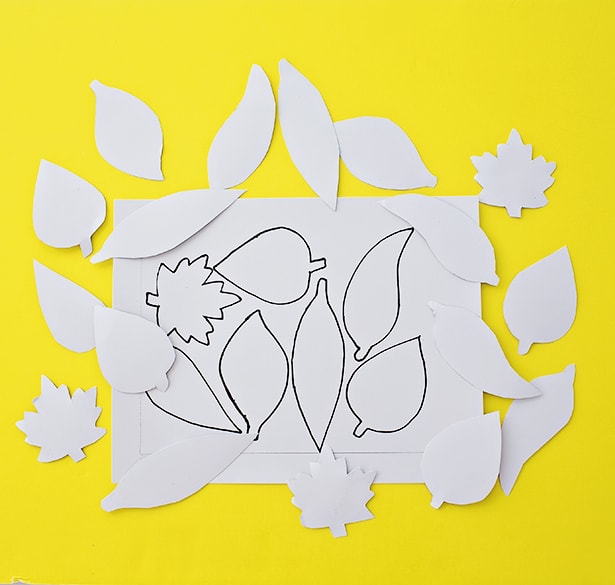 Instructions:
CREATE THE TREE:
Step 1: Grab brown butcher paper and wrap around your cardboard base and twist upwards. Depending on how tall or thick your tree is, you may need to hot glue a long cardboard tube behind for support (which what we did).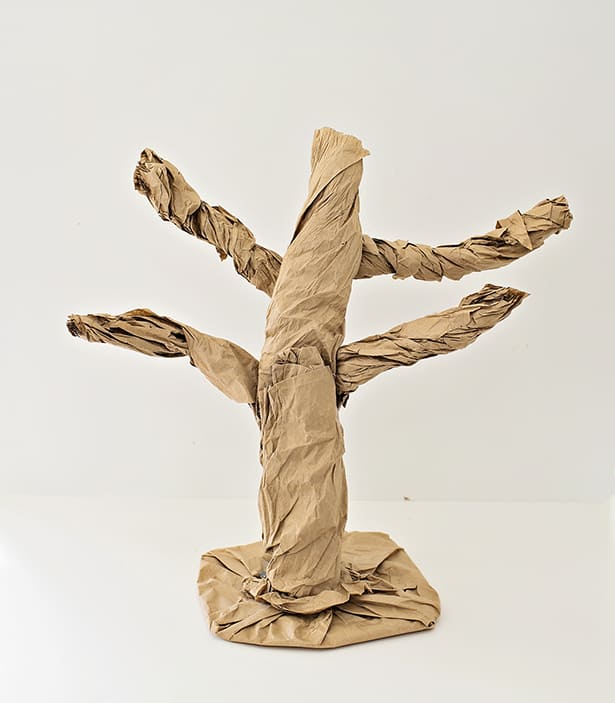 Step 2: Once you have your tree trunk, you can twist butcher paper to make branches and hot glue them to the trunk. Use strong tape behind the tree branches to keep them secure.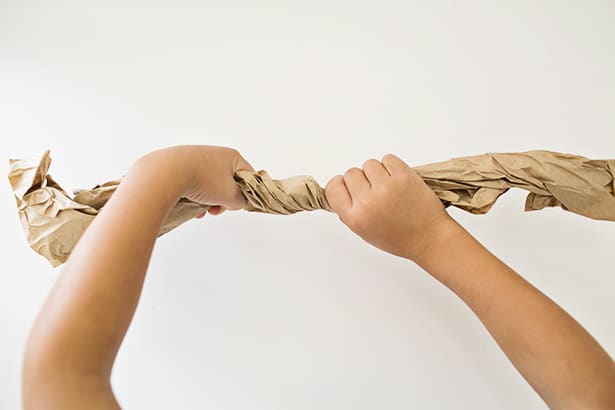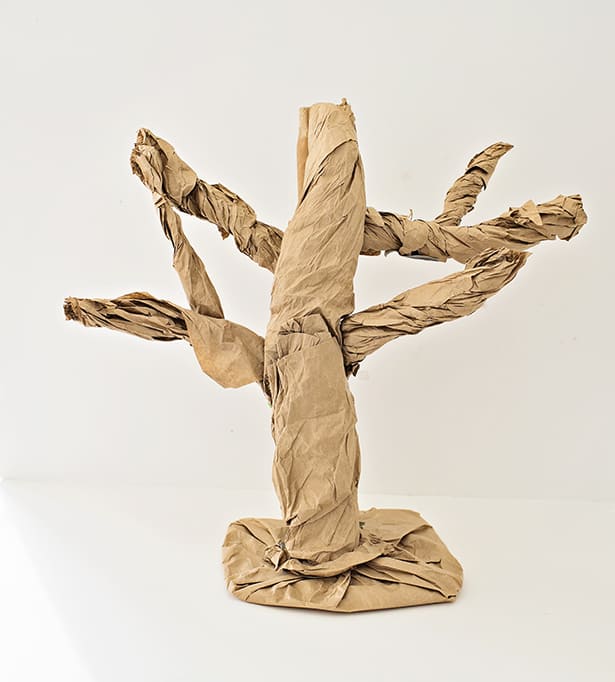 PAINTED LEAVES
Step 1: Download the free printable leaves template, print and cut several leaves out with white cardstock.
Step 2: Lay out Kwik Stix and Thin Stix out for kids to paint the leaves.
Step 3: Use glue dots to attach the leaves to the tree.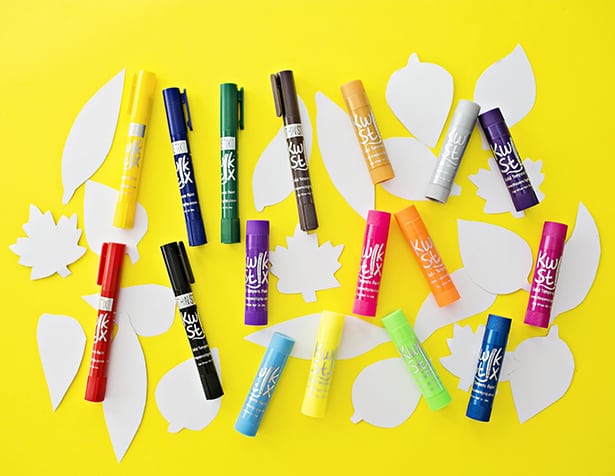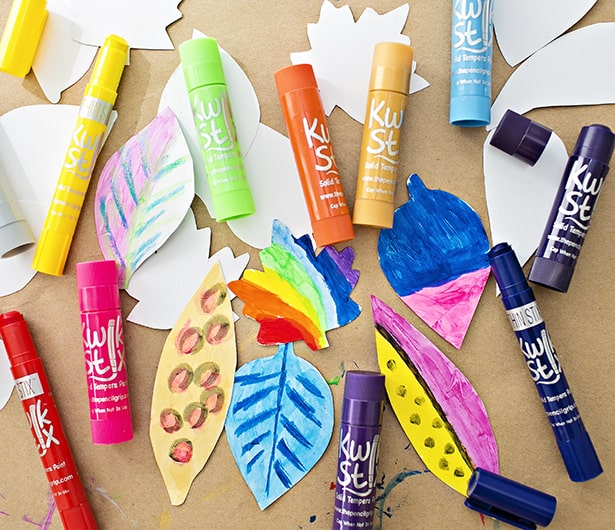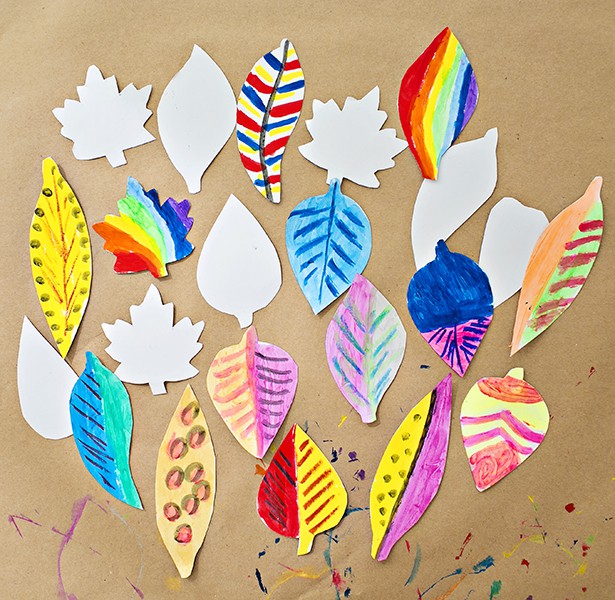 The kids did such a good job and each leaf is so unique and colorful! To give you some ideas, you can make stripes, dots circles, shapes, blend colors, create color patterns (like rainbow).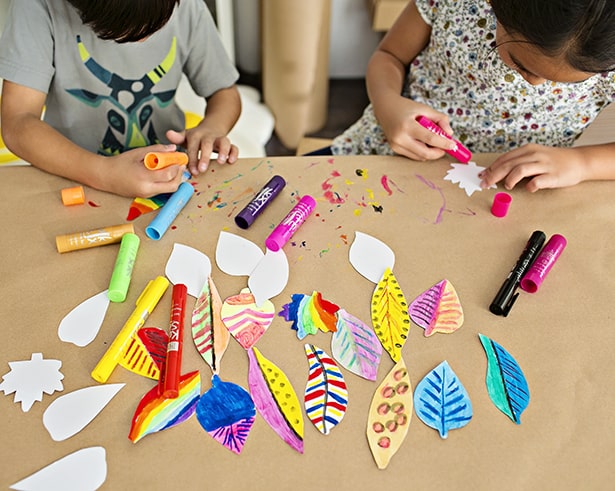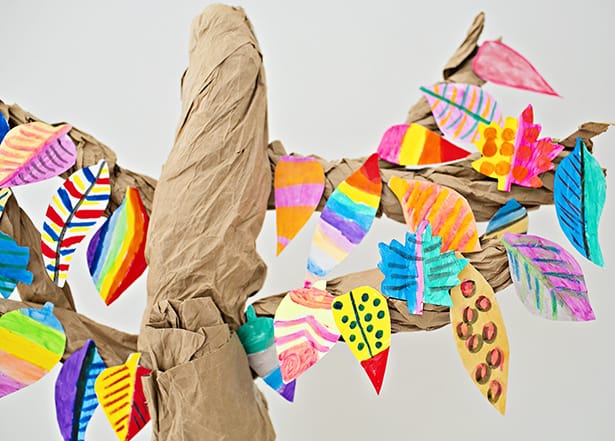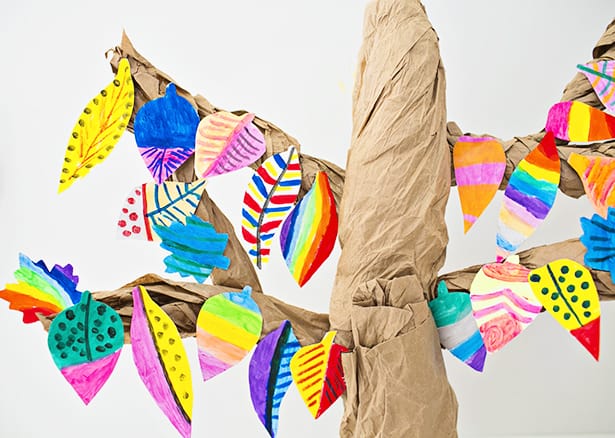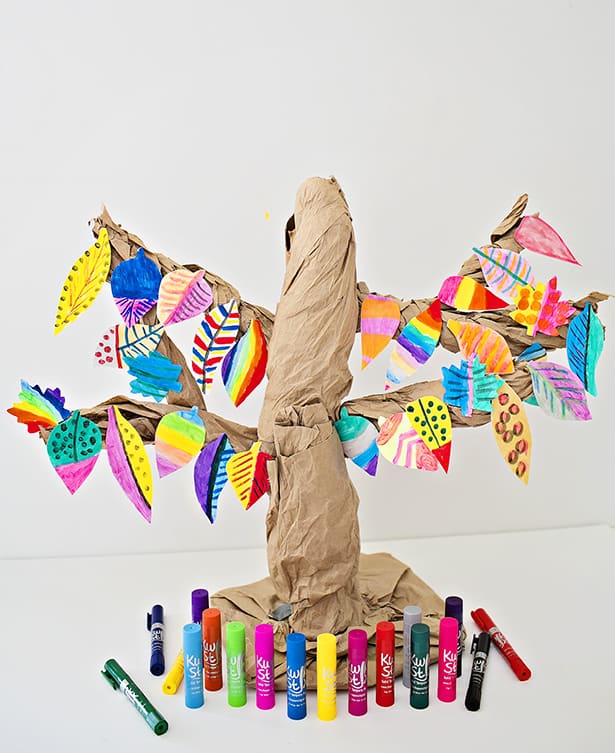 We love our beautiful arsty fall tree and painted leaves!
Starting September, you can find Kwik Stix at Michaels, Walgreens, and BJ's Wholesale.
How are you celebrating Fall with the kids? Check out more beautiful fall tree projects and painted leaves!
______________________________________________________________________________________________________

Disclosure: Some of the links in the post above are "affiliate links." This means if you click on the link and purchase the item, we will receive a small affiliate commission. Regardless, we give our promise that we only recommend products or services we would use personally and believe will add values to our readers.