This post is sponsored by Tum-E Yummies. All thoughts and opinions are my own.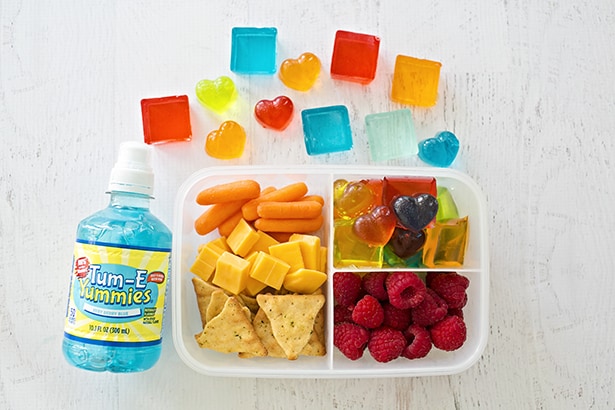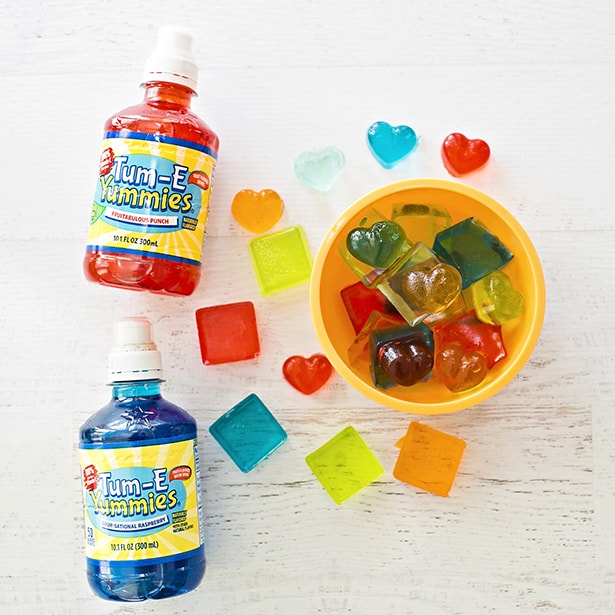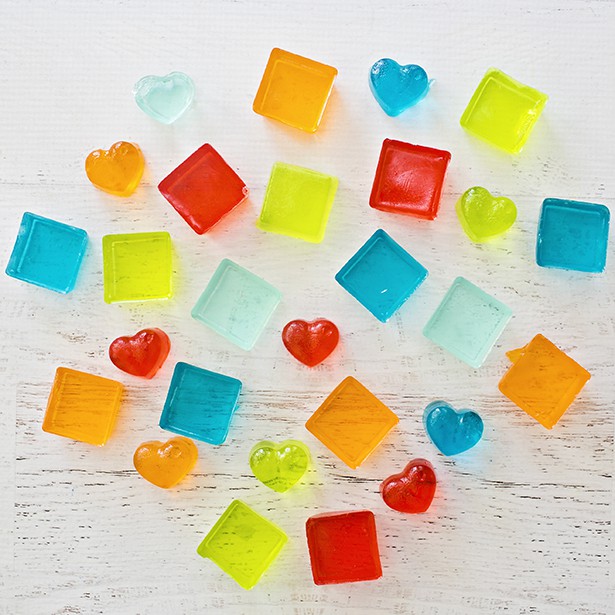 Back to school is in session and full swing over here. Both kids went back mid-August which seems early as I've heard some schools start after Labor Day. We've had to get our lunchbox routine back in gear. I always like to try a couple of new lunchbox recipes that will surprise and delight the kids.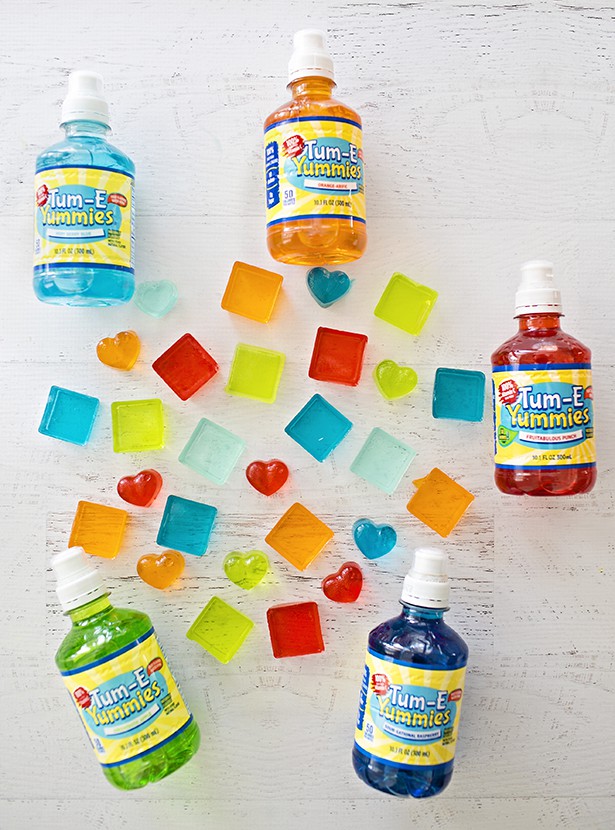 If your kids like fruit flavored snacks, they'll love these fruit flavored gummies made with Tum-E Yummies. The best part is they're a breeze to make requiring just the Tum-E Yummies vitamin water and gelatin. The fruit flavored water come in flavors kids love (like Very Berry Blue, Greentastic Apple, Fruitabulous Punch, Orange-arific, and Sour-sational Raspberry). Plus they have 100% daily recommended value vitamin C, B6, B12, and only 13 grams of sugar.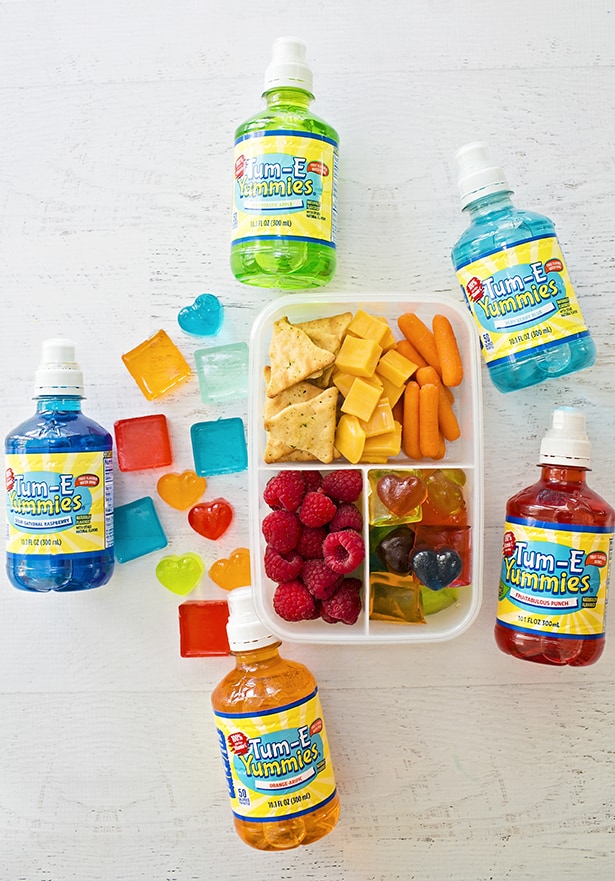 My kids are big fans of drinking Tum-E Yummies with their meal or when they need to stay hydrated (my son's favorite is the Sour Raspberry flavor and daughter the Punch flavor) so I thought to mix things up, I'd create gummy shapes out of them to serve as a lunchbox treat.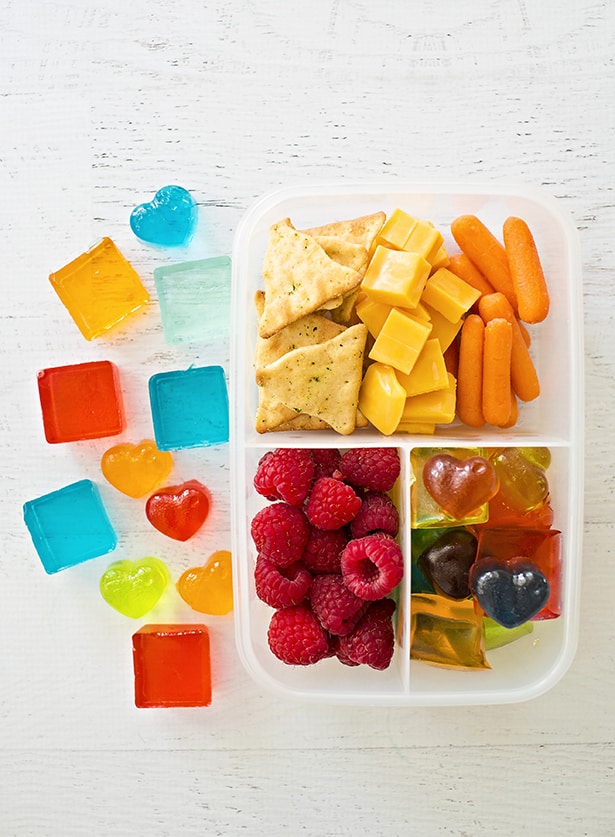 Check out how easy these fruit flavored gummies are to make below!
Fruit Flavored Gummies – Ingredients and Materials:
– Tum-E Yummies fruit flavored water beverage (we used Very Berry Blue, Greentastic Apple, Fruitabulous Punch, Orange-arific, and Sour-sational Raspberry)
– Gelatin powder
– Silicone molds (we used squares and hearts)
– Cooking spray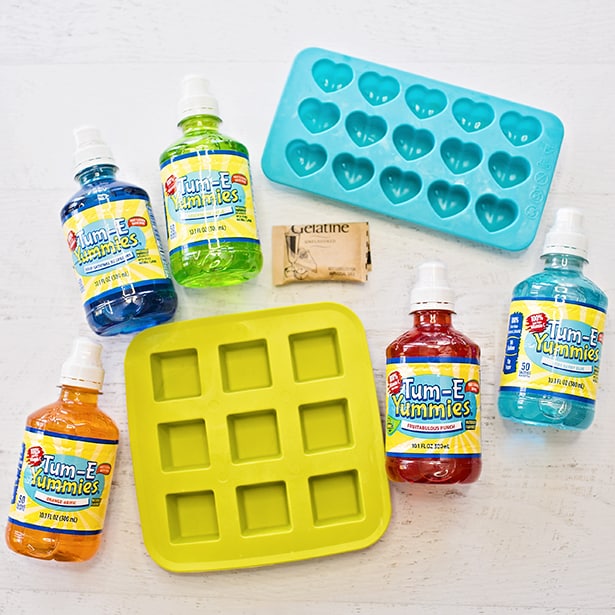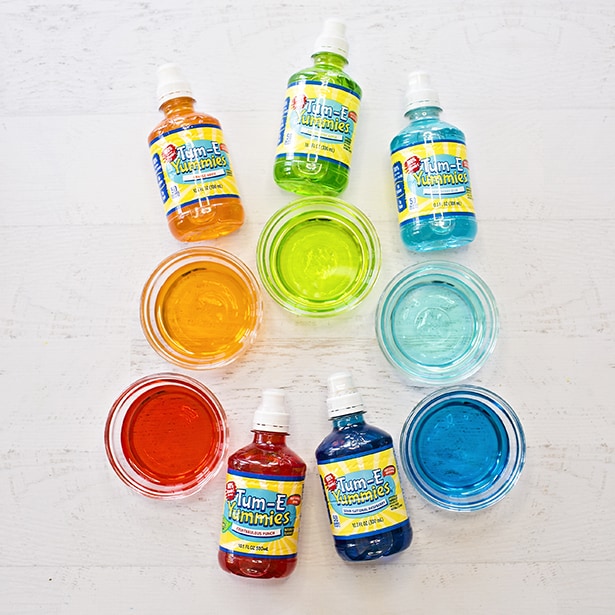 Instructions:
Step 1. Lay out your Tum-E Yummies Waters, molds, spray, gelatin and small bowls per each flavor.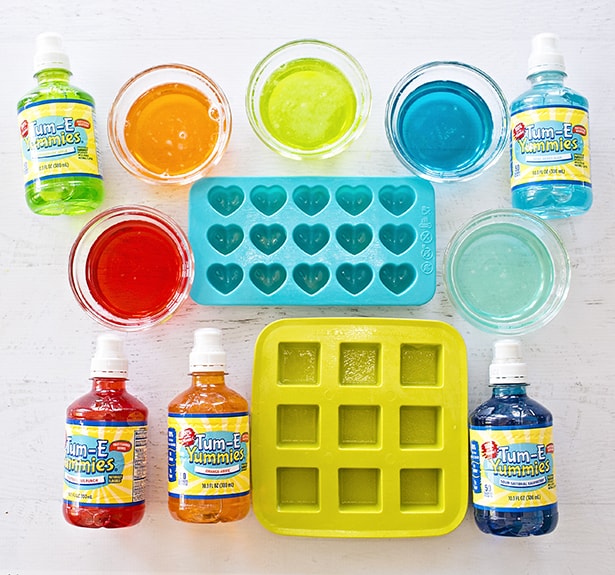 Step 2. Use 1/2 cup fruit flavored water along with two teaspoons of gelatin. You'll want to pour the water into a microwave safe small glass bowl, heat for just 30-40 seconds. Remove, stir and lightly sprinkle in two teaspoons of gelatin, stirring and mixing in constantly as you're sprinkling so the gelatin does not clump.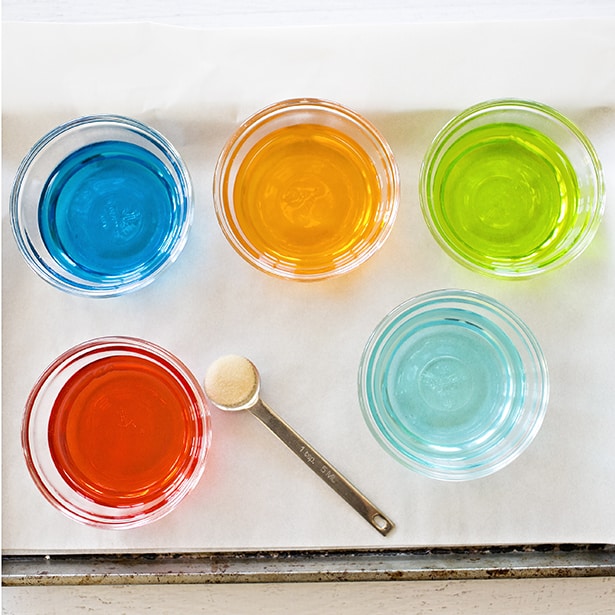 Step 3. Let the mixture cool for a few minutes. Lightly grease your silicone molds (I found that helps them pop out easier) and carefully scoop your liquid/gelatin mixture into the molds.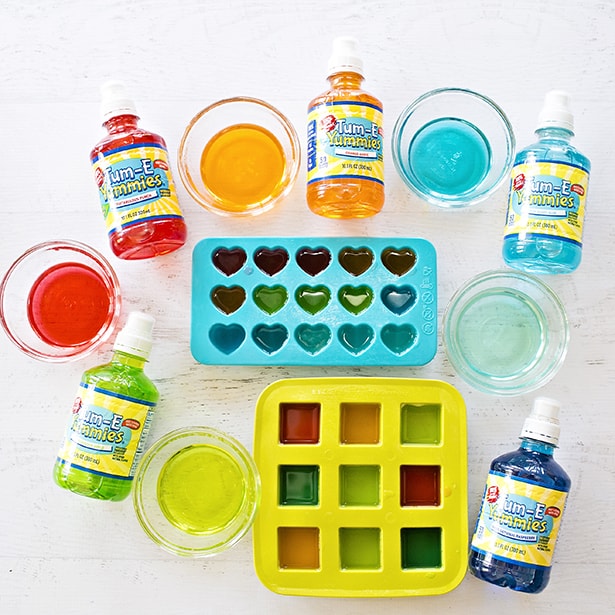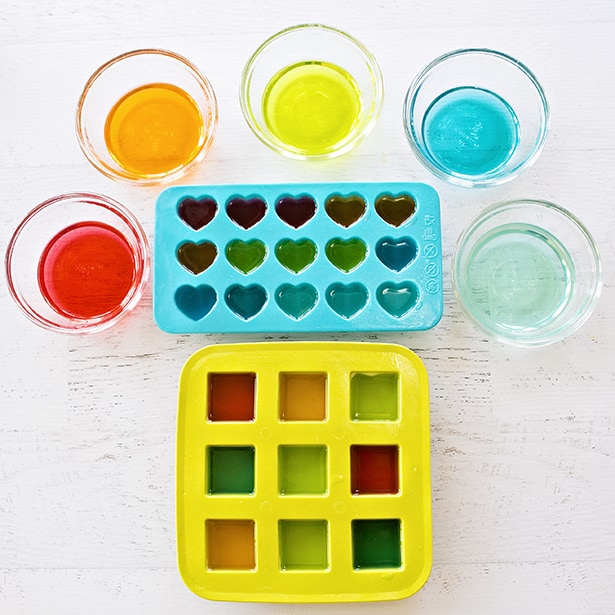 Step 4. Repeat for all flavors. Remember to use the ratio of 1/2 cup liquid to 2 teaspoons gelatin.
Step 5. Refrigerate the molds for at least 2 hours.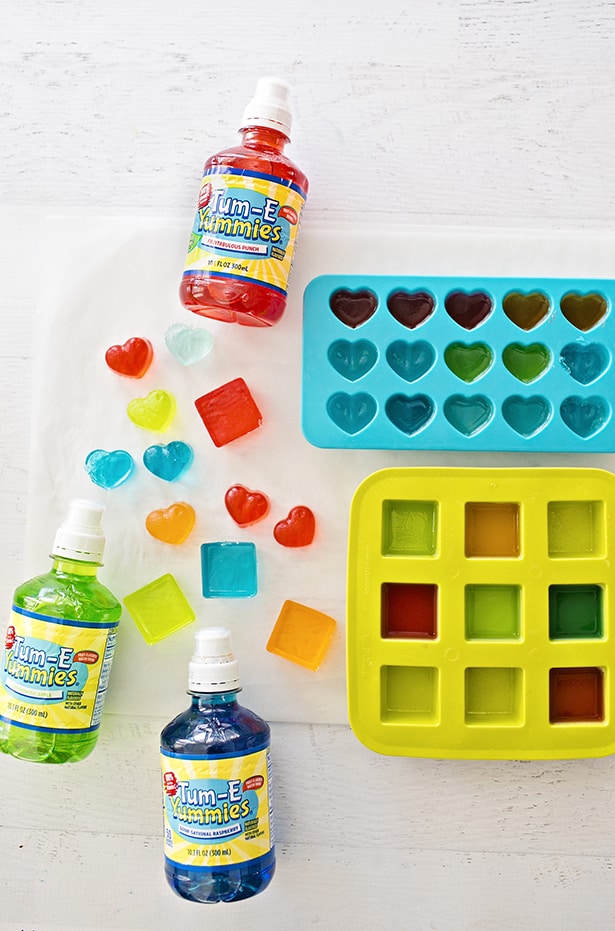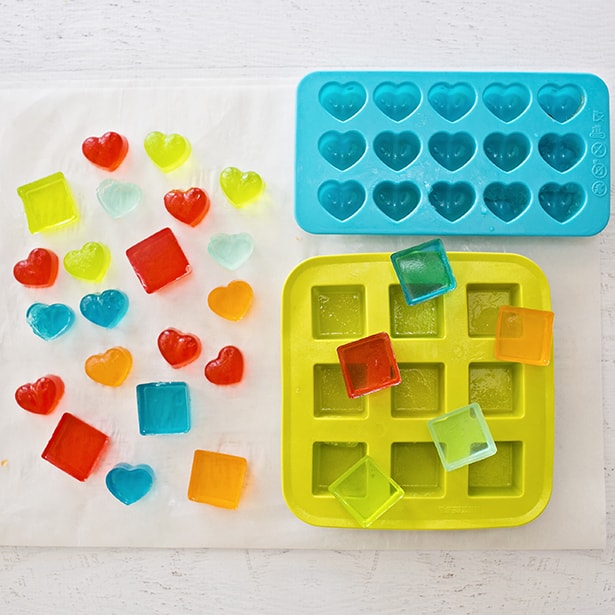 Step 6. Pop out the fruit gummy snacks and enjoy! Add these to your child's lunchbox as a fun treat that's not overly sugary, or let kids pop them into their mouths for a jiggly snack. My kids love the fun texture of these gummy snacks.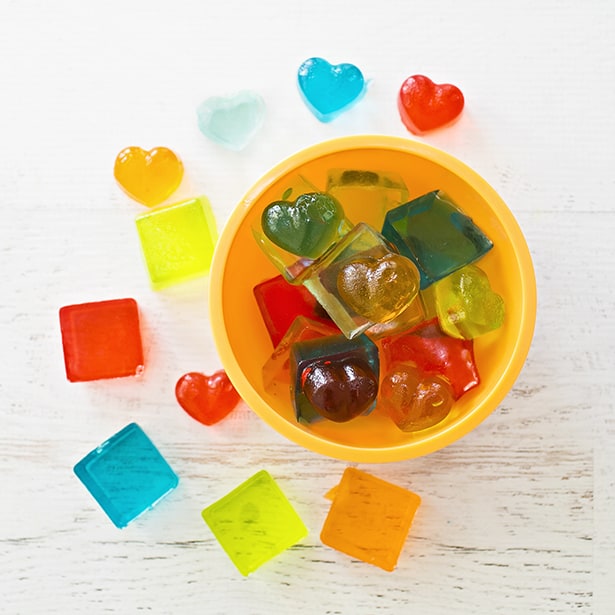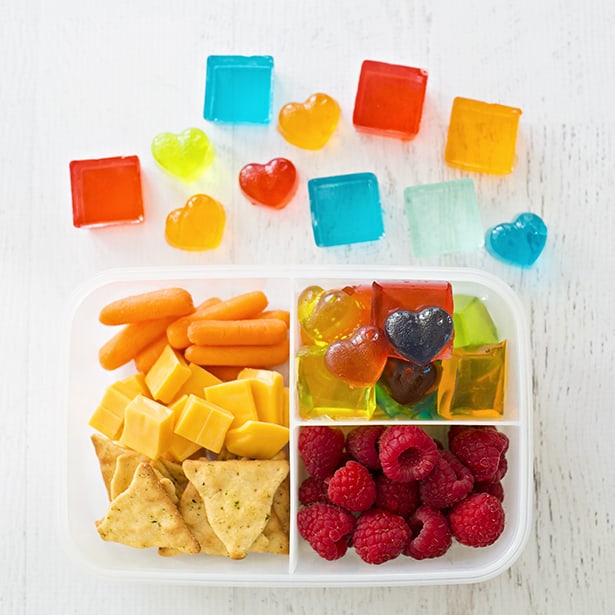 You can also pair your lunchbox with a Tum-E Yummies fruit flavored beverage to round out the meal. Make sure when packing lunch that you provide an ice pack on top of the lunchbox as the gummies are best eaten when cool so they stay firm.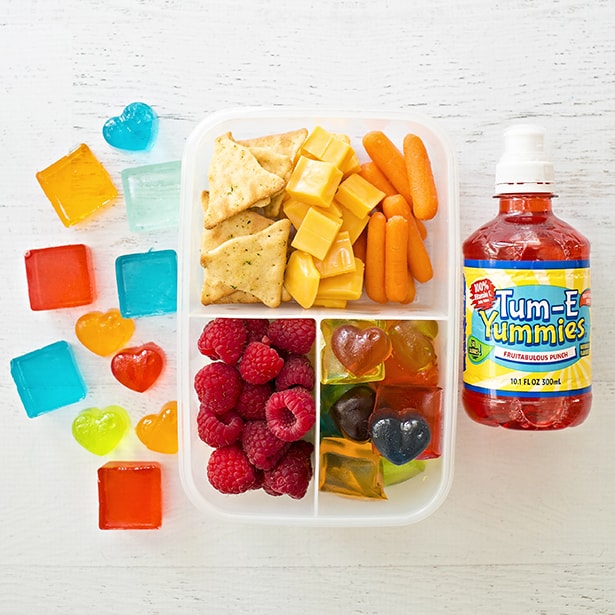 What are your favorite lunchbox snacks to pack kids?
For more fun activities, follow Tum-E Yummies on Pinterest, Instagram, and Facebook.