My very proud 3-year-old twins called out, "Mama, come and see what we did!" from their room and I walked in to see they had both spelled their names on their magnetic letter board. We all cheered with delight, high fived and took a photo. I couldn't believe it, they were only 3, I hadn't taught them how to spell and they had never been to preschool or daycare. Kids interests vary wildly at this age – if they are interested in letters, there are so many great ways to incorporate them into the home.
Combining learning with decoration is top of many parents' wish lists. As an interior decorator for children's spaces, I often get asked to include a child's first letter or name in their room design, partly for fun and also to encourage learning. I love finding unique and fun ways to welcome this into children's spaces.
Here are 6 simple ways you can introduce letters into kids' spaces in a fun and fabulous way.
1. MAGNETIC BOARD & LETTERS (via Winter Daisy)
Simple, functional and cost effective. You can buy a magnetic board, use a baking tray or oil drip pan and paint it in any colour you like! Put two together to create the perfect play board for little hands to work kinesthetically with the alphabet. This is a great way to get kids moving the letters around while seeing instantaneous results in the words they create. Try a whole wall of sheet metal to make a magnetic board that will grow with your little one – not only fabulous for letters while they are young, but equally versatile for hanging art and other treasures from school as they grow.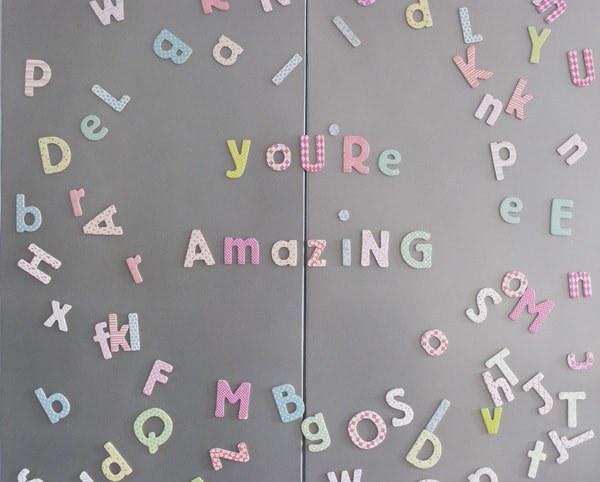 2. FOAM LETTERS (via Amazon)
Perfect for the kids' bathroom and travel alike, this adds a new dimension to bath time. Foam letters are so versatile and stick perfectly to tile when wet. You can also use them in a sensory tub with water or sand – our kids have loved playing with foam letters from 18 months old.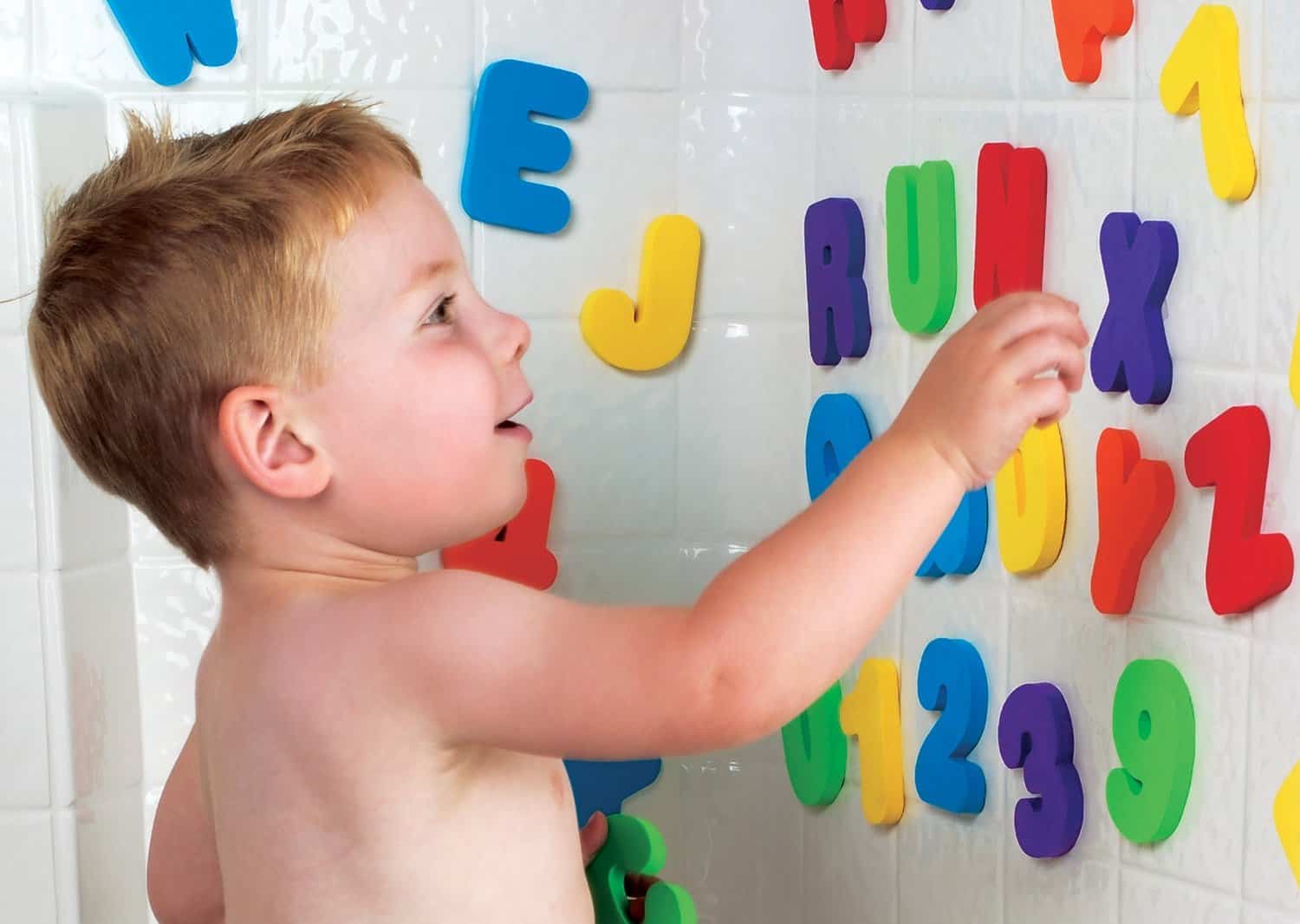 3. MONOGRAMED ITEMS (via Play Chick Interiors)
Only a few short years ago, monogrammed items were hard to find and only for those with a luxury budget. Thankfully, you can now buy nearly everything with custom lettering for a fraction of the cost.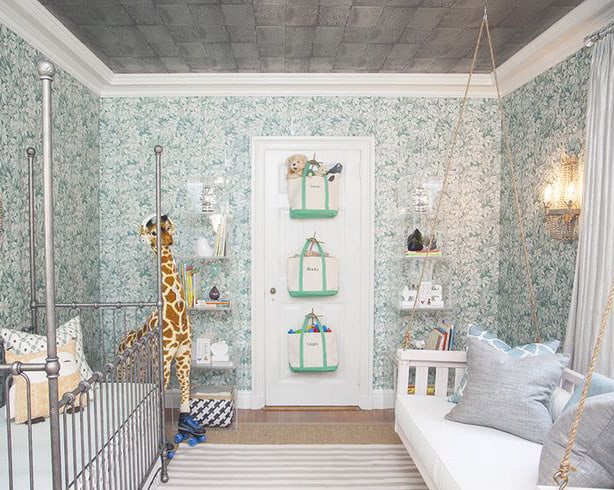 Pillowcases (via The Crafty Minx) – we received pillowcases for a 3rd birthday gift. It made bedtime fun. Kids LOVE seeing their names written on their items.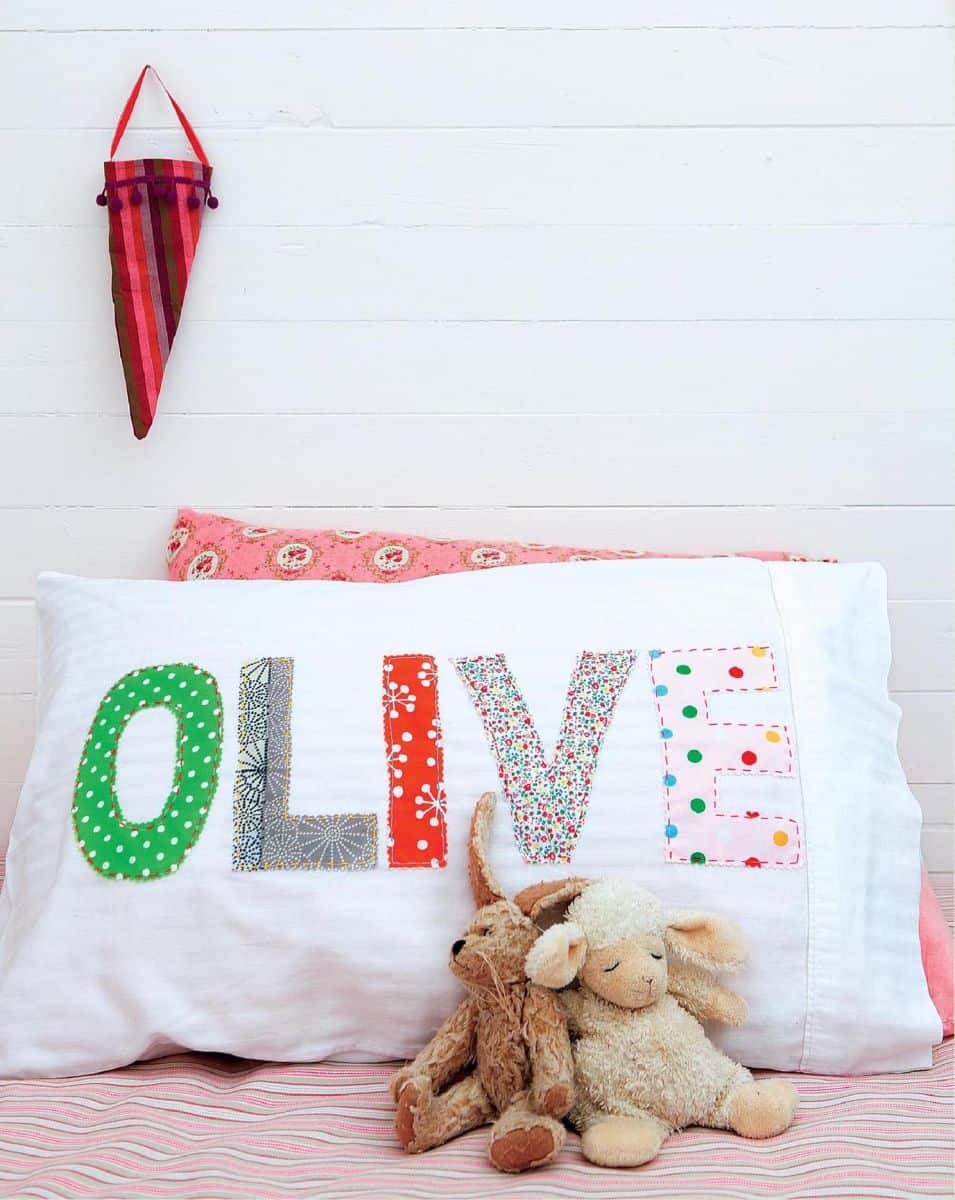 Wall hooks – Super handy for the entryway or bathroom, wall hooks with initials for each member of the family create an easy to spot place for backpacks, coats and a great way to distinguish who's towel is who's.
4. DECALS (via Rosenberry Rooms)
Whether renting or simply wanting to introduce designs that can be changed quickly, alphabet decals are a fantastic way to introduce letters into a play space at home. Mimicking what teachers have known and used for years, having the alphabet on the wall – front and center – encourages children to think about letters and use them in play.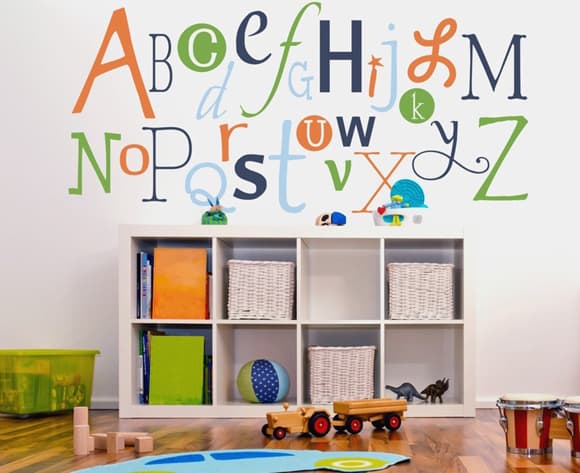 5. FELT/FABRIC (via The Purl Bee)
An easy DIY…how about felt or fabric letters? Kids love to play with these! Felt letters can encourage early literacy learning in a fun way. Little ones can use these letters to spell their name, practice letter recognition as well as letter sounds. They can easily move them around, flip them over, and trace them with their fingertips. Play and learning rolled into one! Choose colours that co-ordinate with your nursery or toddler room and let the games begin.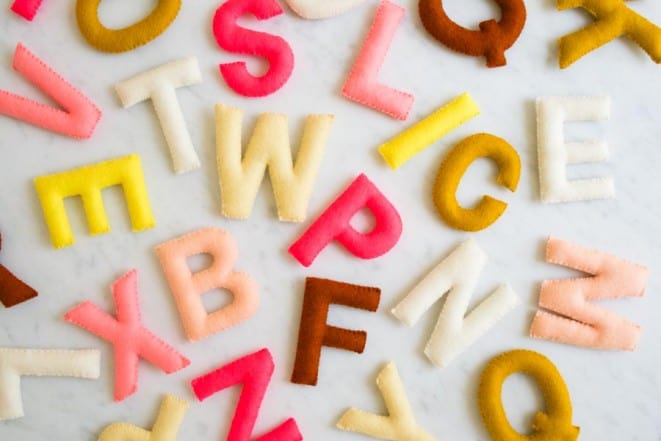 6. MARQUEE LETTERS (via Restoration Hardware)
Marquee letters are a great conversation starter. These oversized, bold letters have taken the kids design world by storm. Whether you choose something more vintage-inspired or opt for a DIY version not only do they add a little bit of Hollywood glamour and soul, but these lights will breathe personality into your space. Especially loved in play rooms, the bright lights and playful nature of the on/off switch invite kids to be entertained just by their presence. These come in dark or light options and make an especially great addition to a large, blank wall. Choose from a single letter, word or symbol and play games with the shadows they create before bedtime stories!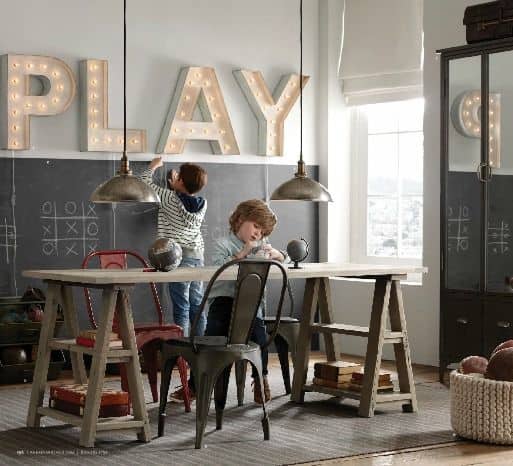 With the vast variety of products available, it really is so simple to include letters into a kids' space. Choose one of these 6 simple options and enjoy finding amusing and engaging solutions to incorporate them in your own way.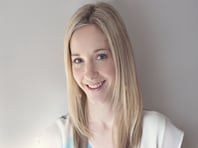 Melissa is the founder and interior stylist behind WINTER*DAISY, an interiors studio passionately creating dreamy spaces for children.
WINTER*DAISY's aesthetic is light, simple and serene with enough fun and function to invite any little one to explore, dream and grow. WINTER*DAISY offers both traditional and e-design services, to cater for little clients wherever they are! Melissa is the proud mama of 3 little ones and many of her recommendations come tried and tested. WINTER*DAISY's rooms have been published on Apartment Therapy, Project Nursery, Project Junior and Mom's Best, among others. Follow along with WINTER*DAISY on Instagram, Facebook, Pinterest, and Twitter.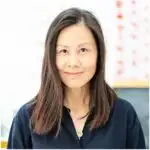 Agnes Hsu is a mom of three and has been inspiring parents and kids to get creative with easy activities and family friendly recipes for over 10 years. She shares her love for creative play and kids food to her 2MM+ followers online. Agnes' commitment to playful learning and kindness has not only raised funds for charity but also earned features in prestigious nationwide publications.