Are your suffering from food coma or do you have your shopping shoes on? Or rather your computer. We love supporting small artists and designers, so to make your shopping super easy this year, we've done the heavy lifting with this huge list of online small shops featuring amazing Black Friday/Small Biz Saturday/Cyber Monday deals. Why shop small? You're supporting someone's passion which always feels good and getting a well-made product with quality you can feel.


Do you know a small shop with an amazing deal? Drop it in the comments and let us know. We'd love to check it out!


P.S. We'll be updating this list through the weekend and Monday as new deals come in so make sure to bookmark this page and check back!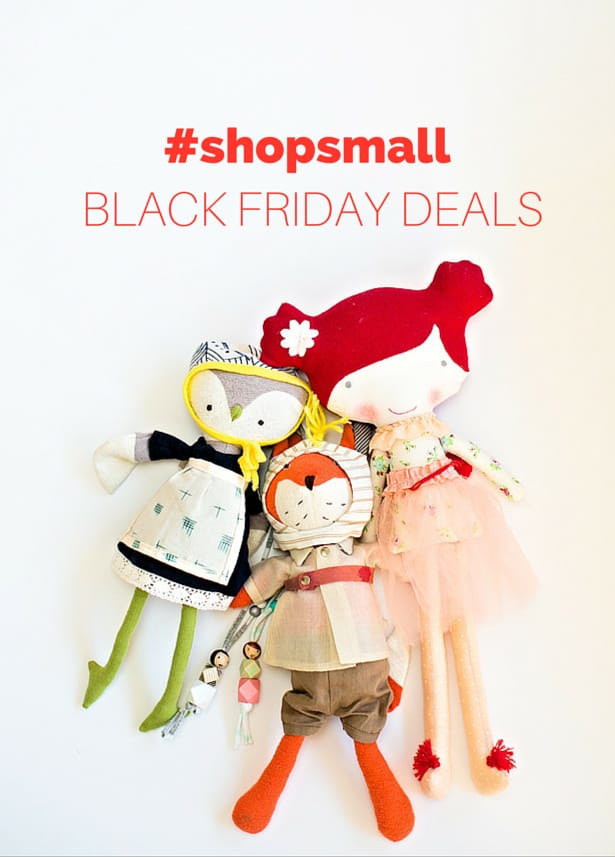 TOYS/CRAFTS/LEARNING MATERIALS:
PinkNounou – select sales items off under SALE
Imagine Childhood – 10% off and free shipping over $100 code shopsmall, 11/26
Rose and Rex – 30% off selected toys, no code needed, through 11/28
Tava Adventures – 40% off entire shop, through 11/28
Bear and Bud Bookclub – Free shipping all weekend long
Merrilee Liddiard Shop – Free shipping on dolls Fri 11/25
Hazel Village – Donating 10% of proceeds to shelter for women and families in New York for orders through 11/29.
Opposite of Far – 25% off code JIVESFRIDAY, 11/25
Bitsy Mermaid – 25% off code SALEWEEK16 through 11/28
Julia Staite – 15% code BLACK15, through 11/28
Bannor Toys – Free wooden puppy phone with orders $25+, 11/25
Ivy Cabin – 20% off sitewide code BLACKFRIDAY, through 11/27
Pipsticks – 50% off first month of sticker club code FANCYFRIDAY50, 11/25
Mermapillar Organics – 30% code BF30 through 11/27
Moon Picnic – 15% off code BLACK16, through 11/28
Little Miss Workbench – 30% off code mamamadeit30, through 11/27
Z Dough – 15% off code HANDMADEHOLIDAY, through 11/26
Shop Bitte – 20% off code BLACKFRIDAY2016, through 11/28
Start Creative – Free doodle book with each button subscription pack, through 11/28
Colette Bream – 25% off code YESPLEASE, 11/25
The Land of Nod – 20% + free shipping, through 11/28
LitJoy Crate – 25% off ALL subscriptions code SUBSCRIBE25, 20% off one time crates code ONETIME20
KinderGuides – 25% off all orders code BLACKFRIDAY, through 11/27
Kindergarten Toolkit – 20% off code LOVE20, all weekend
The Dotty Dough Factory – 10% off code BLACKDOTTY10, through 11/28
Cooper & Kid Kits – 30% off your first kit no code needed, through 11/28
The Littles & Me – 20% off code letscelebrate, through 11/28
KIDS FASHION
Polarn O. Pyret – 25-40% off select styles, free shipping code GETREADYPOP
Go Plae Shoes – 40% off select styles, through 11/26
Scout & Co – 30% off AW16 Clothes code PAINTITBLACK, through 11/28
OMAMIMINI – up to 40% off store + free shipping code SHIPIT on orders over $75
Wee Rascals – 25% off code Thankful25
Ziraffe – 40% sitewide, code blackfriday, through 11/28
Design Life Kids – 30% code GIVETHANKS16, through 11/28
Kewe Clothing – 25% off sitewide
Le Petit Organic – 30% off code BLACK30
Alfie Wild – 20% selected items code BFSALE
Shop Hello Sunday – 25% off code MERRY25, 11/25 only
Wee Monster – 30% off code TURKEYMONSTER, through 11/27
Gardner and the Gang – 35% off code BlackFriday35
Fig + Honey – 30% off BLACKISBACK
Wild Boys & Girls – 25% off code BLACKISBACK, through 11/28
The Tiny Collection – 30% off all tees, through 11/28
Bon Tot – 30% off code BONTOTFRIDAY, 11/25
O Darling Clothing – 20% off code BLACKFRIYAY20, 11/27
Kid and Kind – 30% off code BLACKFRIDAY
The Curated Tee – All remaining tees and onesies $10 including shipping
Jax & Hedley – 25% off sitewide
Fin and Vince – 30% off code BLACKFRIDAY
Primary – Free pajamas with $50 purchase code FAVORITEPJS
Oaks of Acorn – 30% OFF shop
Nicky and Stella – 20% off sitewide, 11/25
TINY + Faraway – 40% off, 11/25
Filanthropik Threads – 15% sitewide code BLACKFRIDAY, through 11/28
Vonbon – Spend $75 get $10 off code BLACK75, spend $150 get $20 off code BLACK150, spend $200 get $35 off code BLACK200
Amy & Ivor – 15% off code BLACKANDBEYOND, through 11/28
Mamoo Kids Bags – 25% off code BlackFriday2016, through 11/28
Hello Shiso – 15% off sitewide code JIVESFRIDAY, through 11/27
Beau Loves – 30% off shop
Coral and Cloud – 15% off code SATURYAY, 11/26 only
PARTY

Label Circus– 20% off code BLACKLABEL
Love and Lion – 30% off code shopsmall, 11/26
Raindrop Washi Shop – 20% BESTCUSTOMERS20, 11/26
The Confetti Post – All Party packages marked down through 11/28; free Teeny Parties with orders of $100 ($27 value)
Shop Sweet Lulu – 20% off shop code PINKFRI2016, 11/25, code shopsmall 11/26 10% off
Sausage and Missus – 25% off shop code BLACK25, 11/25
Oh Happy Day – 20% off code FRIYAY, 11/25
Posh Little Designs – 30% off code BEMERRY, through 11/28

HOME
Nobobobo Handcrafted Wooden Toy Boxes and Lighting – 20% off through 11/28
Doodlemoo Art Prints – 15% off code DOODLEFRIDAY, through 1127
House Inhabit Teepees – 15% off code inhabittepees15, through 11/28
Dylbug Meal Sets – 20% off code blackfriday2016, 11/25
Mini Learners – up to 60% off prints
Sarah Jane Studios – 25% off code GIVING25, through 11/28
Bibu Social – 20% off code BF20, 11/25
KidWild Collective – 30% off through 11/28
Gathre – 15% off code blackfriday, 11/25
Children Inspire Design – 30-50% off code BLACKFRIDAY50
Buddy + Bear – 20% off code TWENTYPERCENTY
Oh, Susannah – 25% off all items code HAPPYHOLIDAYS
Sprout and Sparrow – 20% off store code BLACKFRIDAY, through 11/26