Having little ones at home makes me realize that clever storage ideas are the key to keeping a semblance of peace and organization to the home. With the teeming amount of toys, trinkets, and art the kids bring home, there needs to be some way to store (or display) their keepsake treasures. Here are some unique storage ideas for the kid's room to give you some inspiration on how to keep those books and toys off the floor – and highlight your children's favorite toy of the moment.
Rainbow Shelves (via Land of Nod)
Here's a cute way to DIY some plain ledges to create an inviting color-coordinated collection of your child's favorite items.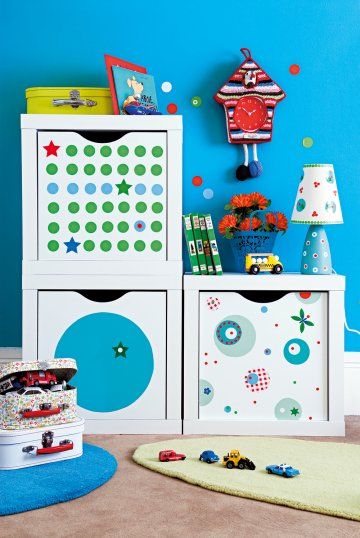 Decals on Crates (via Marie Claire Idees)
With so many fun kids' decals available these days, you could dress up plain inexpensive white crates and create your own brightly themed storage crates in a cinch.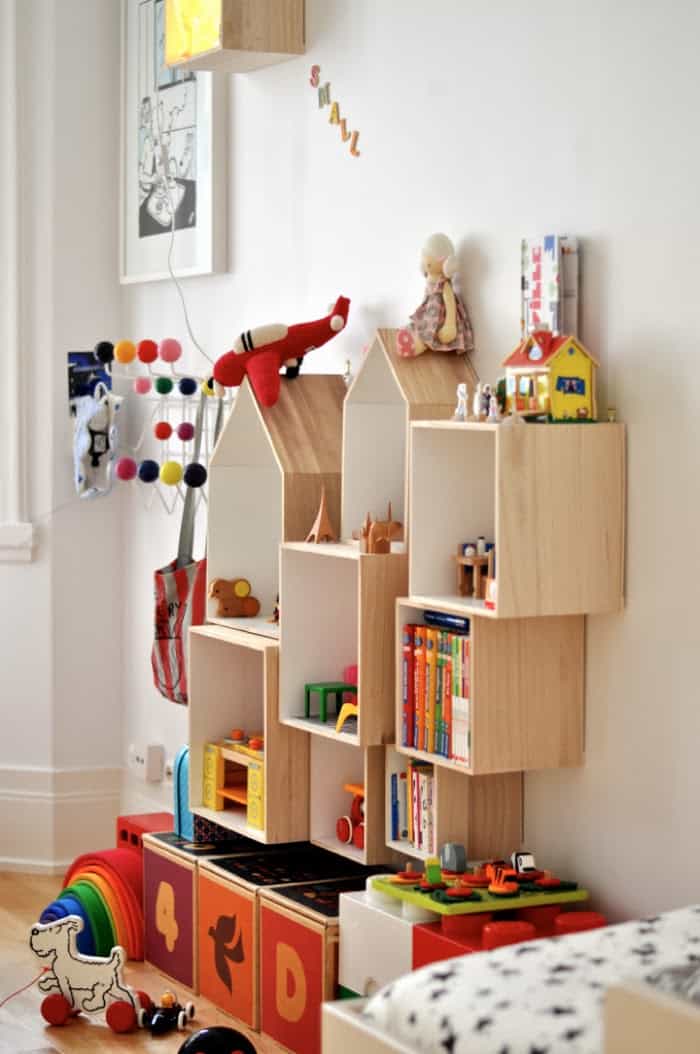 Wooden Crates on Walls (via RAFA Kids)
Rustic and modern at the same time, these wooden blocks and houses are simple and a playful way to show off your favorite toys and books.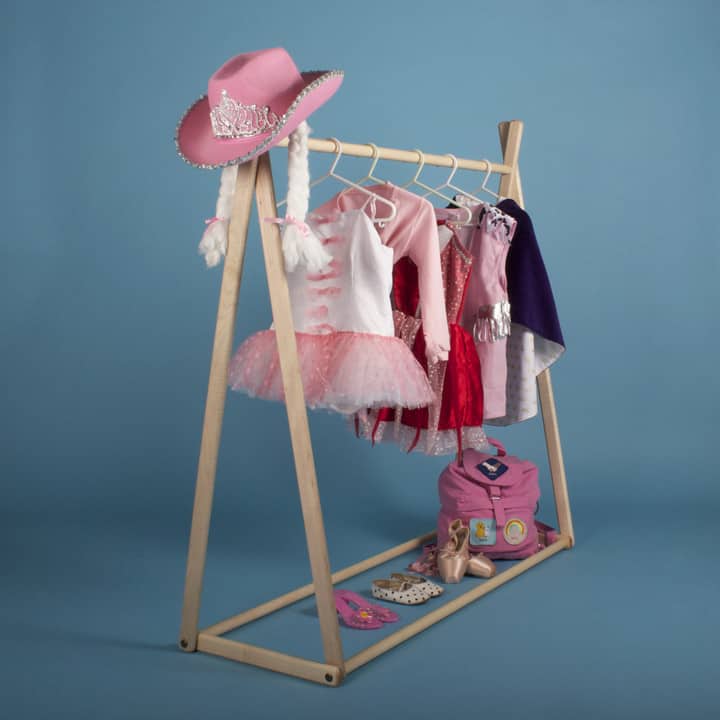 Dress Up Clothes Rack (from Such Great Heights)
Why keep the dress-up clothes and costumes hidden in the closet? These durable maple clothing racks are great for showing off those awesome pretend play clothes your kids love wearing.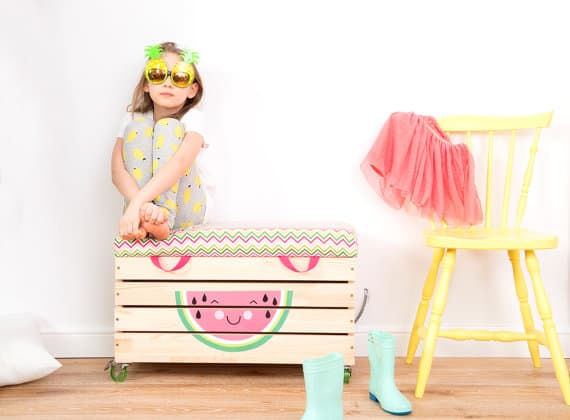 Handmade Wooden Crates (from NOBOBOBO)
These cute and modern toy crates give the kid's room a playful look and are functional for tucking away items off the floor quickly.
House Divider (via Mommo Design)
This folded house divider is a great space separator and creates an instant "room within a room" for creating a cozy reading or quiet play space.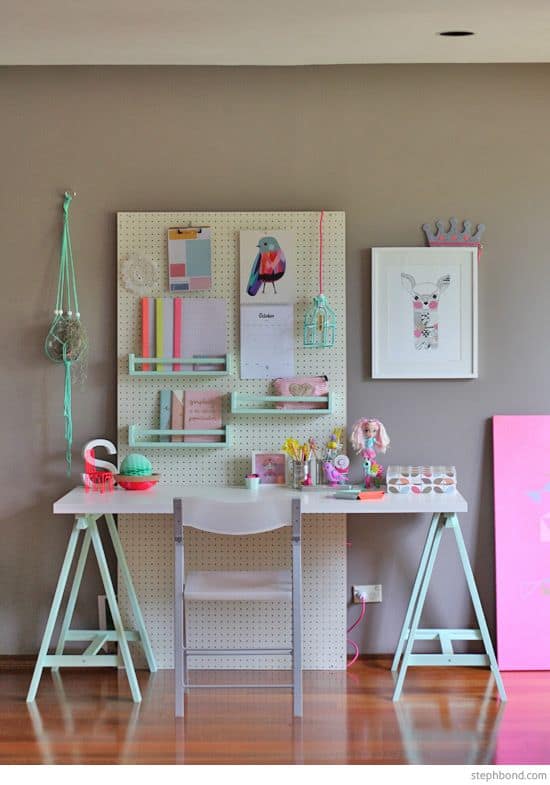 Pegboard Desk (via Petit and Small)
I love this idea for organizing a desk and school supplies in a neat, visual and contemporary way. You can DIY most of it yourself with inexpensive items from Ikea and add shelves to the board.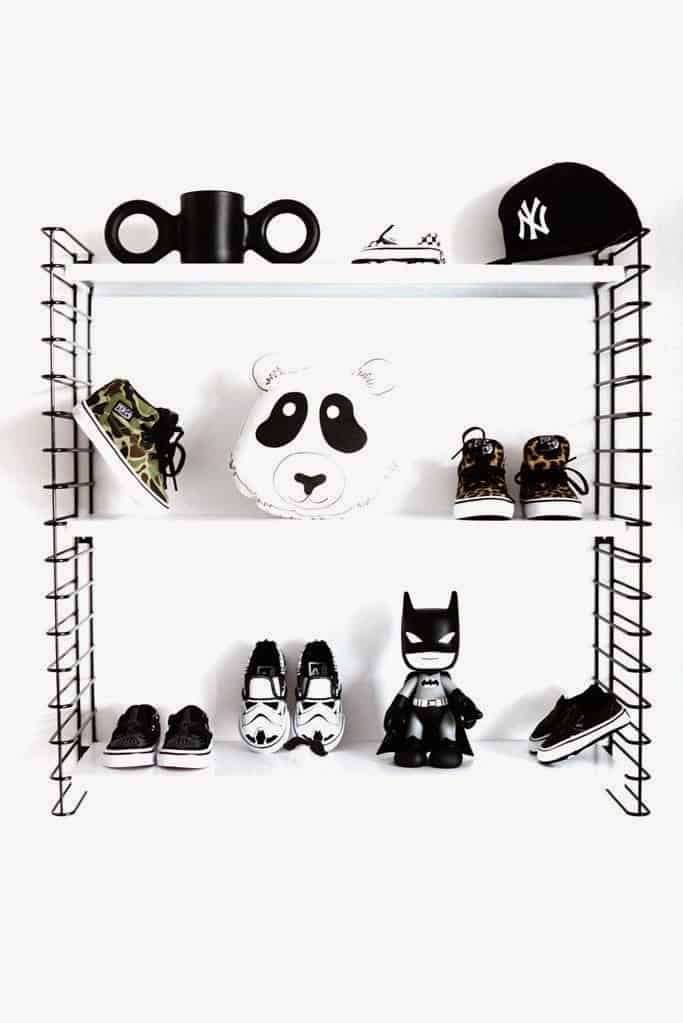 Wire Shelves (via The Boo and the Boy)
Keep it clean and minimalistic with these black wire shelves that can store anything from shoes to stuffed animals.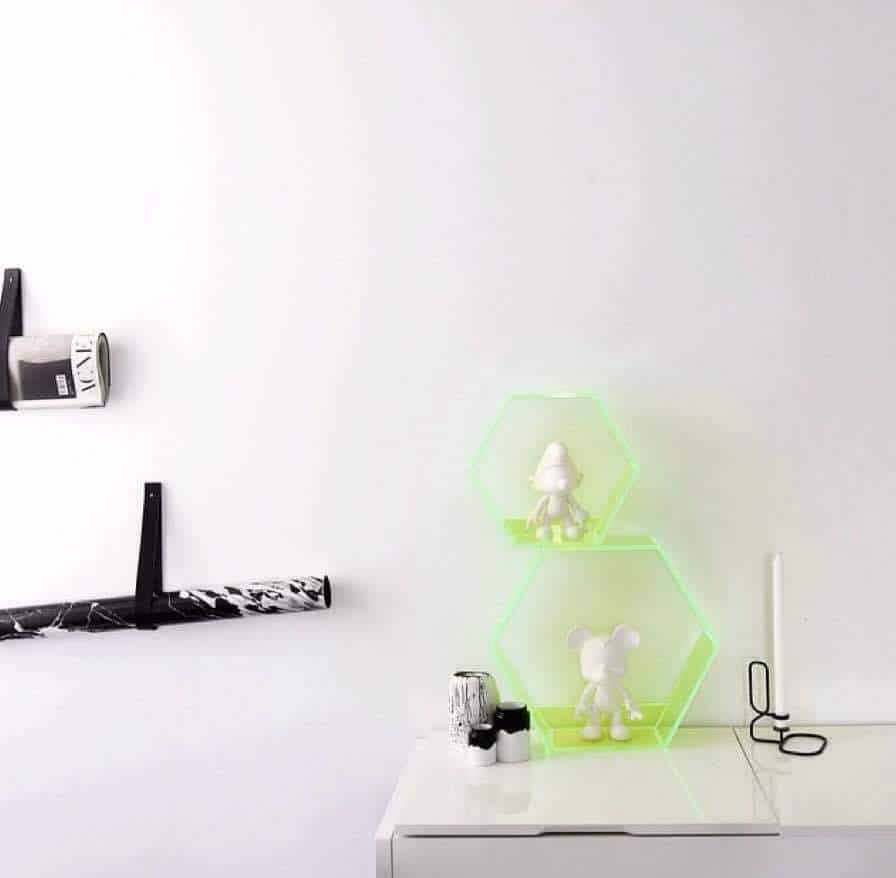 Acrylic Storage (from Mint Rhapsody)
If you're into contemporary design, you'll love Mint Rhapsody's line of modern acrylic shelves and dollhouses that can also be used to store and show off your kid's stuff.
Book Wall (via Handmade Charlotte)
If you're small on space, consider installing a forward-facing wall to ceiling book wall to make it easy for little ones to grab their favorite book right off the shelf.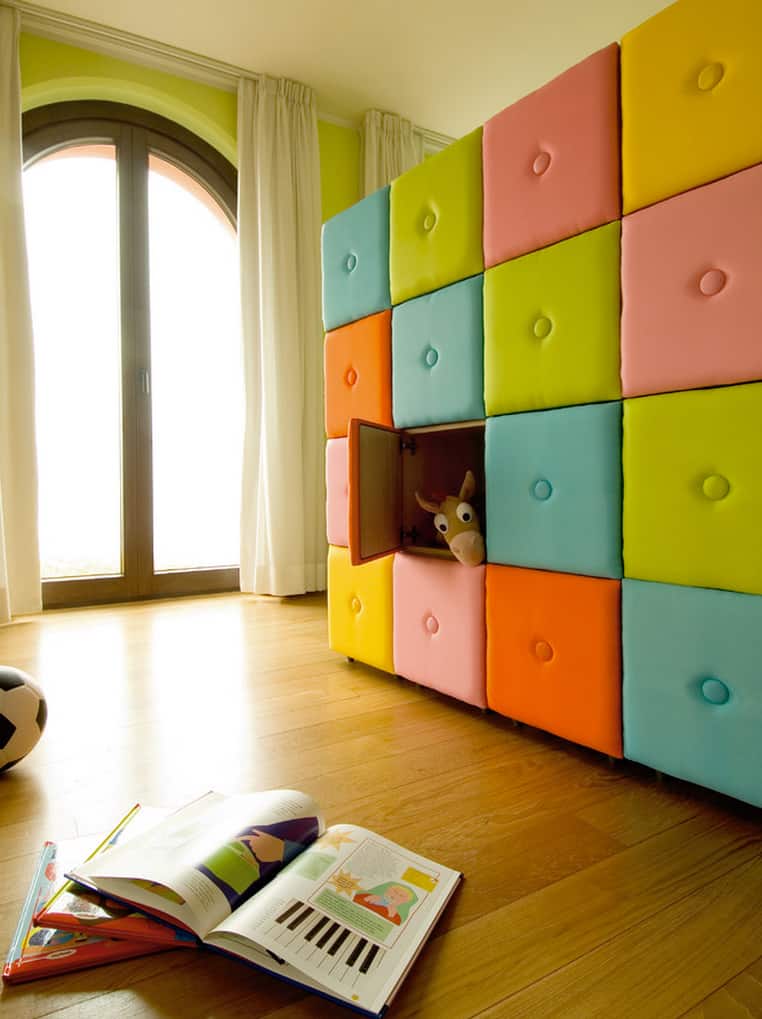 Color Storage Cubes (via Houzz)
If you've got the space and the budget, go bold and colorful with these amazing, gigantic storage cubes.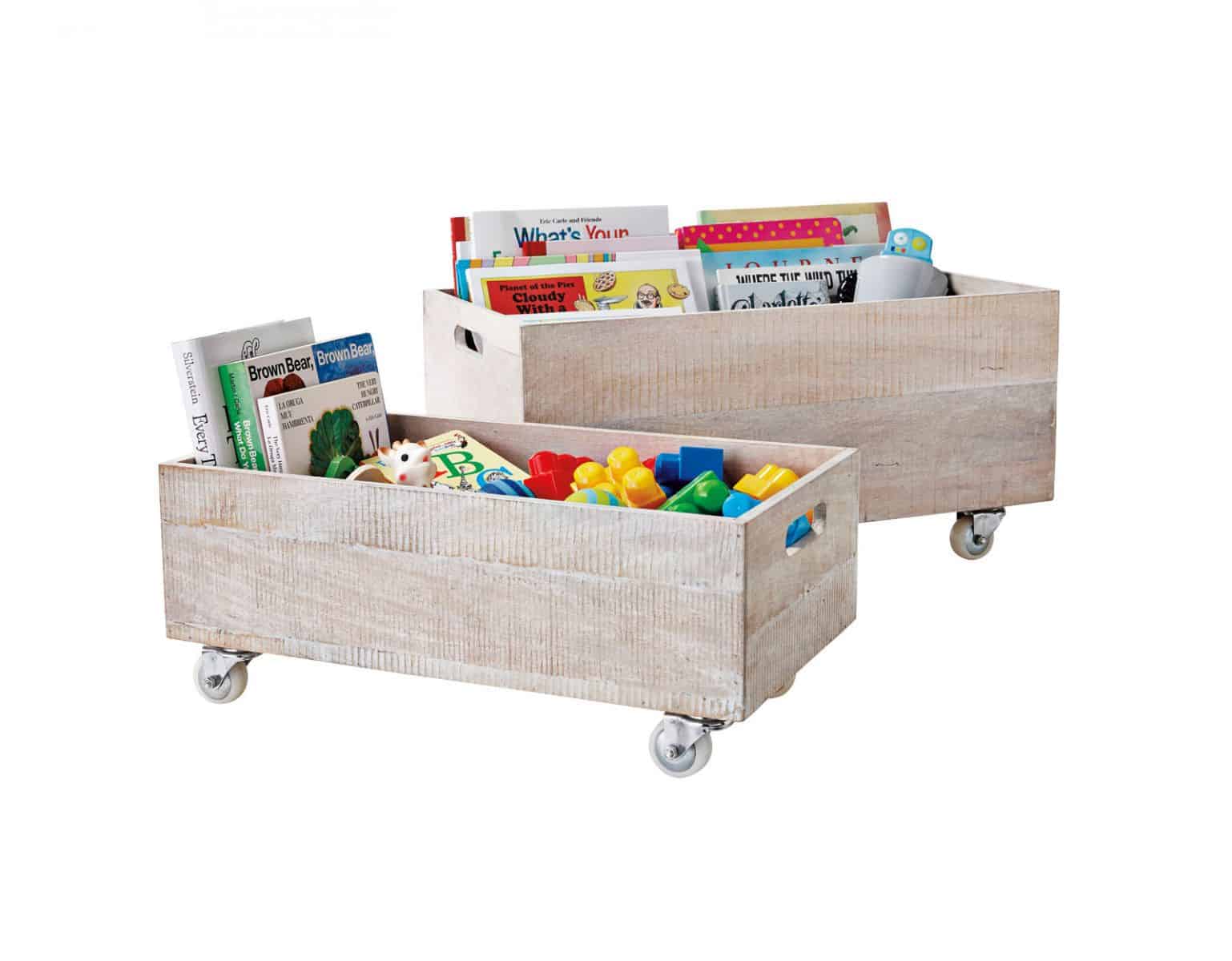 Under Bed Rolling Crates (via Serena & Lily)
Store extra items by tucking them neatly away from sight with these rustic wooden crates. They look just as good out of sight as they do out in full display.
What are some of your favorite ways to store your kids' things? Check out more clever toy storage ideas here and and here.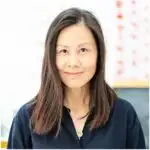 Agnes Hsu is a mom of three and has been inspiring parents and kids to get creative with easy activities and family friendly recipes for over 10 years. She shares her love for creative play and kids food to her 2MM+ followers online. Agnes' commitment to playful learning and kindness has not only raised funds for charity but also earned features in prestigious nationwide publications.