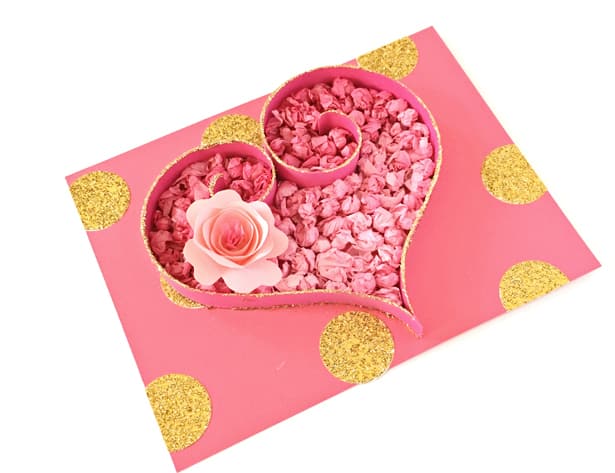 What better way to say Happy Valentine's Day than with handmade art? You and your little loves will enjoy making these 3D hearts filled with crumpled tissue paper. Maybe you'll decide to fill yours with pom-poms, feathers, foam shapes and more… there are so many options!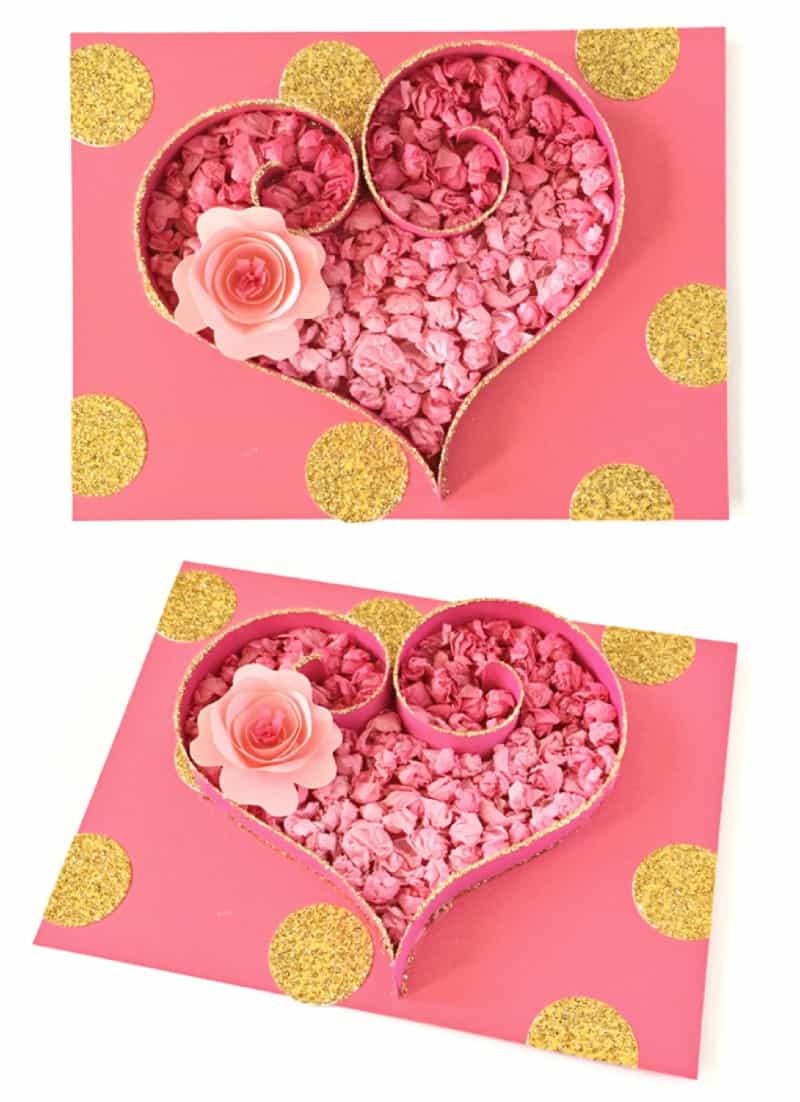 Materials:
– Cardstock
– Tissue paper
– Glitter
– Tacky glue
– Stickers
– Hot glue
– Lollipop stick (or any rounded stick)
Step 1. Use a piece of 4 1/2″ x 6″ cardstock for the background. Then cut strips of paper size 1/2″ x 9″. The strips were curved with a lollipop stick to form the heart shape. I also applied some gold glitter circle stickers. But you could just use a circle stencil to apply glue and sprinkle on the glitter.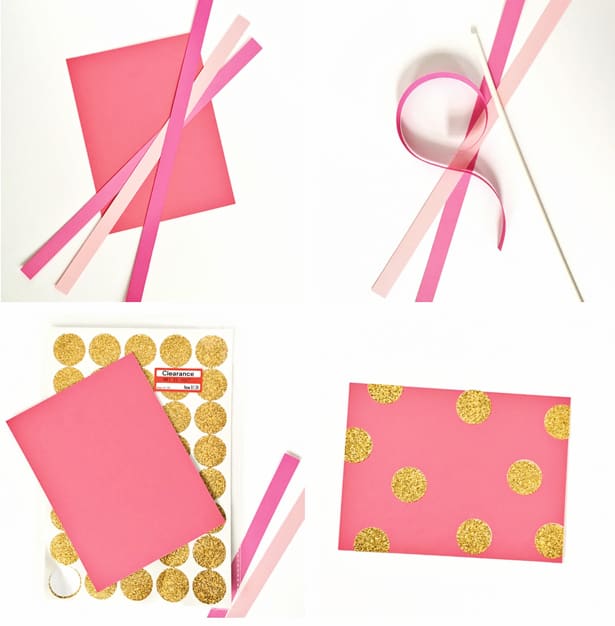 Step 2. Pour some glue in a paper plate and glitter in another. Dip one side of the paper strip into the glue then into the glitter. Flip it over and dip the other side into the glue as well, now glue it to your background paper.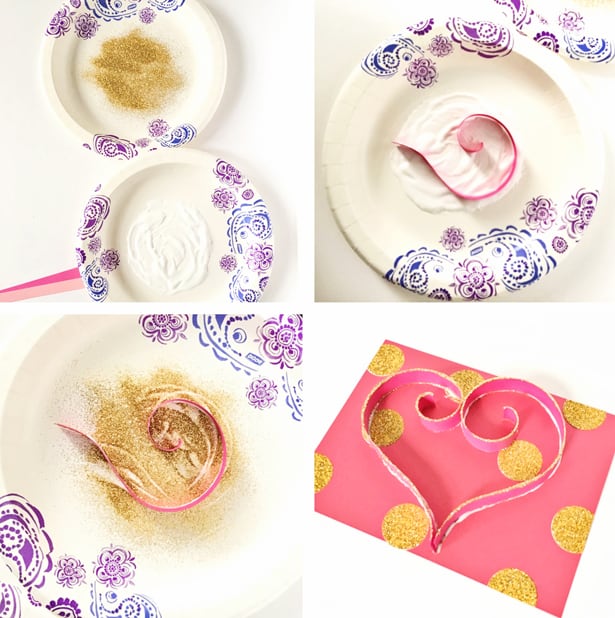 Step 3. Cut up tissue paper into small squares and crumple them up. Apply dots of glue to the inside of the heart and begin gluing the tissue paper inside.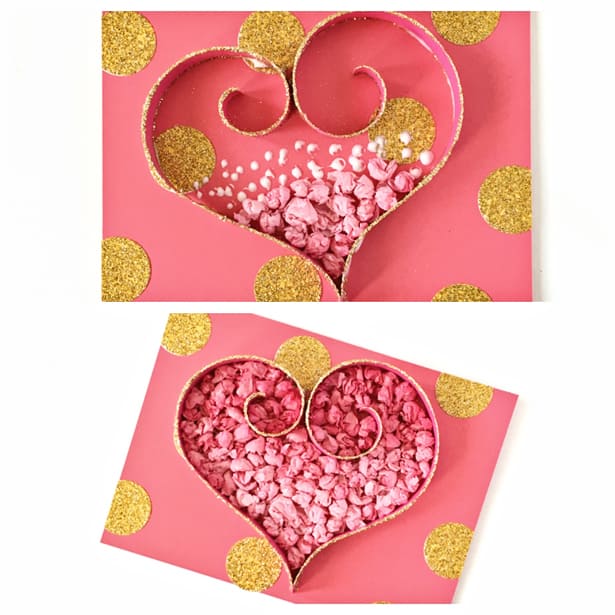 Step 4. For the flower, cut out a circle then trim the edge in a wave pattern. Cut the circle like a spiral designing flower petals as you make your way to the middle. Start rolling the flower tightly around the lollipop stick, hot glue it down to secure it in place
When you're done you have a lovely, 3 dimensional and textured Valentine's Art to display! This would be a fun project to make side by side with the kids. They'll love scrunching up the tissue paper!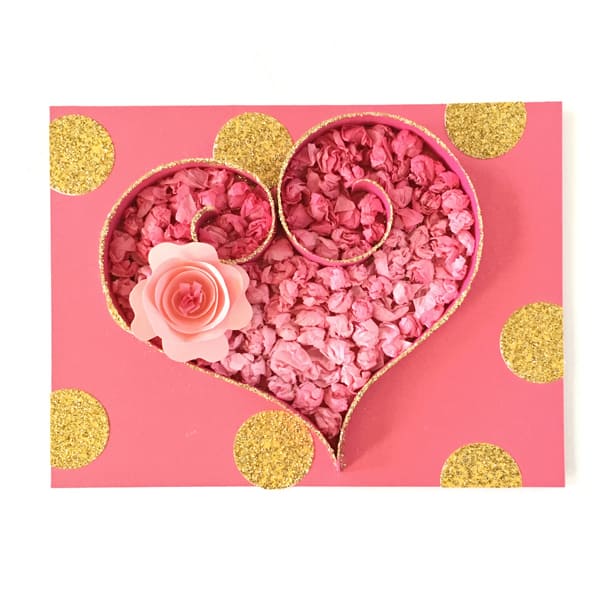 What are your favorite Valentine art projects? Check out more creative Valentine's Day ideas for kids here!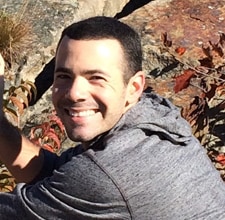 John Lavelle is an artist and art teacher who loves working with all things paper – cardstock, cardboard, foam board, tissue paper, and of course toilet paper tubes. John graduated from the School of Visual Arts with a Bachelors degree in cartooning and earned his Masters degree in Art Education.
Over the past few years, John has been working with young individuals who have ASD, which constantly keeps him on his toes and who are the inspiration behind the creative projects he prepares for their daily art classes. You can follow his latest projects on Instagram and on his site, The Art Dream.