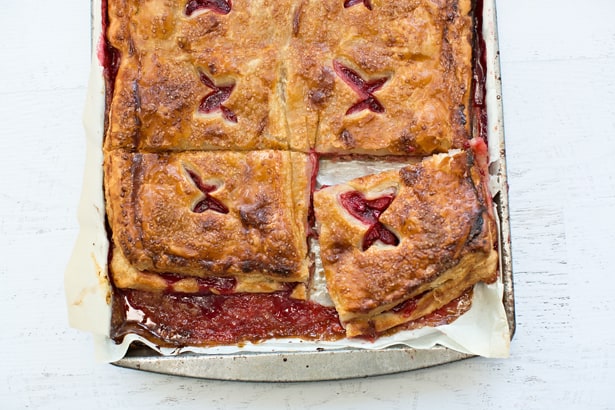 We love making fruit pies, especially in the summer when we can take advantage of fruit picking and fresh farmer's market produce. We recently took the kids to a strawberry farm and had a blast picking our own fruit – almost 10 pound's worth! With all those berries, we were inspired to make something delicious that would bring out their sweetness.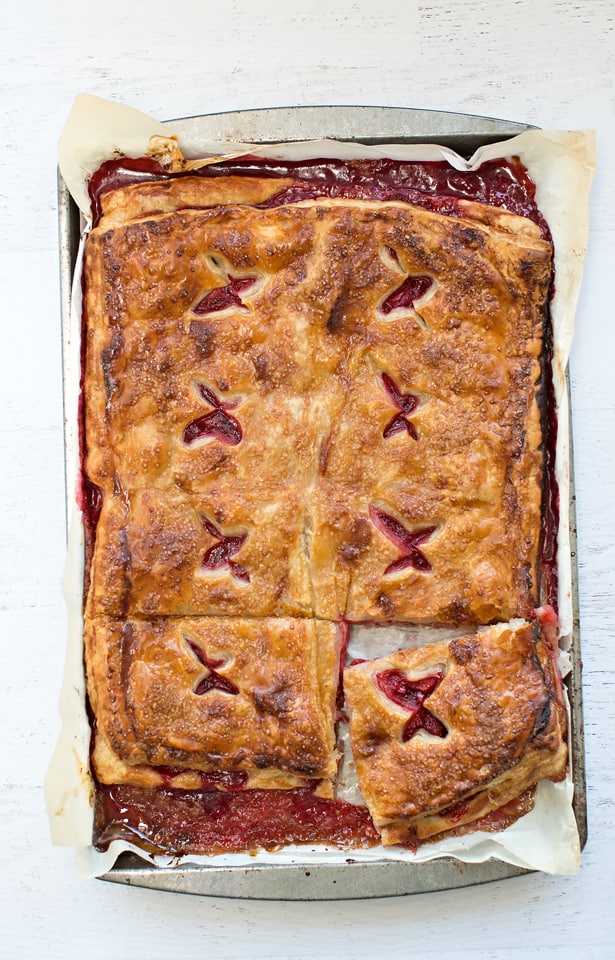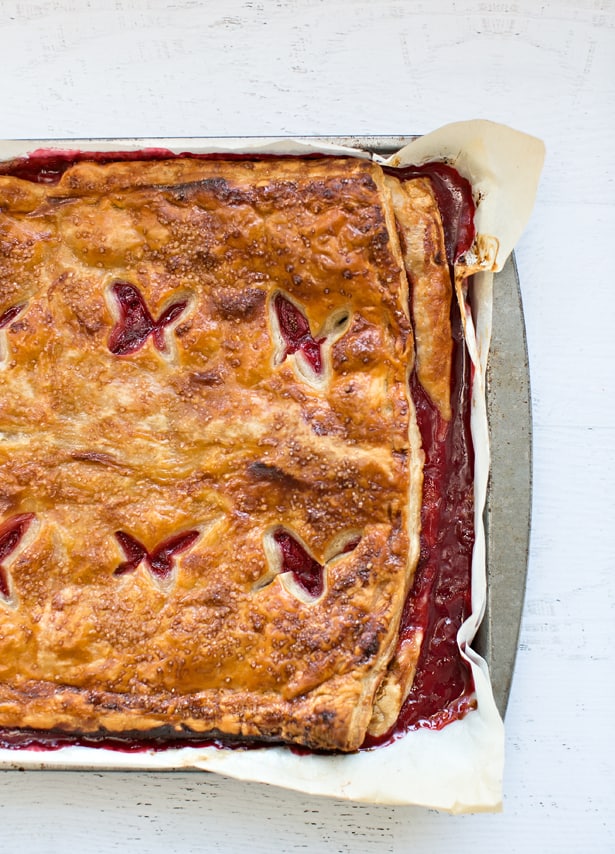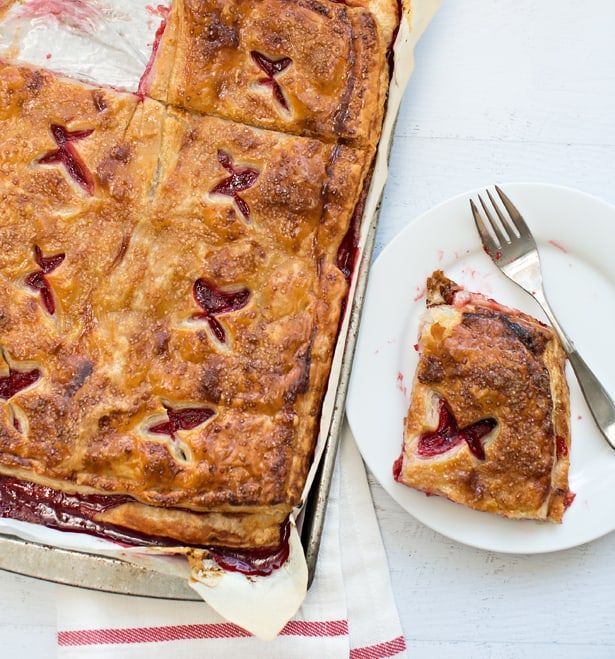 Fruit pies are a delicious way to use up fruit, and slab pie is even better for maximizing the fruit to pastry ratio. This extra large pie is basically one giant Pop-Tart and a fun recipe for kids to help make in the kitchen!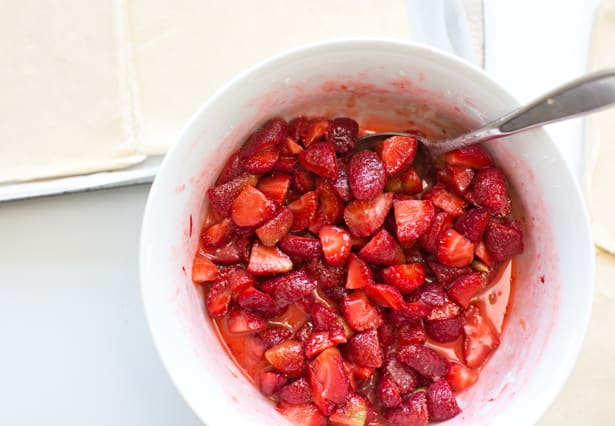 To keep the recipe simple, we used ready-made refrigerated puff pastry dough, which you can find in most supermarkets. But of course you can make your own, too.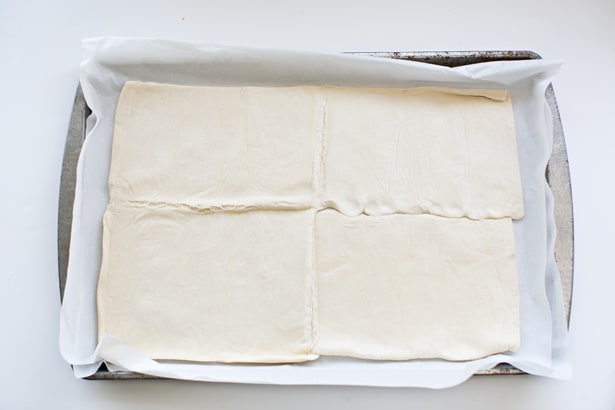 Easy Strawberry Slab Pie Recipe – Ingredients:
(adapted from Food And Wine)
– Two (14 oz) refrigerated puff pastry packages. Each one holding a rolled out rectangle of dough about 14″ x 10″
– 4 1/2 cups washed, quartered strawberries
– 1 cup sugar
– juice and zest of one small lemon
– 1/3 cup cornstarch
– 1/2 teaspoon kosher salt
– Turbinado sugar (for sprinkling)
– One beaten egg
– pie weights or dried beans
*You'll also need a jelly rim baking pan (17″ x 15″), parchment paper and aluminum foil.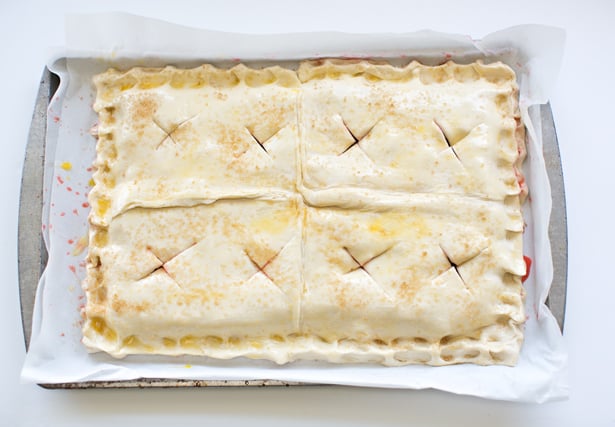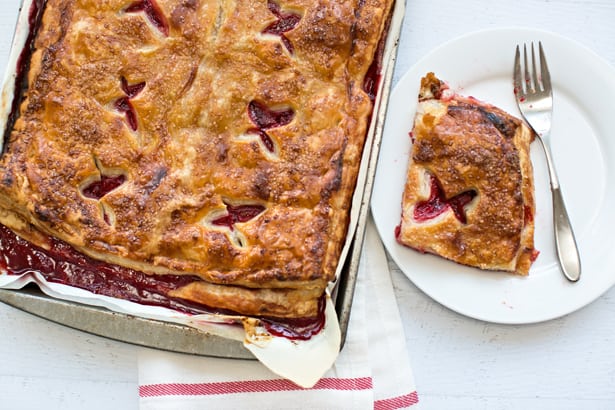 Instructions:
Step 1. Preheat the oven to 400 degrees. Line your jelly pan with parchment paper. Unroll one refrigerated puff pastry dough and layer flat over the parchment lined pan. Place another piece of parchment paper on top and layer with dried beans to hold the pastry down from puffing too much. You can use pie weights too. Place in oven for 35-40 minutes until pastry is pale golden. Remove from the oven and remove your pie weights. Allow to cool completely.
Step 2. In a bowl, add your strawberries, juice and zest of one lemon, sugar, cornstarch. Mix well until the sugar and cornstarch are incorporated. Strain the liquid.
Step 3. Place an even layer of your strawberry mixture on top of the pre-baked pastry puff. Add your second layer of refrigerator puff pastry on top, pinch the sides on all ends. Brush with one beaten egg and sprinkle with turbinado sugar. Cut 8 slits as shown in the photo above to vent. Place in a preheated 400 degree oven and bake for about 35-40 minutes until top is golden brown. Then add a sheet of aluminum foil to cover the top (to prevent more browning) and bake for an additional 30-35 minutes. Remove from oven when the juices are bubbly and the top is nicely brown. Allow to cool for a couple of hours before cutting and serving.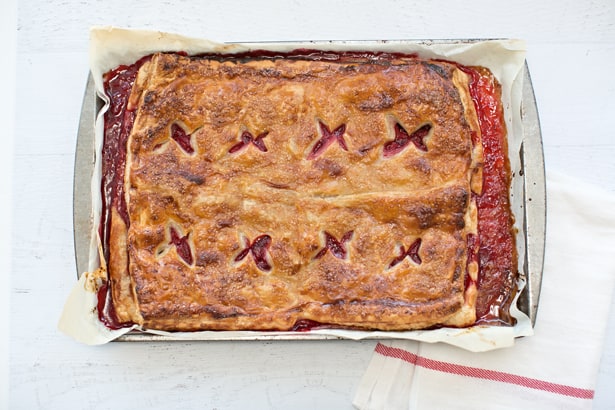 The buttery flakiness of the puff pastry and sweetness of the strawberries pairs amazingly well with the hint of lemon and zest. This pie is heaven and tastes like summer. Cut into squares – perfect for little hands to hold like hand pies or for an impressive presentation at any party or summer gathering.
You can scoop a layer of whip cream or vanilla ice cream on top to make it a more decadent dessert.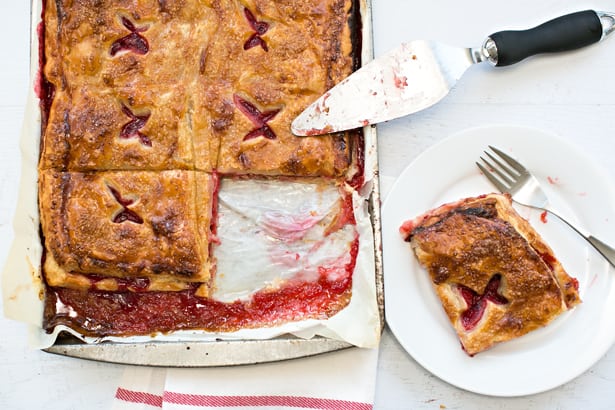 What are your favorite summer pies to make? Check out more delicious strawberry treats and kid-friendly recipes!