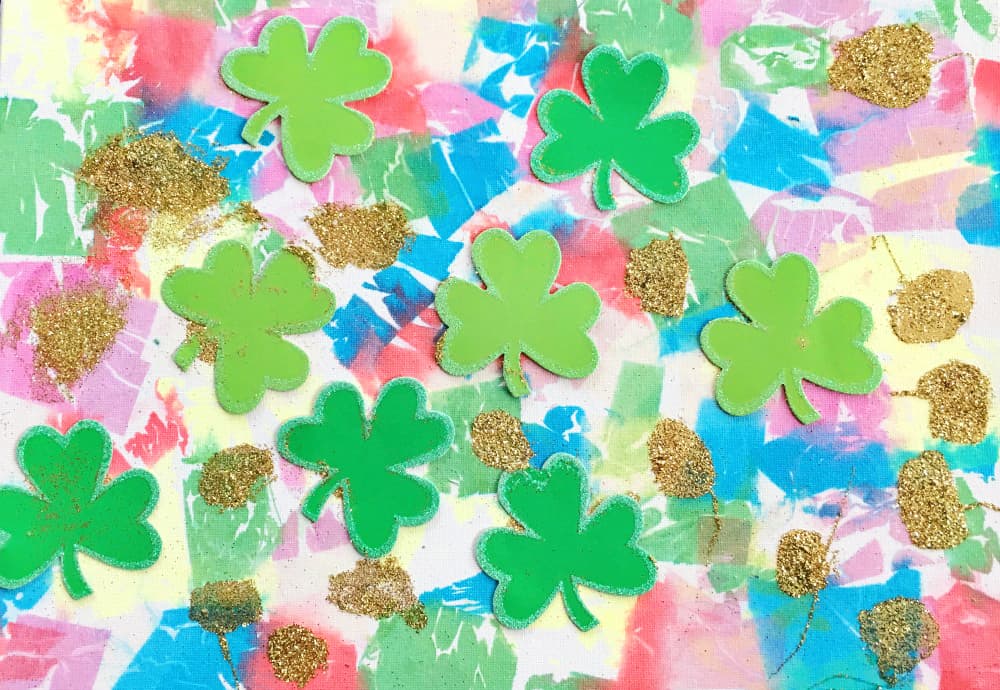 Since moving from the UK to Ireland in 2010, St Patrick's Day has become a key date on our Spring calendar. We all look forward to the fabulous parade that marches through our town on the east coast of Ireland. The parade is a riot of color, music and celebration as local groups, sports clubs and schools take to the streets to celebrate all things Irish. We even had the honor of marching in the parade ourselves last year, with my son's soccer team.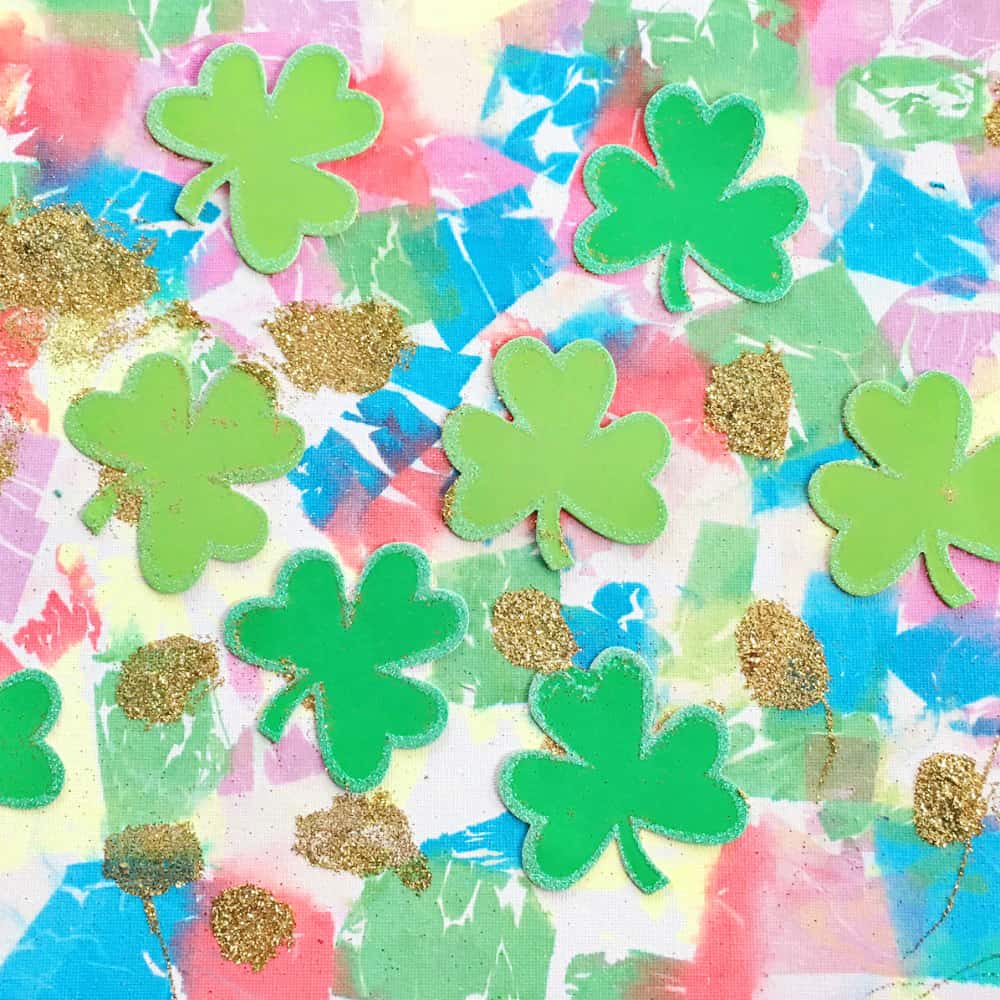 Our house turns green and all the colors of the rainbow, when we decorate for St Patrick's Day. The kids love to hang up homemade Shamrock decorations, paint rainbows and set traps for those pesky leprechauns (no we still haven't caught one yet!). And we love to create St Patrick's Day holiday art, to brighten up our walls after the Valentine's paintings have come down.
Supplies
Canvas Board
Colored tissue paper cut into squares
Paint brushes
Water
Shamrock cut outs
Glitter
Doing an arts and crafts project together is a really good bonding exercise for a siblings. I regularly challenge my kids to work on either the same project individually or to work collaboratively. For this activity I challenged my two youngest kids to work together, to create a beautiful piece of St Patrick's Day art. They definitely have a love/hate relationship going on, with the later being a bit too dominant of late. I hoped that working together on a project would help remind them, to love each other a little more.
They loaded their brushes with water and painted them all over the canvas board, until it was completely covered.
Next they stuck down the tissue paper squares all over their wet canvas, adding more water over the tissue squares to secure them in place.
By adding water to the tissue paper, this makes the color bleed out onto the canvas, leaving lots of lovely rainbow prints all over it once fully dried out.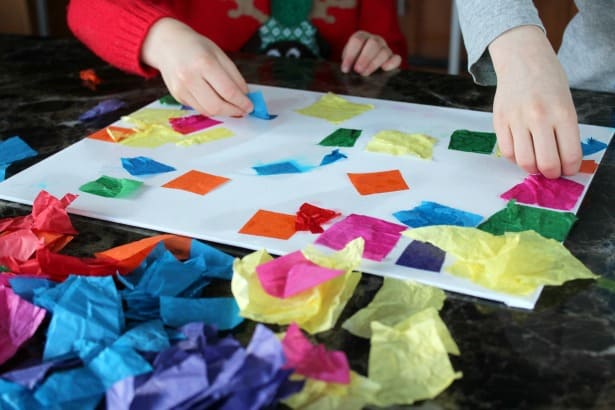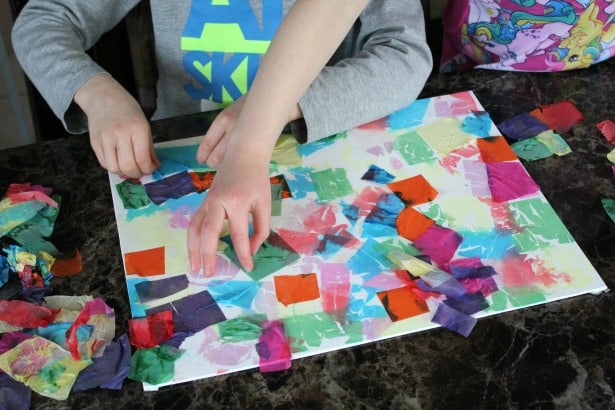 The pair of them are not big on patience, so to speed things up a little, I popped the canvas into our warm laundry room to dry out.
Once dry they carefully peeled back the tissue paper and were delighted with the colors it had left behind on the canvas.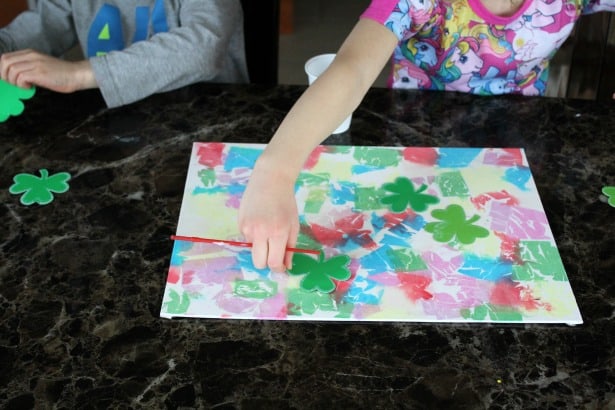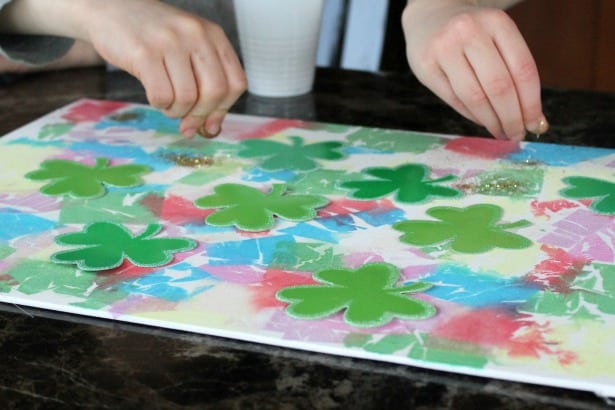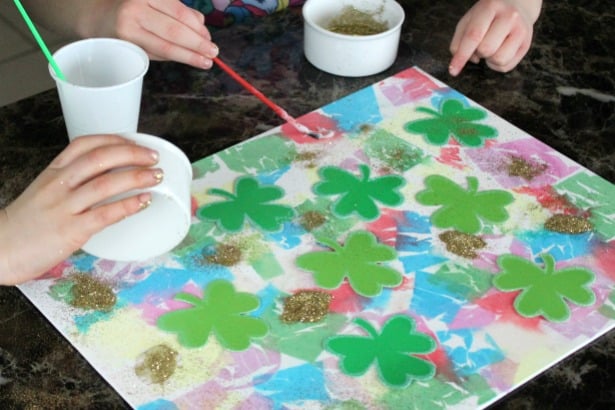 To enhance their St Patrick's Art further, they added Shamrock cut outs and literally poured gold glitter all over it.
Happy St Patrick's Day from all of us at Crafty Kids at Home. Check out more fun St. Patrick's Day crafts for kids.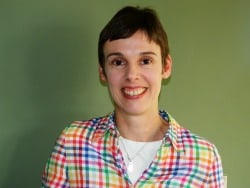 Nicola is a former Librarian, who now spends her time looking after and coming up with arts and crafts ideas for her two sons aged 9 and 7 and daughter aged 4, to enjoy doing together at home. They live by the sea in Ireland, which is a big influence on their projects. You can find here over at Crafty Kids At Home and on Pinterest, Facebook and Instagram.