The kids and I are making edible gifts for their teachers this holiday season. Just because it's kid-made, doesn't mean it can't be an elegant treat. Find out how to make delectable rosemary shortbread with Pink Himalayan salt up next in our Cooking with Kids series!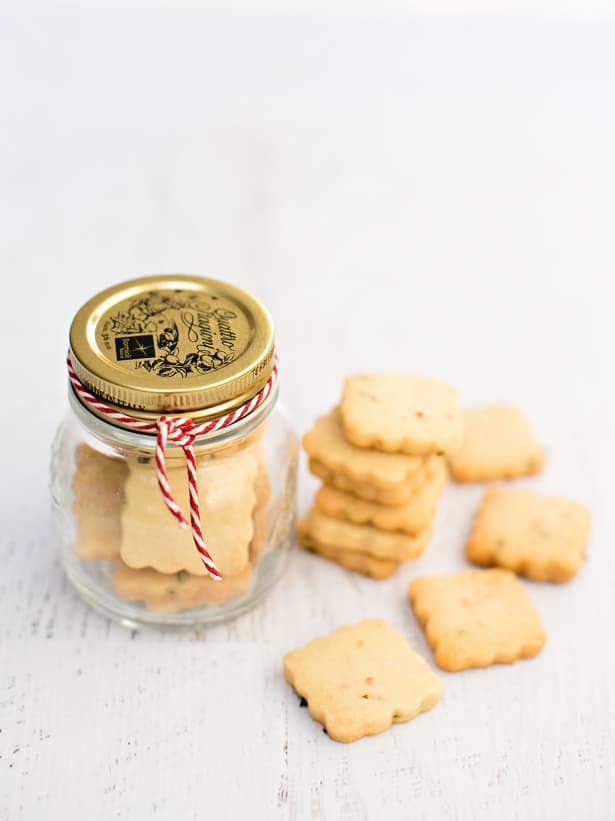 Rosemary Shortbread with Pink Himalayan Salt – Ingredients:
(makes 72 shortbread pieces)
– 2 sticks unsalted butter
– 2 cups flour
– 1/4 teaspoon salt
– 1/4 cup sugar
– 1/4 cup powdered sugar
– 1/2 teaspoon vanilla extract
– 1 1/2 tablespoon finely chopped fresh rosemary
– Pink Himalayan salt (for sprinkling on top, or substitute with any sea salt)
*You will also need a 1.5″ square cookie cutter and rolling pin. Also, mini jars and twine if you'd like to package them for gifts.
Instructions:
(preheat oven to 325 degrees)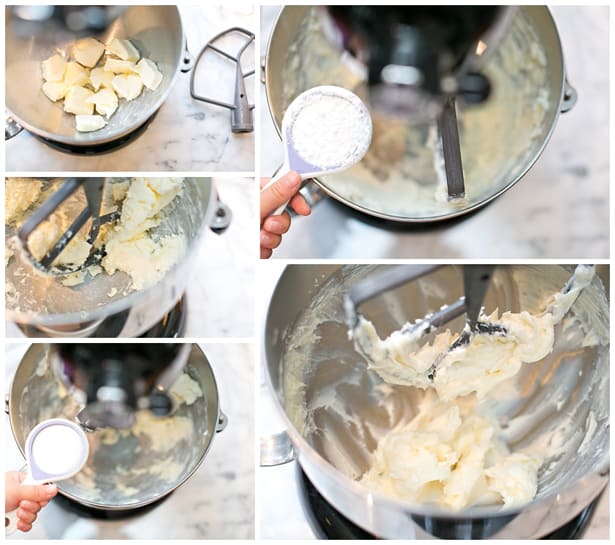 Step 1. Cream the butter for a couple of minutes using a stand or hand mixer. Add the powdered sugar and sugar and cream for several minutes on medium speed until fluffy.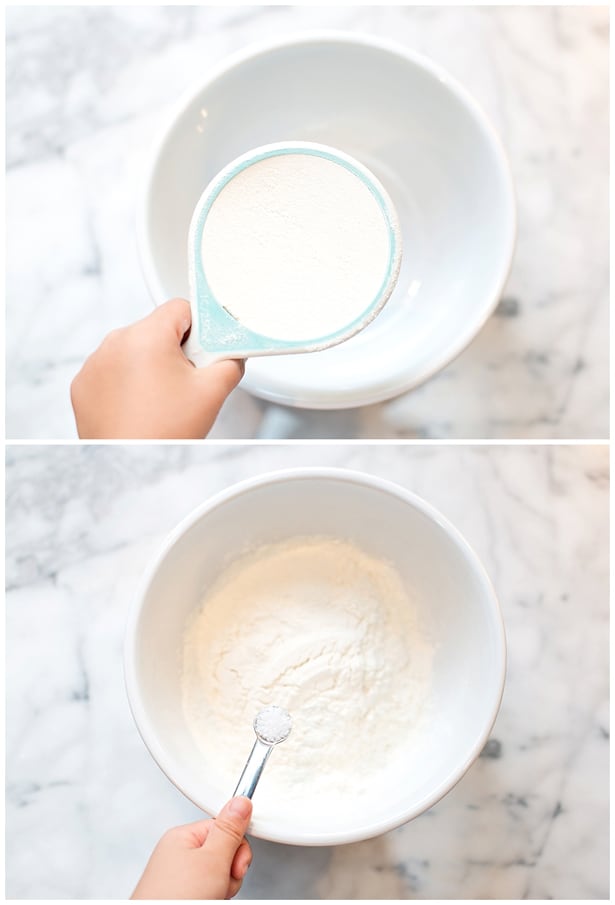 Step 2. In a separate bowl, whisk together salt and flour.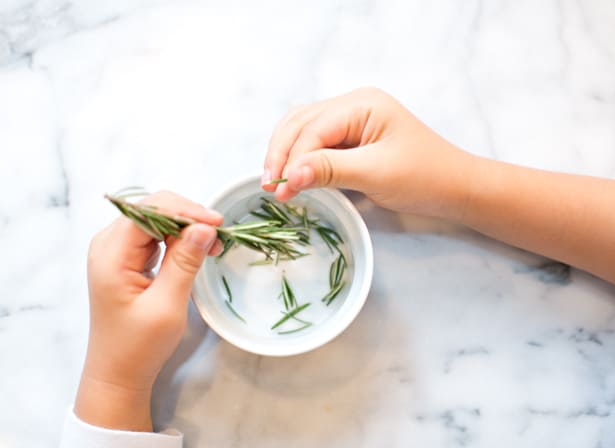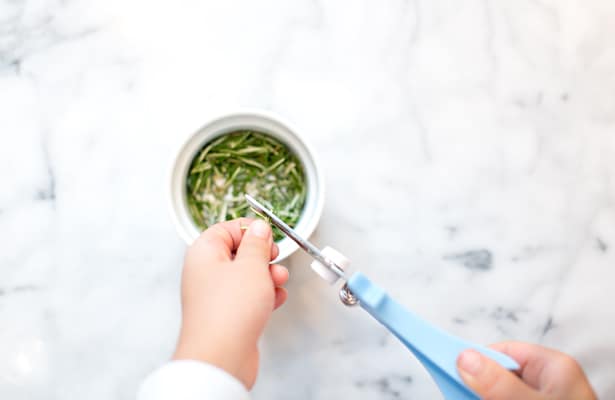 Step 3. Ask your child to pull off rosemary leaves and use scissors to chop finely.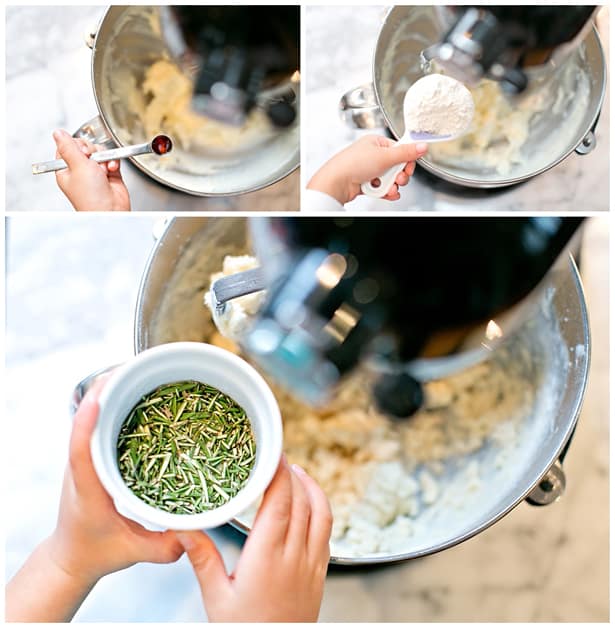 Step 4. Add vanilla to the creamed butter and sugar mixture, mix just to blend. Have your child scoop in the flour and mix on low-medium speed until the dough just comes together. Add the rosemary and mix until just blended.
Wrap dough in a flat rectangle and refrigerate until firm.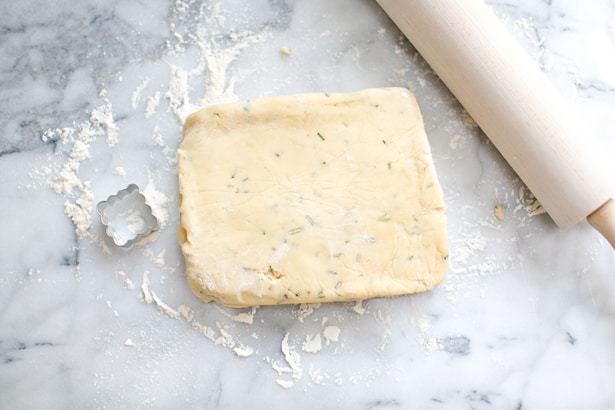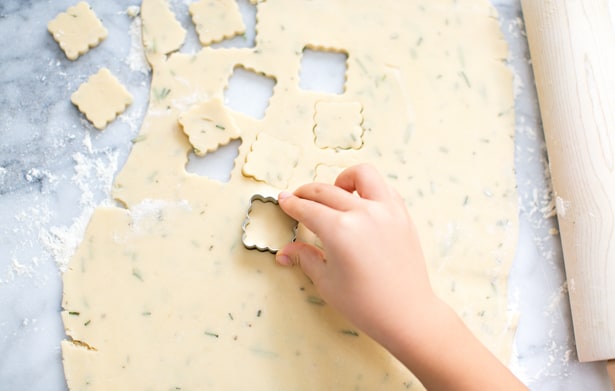 Step 5. Remove the dough from the refrigerator and allow to come to room temperature for 15-20 minutes. Sprinkle dough with flour and roll out to about 1/4″ thickness in width. Help your child stamp out shapes using a fluted square cookie cutter. Place cookies on parchment lined baking sheet.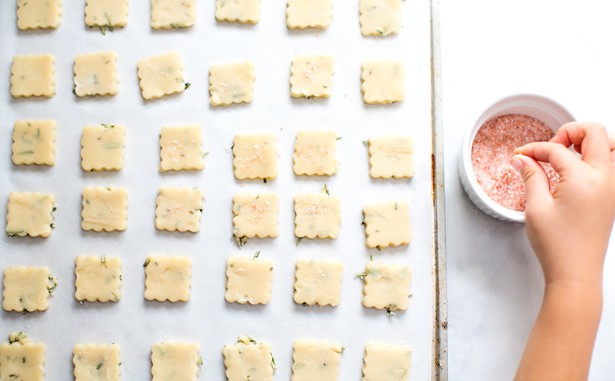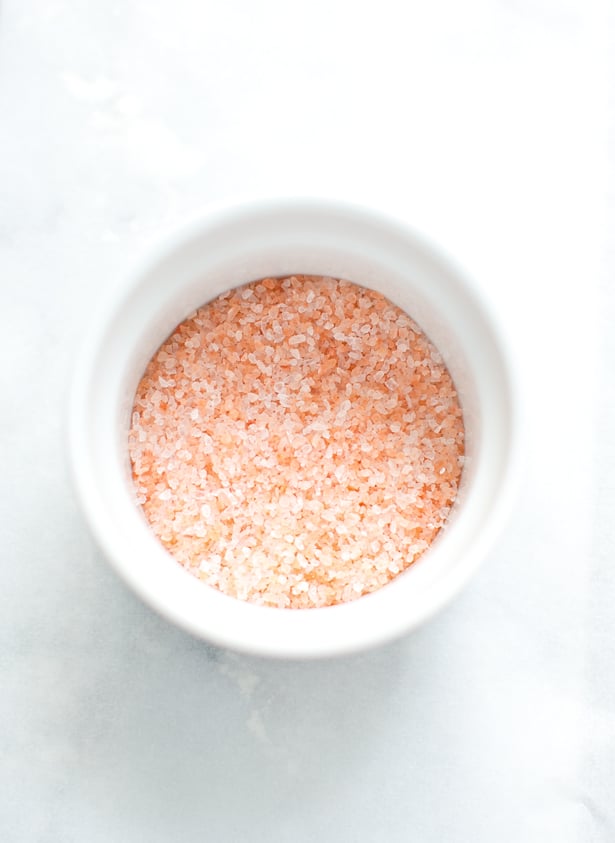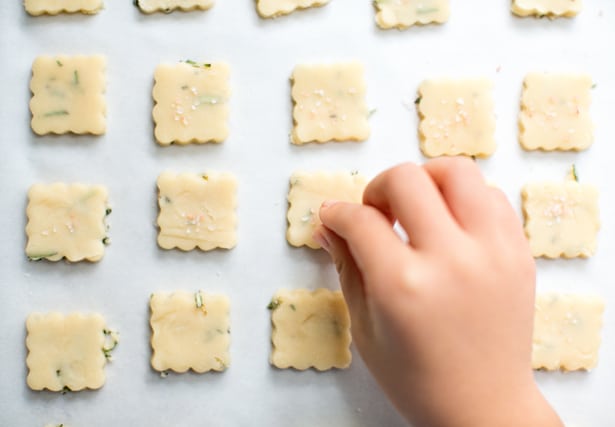 Step 6. Sprinkle a bit of the Pink Himalayan salt over the shortbread pieces before baking. Make sure to get a coarse grain so the salt shows through after baking.
Place your baking pan in the refrigerator to cool before baking for about half an hour. This helps maintain the shape of the dough.
Remove baking pan from the refrigerator and bake in preheated 325 degree oven for 25-28 minutes until edges are very slightly golden. The shortbread will look pale but but will be done. Allow to cool completely on pan before removing.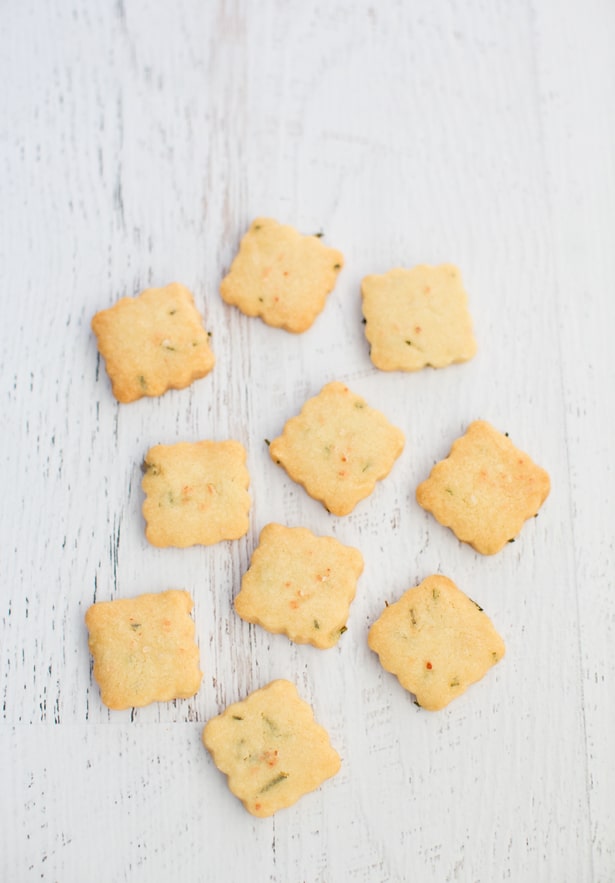 I love how the rosemary and salt peek through adding color and texture.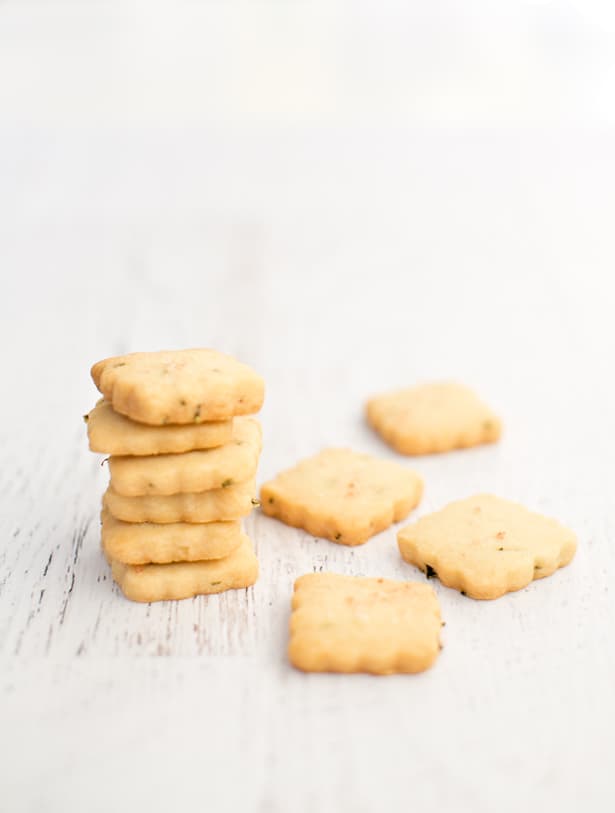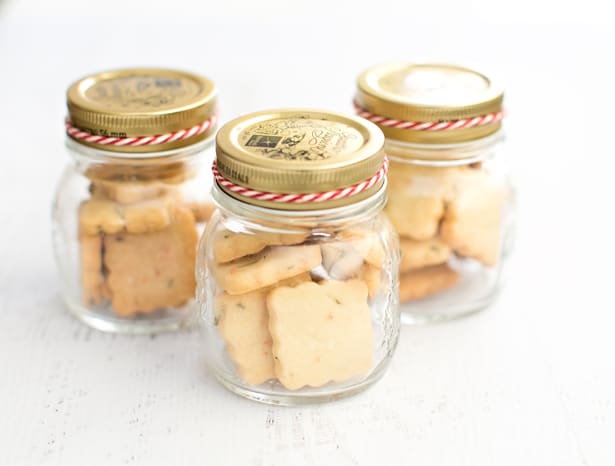 The shortbread look so pretty in clear mini glass jars and make delicious edible gifts.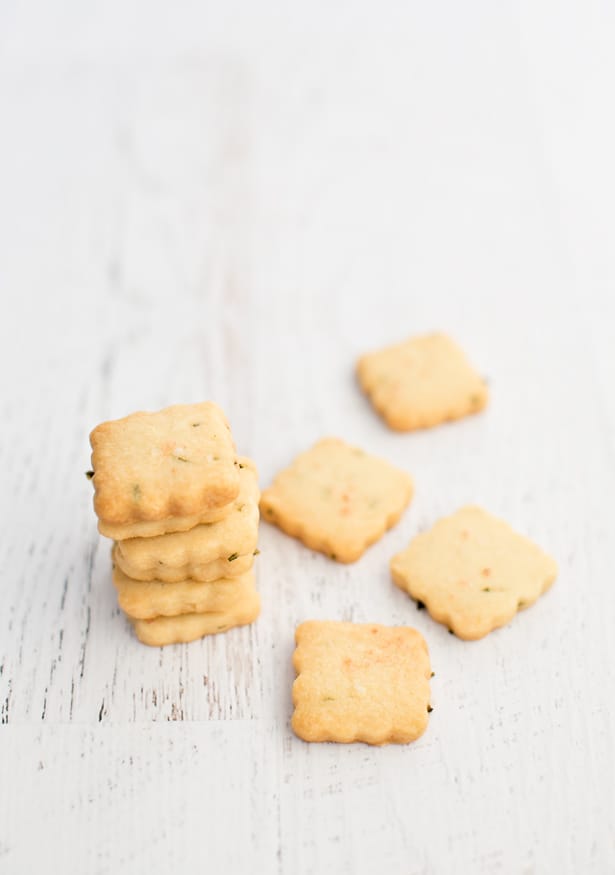 These buttery shortbreads melt in your mouth and are fragrant with rosemary flavor and a touch of savory from the pink salt.
Are you making edible gifts this season? Take a look here for more Cooking with Kids recipes.