Inspired by all the cute Halloween treat ideas out there, I had to try my hand at making mummy hot dogs. I'll admit, I was looking for something simple and it doesn't get any easier than these crescent rolled hot dogs which take only two ingredients to make.
I made them for an afternoon snack for my kids and their friends and they had some serious giggles over these cute googly-eyed mummies.
Mummy Hot Dogs – Ingredients
1. One package of refrigerated crescent roll mix
2. One 6 pack package of hot dogs, cut in half each (I used Aidells Chicken Apple Breakfast Links)
3. Candy Googly Eyes (optional)
Instructions:
1. Cut each crescent triangle into half, length wise.
2. Roll around each half hot dog, making sure the bottom is covered and the end half of the hot dog is peeking out
3. Bake per instructions on the crescent roll mix
4. Use a toothpick and dip in ketchup to attach two googly eyes to each mummy. It helps to do this when the hot dogs are hot so the candy "melts" a bit onto the dog helping it stay put.
And here you go, silly googly-eyed mummy hot dogs. So easy and seriously adorabe.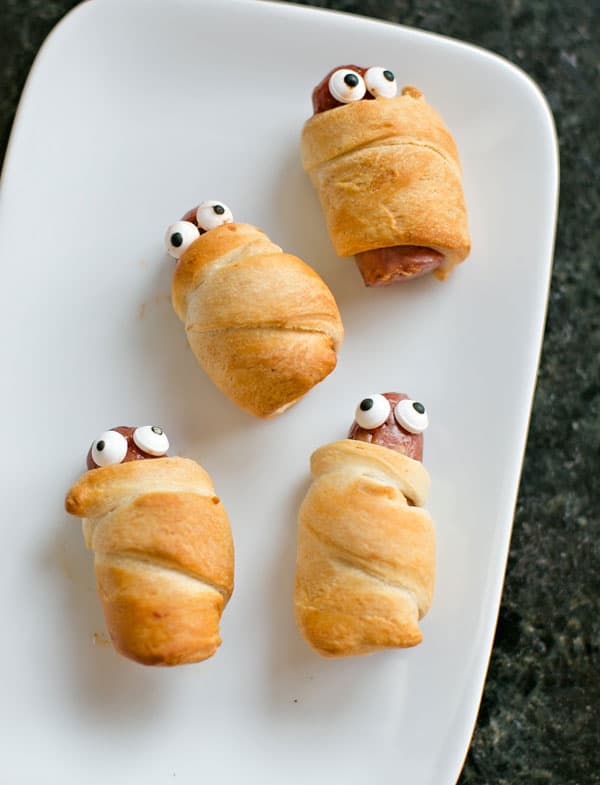 For more Halloween food inspiration check out our list of 15 Cute and Easy Halloween Treats or for a more nutritious take, see 13 Healthy Halloween Treats.
What are some of your favorite quick go-to Halloween recipes?
______________________________________________________________________________________________________
Disclosure: Some of the links in the post above are "affiliate links." This means if you click on the link and purchase the item, we will receive a small affiliate commission. Regardless, we give our promise that we only recommend products or services we would use personally and believe will add values to our readers.