We are welcoming another fantastic Maker Mom today, the super creative Maggy Woodley, from Red Ted Art! You've probably already heard of Maggy's site which is hands-down one of the best craft sites for kids around. There are hundreds of adorable and do-able (key word here) everyday crafts you can make along with the kids. From nature and art projects, sensory play, learning activities, free printables, and tons of recycled crafts – Red Ted Art is the go-to site I recommend parents to visit when they need inspiration for making with the kids. All the fun ideas are right there, along with instructions and photos, but if you're a sit down and take-your-time crafter you'll also want to pick up Maggy's book, Red Ted Art: Cute and Easy Crafts for Kids which is aptly name for its teeming pages full of creative crafts.
Thanks so much for visiting Maggy, and welcome!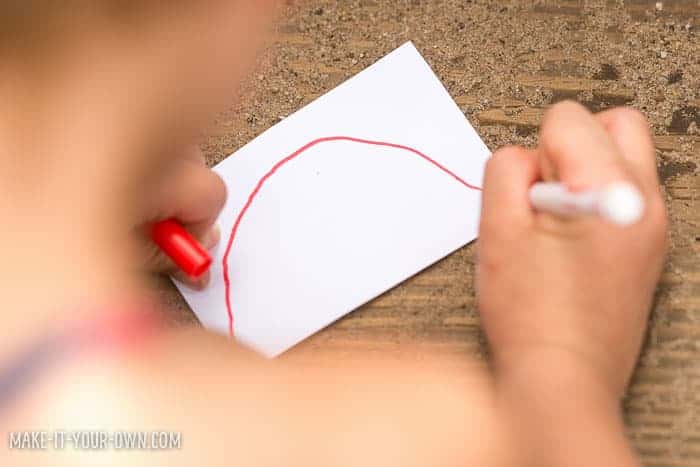 Please tell us a bit about yourself and your blog.
Hello! Thank you for having me today! I am a mum of two and write on Red Ted Art – a craft blog for the whole family. I have always loved crafts and have fond childhood memories of crafting away the afternoons – sometimes with our adoptive Granny, sometimes on my own and sometimes with friends. But I enjoyed them all equally. When my son turned 2, I started writing Red Ted Art – just documenting the little crafts we did here and there.. and soon found my passion for crafts again. 5 years later and I share 2-3 crafts a day. I aim to make the crafts "do-able" and using (mainly) easily accessible craft materials – nothing too fancy or complicated!
What are your tips on getting creative with kids?
Though we have many spontaneous craft sessions now – often started by the children, we used to, at the beginning almost "plan our crafts in". It would give me time to think about what I would like to do with the children, make SPACE for crafting and then get everything ready. When getting creative with young children, I think time, space and planning is key – as you don't want to get stressed out by a cup of spilled water (leaking towards the paperwork or laptop sitting on the table) or the children demanding to work at a quicker pace, when you don't have things ready.
Now they are older and enjoy a lot of self directed crafts, it literally is about, just sitting down with them, chatting and helping them with different bits and pieces as they go along.
I find my son often has "craft anxieties" – he worries about things being perfect or "the best", so we have a lot of conversations about there being "no right or wrong" and "my favourite may not be your favourite" and that artists also make mistakes and often incorporate these "mistakes" into their work.
It is interesting to see how my children's creative needs change as they grow older.
Where do you draw your creative inspiration?
A lot of the crafts we do come from my childhood experiences – when I was little I remember crafting lots with conkers (horse chestnuts), acorns, sticks and leaves in Autumn, I remember decorating Easter Eggs in Spring and making Santas at Christmas. Also, being "in the craft" arena, I am constantly seeing new ideas, that I guess my brain sorts and stores… then when we sit down to make something new, these impression and ideas influence what we make.
I guess the more you make, the more ideas you have too.
What are a couple of favorite activities you've done with the kids?
Oh only a couple? It is so hard to choose and I find that year on year, I have a "different" favourite craft!!! But at the moment, we really love making Grass Heads (we have made them 3 times already and my daughter only just asked me this morning if we could do another one).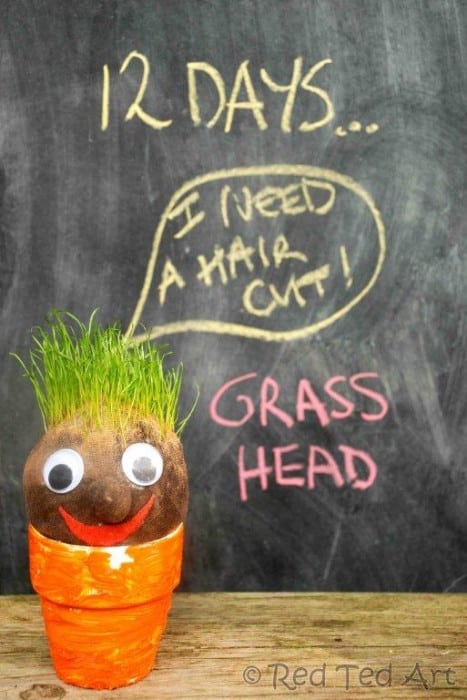 I really like all our chestnut crafts, as I have this very strong childhood memory of crafting in Autumn with them. We have a whole range that I adore – from snakes to spiders and a set of Zoo animals.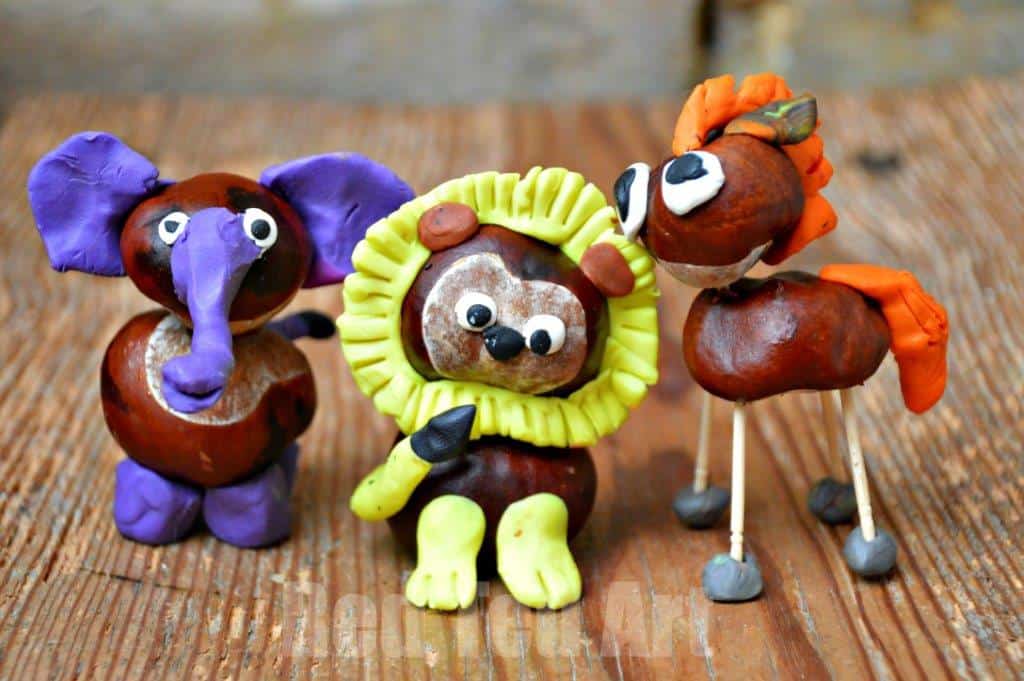 I also love these super simple Sea Shell pendants – I love them because they use salt dough – a super versatile craft material and again a material that I loved using as a child. I love them because you can give these as small gifts to friends (we do like a "gift idea craft") and I love them because they remind us of our day by the seaside and are so colourful.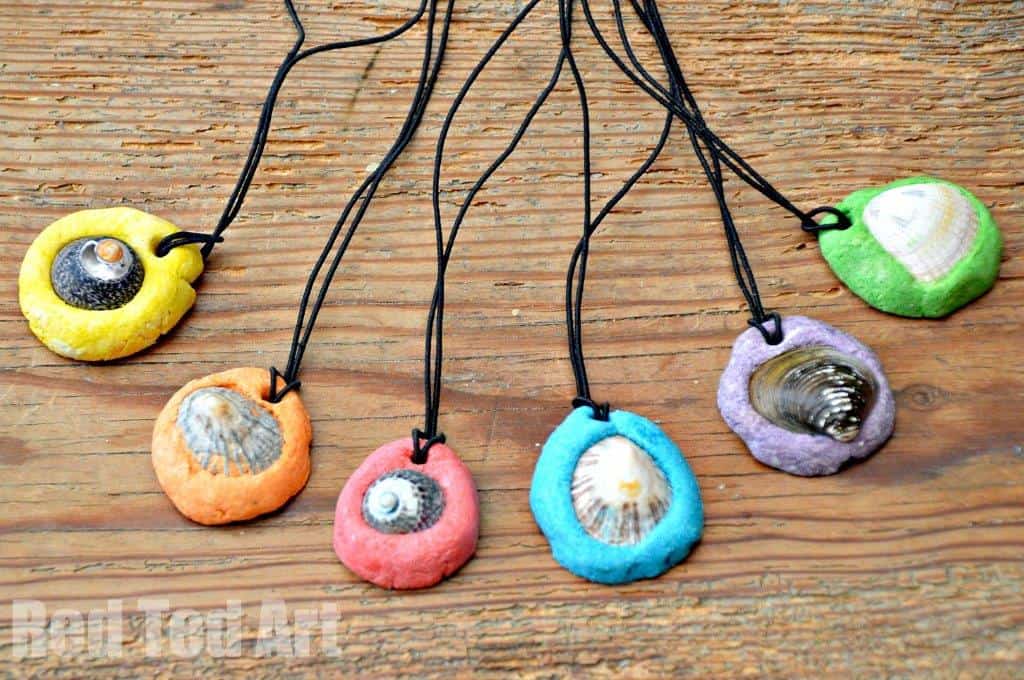 If you were stuck on a desert island with the kid(s), what crafting materials would you absolutely need to have?
Maybe some string? Nature is such a great craft resource and there are so many things you could make from eaves, sticks and stones. I can imagine having a ball of string would be really useful to help connect these natural elements.
And because we love books and are always looking for good recommendations, what are some of your favorite children's books?
Oh, again, our children's books favourites totally change as my kids grow older. When they were very little we loved the Very Hungry Caterpillar and Hurray for Fish. Now we are enjoying the "Katie in the Gallery" series of books by James Mayhew.And we are also enjoying Chapter books, such as the Roald Dhal series and the Worst Witch by Jill Murphy.
Last, who are some of your favorite bloggers or maker moms who inspire you?
I adore Jean from The Artful Parent and Rachelle from Tinkerlab. They always have such beautiful, thoughtful and creative projects to do with their kids.. and they make it look so natural and easy. Great photography with great ideas.
I am currently working on a crafty bloghop with some WONDERFULLY creative bloggers – which includes all these wonderful fabulous crafty ladies:
Picklebums
Willowday
Innerchild Fun
Pink Stripey Socks
Buggy and Buddy
Babble Dabble Do
The Imagination Tree
Tinkerlab
Tiny Rotten Peanuts
Mama Miss
The Craft Train
I think I could sit here all day writing about them all.. but maybe your readers would just like to explore them for themselves!!!
Thank you for stopping by Maggy! I love how you incorporate childhood crafting memories and weave in new traditions with your children. Your quote about your son having "craft anxiety" resonates so well as my oldest also has a need to have things be just right. Such a wonderful attitude and reminder for kids (and parents!) that the journey is what counts most at the end!
To follow Maggy's crafting adventures, follow Red Ted Art on Facebook, Pinterest, Twitter, and Instagram.


P.S. If you'd like to be featured as a Maker Mom, please drop us a note here!