We're featuring such a fun mom today on our Maker Mom series. Meet Leslie from Pink Stripey Socks. Leslie's site is as fun and quirky as her blog's name. You can instantly tell from perusing what seems like hundreds of awesome craft ideas on Leslie's site that she and her son Chuck love to have fun. There are quick and creative ideas for everyday crafting with your kids. You won't find projects using difficult or hard to find materials here. Instead, you'll be inspired by what you can make with simple recycled items like cardboard – and find cool new ways to use unconventional items in art…like tortillas!
Check out Pink Stripey Socks and I guarantee you will instantly want to do at least one thing with your kids right off the bat. Read more about Leslie below and see what gets her inspired to play creatively with kids!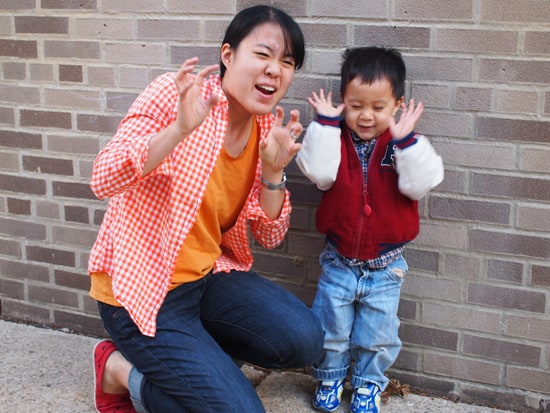 Please tell us a bit about yourself and your blog.
Hiya! My name is Leslie and I blog over at Pink Stripey Socks. My husband and I have one son who is turning 3 this fall. Currently I'm a stay-at-home mom during the day and a crazy crafter and blogger at night. I really enjoy making kids' things from everyday materials. My blog mostly focuses on arts and crafts projects that I make on my own or with my son.
What are your tips on getting creative with kids?
Well, we make a lot of messes here, so I try to keep everything (relatively) under control by prepping materials and our work area beforehand. Then once we're doing the activity, I try really hard to not have expectations about how things should go. (Admittedly, I'm not always successful at that one, but I do try…) At the end of the day it's all about having fun, being curious, and exploring materials and ideas.
Where do you draw your creative inspiration?
Everyday life, awesome projects that I see online, and my son's interests.
What are a couple of favorite activities you've done with the kids?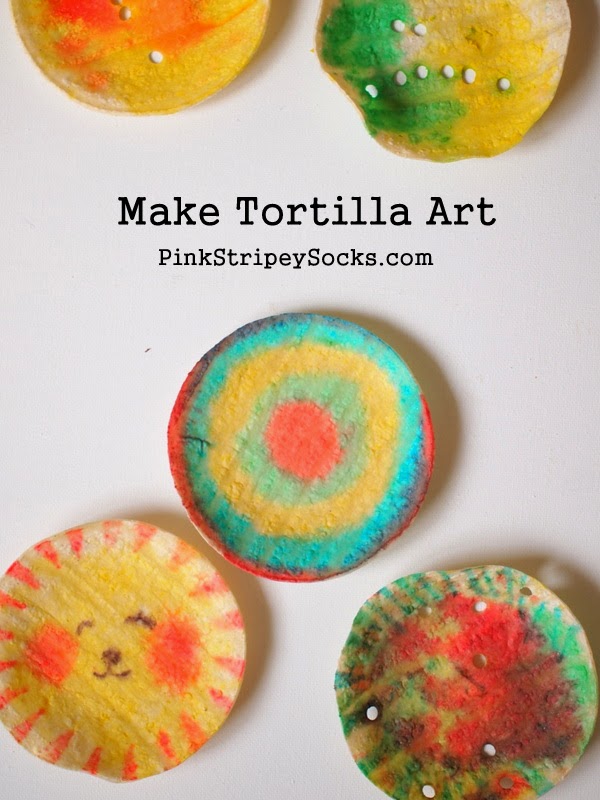 Tortilla Art It's always fun to make edible art.. and this activity gives such beautiful results.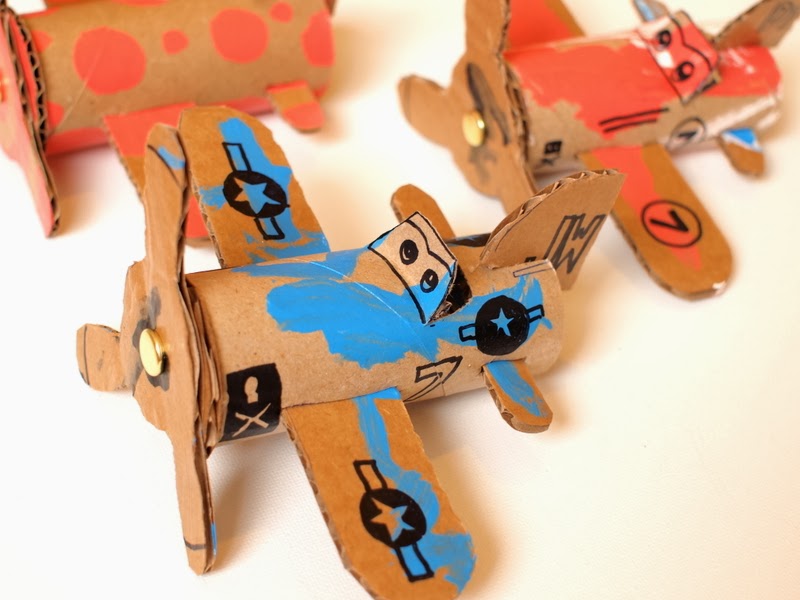 Toilet Roll Airplanes Chuck loves planes, so he had SO MUCH FUN painting (and then playing with) these cardboard ones.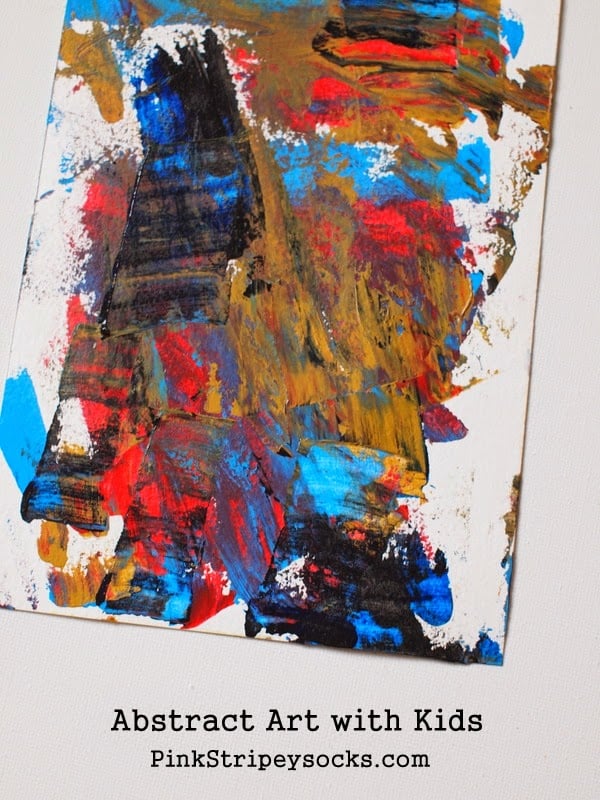 Abstract Art I love this abstract art activity because it's easy, different, and fun!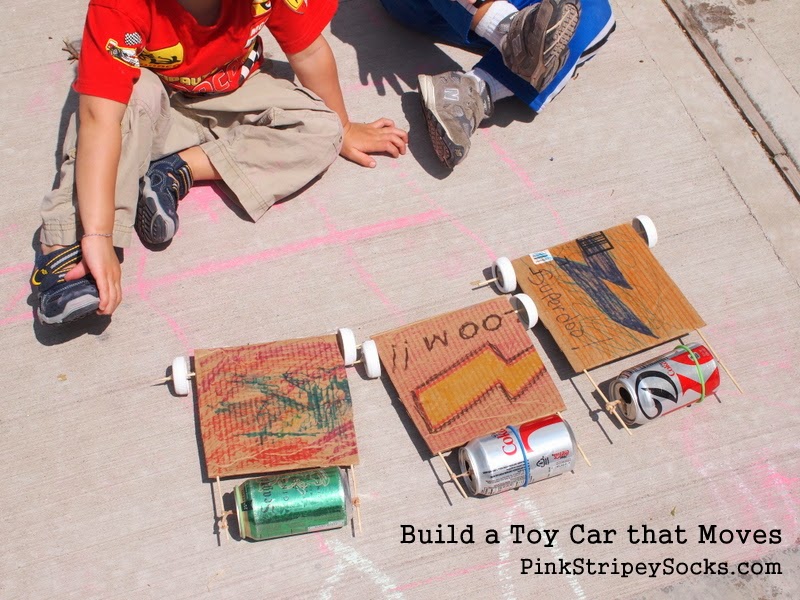 Build a Toy Car That Moves I love this activity because we built a toy car that actually MOVES. Say What? Yup. It's a super cool STEM craft.
If you were stuck on a desert island with the kids, what crafting materials would you absolutely need to have?
Does a cell phone count as a crafting material? Just kidding. Um, I'd definitely need some paint brushes, paint, glue, scissors, balloons, and cardboard (which we'd then use to craft a ridiculously colorful and hopefully useful boat… or temporary shelter.)
And because we love books and are always looking for good recommendations, what are some of your favorite children's books?
Ooh. Good question. There are so many good ones out there. Hrmmm… ok, got them. Here are 3 books that Chuck and I currently enjoy reading:
-We're Going on a Bear Hunt (We really dig the story, rhythm, and hand motions!)
-Papa, Please Get the Moon for Me (This is such a cool and beautiful book. We never get tired of interacting with the flaps.)
-Elephants Cannot Dance (That silly elephant cracks us up EVERY SINGLE TIME.)
Last, who are some of your favorite bloggers that inspire you?
There are so many wonderful creative moms out there. This question is so hard…. Ack. But If I had to answer, here are 3 mom's sites that I seem to always find inspiration from:
Ana's site: Babble Dabble Do
Hilke's site: El Hada De Papel
Rachel's site: Handmade Charlotte
Thank you so much Leslie for taking the time to give us a glimpse of your creative life. Who knew tortillas could create such beautiful art? I just love your out of the art (box) thinking. And I have to try that cool moving car with my little guy. He's obsessed with anything that moves with wheels! Thanks for the awesome tips and ideas!
Visit all of Leslie's creative projects over at Pink Stripey Socks and follow her over on Pinterest, Facebook and Twitter to get the latest updates!


P.S. If you'd like to be featured as a Maker Mom, please drop us a note here! We'd love to hear from you.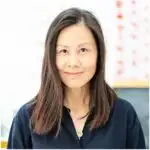 Agnes Hsu is a mom of three and has been inspiring parents and kids to get creative with easy activities and family friendly recipes for over 10 years. She shares her love for creative play and kids food to her 2MM+ followers online. Agnes' commitment to playful learning and kindness has not only raised funds for charity but also earned features in prestigious nationwide publications.