Thank you to Horizon for sponsoring this post.
Halloween is one of my favorite holidays to come up with fun treats and snacks for the kids. I'm trying to curb the candy this year since I know there'll be lots to come, so I like to think of non-sugary Halloween treats that also make delicious snacks or lunch for the kids.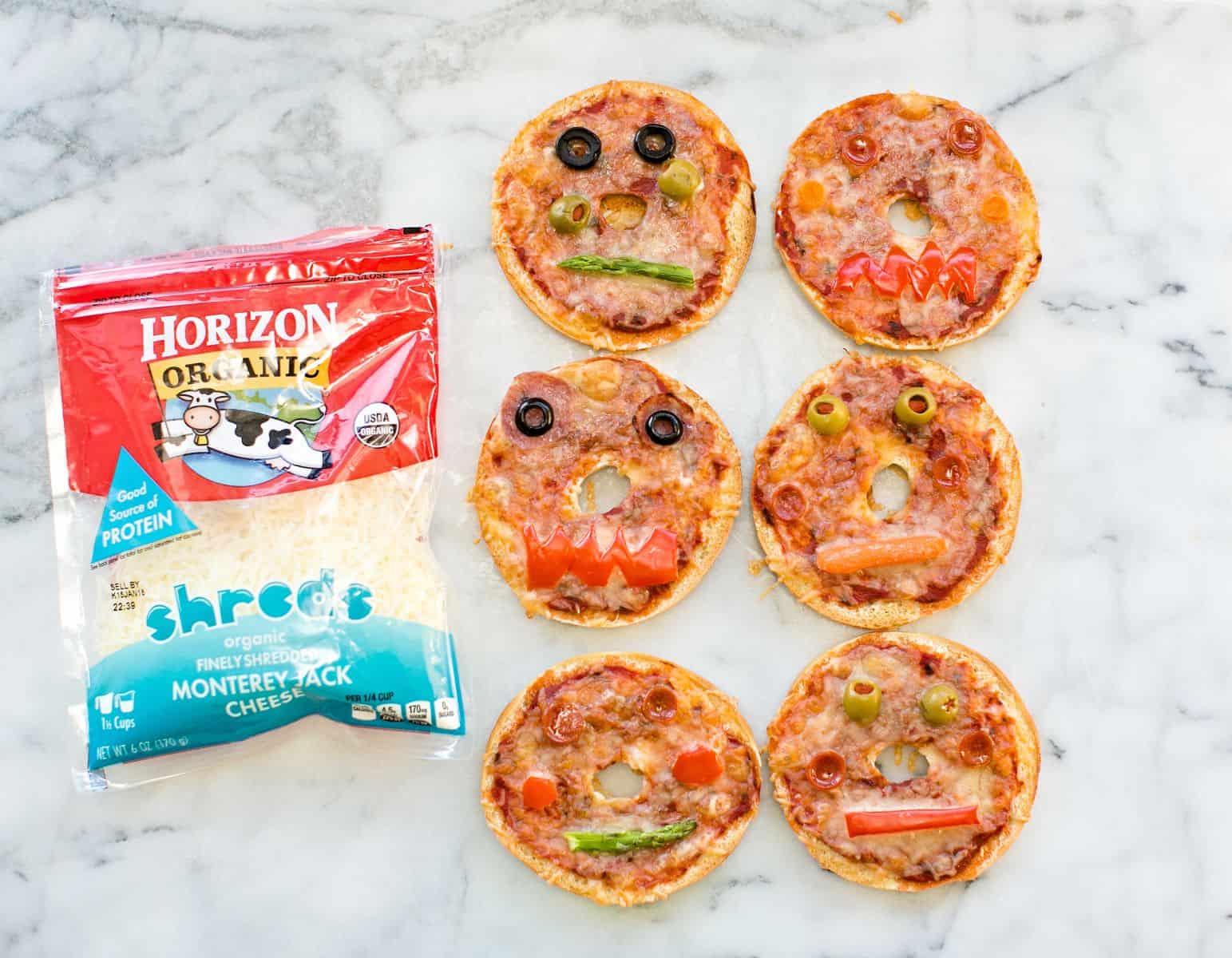 These mix and match monster pizza bagels are super easy to make and plus kids can have fun making their own creatures. The nice part is being able to use up bits of leftover veggies and coming up with different faces. Bagel slices make instant pizza crust and all you need to top it off is some good shredded cheese. We love using Horizon organic cheese which is a great source of calcium and protein.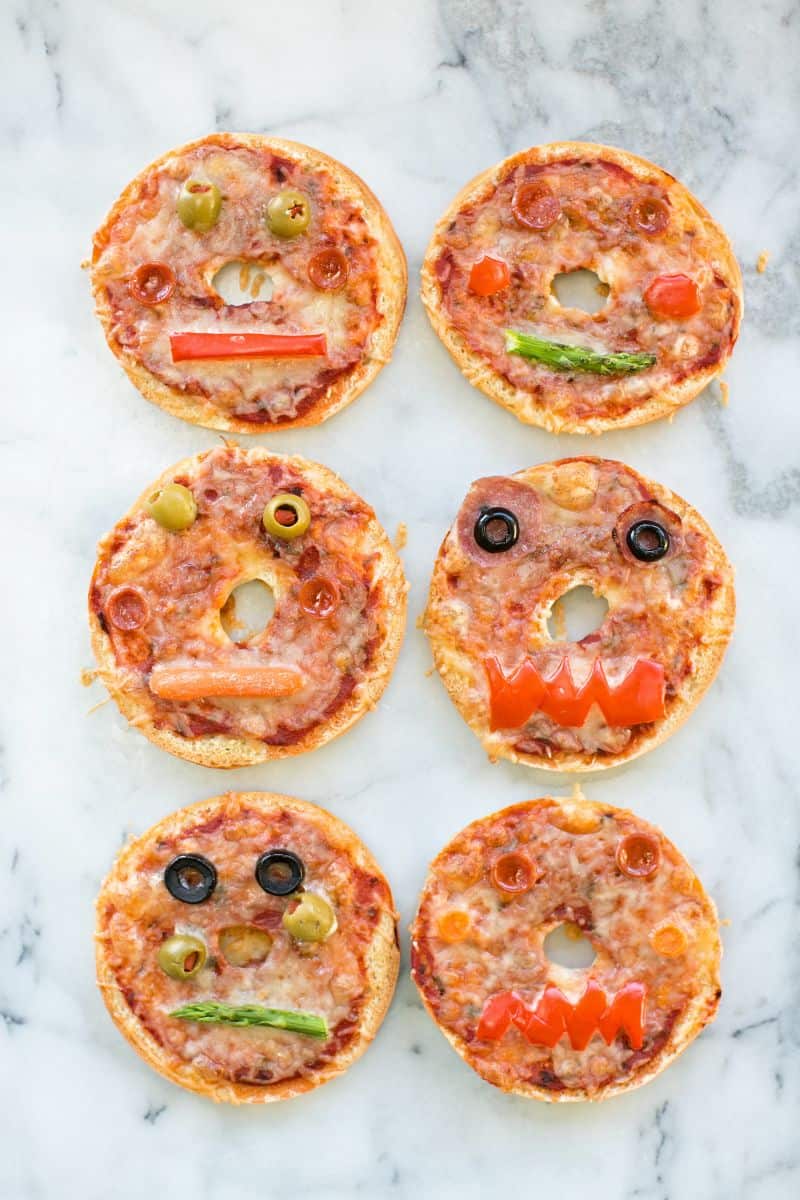 Monster Bagel Pizzas – Ingredients:
– Thin bagel slices
– Pizza sauce
– Various veggies and meats (we used asparagus, red bell peppers, olives, pepperoni, salami and carrots)
– Horizon Organic shredded cheese (we used Monterey Jack but you can use your favorite type)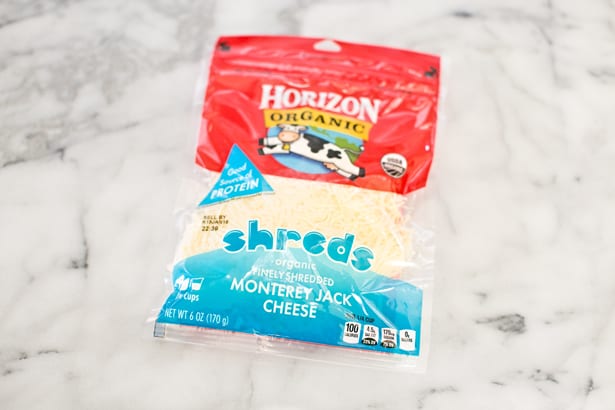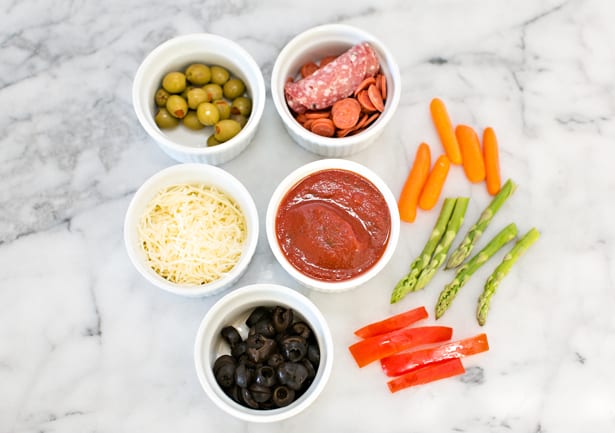 Step 1. Lay out all your ingredients in small bowls, already chopped, washed and easy for kids to grab.
Step 2. Lay out your bagel slices on a parchment or foil lined baking pan. Preheat your oven to 450 degrees.
Step 3. Add pizza sauce to your bagels and sprinkle generously with the shredded cheese. Use your toppings to create fun monster faces. Olives as eyes, pepperoni as cheeks, asparagus and bell peppers as mouths – for example. Let the kids explore what type of faces they want to create.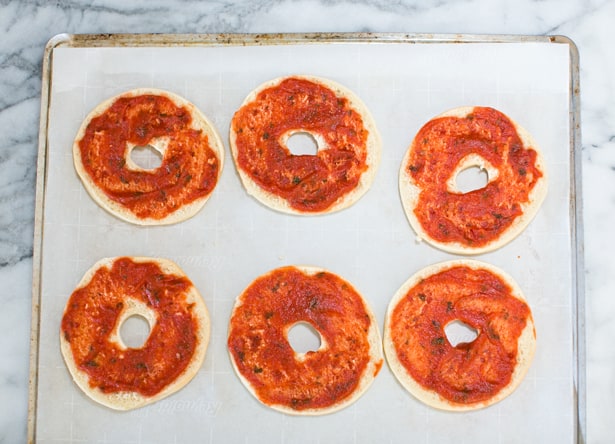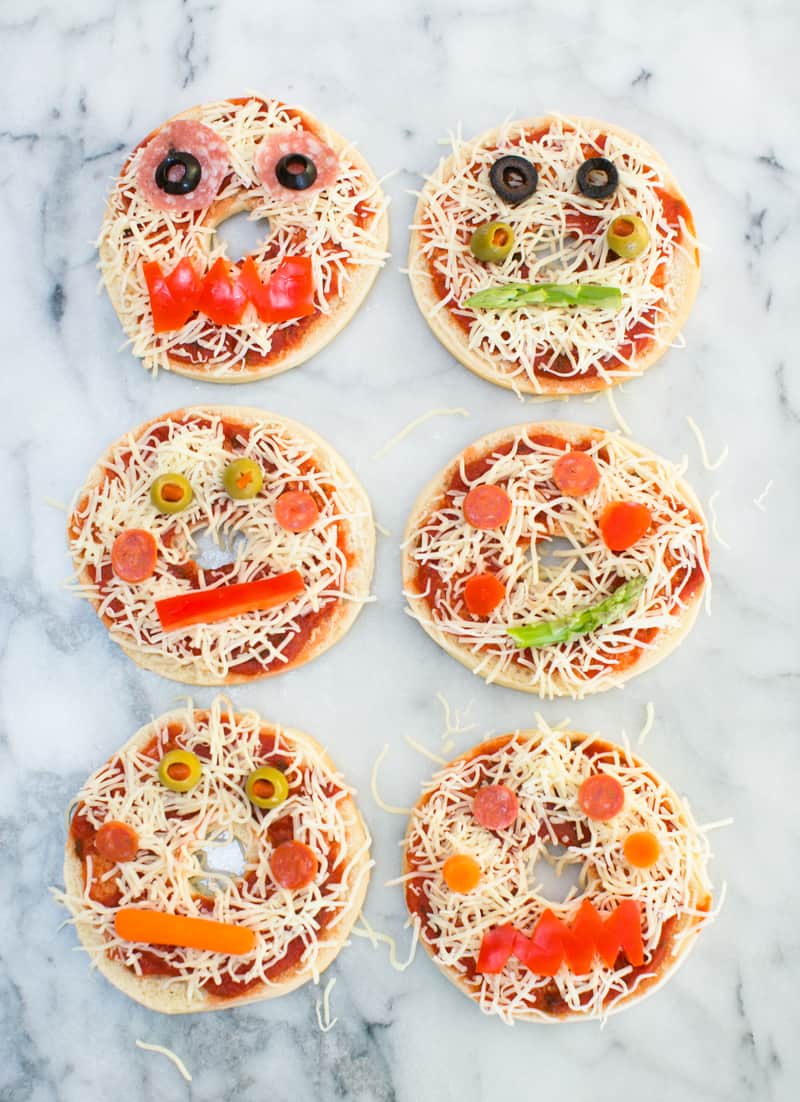 Once you're done creating your monster faces, bake in the oven for 8-10 minutes until the bagels are crisp and cheese gooey and melted.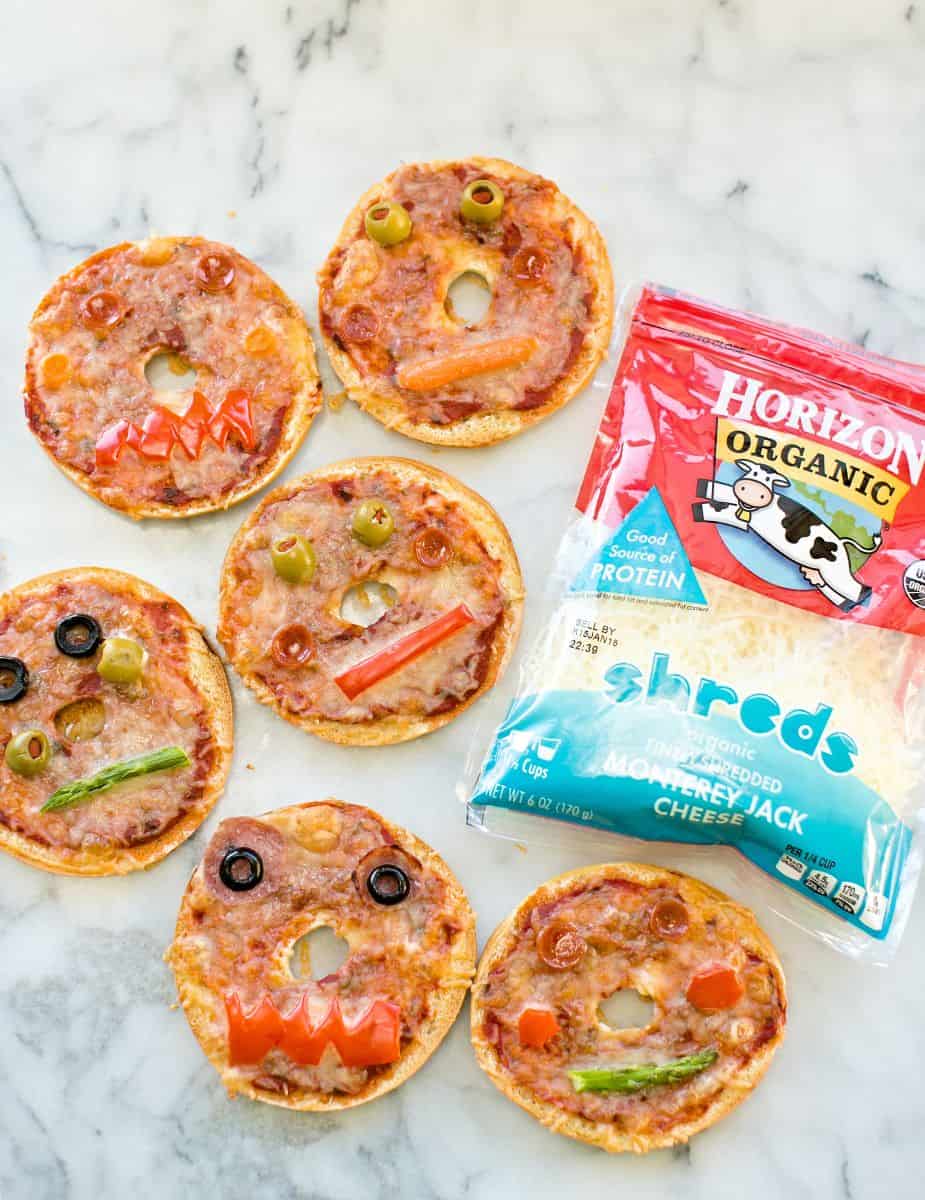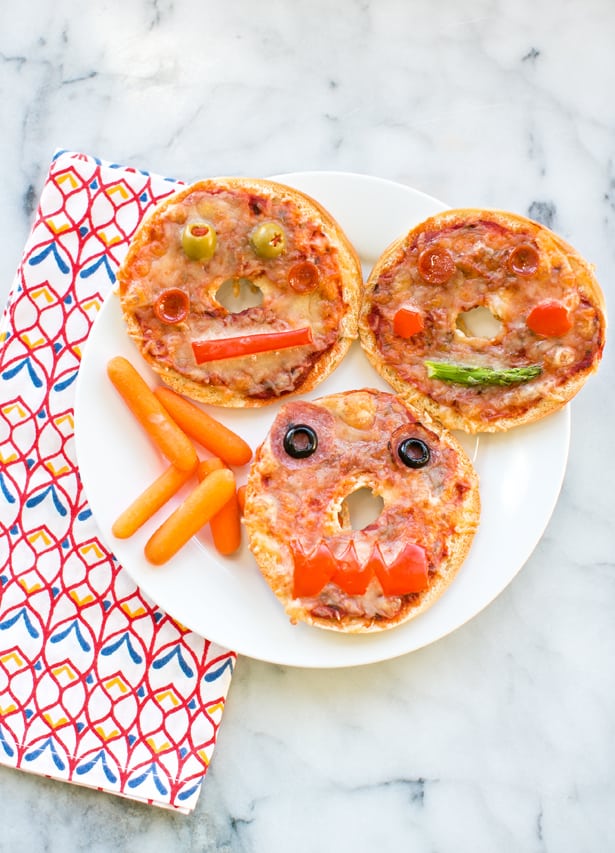 Aren't these the cutest pizzas you've ever seen? What are some of your favorite Halloween treats and snacks for kids?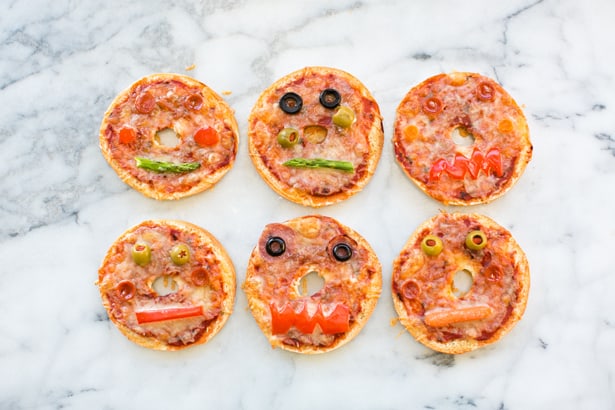 This is a sponsored conversation written by me on behalf of Horizon Organic. The opinions and text are all mine.
var ts=document.getElementById('ti-pixel-tracker'); var axel = Math.random() + ""; var num = axel * 1000000000000000000; var ti=document.createElement("img"); ti.style.display="none"; ti.src="https://tracking.tapinfluence.com/trk/UxyFN/aAGW2/p.png?p=sCogq" + String.fromCharCode(38) + "i=N6HNI" + String.fromCharCode(38) + "ord="+ num + String.fromCharCode(38) + "s=" + encodeURIComponent(document.referrer); ts.parentNode.replaceChild(ti,ts); new TAP.CogFrame('/v1/cogs/96e94acc-6945-11e5-bf9c-22000a66c666/comments').drop({"program_id":"96e78c50-6945-11e5-bf9c-22000a66c666″,"post_id":"70a92394-6d20-11e5-b634-22000a66c666″,"host":"api.tapinfluence.com","apiHost":"api.tapinfluence.com","sort_order":"desc","limit":"20″,"offset":"0″,"sort_by":"created_at","protocol":"https://"});