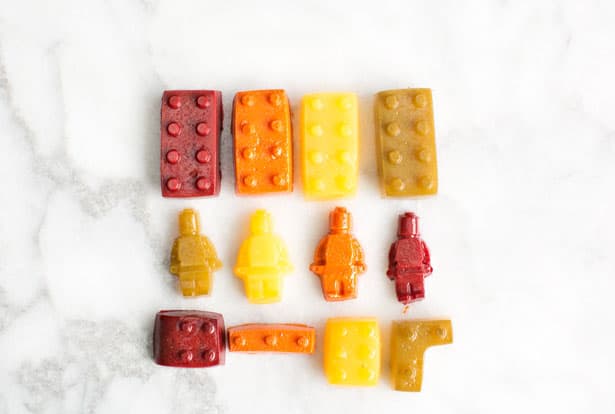 What kid doesn't like LEGOs? Make snack time fun with these fun and healthy fruit and veggie gummies in Lego shapes. These were inspired by these LEGO candies we featured recently, but I wanted to add a healthy twist to them by using fruit and vegetable juice instead. The're super easy to make and have an instant wow factor with the kids!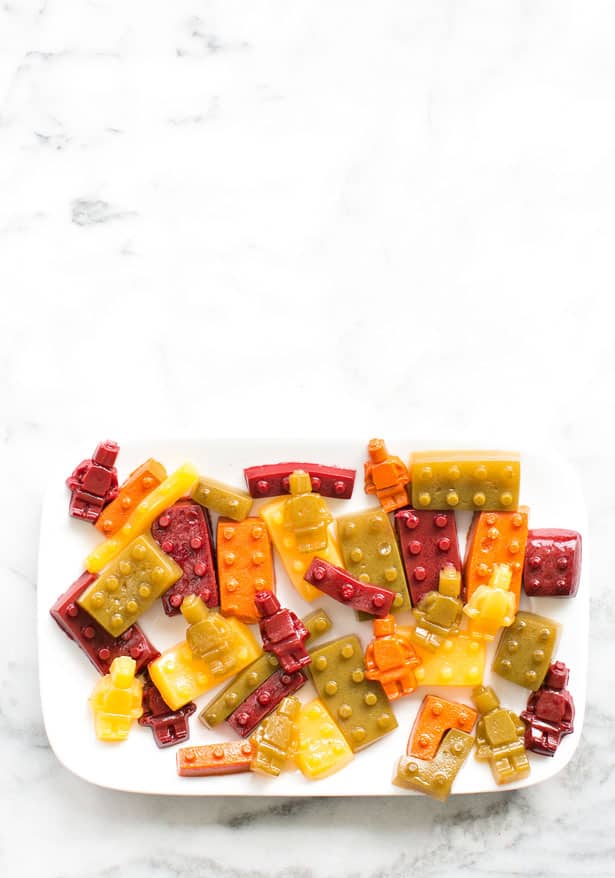 Fruit and Veggie Lego Gummies – Ingredients:
– Cold pressed juices (use colorful ones like beet, orange, carrot and green juices). *Make sure none contain pineapple juice as pineapples have an enzyme that will not gel
– Plain Gelatine packets (found near the Jello section)
– Honey (optional)
– Nonstick spray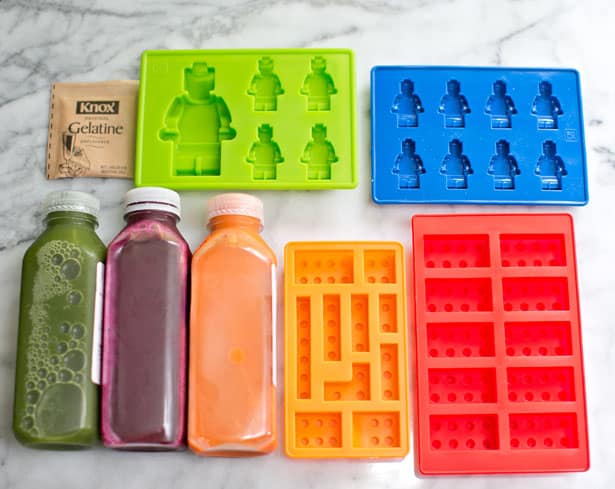 Instructions:
Step 1. Per flavor, you'll need 1 cup of juice to 1 packet of gelatine (.25 oz). In a bowl, sprinkle packet with 1/4 cup cold juice in a bowl. Allow to set for about a minute. Add 3/4 cup of hot juice (I just microwaved this portion). Mix thoroughly to make sure the gelatine crystals dissolve. Add 2 teaspoon of honey to sweeten (optional).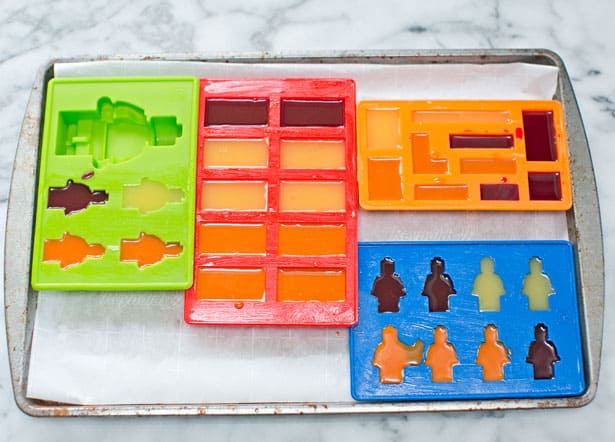 Step 2. Spray your Lego mold with a light coating of nonstick spray. Use a small spoon and pour your juice mixture into the molds and refrigerate until set, at least 3-4 hours. Remove by gently pushing the gummies out. They should slide right out.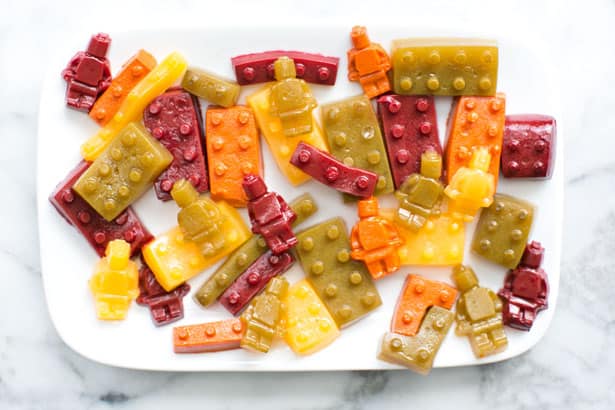 This is playful way to get kids to eat their fruits and veggies. Sure, these gummies are small, but at least they aren't candy coated with sugar – although your kids might think they're eating candy 🙂
You can use any variety of fruits and vegetables (just make sure none contain pineapple as noted above as that will not gel). Make sure to store these in the refrigerator and if using cold pressed juice, eat by the expiration date as they are more perishable than pasteurized juices.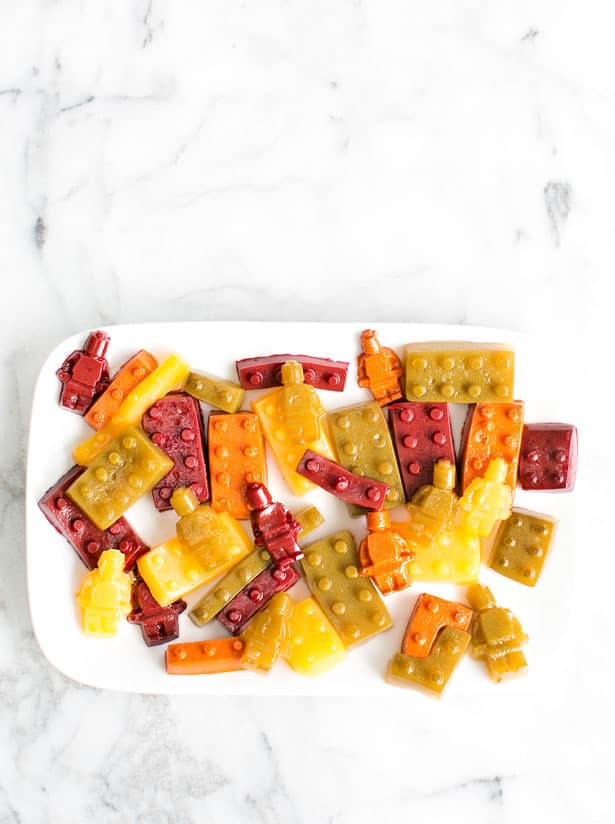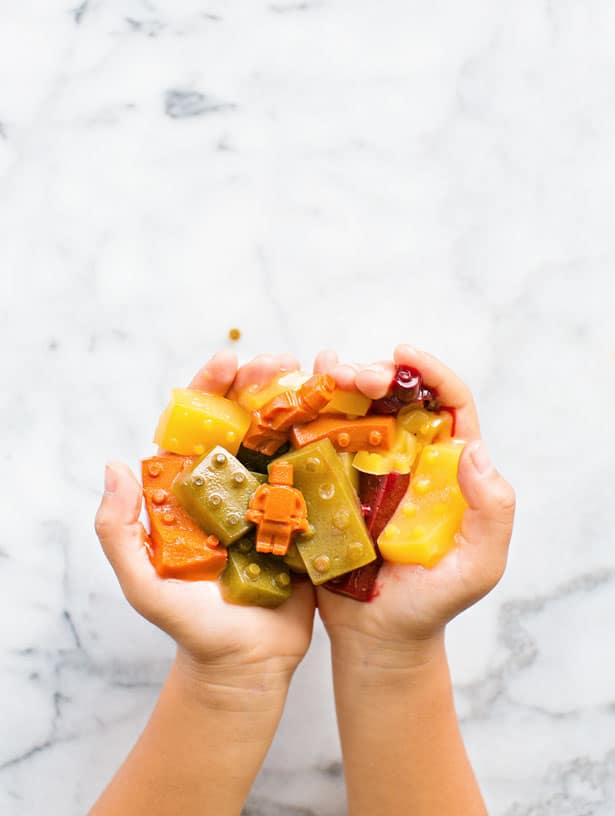 What are some of your favorite playful snacks to serve kids? Check out our homemade fruit and veggie ice pops and more fun recipes for kids here!
______________________________________________________________________________________________________

Disclosure: Some of the links in the post above are "affiliate links." This means if you click on the link and purchase the item, we will receive a small affiliate commission. Regardless, we give our promise that we only recommend products or services we would use personally and believe will add values to our readers.