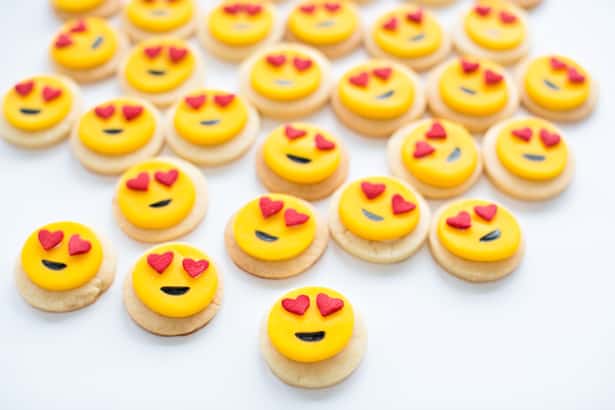 As you may have seen, our entire family dressed up as emojis this past Halloween! We all chose our favorite ones and my daughter's was the heart emoji face. For her birthday this year, I made these adorable mini sugar cookies in the shape of her favorite emoticon for her class party. Since Valentine's Day is coming up, I thought they'd also be perfect for sharing as a cute treat for kids that will no doubt make them smile!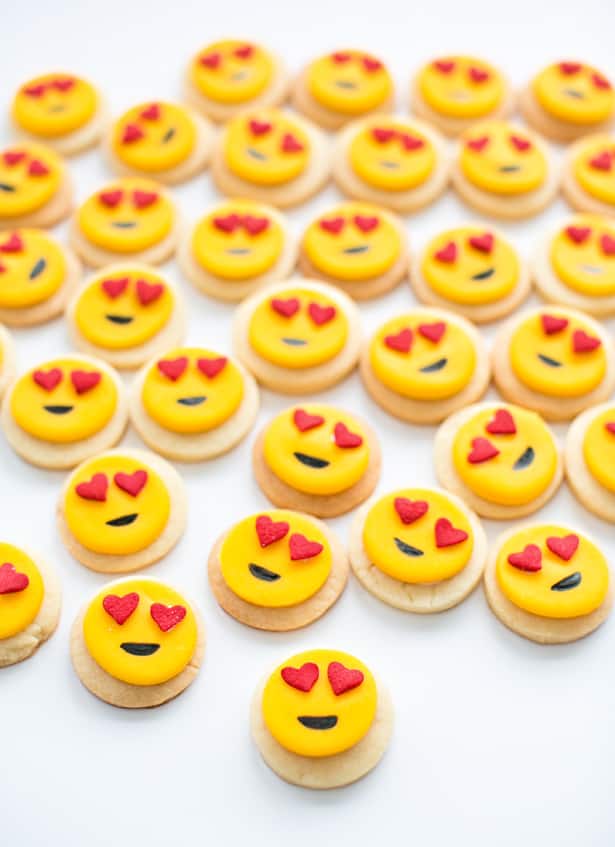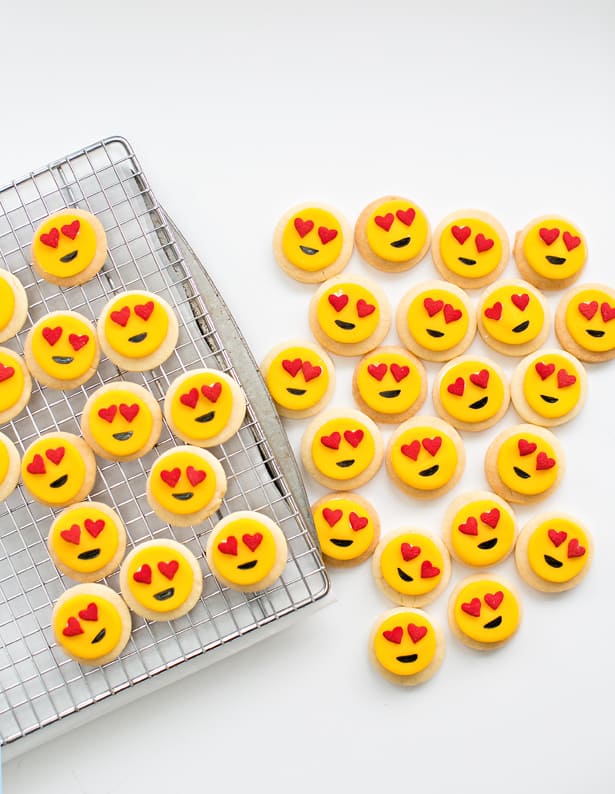 Mini Heart Emoji Sugar Cookies – Ingredients:
Sugar Cookie Recipe (makes approx. 65 mini cookies)
You'll need 2 ½ cups of flour, 1 cup of white sugar, 1 cup of unsalted butter and 3/4 tsp kosher salt.
You'll also need:
– Parchment paper, baking pan, rolling pin
– Black food edible marker
– Yellow fondant
– Small amount of frosting to act as "glue" (store-bought is fine)
– Toothpick
– Heart sprinkles
– Two size circle cutters (1.75″ for the cookies, 1.25″ for the fondant face) we love this set of circle cutters.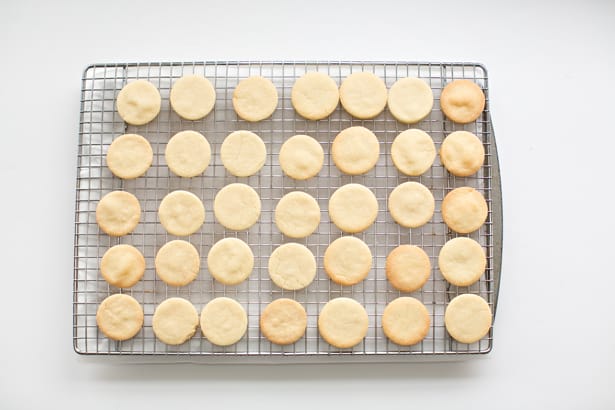 To Make the Cookies:
Using a stand or hand mixer, cream the butter and sugar until fluffy (about 8-10 minutes) on medium to high speed. In a separate bowl, whisk your flour and salt and then add to your butter/sugar mixture. Blend on low speed until the flour is incorporated with the butter/sugar mixture and a soft dough is formed. Separate your dough into flat discs and wrap in plastic wrap. Refrigerate until firm. Before baking, take out your chilled dough and let it soften a bit.
Preheat oven to 375 degrees. Roll out your cookies about ⅜" in width and cut out using your 1.75" circle cutter. Place on a parchment lined baking sheet and in your preheated oven for about 12-13 minutes until the edges are slightly brown. Allow cookies to cool completely before decorating.
Tip: if your dough gets too soft after cutting out, place your pan with cut out dough in the refrigerator for about 20 minutes before baking.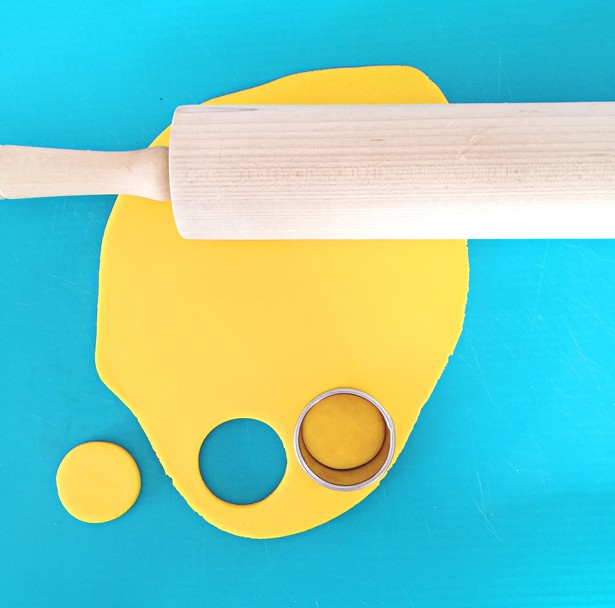 While the cookies are baking, roll out your yellow fondant about ¼" thick and cut out using your 1.25" circle cutter. Set aside and allow to dry out a bit (15-20 minutes) before writing with the marker.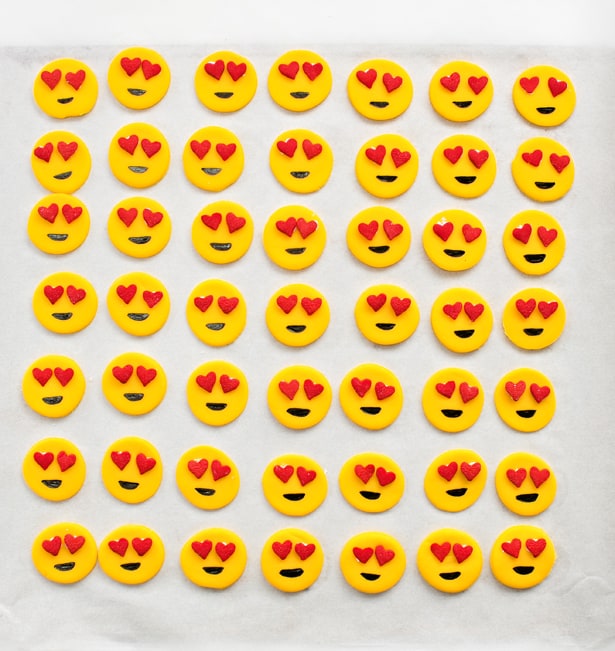 When the cookies are baking, you can start "gluing" on the heart sprinkles to the fondant. Have a small bowl of frosting ready and use a toothpick to add a dab to each heart eyes. Press firmly. Then using your black edible marker, draw a mouth as shown above.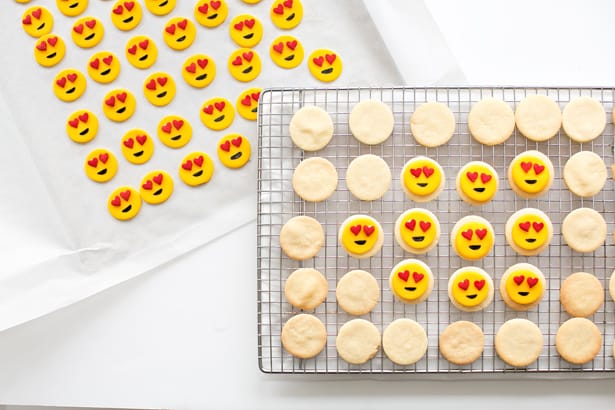 Once your cookies are cooled, all you need to do is assemble. Add a dab of frosting to the center of each cookie, and press an emoji fondant face firmly on top. Allow to dry. You're done!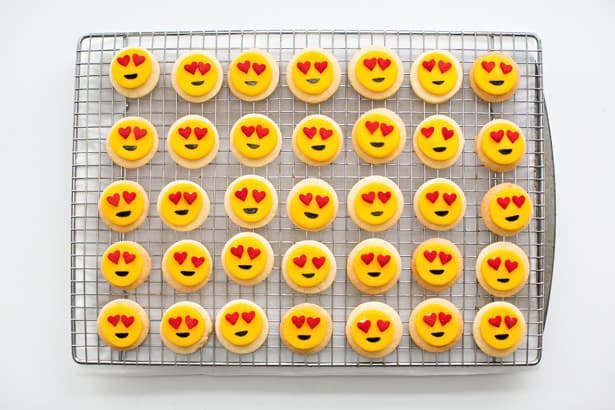 Aren't they adorable? Almost too cute to eat! My daughter squealed with joy when she saw them. Such a happy treat to make to sweeten someone's day.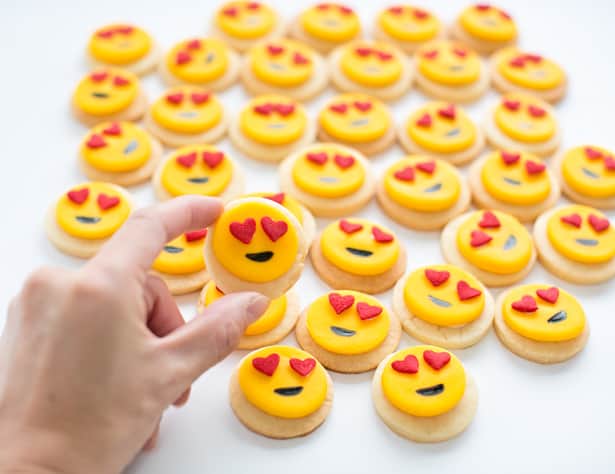 I love how bite-sized and miniature they are, perfect for a kids treat.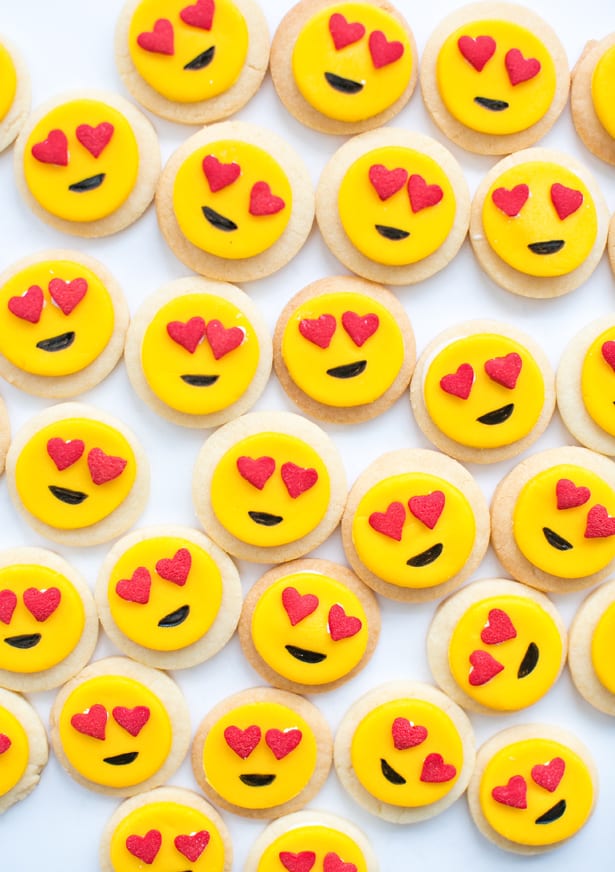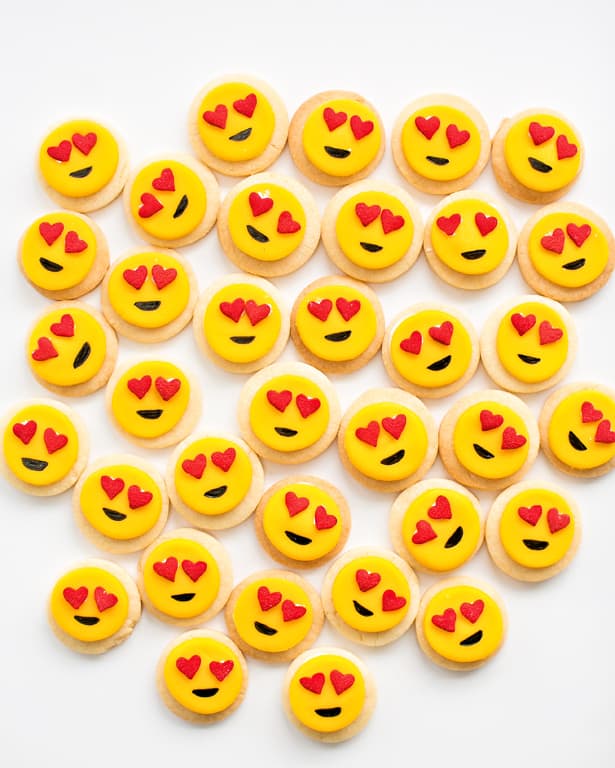 Are your kids into emojis? My kids love them! Let us know your favorite emoji craft, product or treat!
Check out more fun Valentine's Day ideas here.
______________________________________________________________________________________________________

Disclosure: Some of the links in the post above are "affiliate links." This means if you click on the link and purchase the item, we will receive a small affiliate commission. Regardless, we give our promise that we only recommend products or services we would use personally and believe will add values to our readers.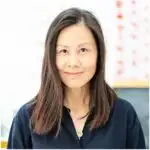 Agnes Hsu is a mom of three and has been inspiring parents and kids to get creative with easy activities and family friendly recipes for over 10 years. She shares her love for creative play and kids food to her 2MM+ followers online. Agnes' commitment to playful learning and kindness has not only raised funds for charity but also earned features in prestigious nationwide publications.