Here's an easy bottle boat I made recently for my kids with a motor! My son, especially, loves to watch anything move so I thought attaching a motor would make this extra fun. See how we did it using recycled bottles and just a few simple materials.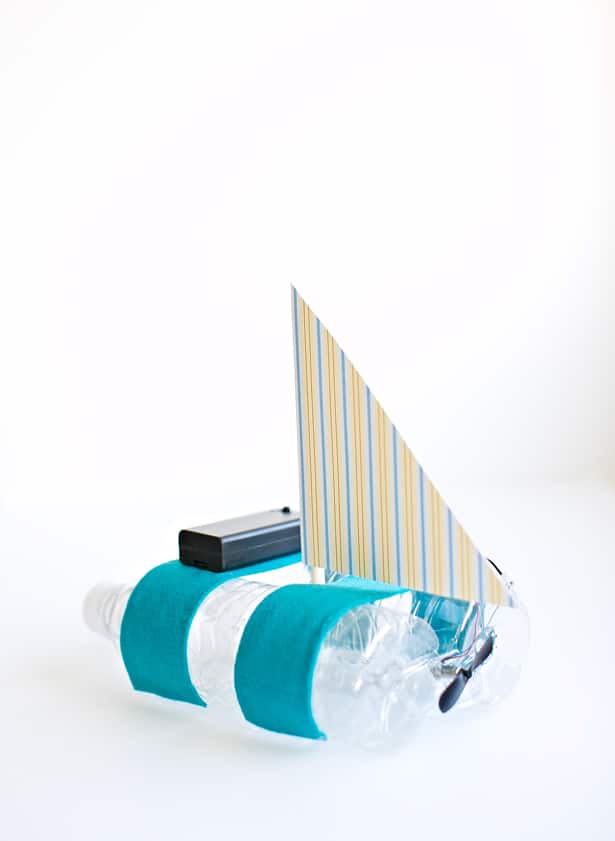 Easy DIY Bottle Boat With Motor – Materials:
– Two empty water bottles
– Felt (optional, this was purely decorative)
– 6″ dowel stick and patterned paper (optional as well)
– Battery holder with wires and switch
– Electrical or duct tape
– Hot glue gun
Instructions:
Step 1. Lay out your supplies. You'll want to glue the two bottles together so they are joined side by side. (Note in the image below, you'll see a white piece of cardboard underneath the bottles, we ended up not using this). To join the propeller to the battery pack, strip the wires and join them with a bit of electrical or duct tape (as shown). if you want a decorative mast, cut out a triangular piece of patterned paper and glue to the dowel stick.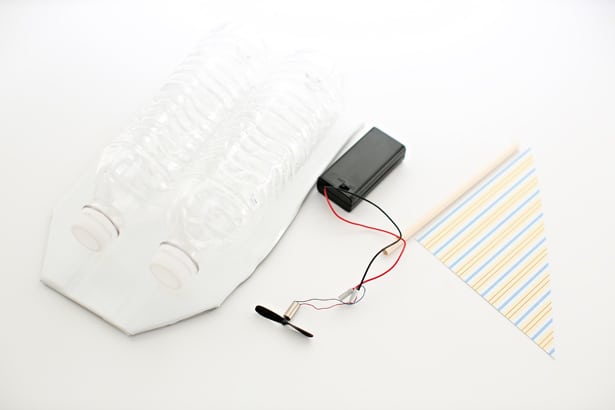 Step 2. If you want, glue two pieces of felt to your bottles, again this is purely decorative and optional.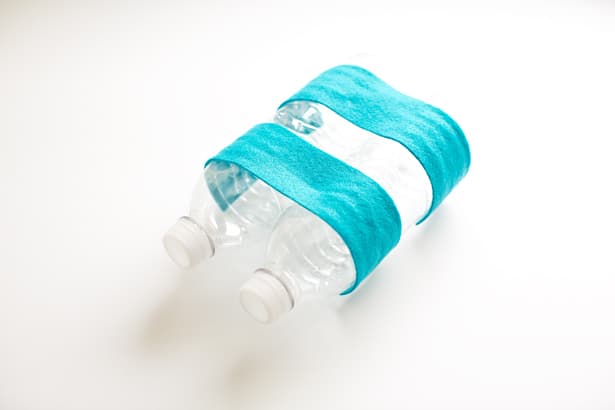 Step 3. To finish assembly, hot glue the parts together. Glue the battery pack on top of the bottles and the propellor on the bottom of the bottles (as shown). Stick the dowel stick in the middle of the bottle and secure with hot glue. You're done!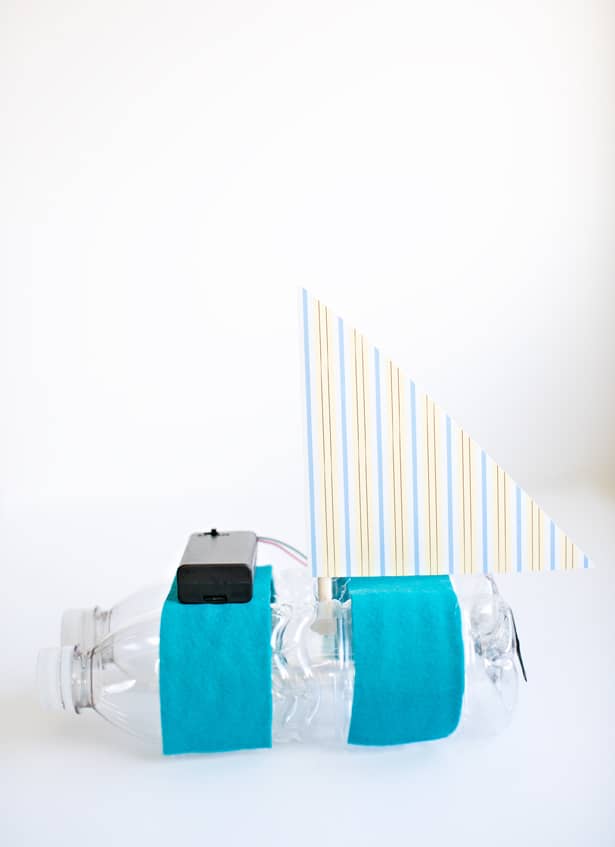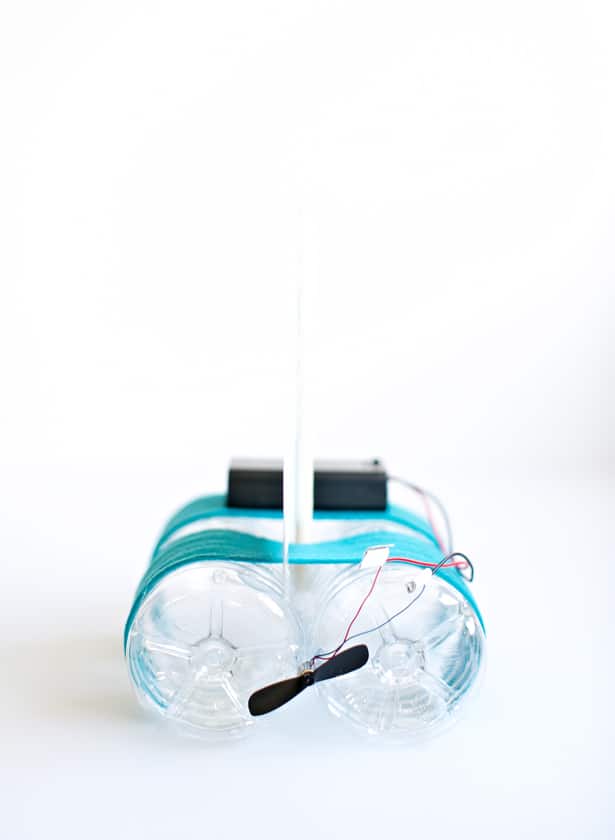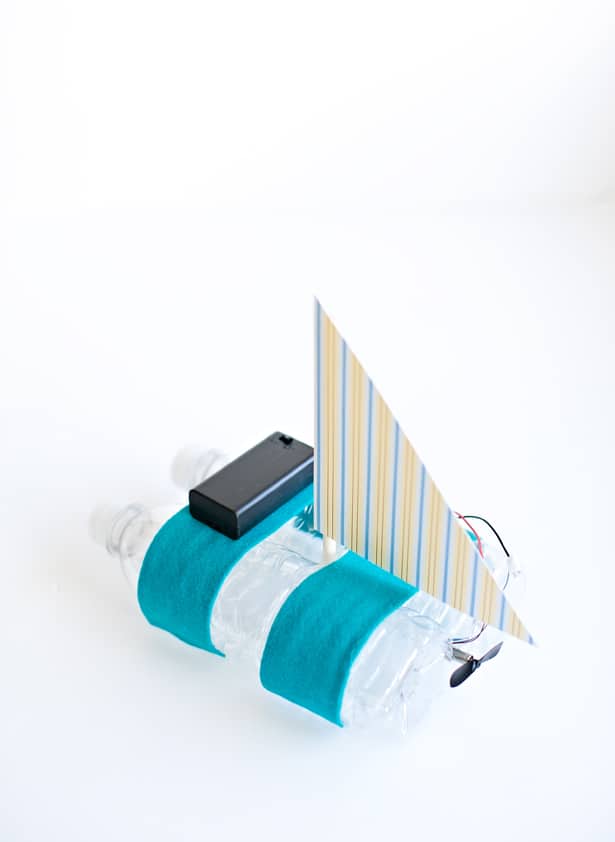 Now, I'm sure you want to see it in action so I took a quick video (sorry for the poor lighting). As you can tell, the boat moves fast and the motor is actually pretty strong. It tends to go in a circular route. I'm not an engineer so I'm sure there is a better way to rig this up so it goes in a straighter line (let us know in the comments if you have any suggestions!). The important part was teaching my kids how the circuit works and building something together with them. They were excited to see it go and move!
What are some things you've built with your kids recently?
______________________________________________________________________________________________________
Disclosure: Some of the links in the post above are "affiliate links." This means if you click on the link and purchase the item, we will receive a small affiliate commission. Regardless, we give our promise that we only recommend products or services we would use personally and believe will add values to our readers.